Pickled Red Cabbage Recipe
Pickled Red Cabbage can be prepared in just a few minutes with a few ingredients including rice wine vinegar, chili peppers, garlic, and some other herbs and spices. This tangy and crunchy condiment can be added to salads, on top of tacos, or served with your favorite meat.
With a crisp and tender texture, this side dish is ready after a couple of hours in the fridge, and it goes great with all sorts of recipes like these awesome Pickled Eggs. Or mix it with tart Pickled Red Onions in a salad or use it to perk up some pasta or rice with flavor as well as color. This makes a great addition to this Classic Potato Salad.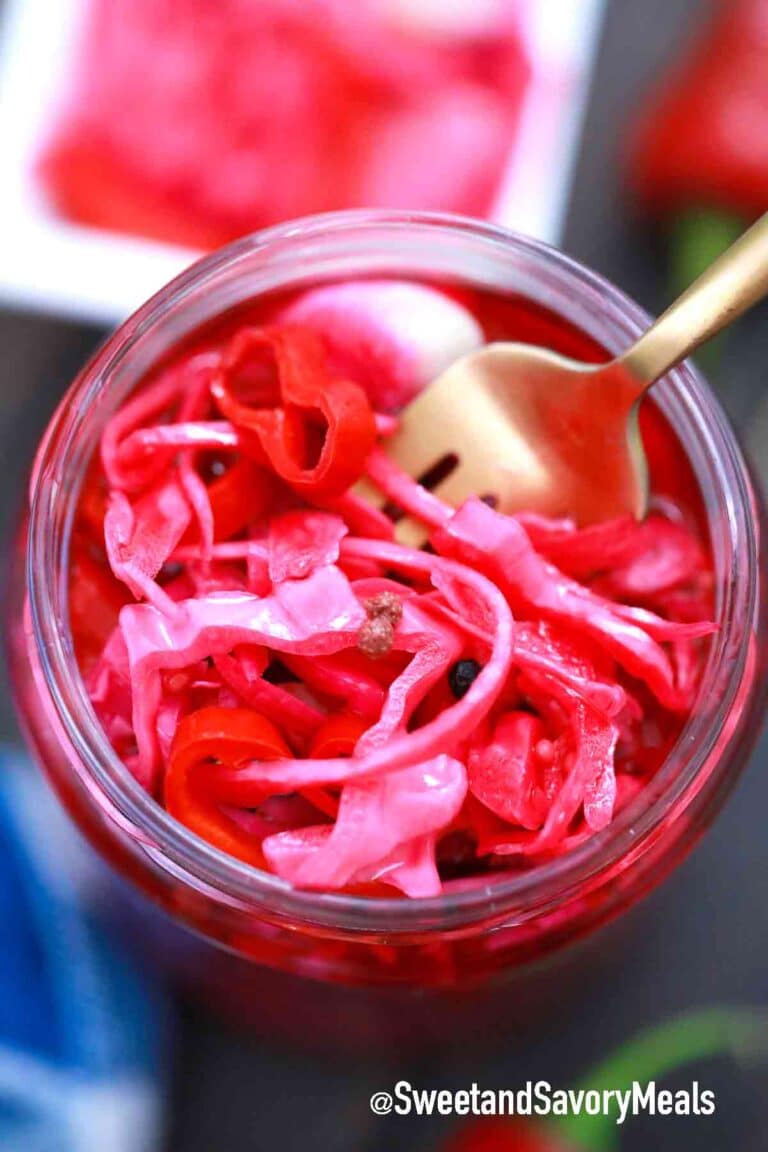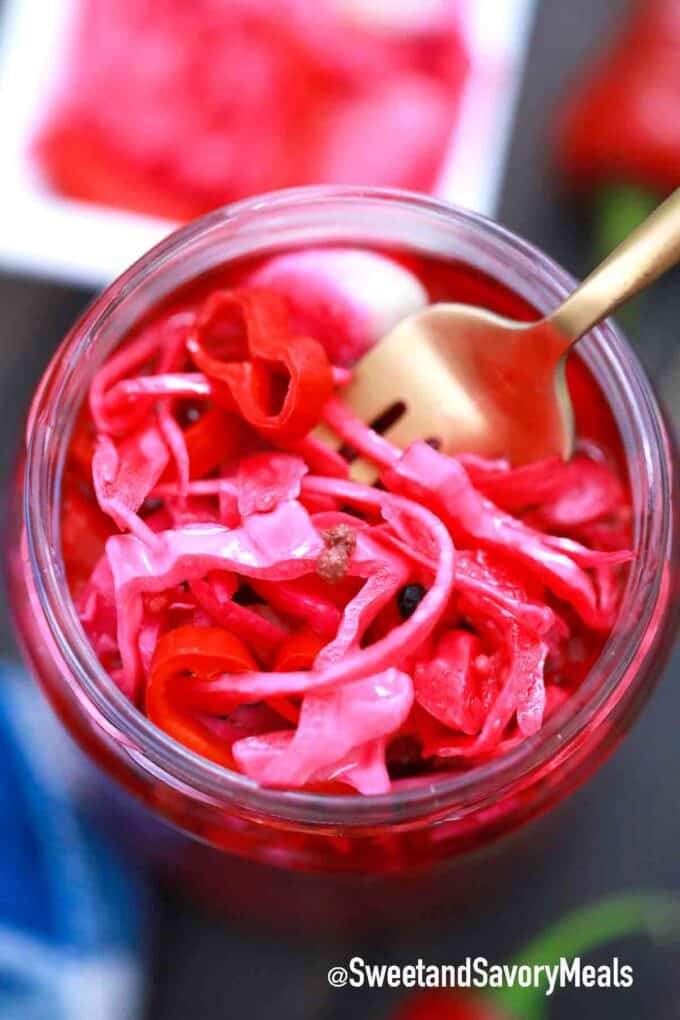 Quickly Pickled Cabbage
Add a splash of vivid color and tanginess to whatever you want with this recipe. Pickled cabbages are a favorite condiment in Italy, Japan, and many other countries as well and have been for hundreds of years. In fact, there are over 400 kinds including red or purple cabbage, Savoy, Napa, and green.
Green cabbage is the most commonly used but red is best for this type of recipe because it is firm and will not get all mushy after being pickled. The cabbage will soak up the flavors from the vinegar as well as the other ingredients to make it tangy as well as sweet.
This simple recipe for quick pickling is very versatile and can be made with other veggies that you have on hand. You can try it with red onions, chili peppers, pickles, cauliflower, and even mushrooms. The tangy flavor and the crunch are the perfect finish to so many dishes!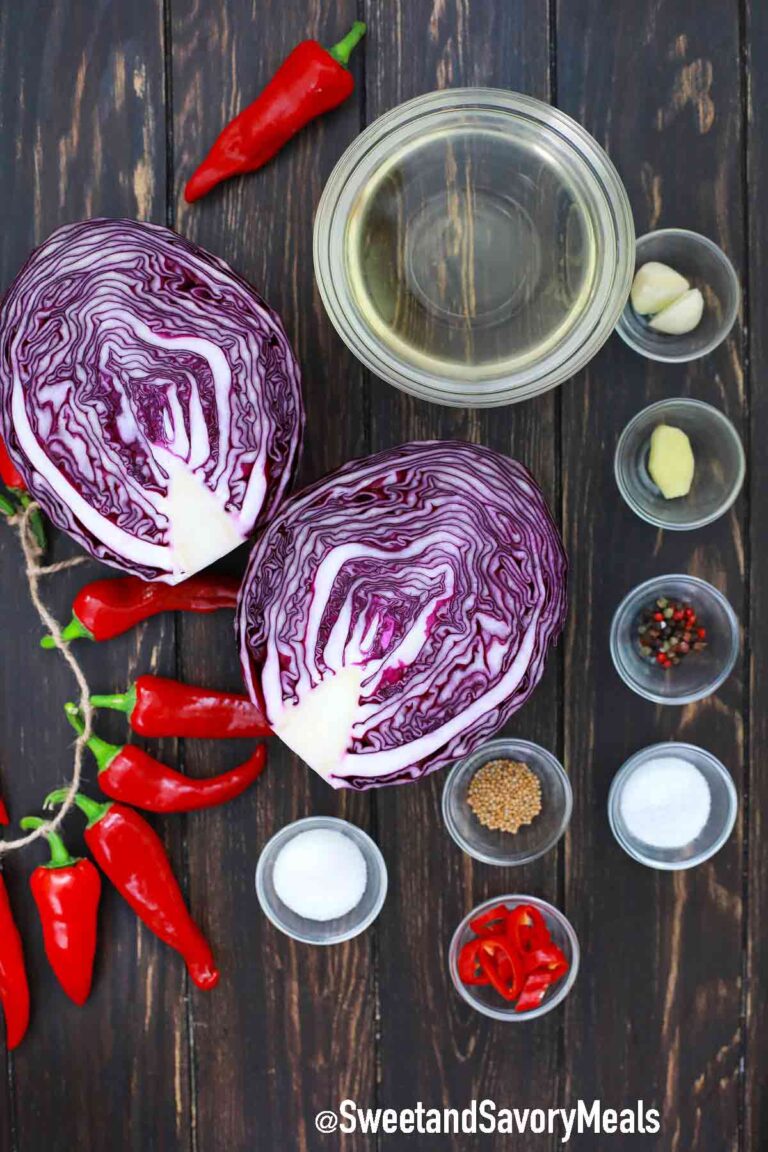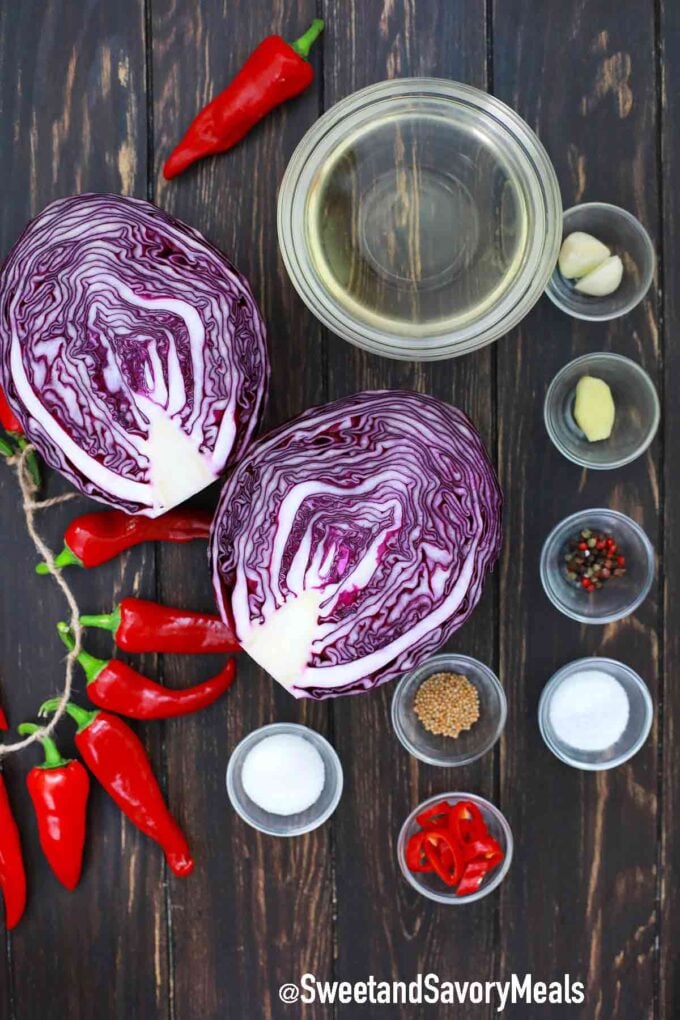 Ingredients needed:
For precise instructions and measurements, scroll down to our recipe card. But here are the basic ingredients you will need:
Thinly sliced cabbage: Red is best for this recipe but feel free to use green cabbage or any other head of cabbage.
Rice wine vinegar: For pickling and flavor, also you can use apple cider vinegar or white vinegar.
Ginger root: Fresh, peeled and sliced.
Garlic: Two cloves, peeled.
Red chili peppers: Sliced and seeded.
Sugar: Granulated white sugar.
Salt: For the brine.
Herbs and spices: We used mustard seed, peppercorns, and salt.

Also, you can add a few bay leaves to the glass jars. Coriander seeds and caraway seeds are great choices as well.
How do you make pickled red cabbage recipe?
Slice: First, place the cabbage onto a cutting board and use a mandolin slicer or a sharp knife to cut the cabbage into thin slices and put it into a large bowl as you go. Another option is to shred the cabbage.
Add: Then, add the cabbage, chili pepper, ginger root, and other herbs and spices to a glass jar like a mason jar.
Boil: After, heat up the salt, vinegar, and sugar in a saucepan until it is boiling.
Pour: Once the vinegar mixture is boiling, pour it into the glass jar with the shredded cabbage.

Cool: Finally, let it cool to room temperature before putting it in the refrigerator.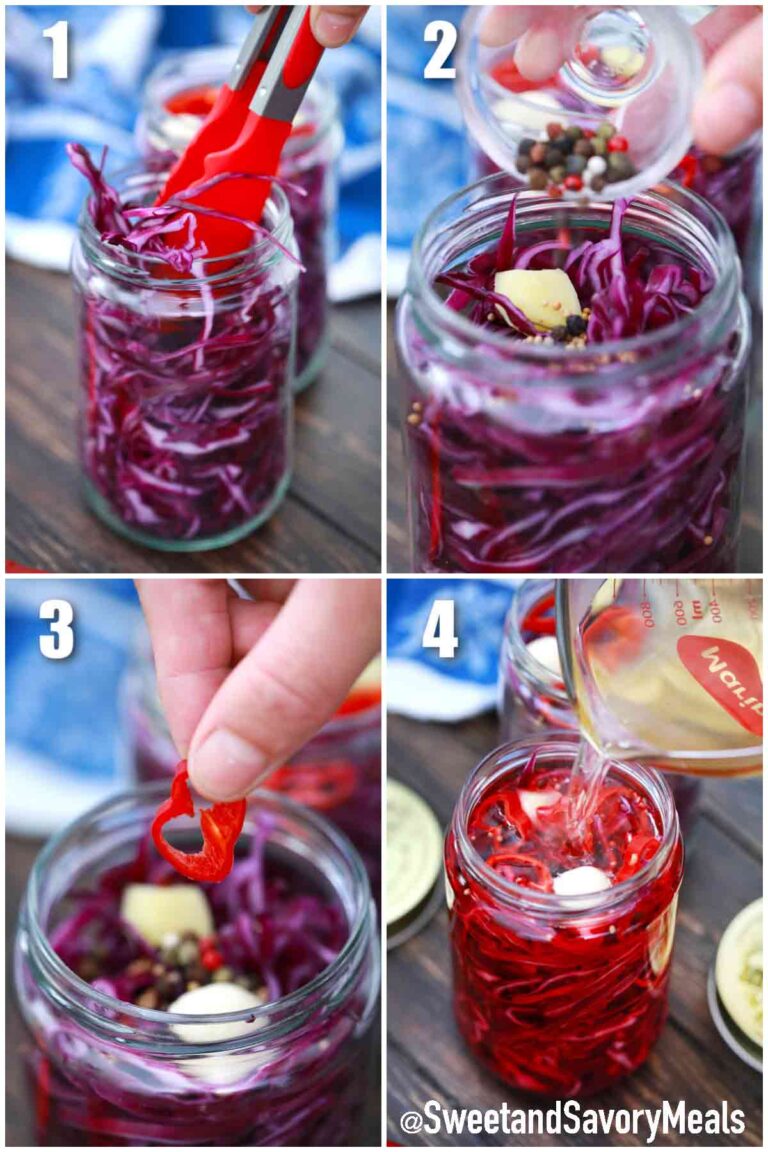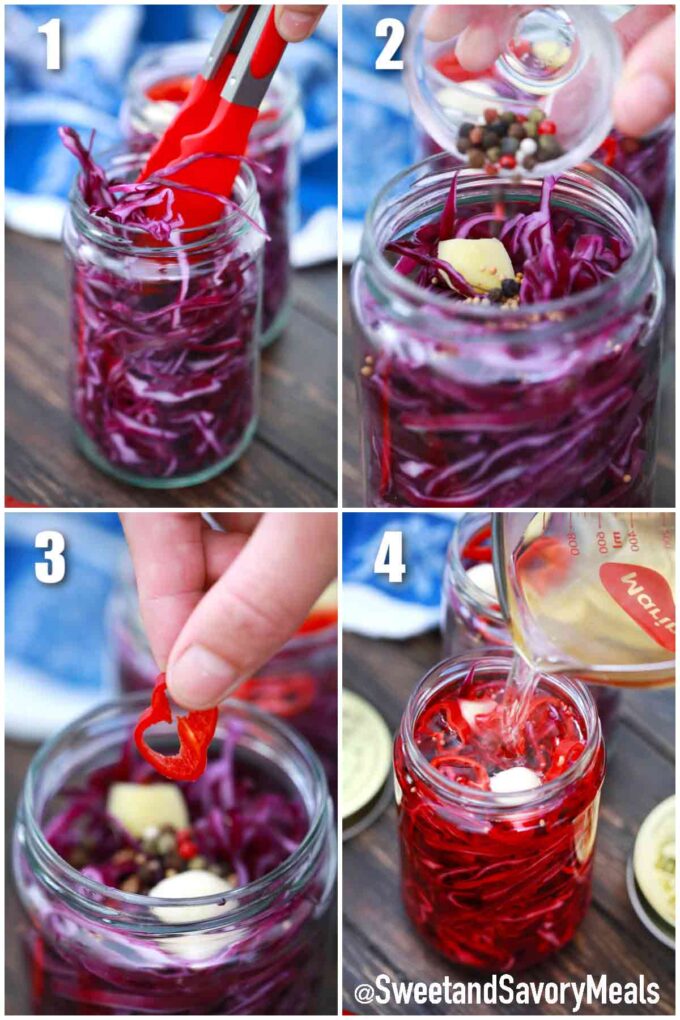 Recipe variations:
Add a kick: For a spicier kick, add red pepper flakes to the mix. If you want it really spicy, add a few cayenne peppers or jalapenos.
Brown sugar: For a deeper flavor add some brown sugar, but keep in mind that it will change slightly the color of the brine.
Make it sweeter: Alternatively, sweeten it up by adding more sugar, honey, or maple syrup.
Other spices: Also, try other herbs and spices, like whole cloves, a cinnamon stick, whole allspice, and black peppercorns to make your own unique blend.
Fruity: Another way to change the flavor is to add orange juice or some other juice to the mix.

Other vinegar: Similarly, you could use a different vinegar-like malt, distilled, apple cider, or red wine vinegar.
How to serve:
This cabbage can be served after being chilled for two hours and adds a pop of flavor and color to your favorite dishes. Feel free to use your imagination and creativity in a variety of ways. Here are a few of our ideas:
Make taco sandwiches with pickled red cabbage inside.
Add these to soup such as this cabbage soup for a colorful flavor.
Toss a bit of this into any salad for color, crunch, and tanginess.
These would also be fantastic in a casserole like this hamburger casserole.

Perk up your eggs with this tasty cabbage.

Also, this is a great topping for shrimp rolls or hot dogs.

Put this on top of a burger for a sweet and sour taste.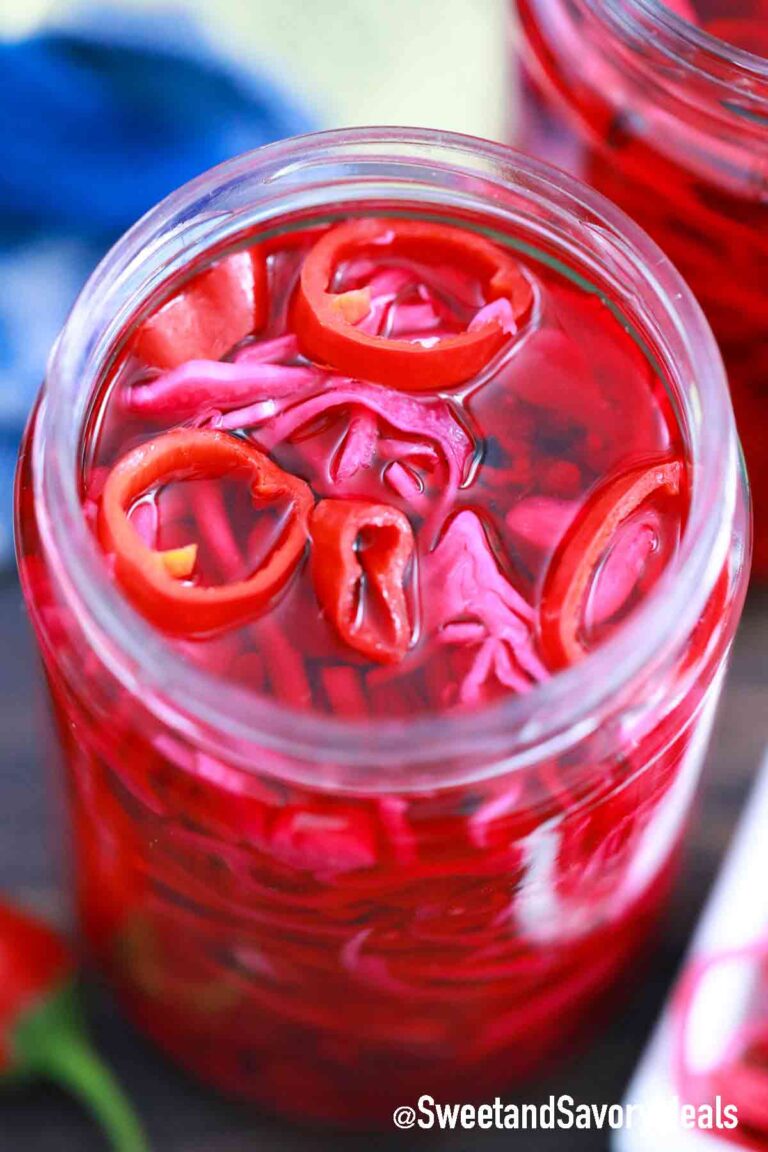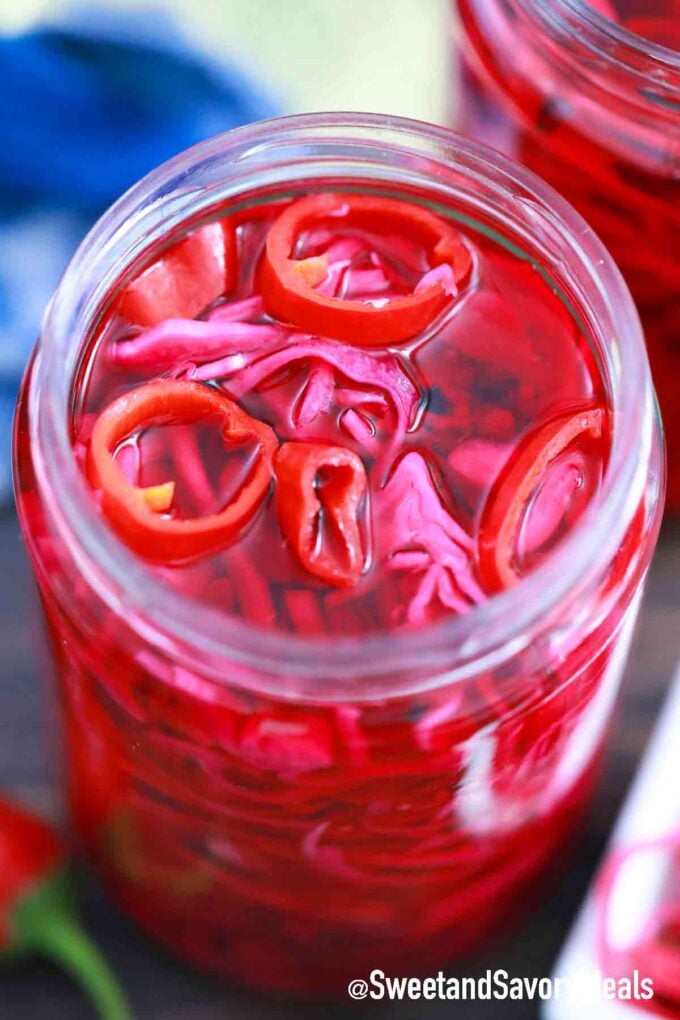 Frequently asked questions
Is pickled red cabbage healthy?
Yes, cabbage adds vitamin C, vitamin K, antioxidants, and several minerals that help promote good bone health such as calcium, magnesium, and vitamin D. Also, there is no fat or cholesterol in this food, so you do not have to worry about that either.
However, those who have hypothyroidism (underactive thyroid gland) should avoid cabbage. This is because there have been indications that it can make hypothyroidism worse. Also, cabbage can affect your blood glucose levels which could interfere with blood sugar control during and after surgery.
What is the difference between cabbage and sauerkraut?
Sauerkraut is made with cabbage but the two are not the same. Cabbage is just a healthy and edible plant that we use for many different foods. Sauerkraut is made by fermenting finely chopped cabbage. In other words, it is pickled cabbage, so in a way, sauerkraut is cabbage, but cabbage is not sauerkraut.
Does pickled red cabbage have to be refrigerated?
With this recipe, the cabbage is not really fermented so it lasts longer than a head would. But it will not last as long as sauerkraut. It is important to refrigerate your pickled cabbage for at least two hours before serving so it can soak up the flavors of the brine, but 24 to 48 hours is even better. And it can stay good in the fridge for up to two weeks in mason jars.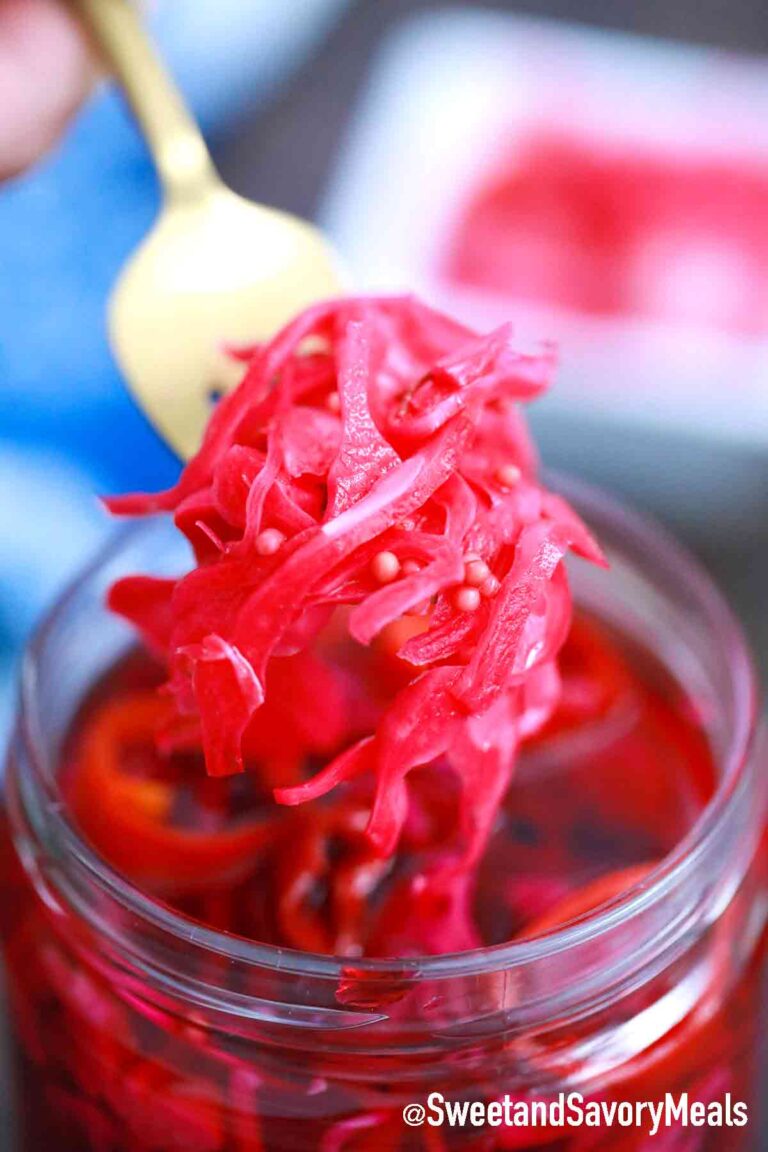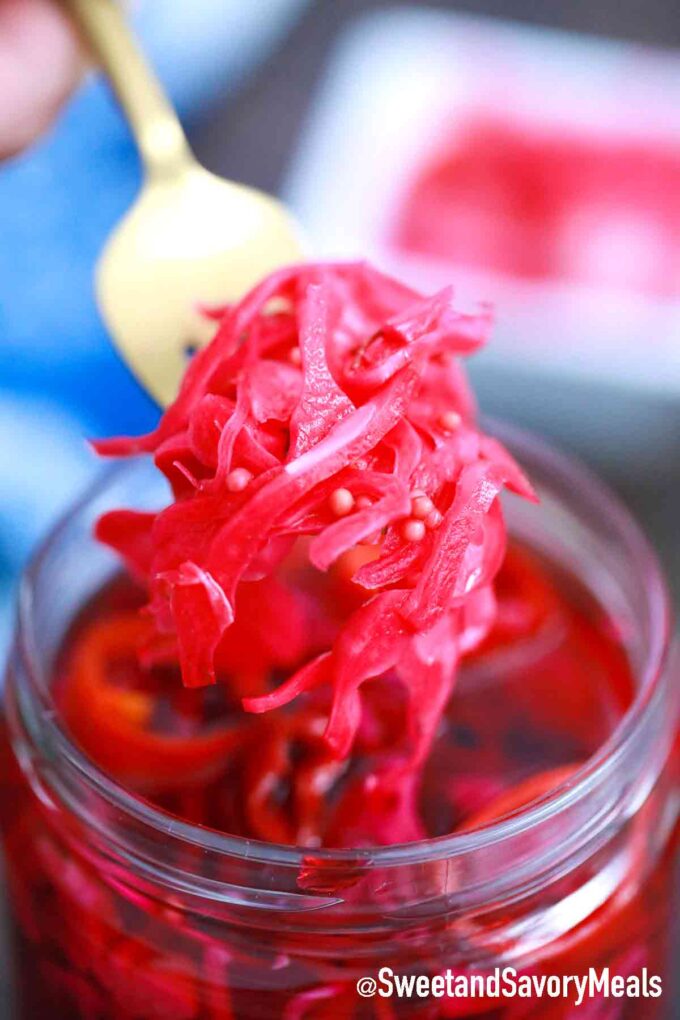 How to store leftovers:
Store: Left unopened in the mason jar, these will last for several months. But once you open them, they are only good for two weeks.
Freeze: Freezing is not recommended. Besides, these are good for so many uses, you probably will not have any leftovers past two weeks.
More Side Dishes:
Cooking tips:
If you are in a hurry, microwave the vinegar until it boils and then pour it into the jar.

Use sugar substitute instead of regular sugar if you are diabetic.

If you do not have mustard seeds, try caraway, cumin, horseradish, or prepared mustard.
Add a few sliced radishes or onions to the jar for an interesting burst of flavors.
Leave out the chili peppers if you are not a fan of hot and spicy foods.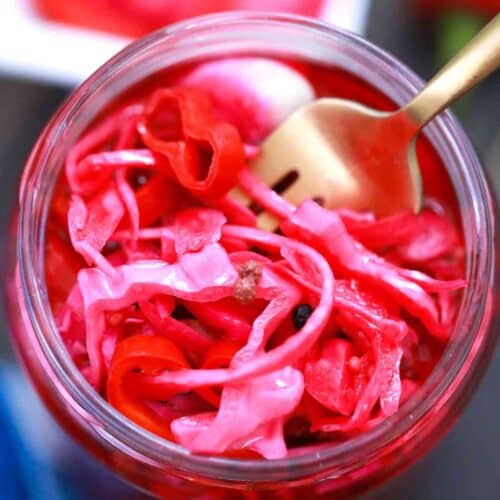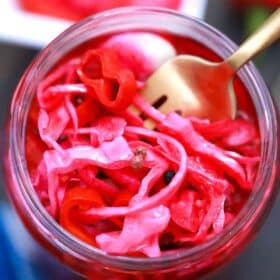 Pickled Red Cabbage
Pickled Red Cabbage can be prepared in just a few minutes with a few ingredients including rice wine vinegar, chili peppers, garlic, and some other herbs and spices.
Save
Share
Print
Pin
Rate
Ingredients
1

small head red cabbage

(thinly sliced)

2

cups

rice wine vinegar

2

cups

water

2

pieces

of 1-inch fresh ginger root

(peeled)

1/2

teaspoon

mustard seed

1/2

teaspoon

colored peppercorns

2

cloves

garlic

(peeled)

1

red chili pepper

(sliced and seeded)

2

tablespoons

white sugar

2

tablespoons

salt
Instructions
Divide the thinly sliced cabbage, ginger root, mustard seeds, peppercorns garlic cloves, and chili slices between two glass jars.

To a medium saucepan over medium heat add the vinegar, water, sugar, and salt. Stir and bring to a boil.

Pour the liquid over the cabbage and spices, and fill the jars.

Cover and keep in the fridge for up to two weeks.
Nutrition
Calories:
247
kcal
|
Carbohydrates:
46
g
|
Protein:
7
g
|
Fat:
2
g
|
Saturated Fat:
1
g
|
Polyunsaturated Fat:
1
g
|
Monounsaturated Fat:
1
g
|
Sodium:
7109
mg
|
Potassium:
1119
mg
|
Fiber:
10
g
|
Sugar:
29
g
|
Vitamin A:
4902
IU
|
Vitamin C:
272
mg
|
Calcium:
226
mg
|
Iron:
4
mg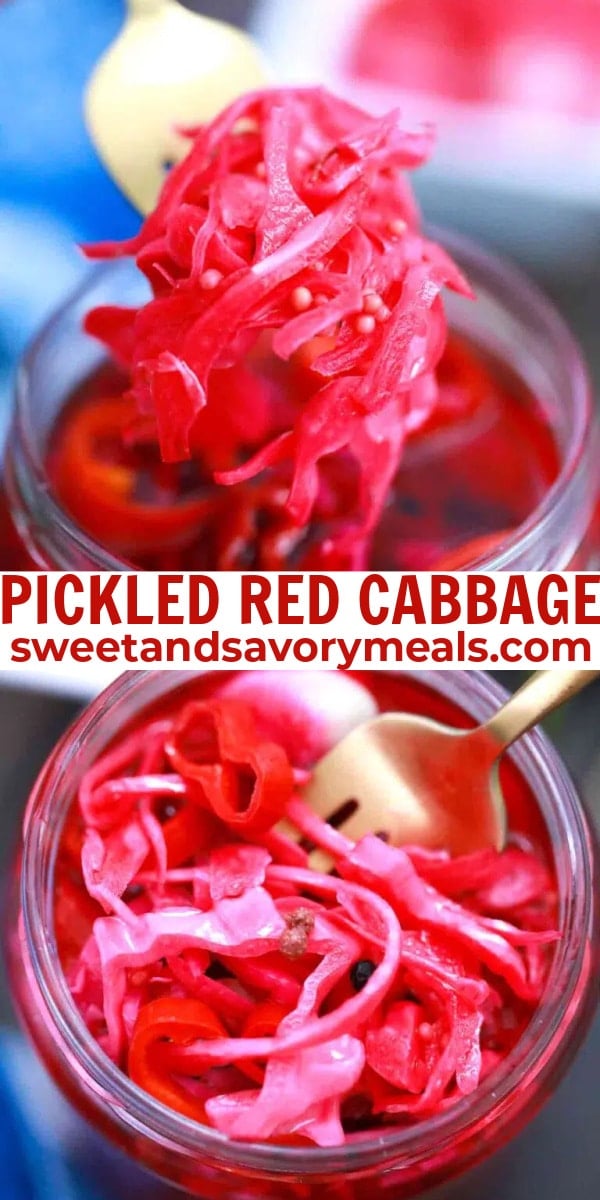 More recipes you might love