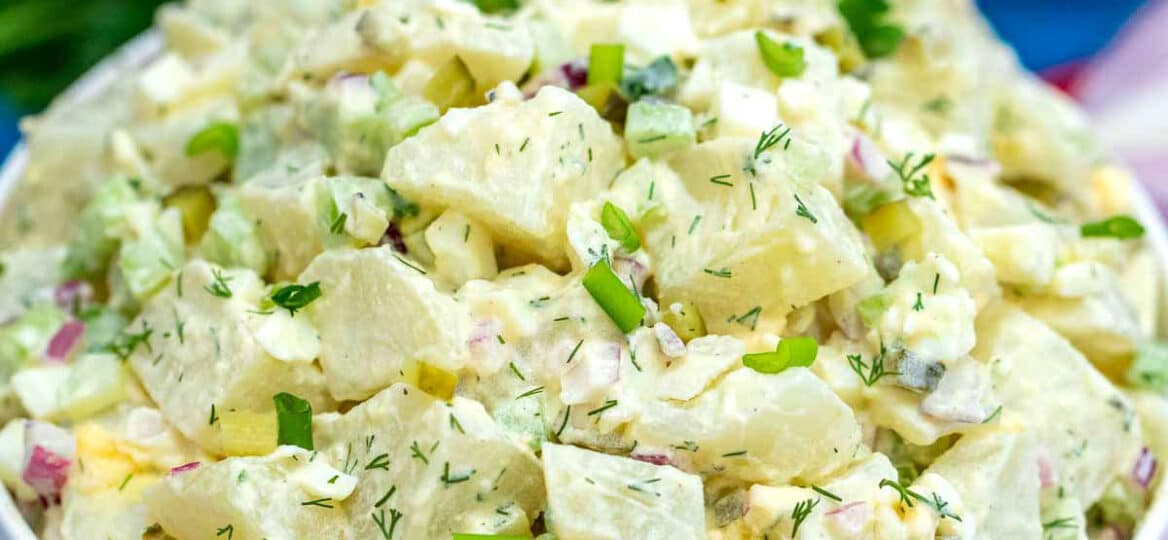 Classic Potato Salad Recipe [video]
Classic Potato Salad is reminiscent of the old days of family get-togethers. It is an easy recipe to make, that pairs well with pretty much any dish!
The ultimate comfort food that you can serve with dishes like Oven Roasted Turkey Breast, Fried Chicken, or Crockpot Brown Sugar Ham.
Homemade Classic Potato Salad
Classic Potato Salad is one of those favorite recipes that every household has a version of to share. What we love about this dish is the combination of the tangy and sweet flavors of the potatoes and the creaminess of the dressing bound into it. The contrasting flavors are what make this dish one of our favorites!
After boiling the Yukon potatoes, which are naturally on the sweet side, we would drizzle apple cider vinegar on to them. This is done while they're still hot, as to absorb the vinegar well. And this is the secret to have the perfect tangy taste to them.
Then we add the rest of the ingredients. The red onions, pickles, and celery give it a contrasting texture when you're eating this dish. The flavors are so rich and delicious, that sometimes it is hard to remember that this is a side dish and not the main dish!
WHAT IS a POTATO SALAD?
It is boiled potato mixed in with apple cider vinegar, then with onions, celery, pickles, and hardboiled eggs. Then, bound by mayonnaise and sour cream, and flavored with dill and green onions. A side dish that goes well with just about anything!
HOW DO YOU MAKE CLASSIC POTATO SALAD?
This recipe is super easy to do!
First, you have to boil your potatoes. While still hot, add in your apple cider vinegar and mix well. Then, let them cool off, add in your finely minced hardboiled eggs, onions, celery, pickles, dill, and green onions.
Next, mix in a separate bowl, the minced garlic, mayonnaise, sour cream, pickle juice, a little bit of olive oil, Dijon mustard and apple cider vinegar. Blend together and pour into the potatoes with all the other ingredients. Mix well.
Taste and adjust the seasoning as needed.
ARE WHITE POTATOES HEALTHY? WHAT ARE THE HEALTH BENEFITS?
Yes, they are certainly healthy! They're packed with vitamins, minerals, and antioxidants that neutralize the harmful molecules known as free radicals. When free radicals are not checked, they can increase the risk of diseases like heart disease, diabetes, and even cancer.
It can be so filling too, that you might not want to fill yourselves with lots of meats, just the required 45 grams of any meat that should be included in your diet.
CAN YOU MAKE POTATO SALAD THE DAY BEFORE?
You can definitely do this recipe the day before. It tastes even better to make it in advance, as the flavors absorb as the ingredients sit together. Therefore, we strongly recommend making it a day or so in advance, and letting it sit for flavors to mix it. It would taste so much better that way!
IS POTATO SALAD BAD FOR YOU?
Just like any other dish, you should eat it in moderation. With the dressing included in this recipe, it packs a number of calories. But control is the key and you can enjoy this hearty dish!
HOW DO YOU COOK THE POTATOES FOR POTATO SALAD?
First, you have to scrub and wash them carefully to remove dirt on the skin. Yukon potatoes have thin skins so it would be easy to peel them either way.
Next, if you choose to peel them, grab your peeler and do so, then cut them in quarters. Place them in a large pot and fill it up with water to cover. You might want to add about a ½ tablespoon of salt to season it. Bring it to a boil and cook for 15 minutes.
Finally, test the doneness by piercing them with a paring knife. If the knife runs through them without resistance, then they are done!
DO YOU CUT POTATOES BEFORE BOILING FOR POTATO SALAD?
If you do not have too much time to make this recipe, then go ahead and cut them in quarters to reduce the cooking time by half. It is a nice and way to reduce the cooking time significantly, especially if you are in a hurry.
HOW DO YOU PREVENT POTATOES FROM TURNING BROWN?
If you have already peeled them, and do not intend to cook right away, add water to cover them. This would prevent them from turning brown.
DO YOU LEAVE THE SKIN ON THE POTATOES?
You can either peel them or leave the skin on. Unpeeled potatoes retain some of the nutrients that leech out when cooking them. Since Yukon potatoes have thin skins, it will be easy to peel either way.
HOW LONG CAN POTATO SALAD SIT OUT?
Because it contains mayonnaise and sour cream in the dressing, you can only leave the dish out for a maximum of one hour before it turns bad. It has to retain its cool temperature, so you can serve them over a bowl of ice.
HOW DO YOU STORE IT?
Leftover is the best to munch on! Transfer to airtight containers and store in the refrigerator. It can stay in the refrigerator for up to 3 – 4 days.
More make-ahead salad recipes:
RECIPE TIPS:
We recommend using Yukon potatoes when preparing this dish. Also, ensure to choose the same sized once, so that they can cook evenly.
Scrub and clean the skin carefully before peeling them.
In addition, recommend cooking them completely prior to adding the dressing.
For more flavor and a crunchy texture, feel free to add some bacon.
Make sure you transfer to clean, airtight containers to prevent bacterial growth.
Also, you can make this recipe in the Instant Pot. Check out the Instant Pot version of it by clicking this link.