Crab Salad Recipe [Video]
Crab Salad is the ultimate seafood delicacy, made budget-friendly with imitation crab. Loaded with crunchy celery, a creamy dressing and citrus for a refreshing flavor!
Seafood dishes can provide a fairly fresher twist to your daily meals. If you want to serve a full course seafood meal, check out my recipe for Deviled Eggs with Old Bay Shrimp for your appetizer, Instant Pot Lobster Chowder for a great side dish, and Instant Pot Shrimp Boil for your main course.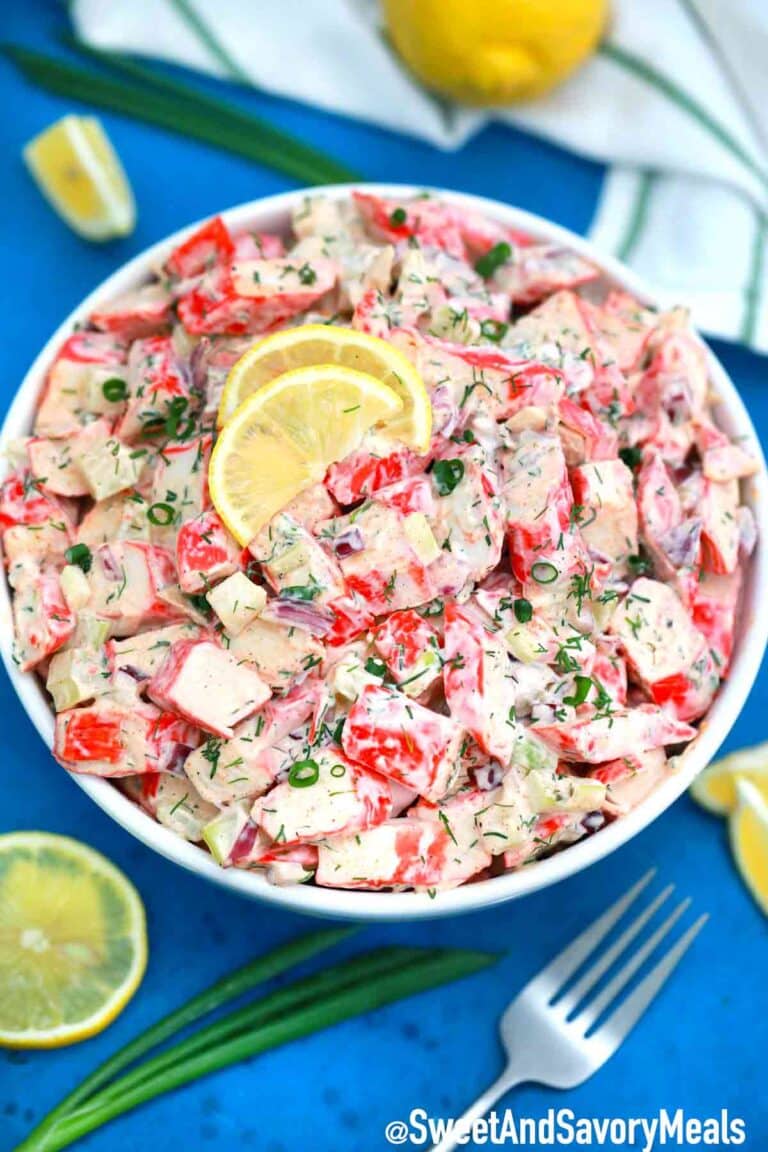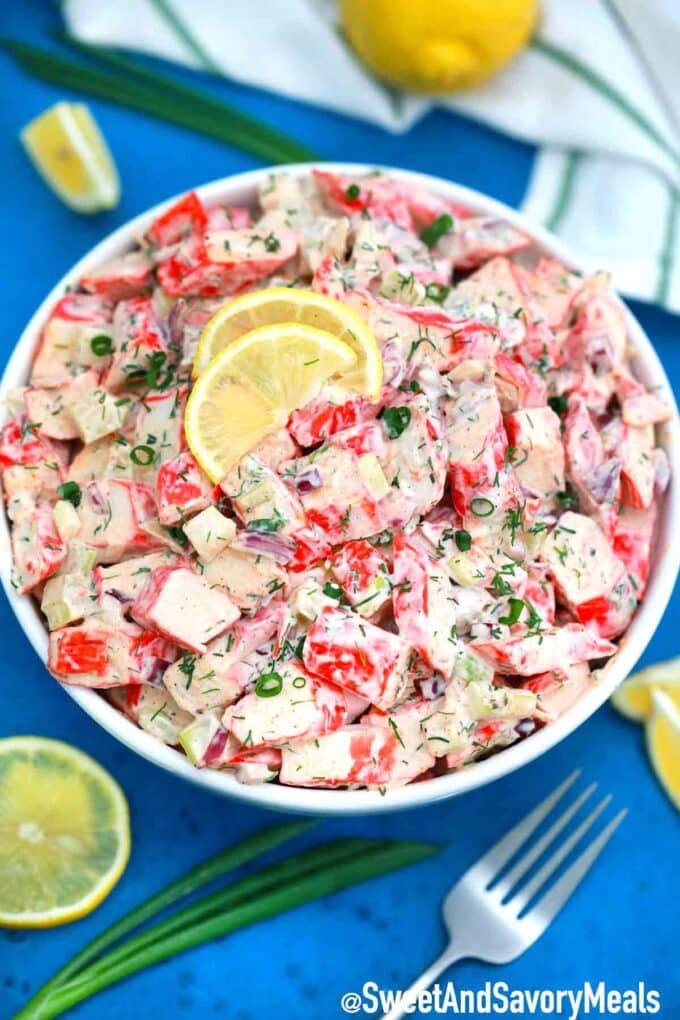 Easy Crab Salad Recipe
Crab Salad is easily one of the easiest salad recipes that you can make at home. With fresh ingredients, you can serve this dish at any time of the day as a meal or a side dish.
It is extremely light on the stomach which means you can enjoy it free from guilt. Not to mention, it has a great amount of protein, calcium, and vitamin B12!
I particularly like making this dish during the summer season. During picnics, it is so easy to carry, and you can make a large amount to accommodate every friend and family.
I hope you enjoy making this flavorful salad and adding it to the menu, taking a break from the more common salads. This creamy meal topped with a tangy lemon juice is the ultimate go-to dish for any occasion.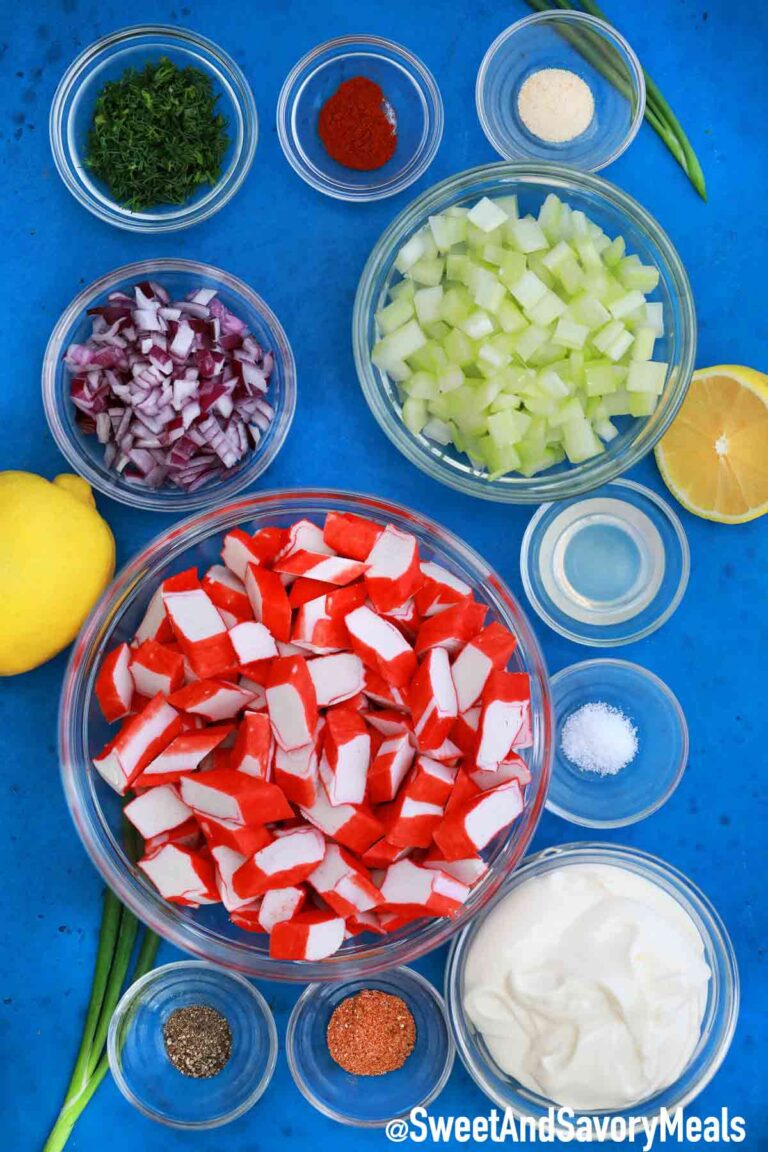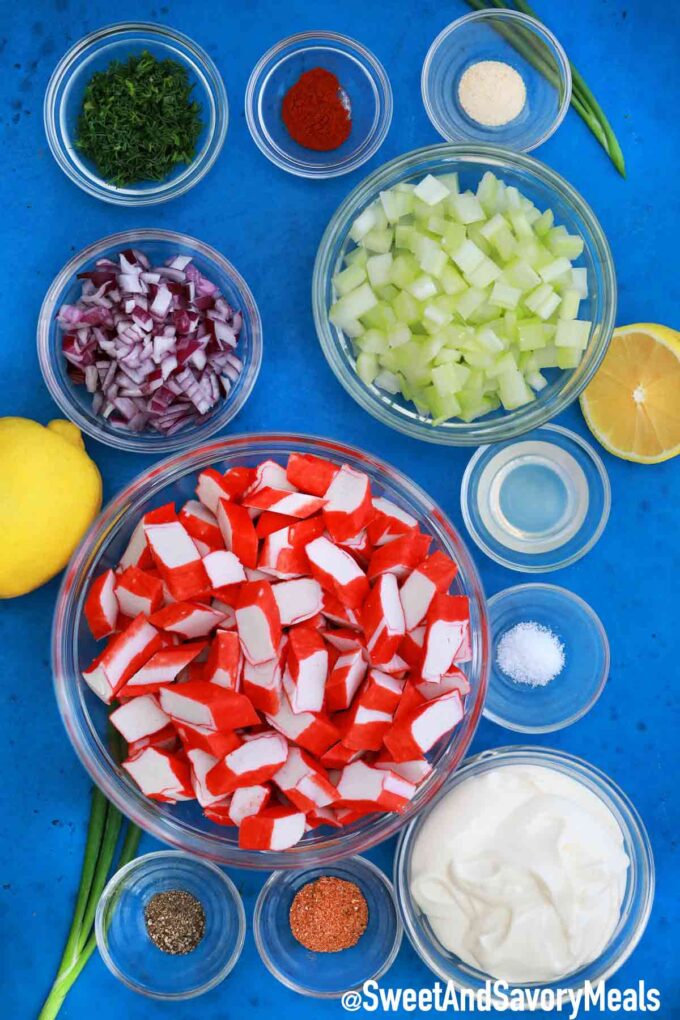 How to make Crab Salad
Prepare seafood meat. Flake crab meat or you could also slice it into sticks, according to preference.
Chop ingredients. Chop celery, fresh dill, and red onions finely. Also, chop some green onions if you want to add it for garnish.

Combine. In a large bowl, combine all the meat, chopped ingredients, mayonnaise, lemon juice, and seasoning which must include the following: paprika, Old Bay seasoning, garlic powder, salt, and pepper. Toss and stir gently until well combined.
Serve. Top off with a fine amount of fresh dill or green onions as desired. Let it chill. Then serve.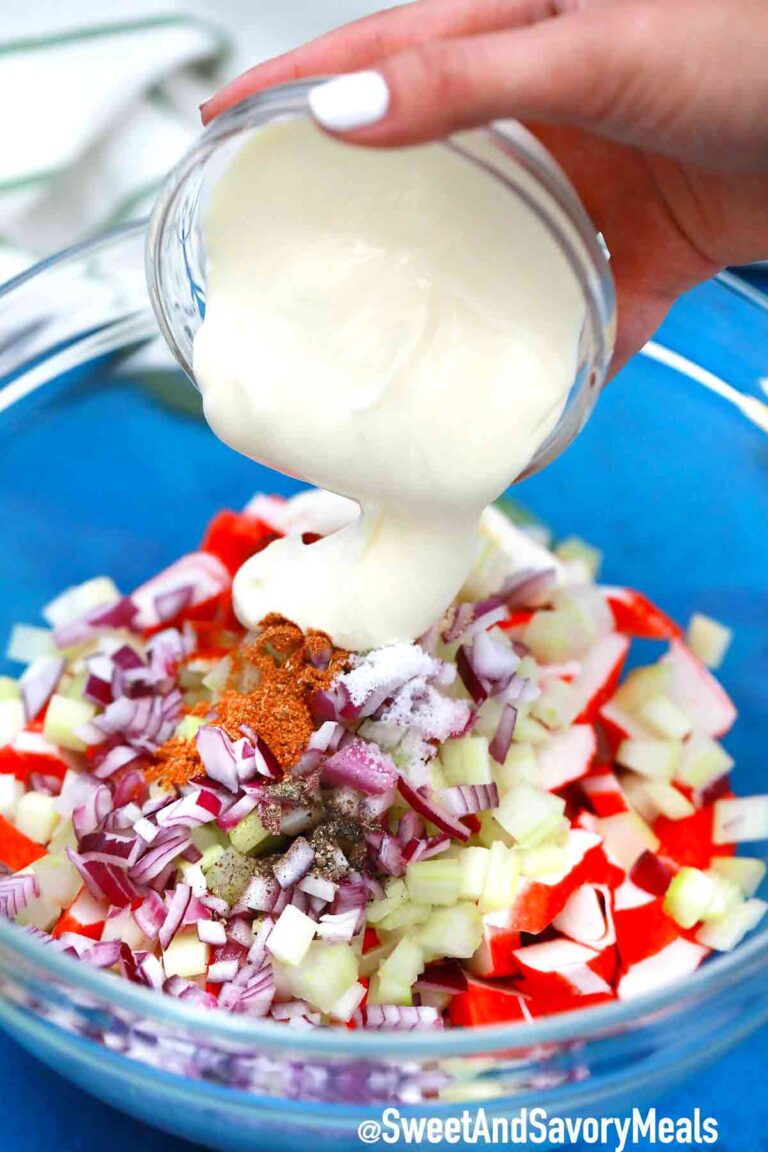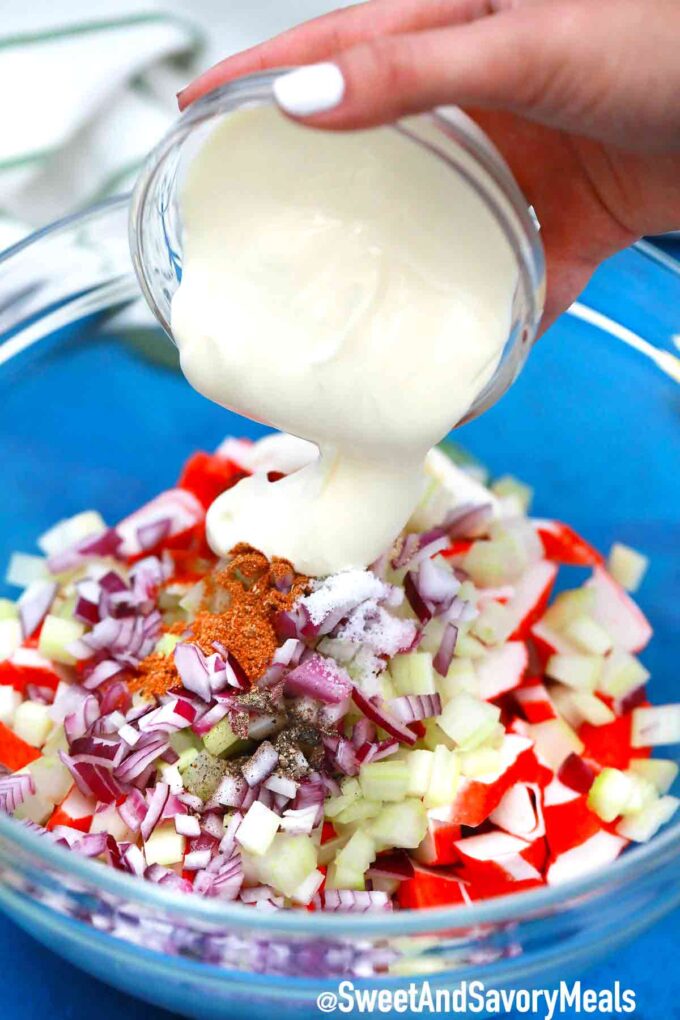 Recipe Variations:
For a spicier kick, add green or red bell peppers.
If you don't have mayonnaise, replace it with this Ranch Dressing recipe.
What is imitation crab?
Imitation crab is store-bought seafood sticks or flakes. Just like their name describes, they aren't crabs per se but are rather a combination of starch and whitefish.
They are mostly sold as sticks that are designed to look like the shape of crab legs, hence their name.
Although fresh seafood is better, they are a really great substitute for any seafood meat.
They are available all-year-round in supermarkets and groceries which makes making this recipe very accessible if you use an imitation version.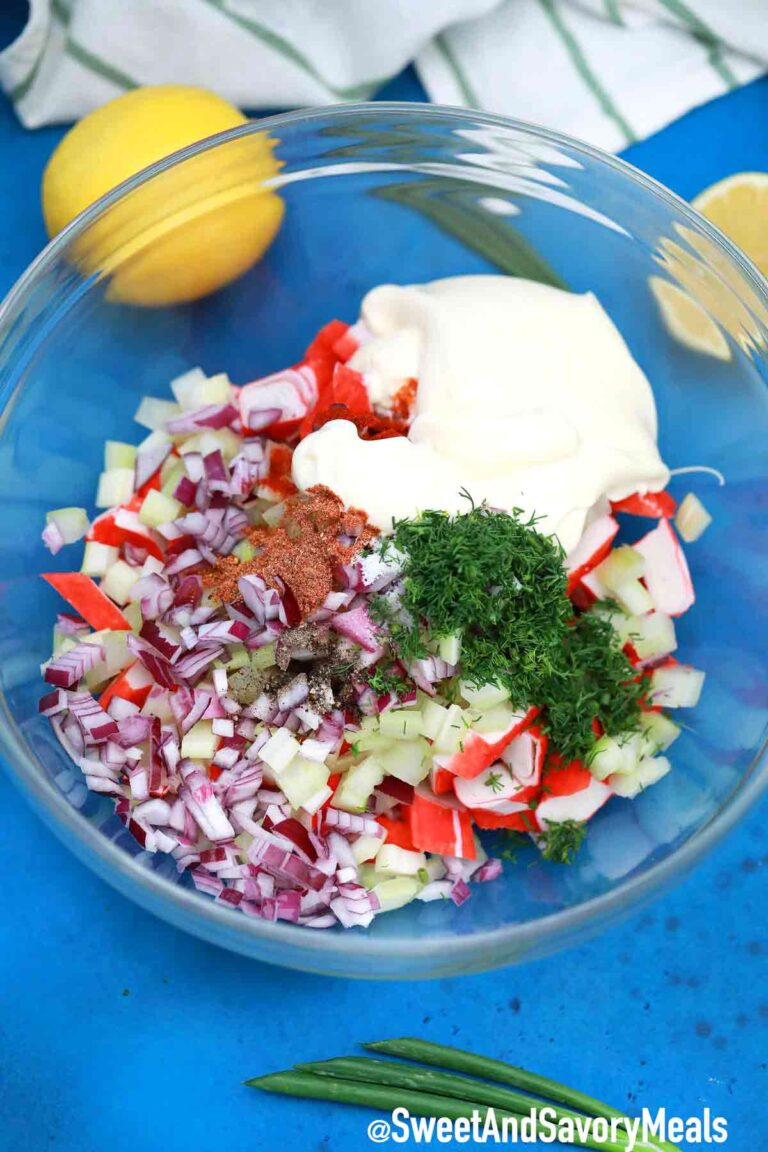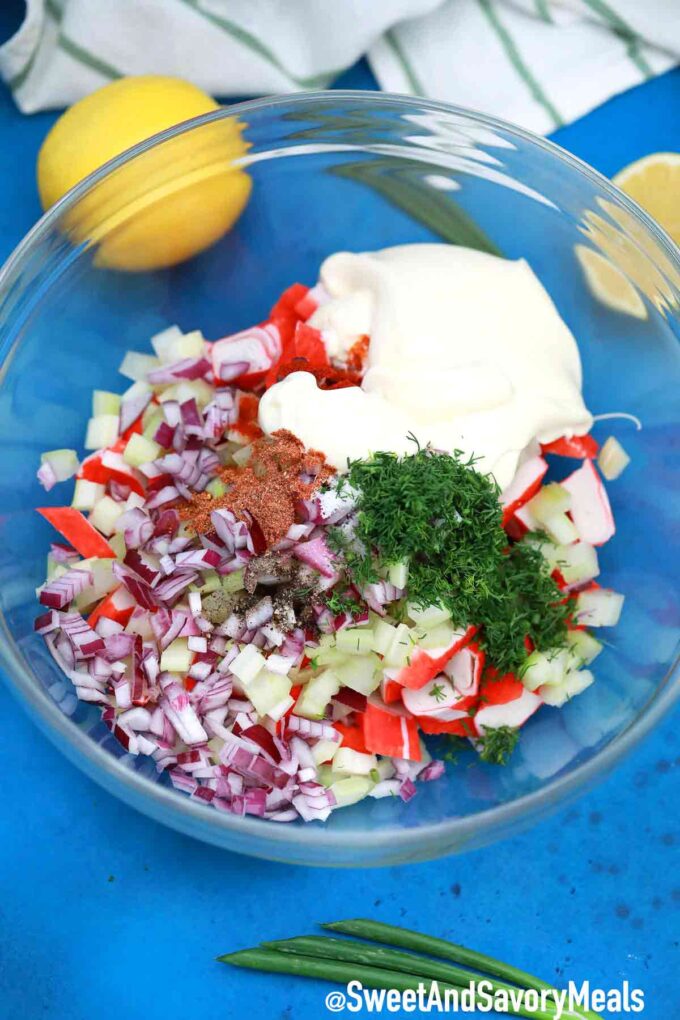 What do you eat with Crab Salad?
Make sure to enjoy this dish with the following sides to maximize its flavor and for greater enjoyment.
More delicious salads:
With thousands of recipes on the internet, it can be quite overwhelming to choose which one tastes the best. Well, you don't have to worry as here are my salad recipes that are surely delicious and mouthwatering: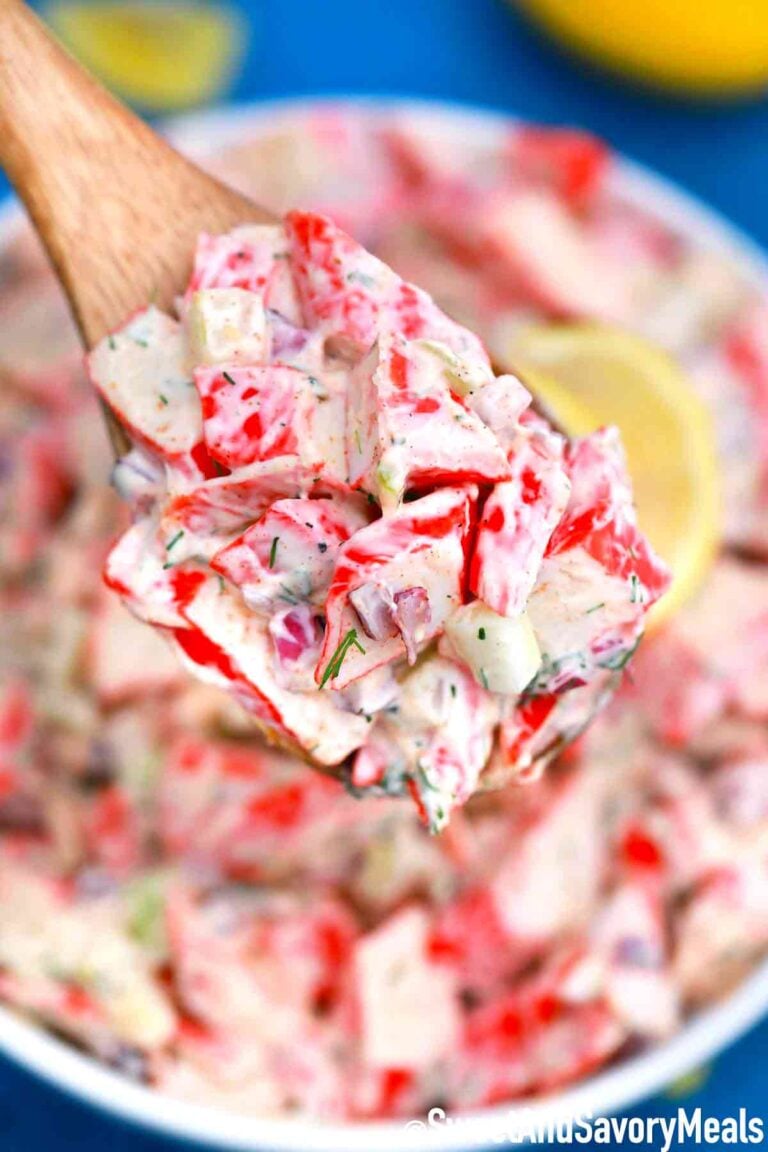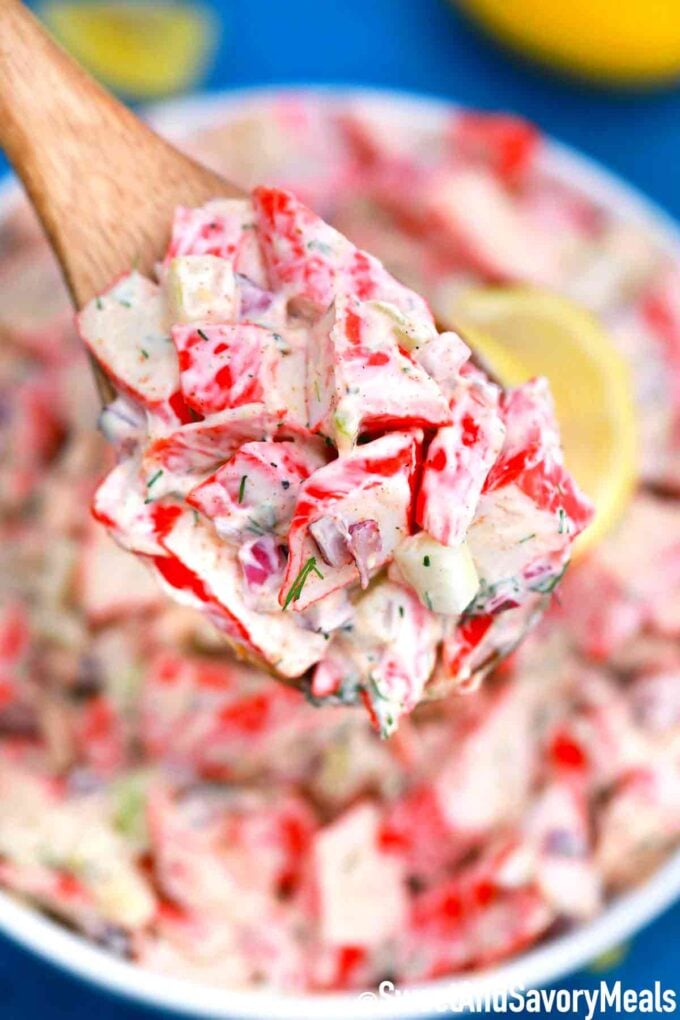 How to store it?
With the mayonnaise and crabs infused together, you have to make sure to seal it in an airtight container to make it last for up to 3 days.
Put it in the refrigerator, preferable on the top portion and the back part. You can also place it where there is no raw meat besides the container.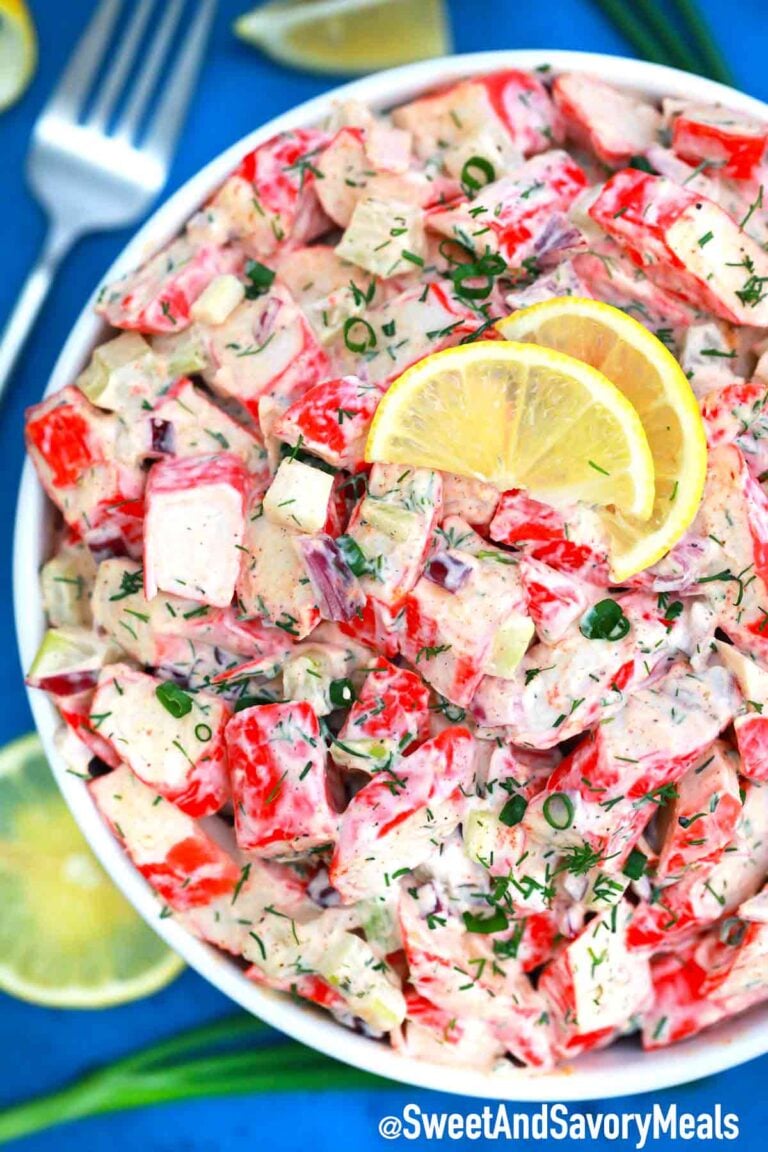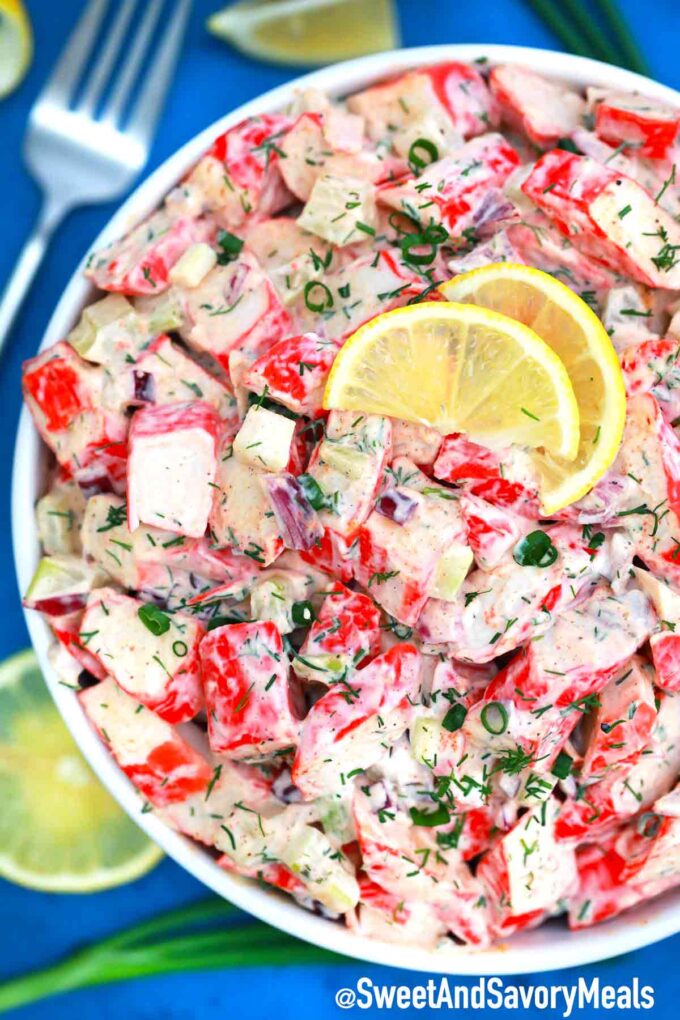 Recipe tips:
For those looking for lesser fat content, you can substitute ordinary mayonnaise to low-fat mayo.
If you want a higher meat content, I recommend adding in shrimp cuts.
You can serve this recipe as it is. However, it also works great if you use it to fill in bread, lettuce, crackers, and pasta.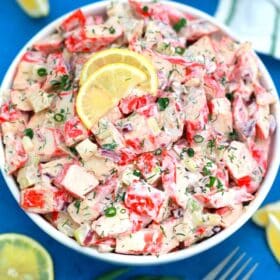 Crab Salad Recipe
Crab Salad is the ultimate seafood delicacy, made budget-friendly with imitation crab. Loaded with crunchy celery, a creamy dressing, and citrus for a refreshing flavor!
Save
Share
Print
Pin
Rate
Ingredients
1

pound

imitation crab meat

(cut into cubes or flaked)

1

cup

celery

(finely chopped)

1/2

red onion

(finely chopped)

1/2

teaspoon

Old Bay seasoning

1/4

teaspoon

paprika

1/4

teaspoon

garlic powder

1

tablespoon

lemon juice

salt and pepper to taste

2/3

cup

mayonnaise

1 1/2

tablespoons

fresh dill chopped

(plus more for garnish)

Chopped green onions

(for garnish)
Instructions
Add all of the ingredients to a large bowl and stir gently to combine.

Serve immediately, or cover and chill for up to 2 days.

When serving, sprinkle with additional chopped dill and top with lemon slices.
Nutrition
Calories:
378
kcal
|
Carbohydrates:
23
g
|
Protein:
7
g
|
Fat:
28
g
|
Saturated Fat:
4
g
|
Cholesterol:
28
mg
|
Sodium:
895
mg
|
Potassium:
86
mg
|
Fiber:
2
g
|
Sugar:
6
g
|
Vitamin A:
199
IU
|
Vitamin C:
3
mg
|
Calcium:
16
mg
|
Iron:
1
mg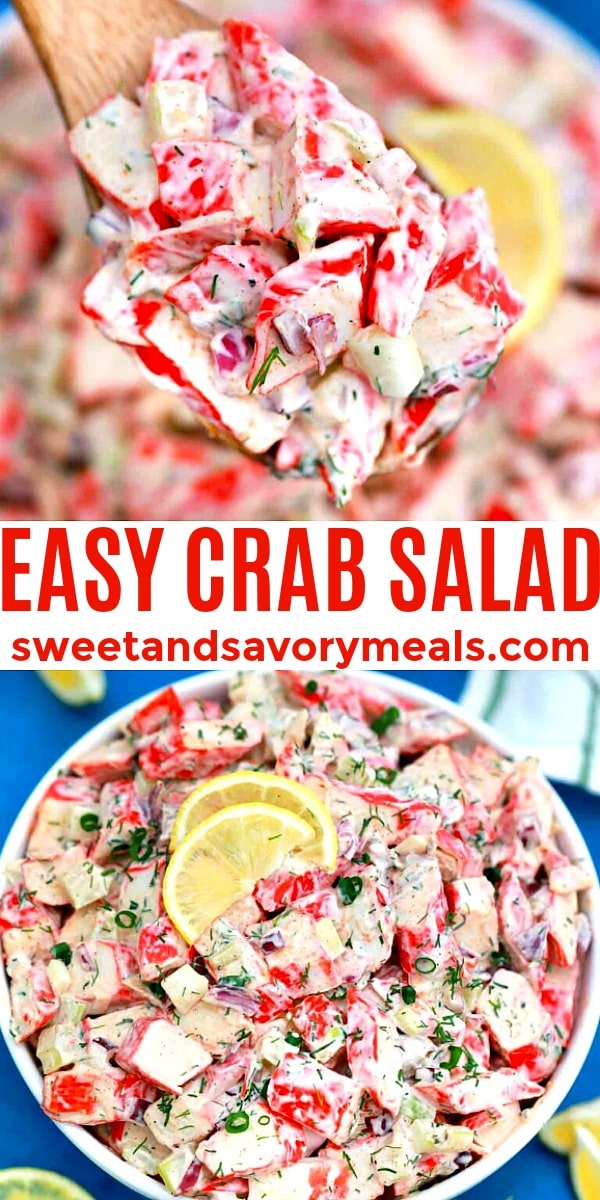 More recipes you might love