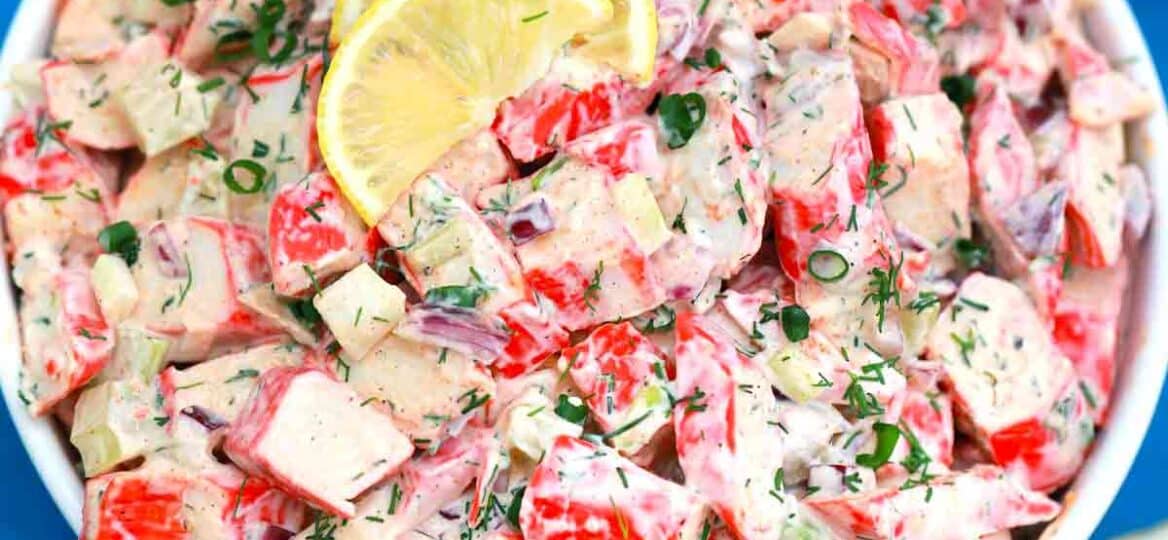 Crab Salad Recipe [Video]
Crab Salad is the ultimate seafood delicacy, made budget-friendly with a bland of imitation crab, vegetables, and herbs. This is a quick and easy dish that is also loaded with crunchy celery, a creamy dressing, and citrus for a refreshing flavor!
Seafood dishes can provide a fairly fresher twist to your daily meals. If you want to serve a full-course seafood meal, check out my recipe for Deviled Eggs with Old Bay Shrimp for your appetizer, Instant Pot Lobster Chowder for a great side dish, and Instant Pot Shrimp Boil for your main course.
Crab Salad (Seafood Salad) Recipe
As a kid, I always used to pick up the ready-made salads at my local grocery store. I was very excited to enjoy them with some freshly baked bread or make sandwiches out of them at home. Those salads and sandwiches were some of the tastiest and most amazing seafood dishes I can remember to date. In this post, I will teach you how to make the same delicious crab salad quickly and easily in your own kitchen!
This recipe is probably one of the easiest salad recipes that you can make at home. With fresh ingredients, such as celery, fresh dill, and mayo you can serve it at any time of the day as a main meal or a side dish.
In addition, it is budget-friendly, and making it at home is guaranteed to taste so much better than the grocery store or restaurant version. It is extremely light on the stomach which means you can enjoy it free from guilt. Not to mention, it has a great amount of protein, calcium, and vitamin B12!
I particularly like making it during the summer season. The creamy dressing topped with tangy lemon juice is the ultimate go-to dish for any occasion. Also, during picnics, it is so easy to carry, and you can make a large amount to accommodate every friend and family.
If you are a seafood lover, another absolutely delicious recipe to try is this boiling crab shrimp.
Ingredients needed:
Imitation crab meat: you can find them in any grocery store in the seafood department.
Veggies and greens: the secret here is to use fresh vegetables, such as celery, dill, red onion, and green onion.
Seasoning: old bay seasoning, paprika, garlic powder, salt, and pepper.
Mayonnaise
Lemon juice
How to make Crab Salad?
Prepare the seafood meat. Start by flaking the crab meat or you could also slice it into sticks, according to preference.
Chop the ingredients. Next using a sharp knife, chop the veggies. I highly recommend finely chopping the celery, fresh dill, and red onions. This way, when you add the mayo they integrate and absorb really well the flavors. Also, chop some green onions if you want to add them for garnish.

Combine. In a large bowl, combine all the meat, chopped ingredients, mayonnaise, lemon juice, and seasoning which must include the following: paprika, Old Bay seasoning, garlic powder, salt, and pepper. Then, toss and stir gently until well combined.
Serve. Top off with a fine amount of fresh dill or green onions as desired. Let it chill. Then serve.
Recipe Variations:
Crab Salad Sandwiches: This is an ideal alternative to tuna sandwiches and a great way to incorporate leftovers as well. Simply prepare the salad, then serve it on Hawaiian rolls or homemade dinner rolls.
Real crab meat: Although I make it with imitation sticks because it is inexpensive and it tastes really good, you can swap them with real crab meat.
Mix in other proteins: Alternatively, feel free to swap the sticks with tuna chunks, lobster tail meat, grilled chicken, or shrimp. Protein and mayonnaise are the perfect combinations in these salads.
Spicy: For a spicier kick, add freshly chopped jalapeno peppers.
Skip the mayo: If you are not a mayonnaise fan, you can add a spoon of Greek yogurt instead. Also, you could replace it with this Ranch Dressing instead.

Crab Salad Dip: For those who love the dip, simply chop the crab up into smaller pieces, or use a food processor. Then, mix the rest of the ingredients together. Serve with crackers or Ritz crackers (yummy!).
What is an imitation crab?
Imitation crab is store-bought seafood sticks or flakes. Just like their name describes, they aren't crabs per se but are rather a combination of starch and whitefish. Also, if you did not know, the sticks are made with Surimi, a whitefish that is ground them bound with starch to resemble a crab leg.
They are mostly sold as sticks that are designed to look like the shape of crab legs, hence their name.
Although fresh seafood is better, they are a really great substitute for any seafood meat.
They are available all year round in supermarkets and groceries which makes making this recipe is very accessible if you use an imitation version.
Also, from time to time, I like serving it with the following:
On lettuce: Simply spoon the salad into individual lettuce cups. This will make for a healthy and festive dish.
Sandwich: Add it to Hawaiian rolls, or freshly baked homemade brioche bread!
Pasta salad: Leftovers can be mix-in with pasta for a great family dinner.
More delicious salads to try:
With thousands of recipes on the internet, it can be quite overwhelming to choose which one tastes the best. Well, you don't have to worry as here are my salad recipes that are surely delicious and mouthwatering:
How to store it?
With the mayonnaise and crabs infused together, you have to make sure to seal it in an airtight container to make it last for up to 3 days.
Put it in the refrigerator, preferably on the top portion and the back part. You can also place it where there is no raw meat besides the container.
Recipe tips:
For those looking for lesser fat content, you can substitute ordinary mayonnaise with low-fat mayo.
If you want a higher meat content, I recommend adding in shrimp cuts.
You can serve this recipe as it is. However, it also works great if you use it to fill in bread, lettuce, crackers, and pasta.
Fresh dill works the best in this recipe. But if you cannot find dill, you can use fresh celery instead.
In addition, you can add other ingredients to it. Such as cucumber, tomatoes, broccoli, etc.