Shrimp Cobb Salad [Video]
Shrimp Cobb Salad is a great recipe for turning a classic dish into something fancy! Made with browned shrimp, blue cheese, and a creamy homemade dressing.
If you are looking for variations of seafood meals, check out my recipes for Instant Pot Shrimp Boil, Crab Cakes, and Oven Roasted Mahi-Mahi.
Shrimp Cobb Salad easily creates an appetizing addition for any occasion. Not to mention, it really does not take much time to make and its ingredients are extremely nutritious.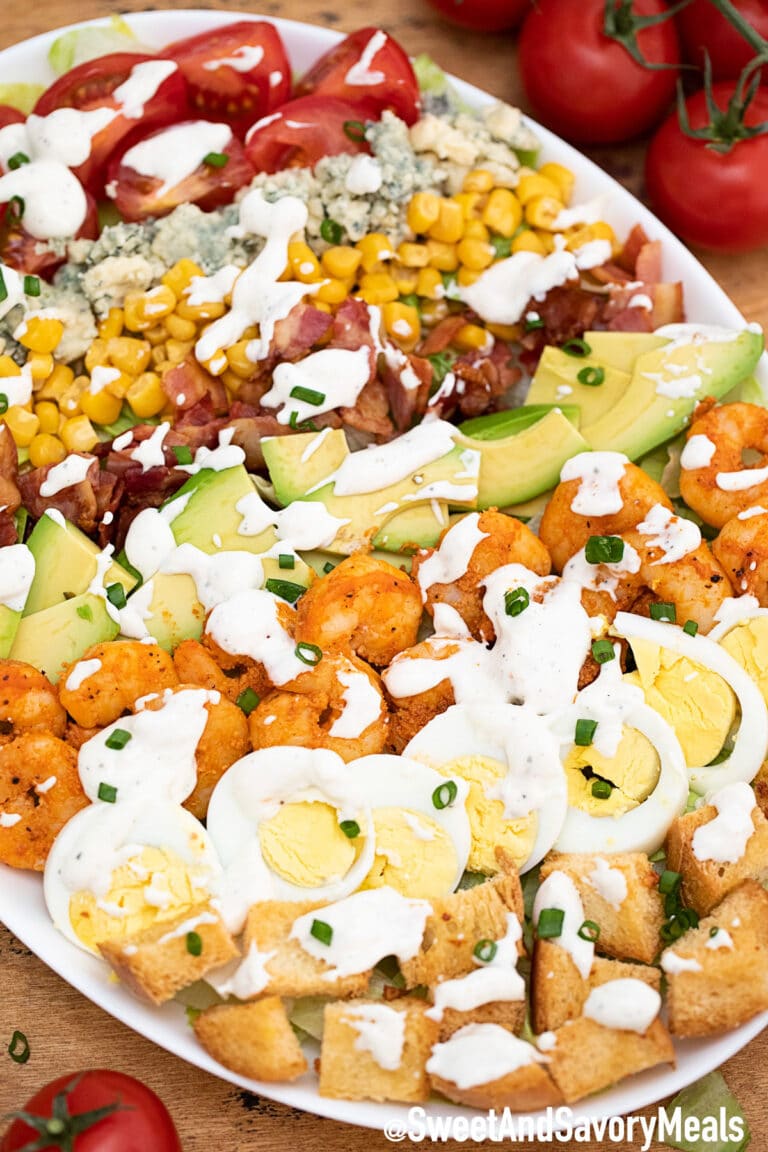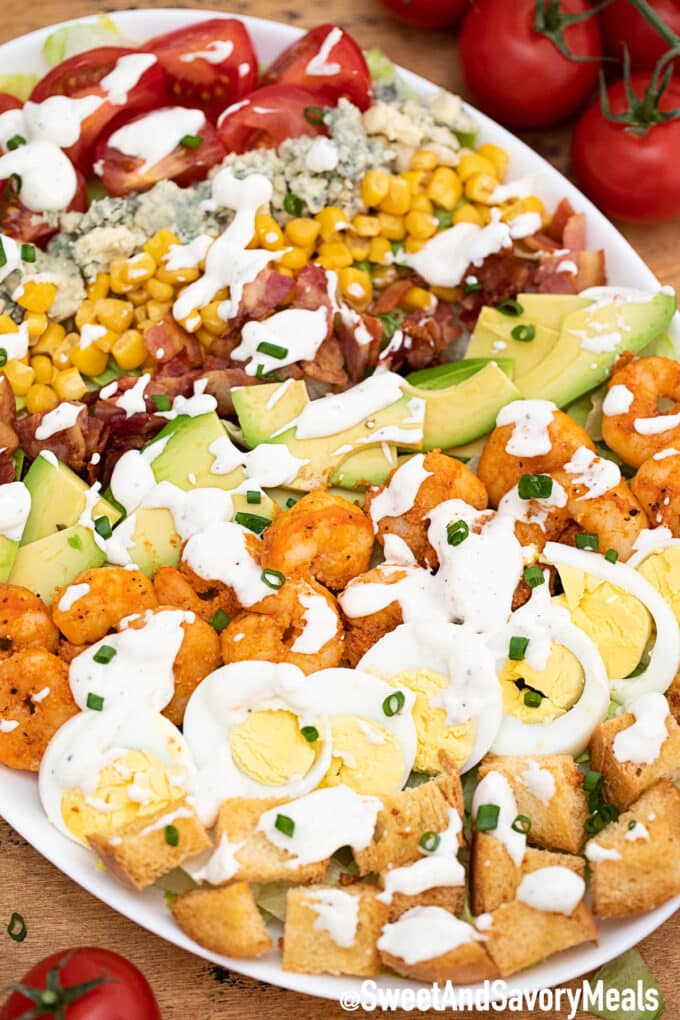 Homemade Shrimp Cobb Salad Recipe
Amongst other recipes, I find this one in particular the fanciest.
If I want to make it look like I exerted a lot of effort into preparing the food, this one is my ultimate go-to dish.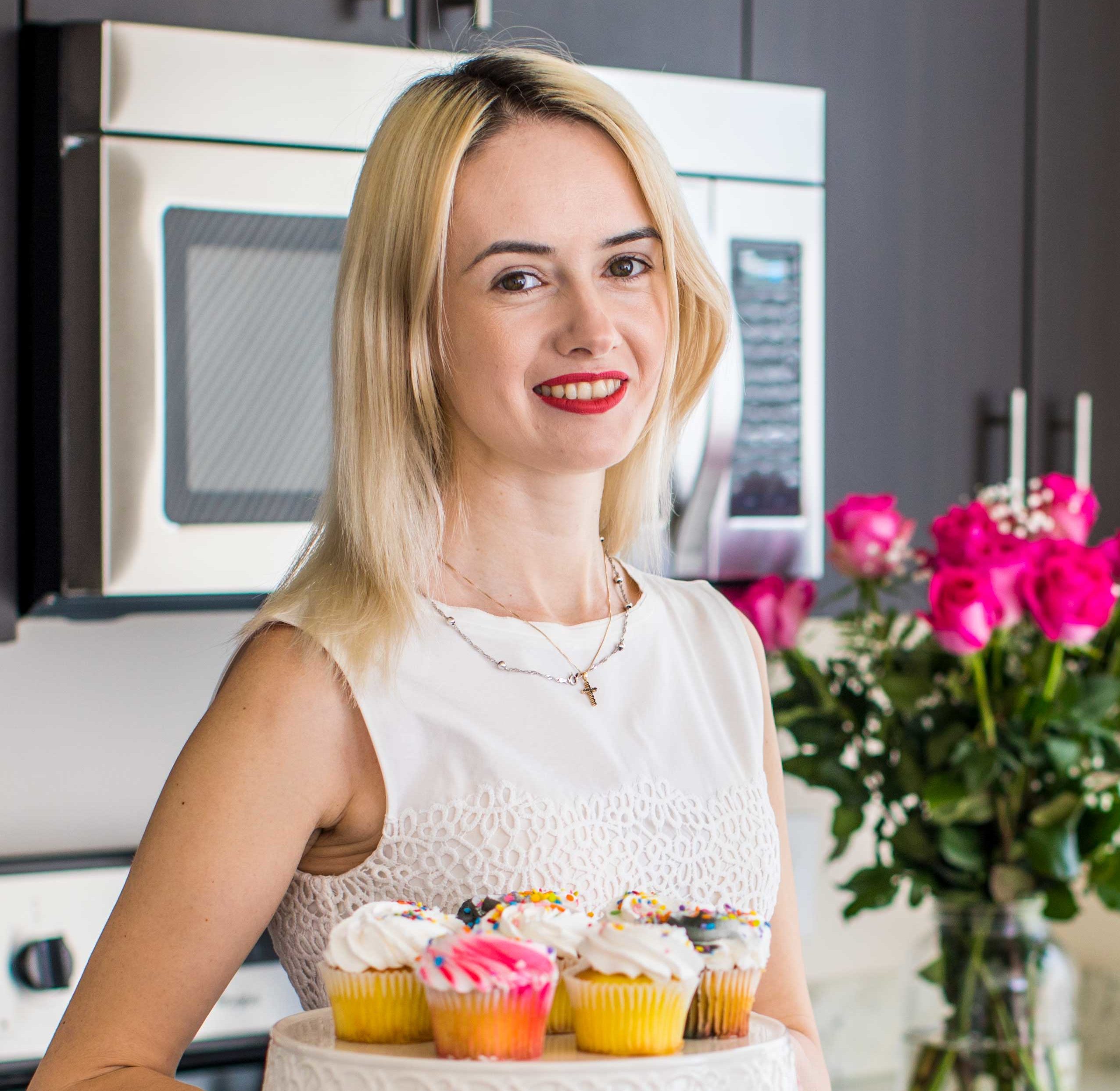 Follow us on Pinterest for more delicious recipes!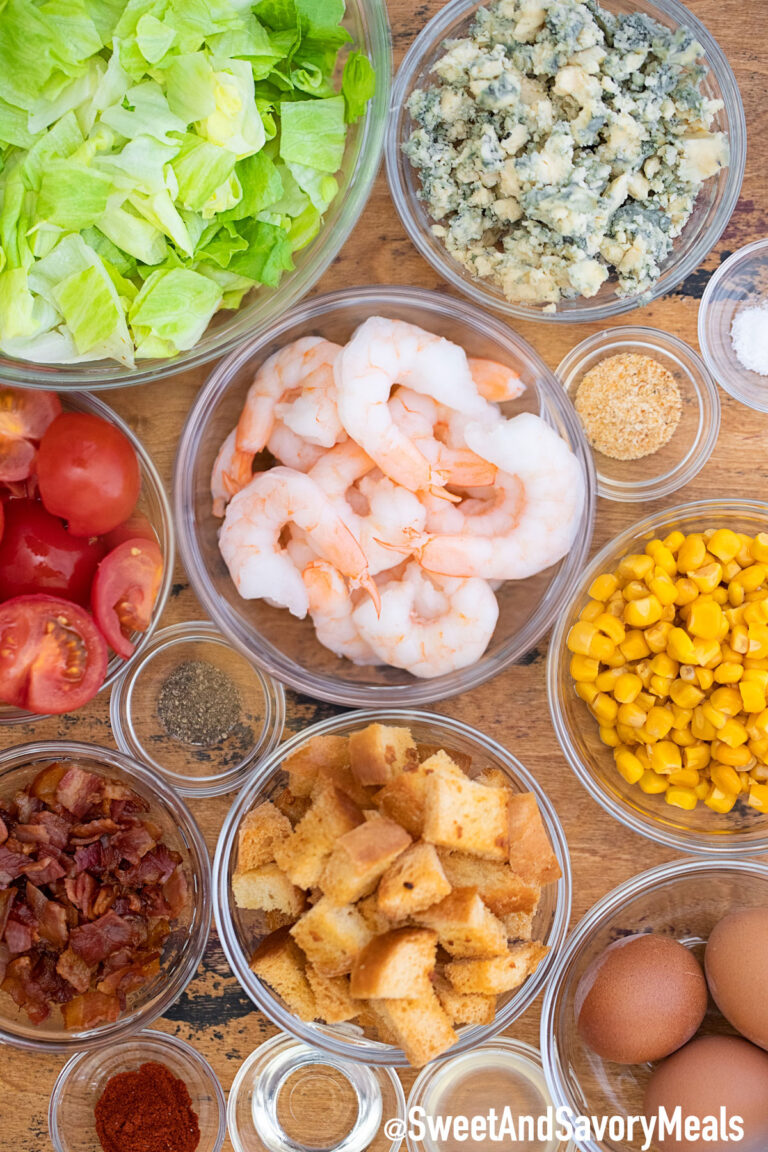 I also realize that it helps me feel full without feeling stuffy. Even when it is loaded with more goods than the normal salad types, still, it feels hearty and healthy.
Shrimp Cobb Salad fits perfectly with any meal type. You can use it for a brunch, a healthy and filling lunch, or an appetizer for dinner.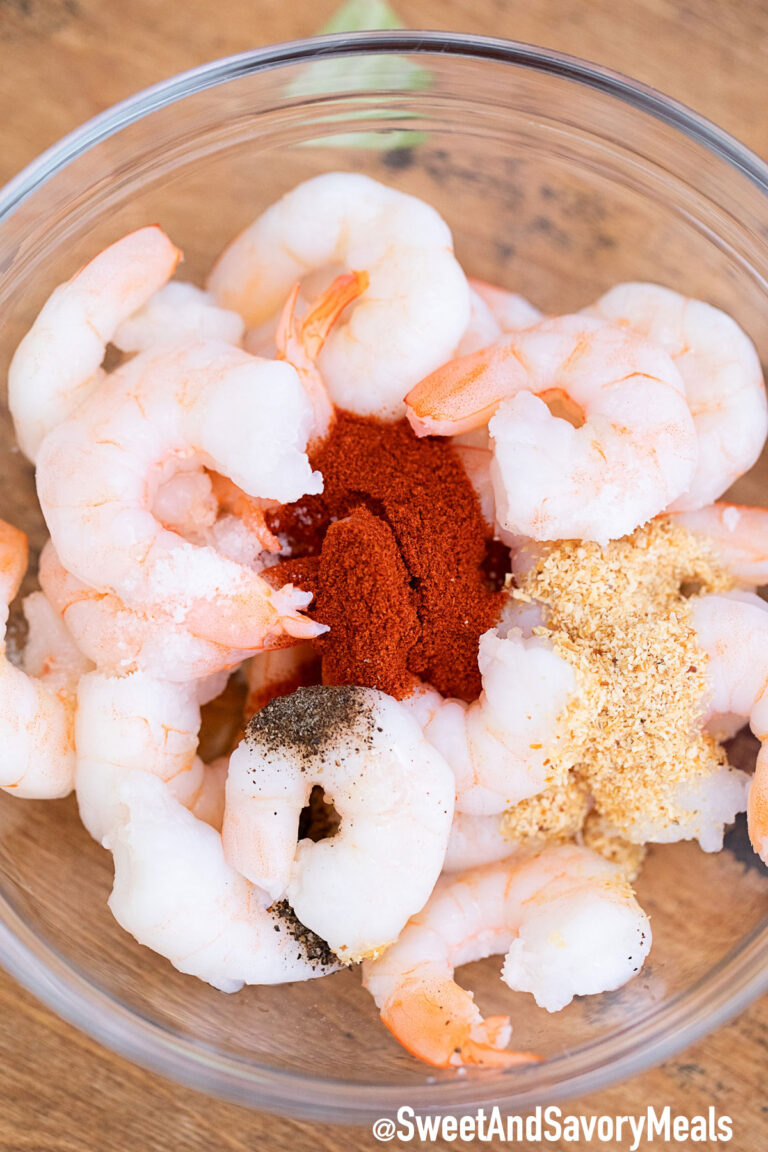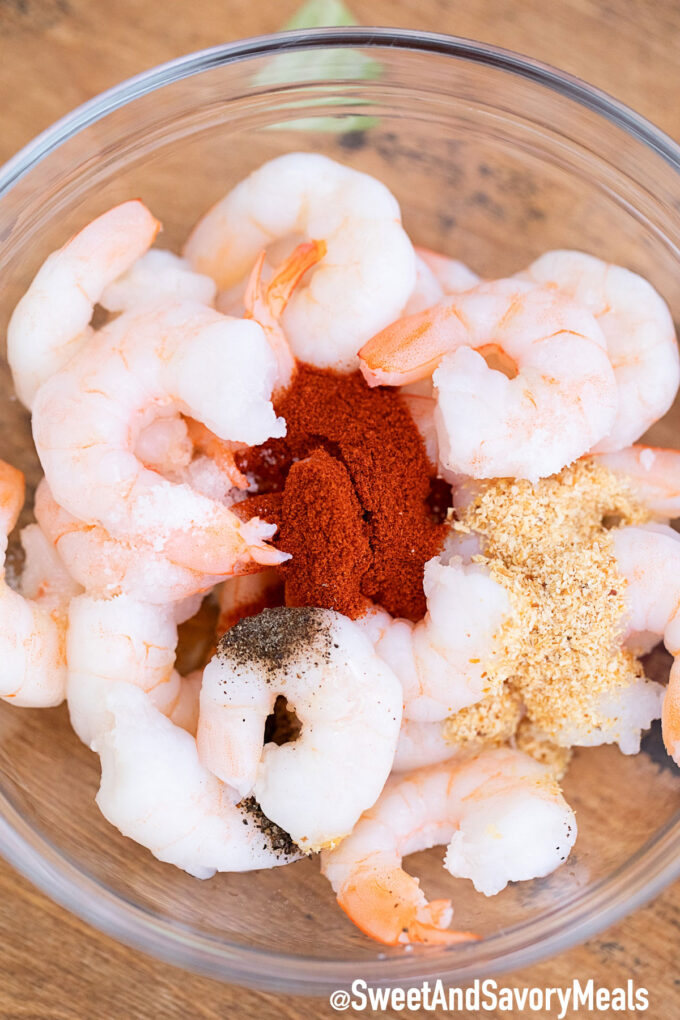 How to make the best Shrimp Cobb Salad
Cooking the shrimp. Coat the seafood with oil, lemon juice, garlic, and seasonings as desired. Then fry it over medium heat until golden.
Prep the bacon and eggs. Fry bacon to desired crispiness. Boil eggs according to preference. Chop both into preferred sizes.
Making the sauce. In a blender, add water, mayo, sour cream, parmesan, olive oil, garlic, lemon juice, and seasoning. Blend until smooth.

Assemble. In a bowl, toss together lettuce, tomatoes, cheese, and croutons. Place the cooked ingredients, avocado, and corn on top.

Serve. You can add sauce on top or place it in a separate bowl. Serve.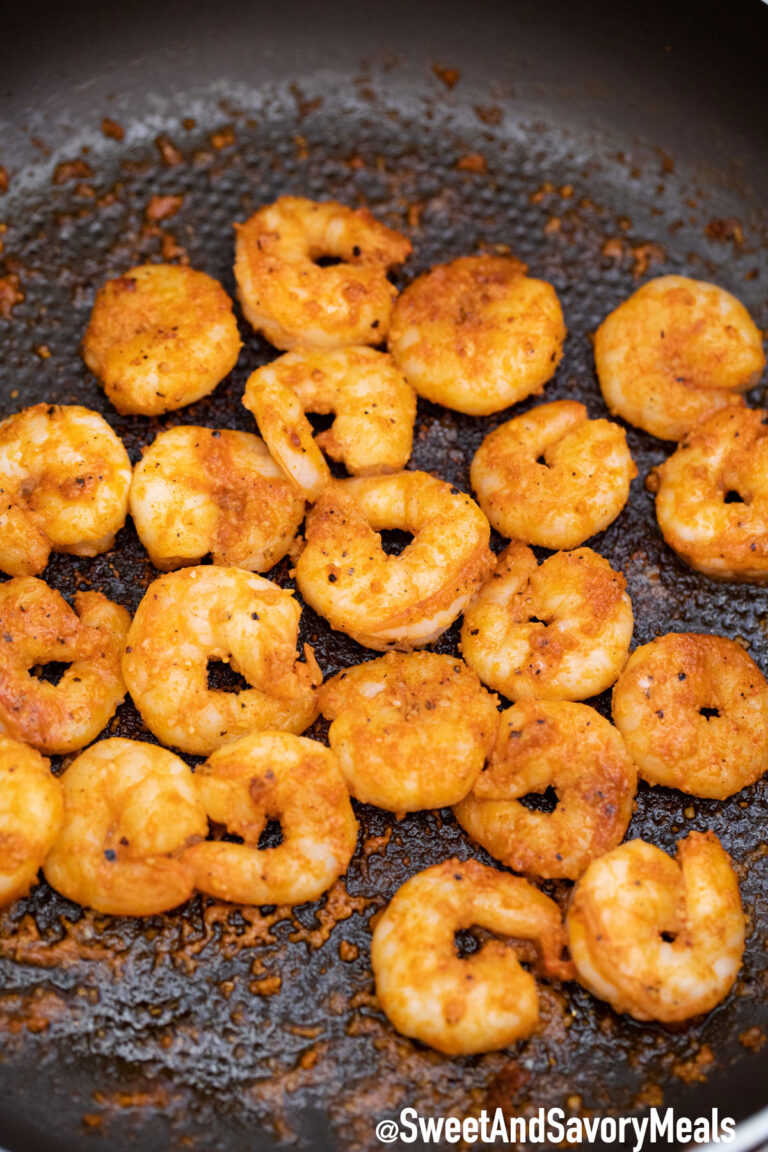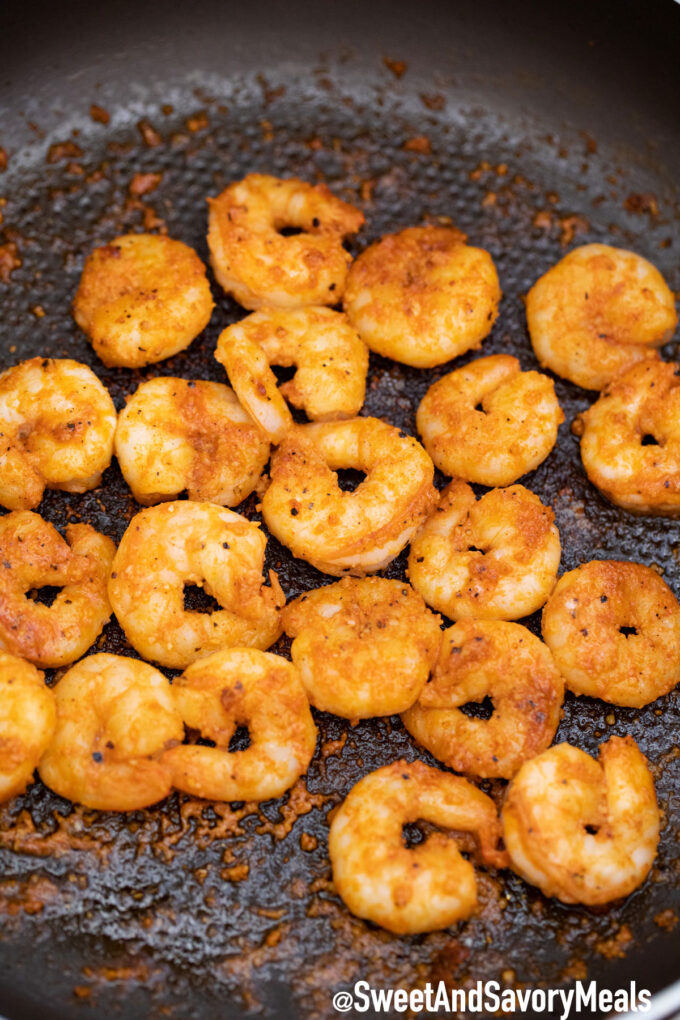 The best dressing for Shrimp Cobb Salad?
Knowing how to make different kinds of dressings can go a long way. Not only do they pair well with this recipe but with other dishes as well.
In addition, you can also choose to make different kinds of sauces so that your guests can decide which one they want. If you are looking for great dressing recipes, make sure to check out some of my best creations: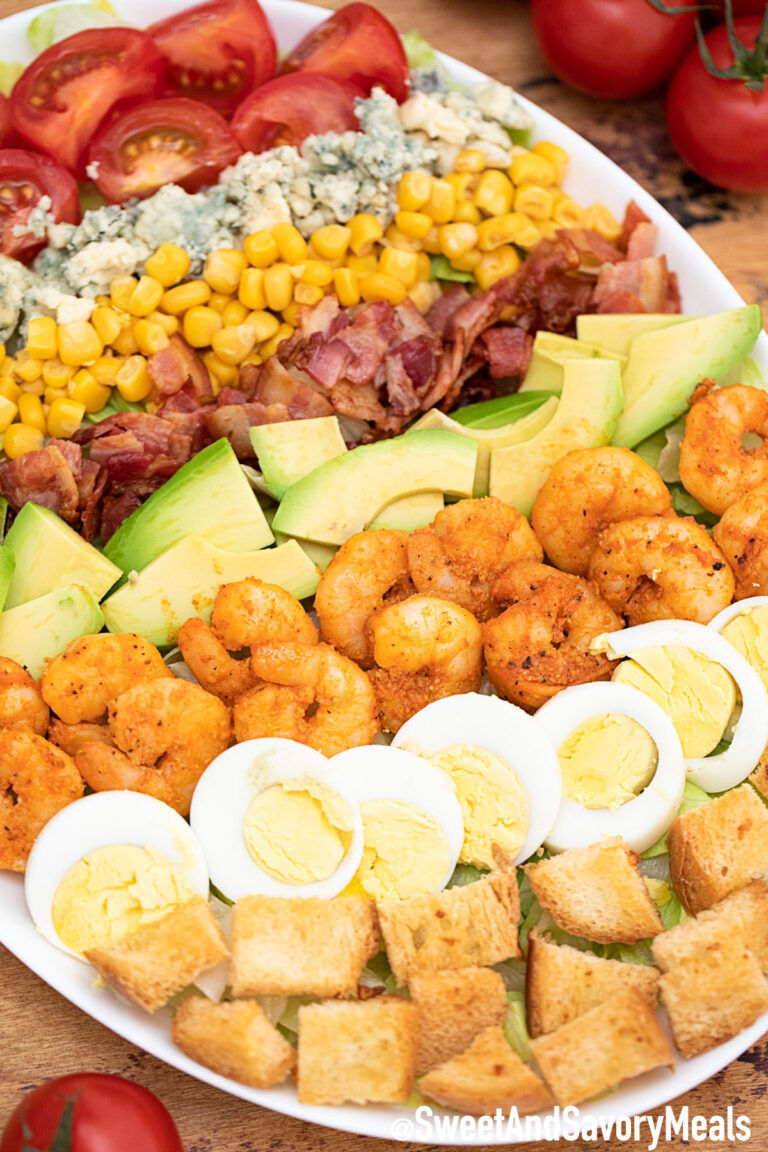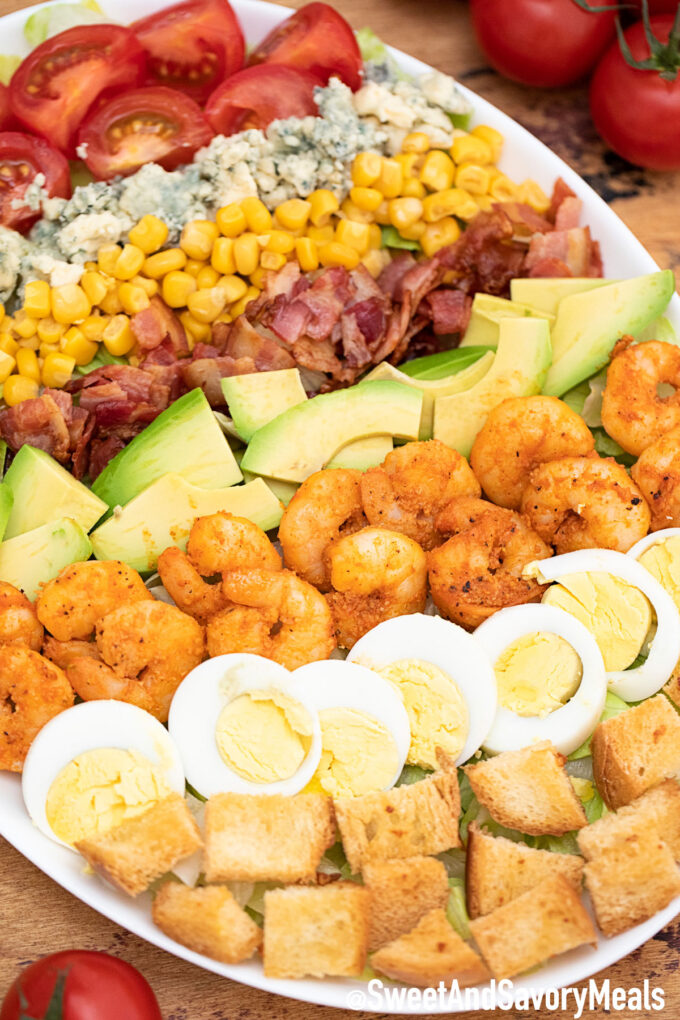 What to serve with:
The great thing about this recipe is its versatility. It easily fits on any occasion at any time.
For that reason, you can also pair it with a variety of other delicious meals. Here are some of the best dishes that match well with the juicy flavor of this recipe: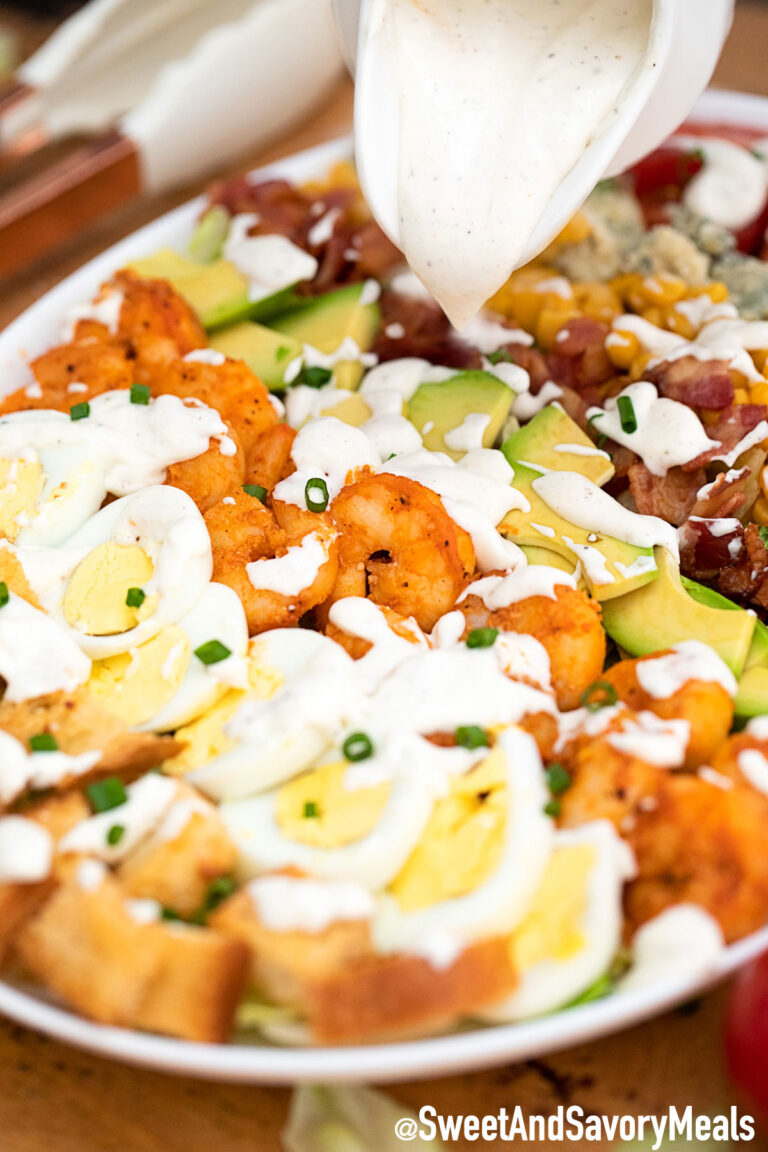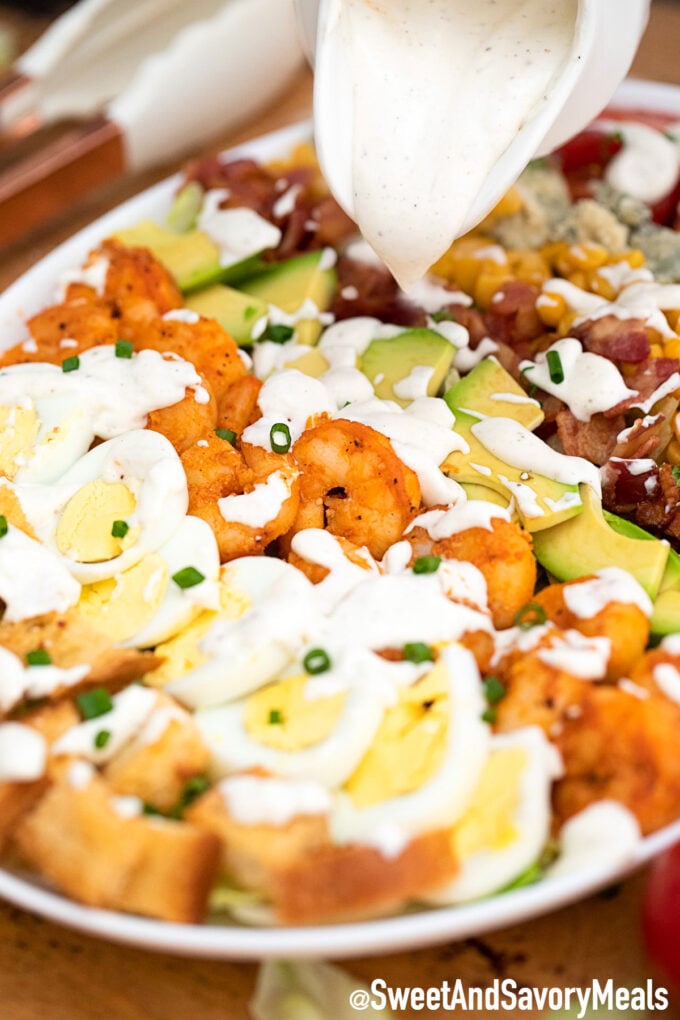 More delicious salads:
If you want a simpler variation of this recipe, you may want to check out how to make a:
How to store it:
Keeping dishes fresh may be intimidating to some. So, a lot of people tend to make small servings and end up short on afterward.
To avoid being afraid of spoiling food, keep the leftovers in a bowl, and lay a paper towel on top of it to absorb moisture. Then wrap the bowl in a cling wrap and refrigerate it. This makes the dish last up to two days.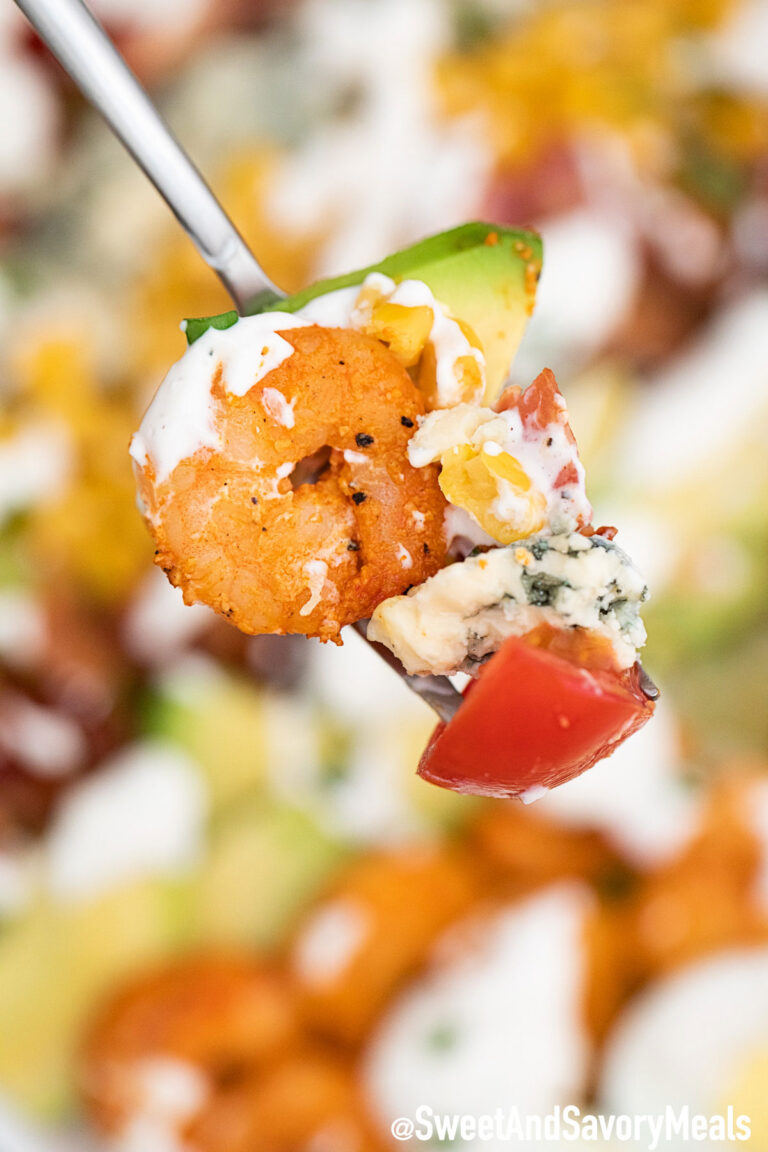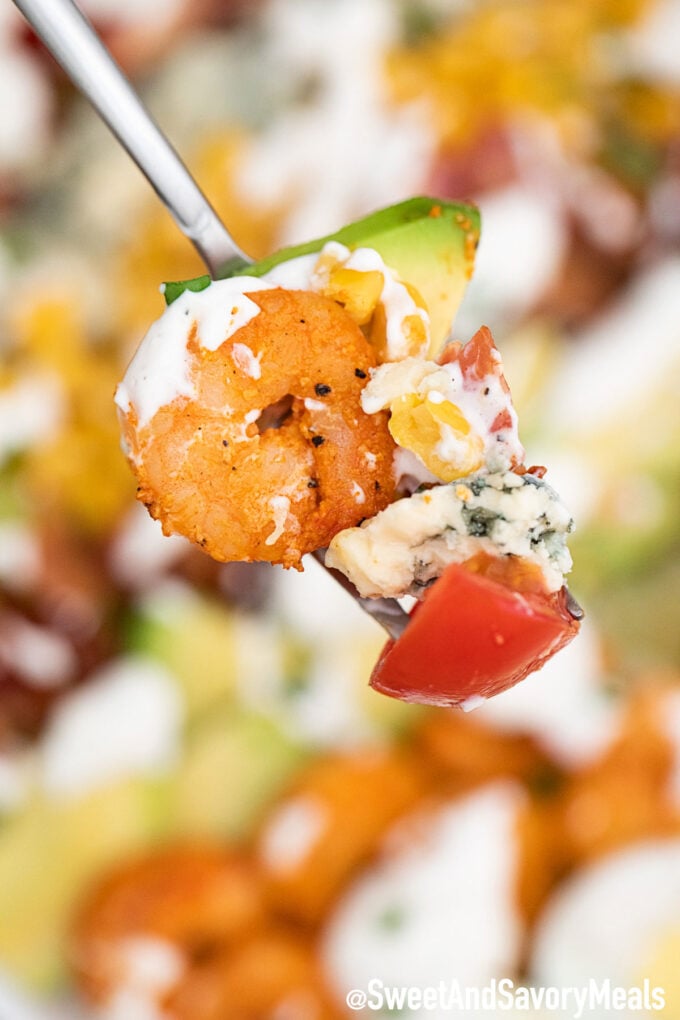 Recipe tips:
When it comes to a simple recipe such as this one, getting fresh ingredients is key.
Make sure to meticulously pick your seafood as it is the centerpiece of the dish.

Cooked shrimp is also fine for those who may want to save some time. However, look out for dark spots as it indicates incoming spoilage.

For added flavor, you may also want to season the vegetables and not only the dressing. This makes the dish flavorful as is and not rely on the sauce to get a kick.
Save Recipe
Author: Catalina Castravet
Serves: 4 servings
Prep time:

20

minutes
Cook time:

10

minutes
Total time:

30

mins
Ingredients
Shrimp:
1 lb shrimp (cooked and peeled)
1 tablespoon olive oil
2 tablespoons lemon juice
1 teaspoon garlic powder
1 teaspoon paprika
1/4 teaspoon salt
1/8 teaspoon ground black pepper
Salad:
8 slices bacon (cooked and crumbled)
3 eggs (hard-boiled)
6 cups Romaine lettuce leaves (washed and dried)
1 1/2 cup grape tomatoes (halved)
1 cup sweet corn
1 avocado (sliced)
6 oz. blue cheese (crumbled)
1 1/2 cup croutons
Dressing:
1/2 cup mayonnaise
1/2 cup non-fat Greek yogurt (or sour cream)
1/4 cup shredded parmesan
2 tablespoons olive oil
1 clove garlic (minced)
2 tablespoons lemon juice
Salt and pepper (to taste)
Instructions
Mix the shrimp with olive oil, lemon juice, garlic, paprika, salt, and pepper.
Place a nonstick grill pan over medium heat, or turn on the outdoor grill, add a little olive oil and cook the shrimp until golden and cooked through.
Fry the bacon and boil the eggs if needed.
Chop the bacon and the eggs once done.
Make the Dressing:
Add all the dressing ingredients to a blender or food processor and pulse until well combined and smooth.
Taste and adjust for salt and pepper and add water if for a thinner consistency.
Assemble the Salad:
In a large salad bowl or individual salad bowls, add lettuce, tomatoes, cheese, and half of the croutons, toss to combine.
Top with shrimp, bacon, avocado, corn, and eggs.
Pour the dressing on top; top with the remaining croutons, and serve.
Carbohydrates: 30 Protein: 53 Fat: 77 Saturated Fat: 22 Cholesterol: 487 Sodium: 2338 Potassium: 1042 Fiber: 7 Sugar: 7 Vitamin A: 7613 Vitamin C: 28 Calcium: 557 Iron: 5 Calories: 814
Save Recipe
More recipes you might love