Instant Pot Shrimp Boil [VIDEO]
Instant Pot Shrimp Boil takes just a few minutes of prep work and only two minutes to cook. You can have a delicious homemade meal in just under 30 minutes.
Easy shrimp recipes are traditional in our house, as they make the quickest and most delicious dinners. I also love Bacon Wrapped Shrimp, and PF Chang's Crispy Honey Shrimp Copycat, because they all take less than 30 minutes to make and are very tasty!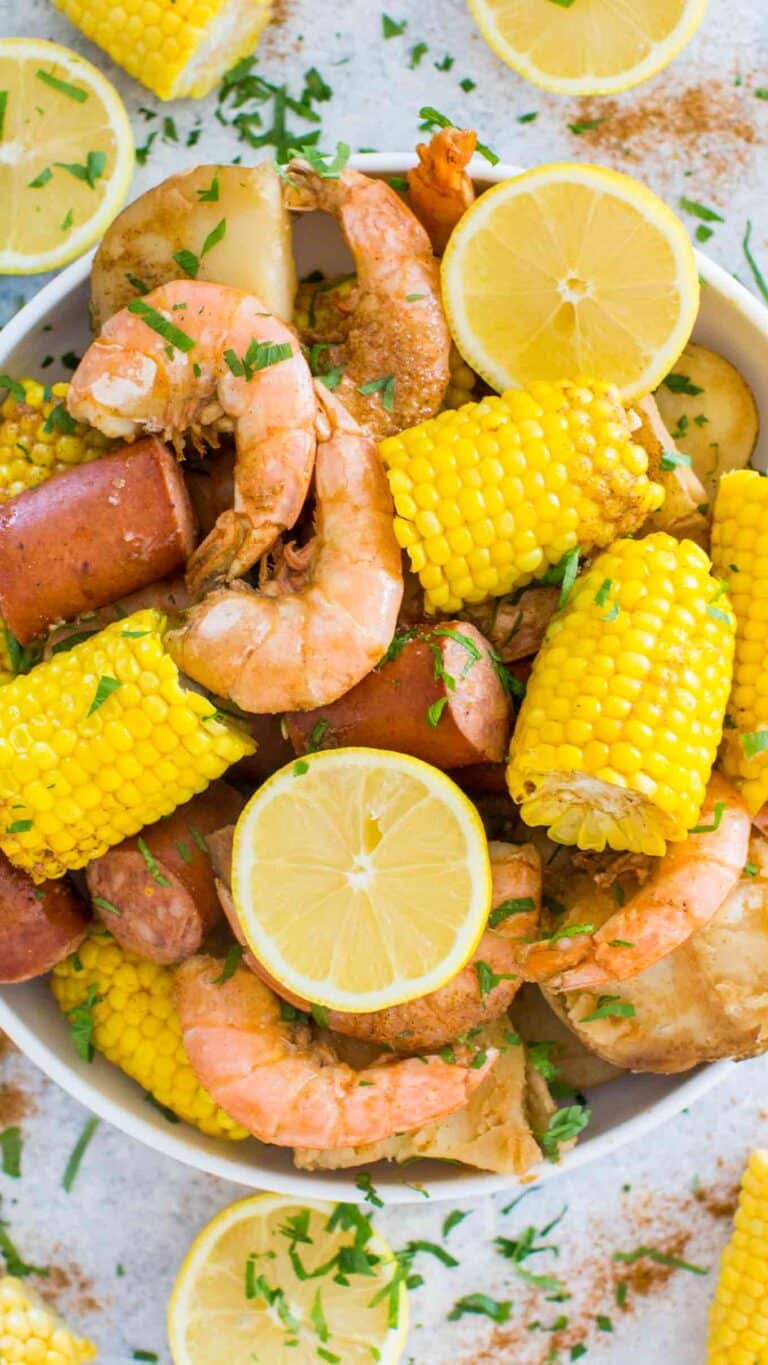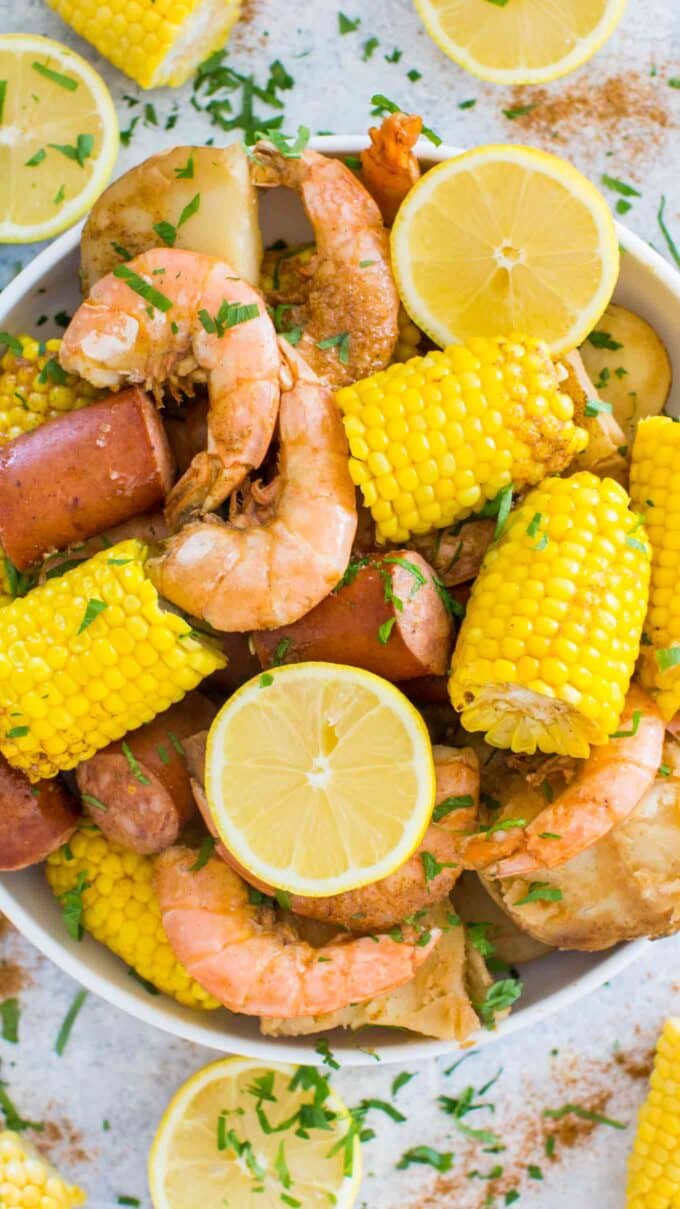 Easy Pressure Cooker Shrimp Boil
Instant Pot Shrimp Boil is one of my favorite meals to make during summer. I love the combination of seafood, juicy sausage, and sweet corn, and the flavors they produce. This homemade shrimp boil will make your life so much easier and way tastier.
This recipe is full of flavor, and the best part is that it can be ready in just about 30 minutes. All you need to do is add all the ingredients to the pressure cooker and cook for 2 minutes.
That is it! Isn't that amazing? I love adding garlic powder, onion powder, and Cajun seasoning to the pot, and drizzle a garlicky buttery sauce at the end. A squeeze of lemon and some fresh parsley are the perfect touches.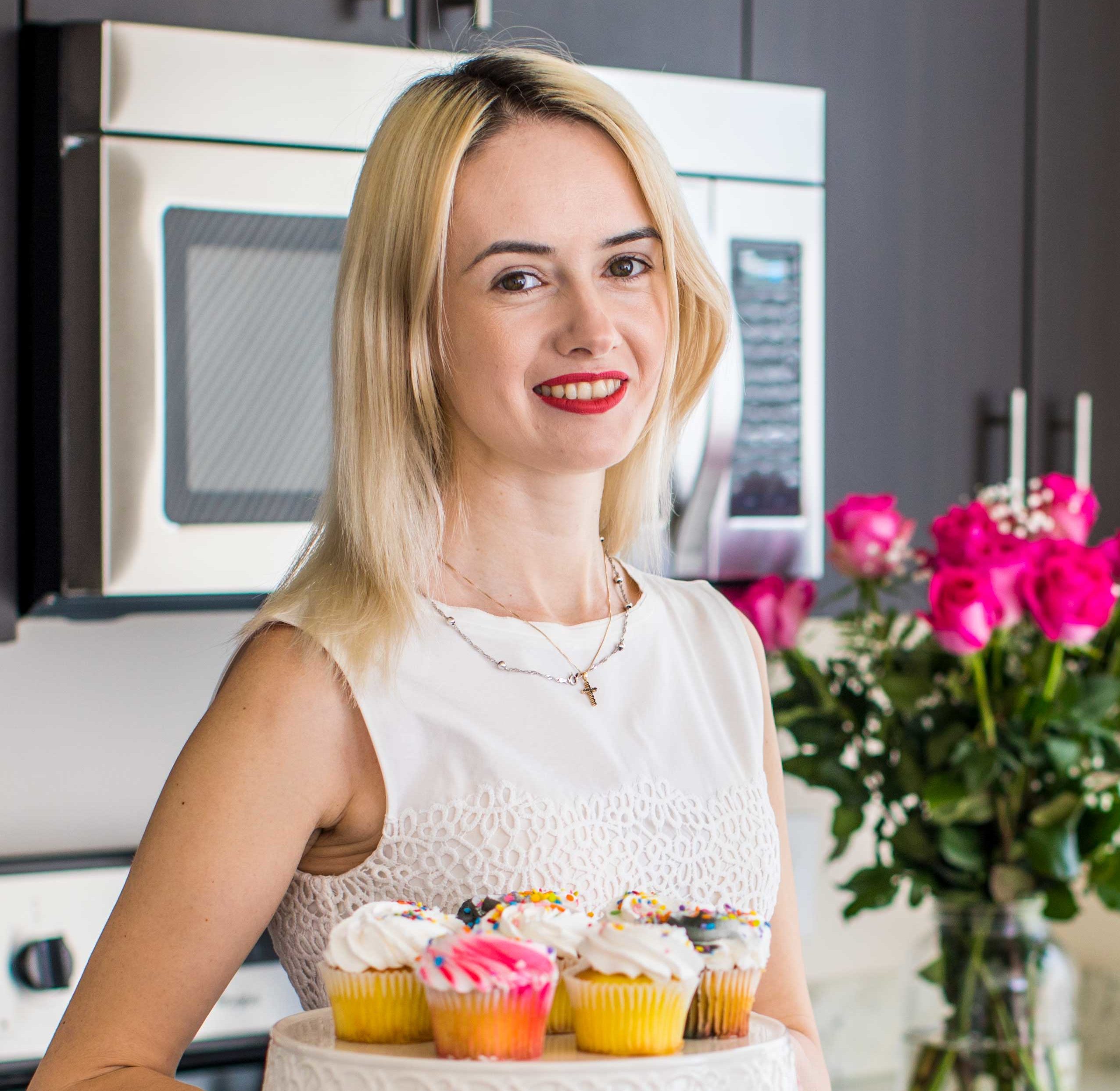 Follow us on Pinterest for more delicious recipes!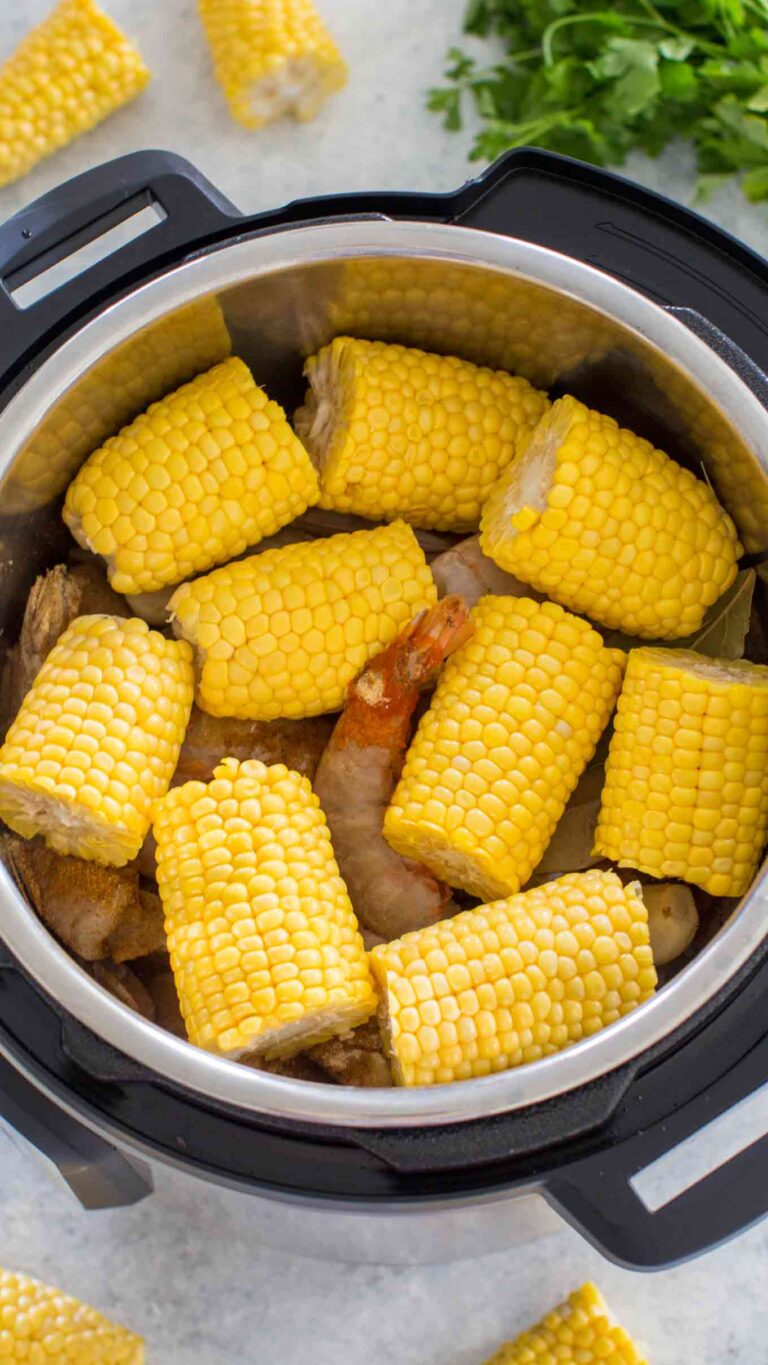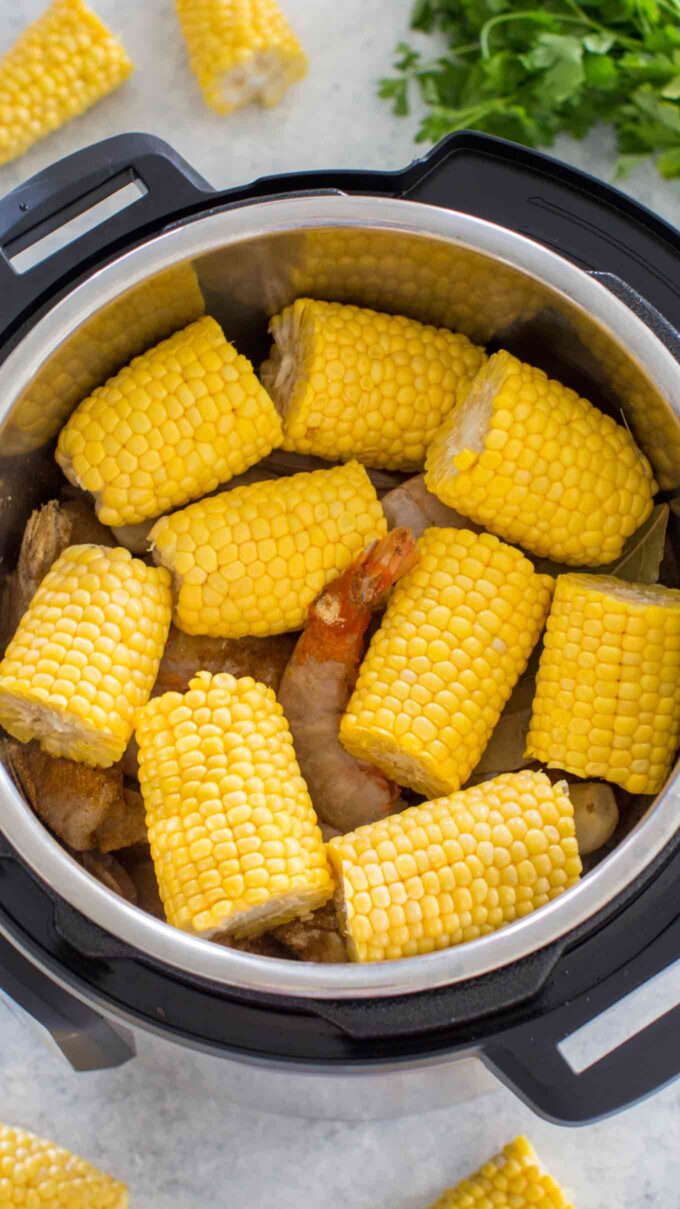 Best potatoes to use for shrimp boil:
I would recommend using russet potatoes, baby dutch, or baby red potatoes. All of these types work great when cooked under pressure. Also, if you are using larger-sized potatoes, cut them into smaller pieces.
WHAT SIZE OF SHRIMP WORK BEST?
You can go with any type available. However, I personally prefer to use large or extra-large type. When cooked under pressure they are reduced in size. Therefore, it is best to use larger-sized shrimp.
Instant Pot Shrimp Boil Recipe Tips:
Does the alcohol from the beer cook-off in the Instant Pot?
When you are cooking with alcohol using a Pressure Cooker (Instant Pot) or slow cooker, the alcohol won't evaporate as when you were cooking on the stove-top. The alcohol is sealed in this case, and only a portion of it will evaporate into steam.
Therefore, the dish should only be served to adults. You can replace the beer with broth or water.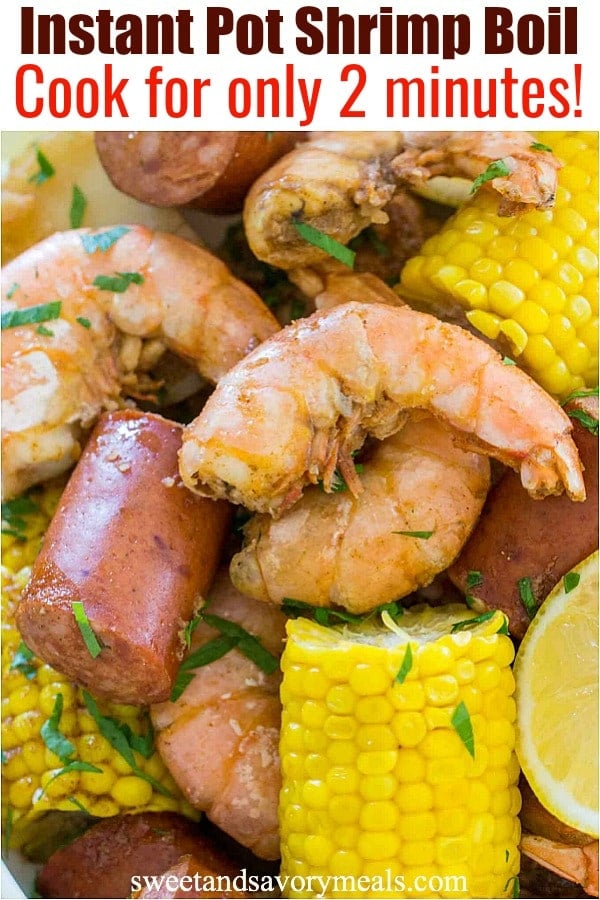 What wines pair well with Instant Pot Shrimp Boil?
A fruity white wine would be a perfect candidate. A cold bottle of Sauvignon Blan, Riesling or Pinot Grigio are always great matches for rich and somewhat spicy shrimp.
What goes with shrimp boil?
This is a complete meal on its own. But you can also pair it with some of the following:
LOOKING FOR INSTANT POT SIDE DISHES? CHECK THESE OUT: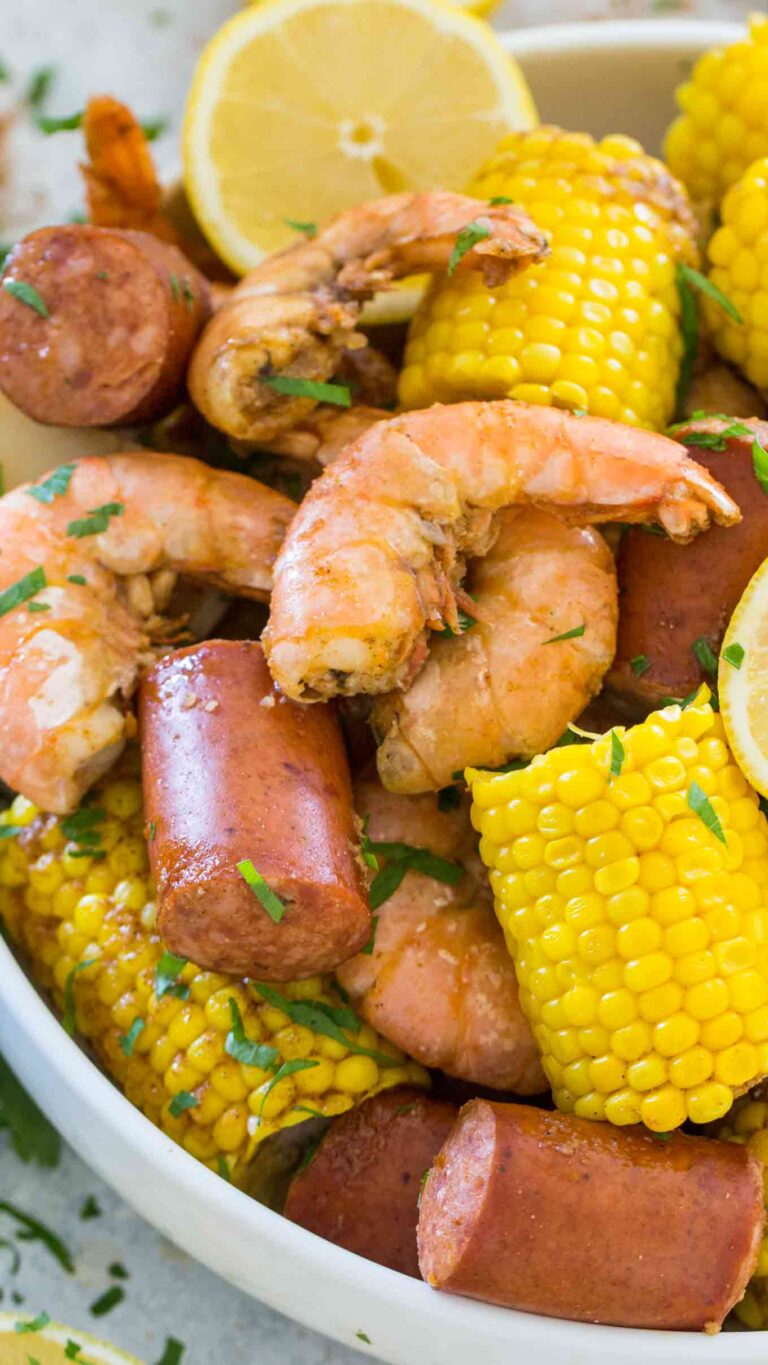 Spices I used to make this recipe:
Save Recipe
Author: Catalina Castravet
Serves: 6 servings
Prep time:

5

minutes
Cook time:

2

minutes
Total time:

22

mins
Ingredients
Shrimp Boil:
1 1/2 pounds russet potatoes (quartered)
1 package smoked andouille sausage, sliced into 2 inch logs or rondelle (12.8oz)
1 1/2 pounds medium shrimp (shell-on)
1 tablespoon onion powder
1 tablespoon garlic powder
2 tablespoons cajun seasoning or Old Bay seasoning
5 cloves garlic
1 tablespoon hot sauce
3 bay leaves
3 ears corn (halved)
1 bottle beer, use water or broth for alcohol free ((12 oz light) )
1 1/2 cups water
Butter Mixture:
1/2 cup unsalted butter (melted)
1 teaspoon garlic powder
1 teaspoon cajun seasoning or Old Bay
Garnish:
Fresh parsley leaves (chopped)
2 lemons (cut into wedges)
Instructions
Place potatoes, sausage and shrimp into a 6-qt Instant Pot.

Add seasoning: onion powder, garlic powder, cajun seasoning, garlic cloves, hot sauce and bay leaves.

Add beer and water.
Top with the corn.
Close the Instant Pot and make sure the valve points to Sealed.
Select manual setting and adjust pressure to high, and set time for 2 minutes. When finished cooking, quick-release pressure according to manufacturer's directions.
When the Instant Pot beeps and the cooking has finished, do a quick-release.
Add butter to a medium bowl and microwave until melted. Stir in garlic powder and cajun seasoning until fully combined.
Serve shrimp boil immediately, drizzled with the butter mixture and garnished with chopped parsley and lemon wedges.
0 Calories: 411 Carbohydrates: 35 Protein: 28 Fat: 18 Saturated Fat: 10 Cholesterol: 326 Sodium: 1093 Potassium: 784 Fiber: 3 Sugar: 4 Vitamin A: 755 Vitamin C: 35.3 Calcium: 213 Iron: 4.5
Save Recipe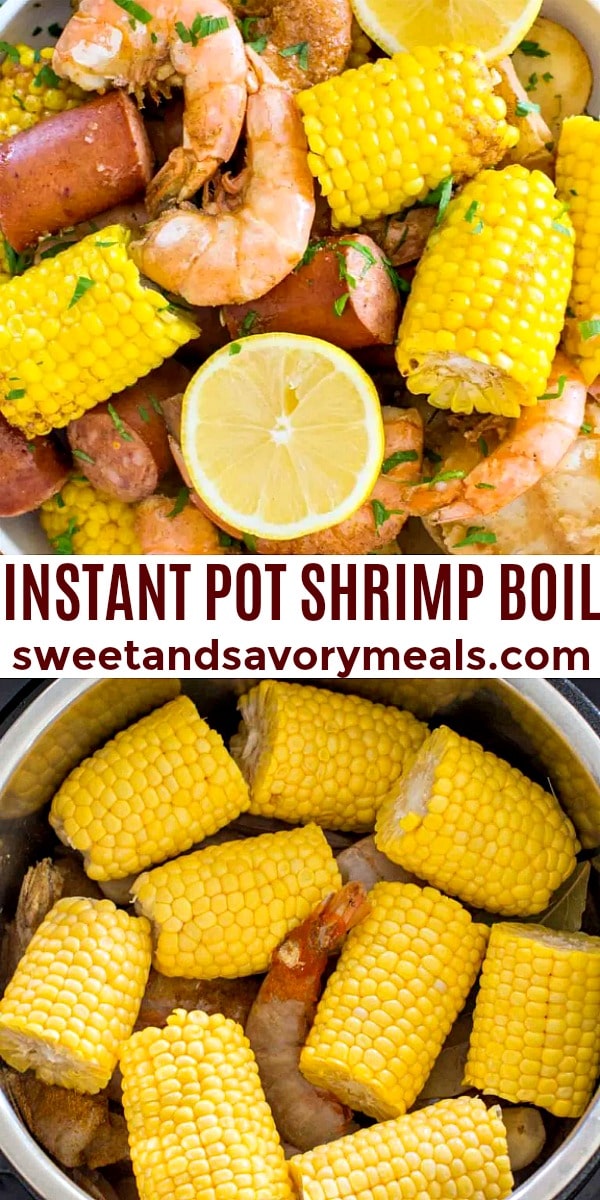 More recipes you might love