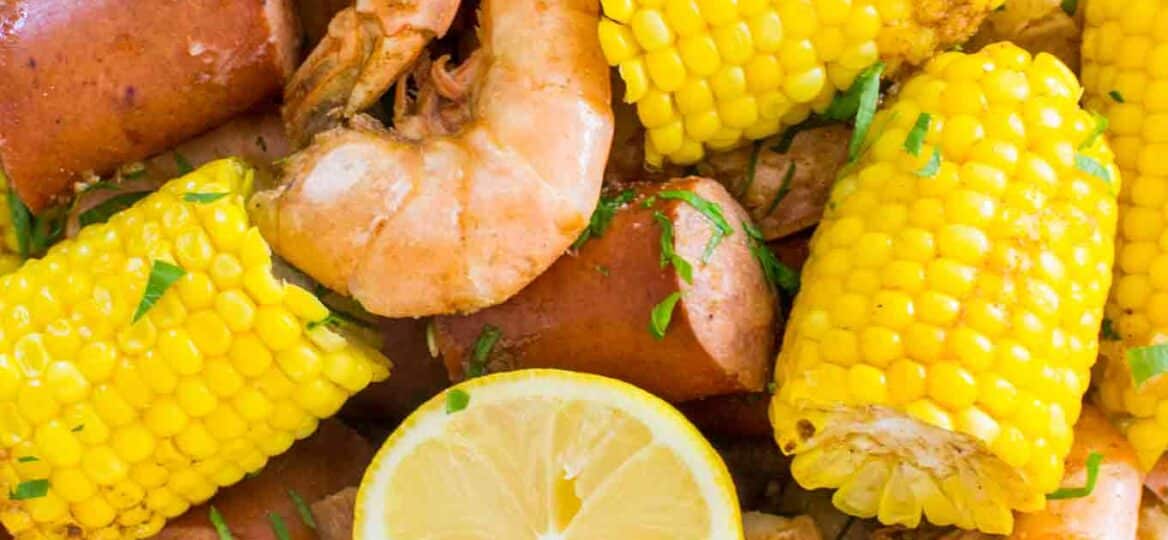 Instant Pot Shrimp Boil [VIDEO]
Instant Pot Shrimp Boil or low country boil takes just a few minutes of prep work and only two minutes to cook. You can have a seafood boil with shrimp, sausage, corn, and potatoes in just under 30 minutes.
Easy shrimp recipes are traditional in our house, as they make the quickest and most delicious dinners. We also enjoy making Instant Pot Jambalaya and when we are feeling fancy, Instant Pot Lobster Tails are on the menu. Serve these recipes with a side of Southern Cornbread and Bacon BBQ Baked Beans for an outstanding meal. These easy recipes will make a great addition to your picnic or bbq party menu.
Easy Pressure Cooker Shrimp Boil or Instant Pot Low Country Boil
Low Country Boil is one of my favorite meals to make during summer. Because I love the combination of seafood, juicy sausage, sweet corn, and the flavors they produce. Everything is cooked to perfection in a broth seasoned with lots of cajun seasoning.
This quick and easy recipe is full of flavor, and the best part is that it can be ready in just about 30 minutes. Actually, all you need to do is add all the ingredients to the pressure cooker and cook for 2 minutes. It turned out perfect, with the veggies, seafood, and meat cooked exactly as needed!
That is it! Isn't that amazing? I love adding garlic powder, onion powder, and Cajun seasoning to the pot, and drizzle a garlicky buttery sauce at the end. In addition, a squeeze of lemon juice and some fresh parsley are the perfect serving touches.
Ingredients Needed:
Shrimp Boil:
Russet potatoes – We don't peel them for this recipe, so make sure to wash and scrub them well.
Smoked andouille sausage – This is a type of Polish sausage, it has a mild flavor, and it's very juicy.
Shrimp – We use large shrimp, also make sure it has the shell-on, otherwise it will be overcooked.
Seasoning – To make this recipe very flavorful we use onion powder, garlic powder, and Cajun or Old Bay seasoning. Actually, use this Homemade Cajun Seasoning recipe to make your own.
Fresh garlic
Corn – Fresh or frozen will work just fine with no adjustment to the cooking time.
Hot sauce – This is optional but so good!
Liquid – we use water and beer, but you can skip the alcohol and use broth.
Butter Mixture:
Unsalted butter
Garlic powder
Seasoning – I like adding extra Cajun seasoning or Old Bay.
How do you make Instant Pot Shrimp boil from scratch:
Add the ingredients: First, add the shrimp and the rest of the ingredients for the boil to the inner pot.
Cook: Next, close and lock the lid and make sure that the valve points to Sealed. After that, pressure cook on high for 2 minutes, followed by a quick release.
Butter sauce: In the meantime, melt the butter and combine with the other butter mixture ingredients in a small bowl until combined.
Serve: Finally, carefully open the IP, transfer the seafood boil to a large plate. After that drizzle with the butter mixture, sprinkle with parsley, and serve with lemon wedges on the side.
Store: Actually the leftovers from this recipe taste delicious, just store them in an airtight container in the fridge for up to 3 days.
Reheat: To reheat the leftovers just microwave them on high for 1 minute, or a bit more.
Freeze: However, if you intend to freeze this recipe, first let the meal fully cool. After that, add it to a freezer-safe sealed container or freezer-safe Ziploc bags and freeze for up to 3 months.
Thaw: Finally, when ready to serve, plan in advance, and transfer the meal from the freezer to the fridge and let it thaw overnight. After that, reheat before serving and enjoy.
Recipe Variations:
Omit the sausage: Alternatively, skip the sausage and double or triple the shrimp or the potatoes, if you don't eat meat. Also, there is no need to alter the cooking time.
More seafood: Another option is to add more seafood, for example, mix in some crawfish, the cooking time stays the same.
Frozen: Also, in case you want to use frozen shrimp, add one more minute to the cooking time.
Replace the potatoes: In addition, replace the potatoes with sweet potatoes or okra.
Spicier: Try making this recipe spicier by using red pepper flakes, cayenne pepper, or hot sauce.
Smoke: In addition, if you want to make it taste more authentic add a teaspoon of liquid smoke and 1 teaspoon of smoked paprika.
Alcohol-Free: Also, make this recipe without the alcohol, just replace the beer with chicken or veggie broth.
What goes with Shrimp Boil:
Beans: Many types of beans will go well with this recipe, refried beans, baked or simply cooked black or pinto beans.
Salad: Alternatively, this recipe pairs well with so many fresh salads, just pick your favorite.
Potatoes: Also, combine it with potatoes in any form, baked, grilled, boiled, or roasted.
Cornbread: This one is a must, also, corn muffins would make a great side dish,
Coleslaw: Also, add some creamy coleslaw or a classic cabbage salad on the side.
See below a few more side dishes you can pair with this easy meal:
Frequently Asked Questions
What are the best potatoes to use in seafood boil?
I would recommend using russet potatoes, baby dutch, or baby red potatoes. Actually, all of these types work great when cooked under pressure. Also, if you are using larger-sized potatoes, cut them into smaller pieces. But make sure not too small, otherwise, they will become mushy. Hence, I recommend cutting them into 1 1/2 inch pieces.
What size of shrimp works best for low country boil?
As a rule, you can go with any type available. However, I personally prefer to use large or extra-large type. When cooked under pressure they are reduced in size. Therefore, it is best to use larger-sized shrimp.
Does the alcohol cook-off in the Instant Pot?
When you are cooking with alcohol using a Pressure Cooker (Instant Pot) or slow cooker, the alcohol won't evaporate as when you were cooking on the stove-top. In this case, the alcohol is sealed, and only a portion of it will evaporate into steam. Therefore, the dish should only be served to adults. Alternatively, to remove more of the alcohol, after pressure cooking, select saute and simmer the dish for a few more minutes. As a result, the alcohol will evaporate.
More Seafood Recipes:
Recipe Tips:
I like using wild-caught shrimp, they will definitely have a better taste than farm-raised.
In addition, make sure you use raw shrimp, if you will use pre-cooked, the chances of overcooking it are higher.
Also, you can use shrimp with shell on, or deveined, without shells and tails. It is based on personal preference.
Serve this meal with a fruity white wine, like a cold bottle of Sauvignon Blan, Riesling, or Pinot Grigio are always great matches for rich and somewhat spicy shrimp.
I use a combo of garlic powder and fresh garlic, adjust based on preference.
Another option is to add red pepper flakes or increase the amount of hot sauce for a spicier kick.
Fresh corn on the cob tastes incredible. I highly recommend using sweet corn in this recipe.
Instant Pot Shrimp Boil
Ingredients
Shrimp Boil:
1 1/2

pounds

russet potatoes

quartered

1

package

(12.8 oz) smoked andouille sausage

sliced into 2-inch logs or coins

1 1/2

pounds

large shrimp

shell-on

1

tablespoon

onion powder

1

tablespoon

garlic powder

2

tablespoons

cajun seasoning

or Old Bay seasoning

4

cloves

garlic

1

tablespoon

hot sauce

3

bay leaves

3

ears

corn

halved

1

bottle

(12 oz) light beer

use water or broth for alcohol-free

1 1/2

cups

water
Butter Mixture:
1/2

cup

unsalted butter

melted

1

teaspoon

garlic powder

1

teaspoon

cajun seasoning

or Old Bay
Garnish:
Fresh parsley leaves

chopped

2

lemons

cut into wedges
Instructions
Shrimp Boil:
Place potatoes, sausage, and shrimp into a 6-qt Instant Pot.

Add seasoning: onion powder, garlic powder, cajun seasoning, garlic cloves, hot sauce, and bay leaves.

Add beer and water and top with the corn.

Close and lock the lid on the Instant Pot, and make sure the valve points to Sealed.

Select manual setting and adjust the pressure to high, set time for 2 minutes.

When the Instant Pot beeps and the cooking has finished, do a quick-release according to the manufacturer's directions.
Butter Mixture:
Add butter to a medium bowl and microwave until melted. Stir in garlic powder and cajun seasoning until fully combined.
Serve:
Serve shrimp boil immediately, drizzled with the butter mixture, and garnished with chopped parsley and lemon wedges.