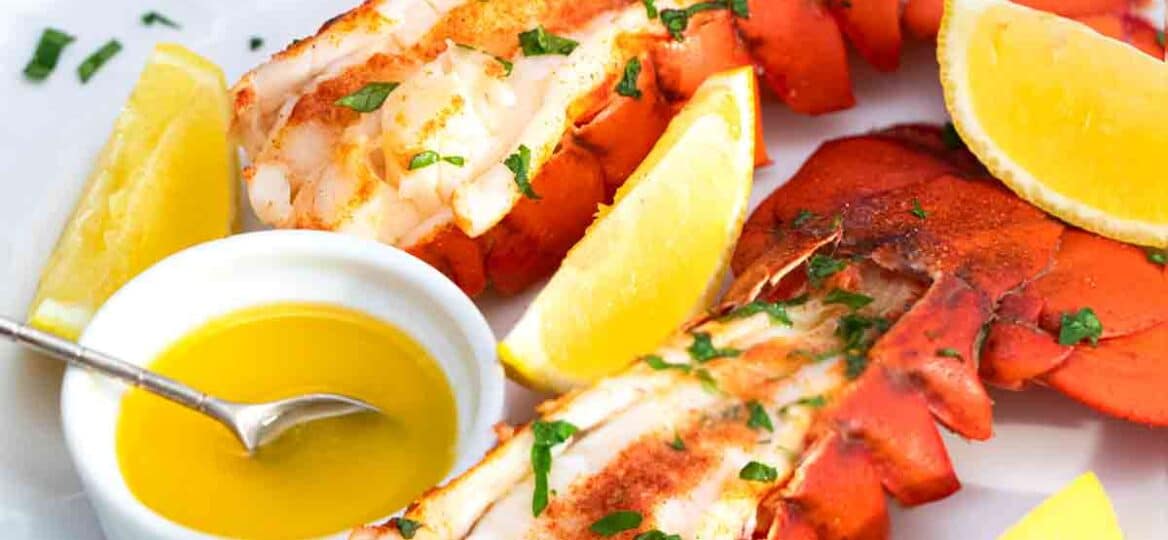 Instant Pot Lobster Tails
Instant Pot Lobster Tails are buttery, sweet and juicy, and done to luscious perfection. A five-star meal ready in less than 30 minutes!
We adore seafood around here, especially when they come in the form of these Grilled Shrimp Tacos, the easiest Crab Cakes ever, and Mediterranean Salmon Foil Packets!
Pressure Cooker Lobster Tails Recipe
Instant Pot Lobster Tails will erase all of your fears about cooking lobster at home. I get it— when you're working with such an expensive and delicate piece of seafood, you want to get everything right.
Unless you're ready to pay a small fortune at a restaurant, though, learning the IP method is so worth it. And you might be surprised at just how easy it can be. Feel like a chef in your own kitchen, and treat everyone to a gourmet lobster dinner that's beyond simple to make!
Can you cook seafood in the Instant Pot?
Yes, and it's such a fast and healthy way to prepare them! As long as you follow the cooking time precisely (it takes mere minutes to fully cook seafood in the IP), your shrimp, crabs, mussels, and other seafood and shellfish will come out perfectly every time.
What is pressure cooking?
This method us steam pressure inside a sealed pot to cook food. Because the inside gets so hot, food cooks so much faster than baking or on the stove top.
How do you cook lobster

tails

in the Instant Pot?
Prepare. Butterfly the seafood, and clean out any grit and veins. Spice it up with seasoning blend, and carefully place pats of butter on the surface. Pour stock and arrange

trivet

in your IP.
Cook. Place the

butterflied

and seasoned

tails

on the

trivet

. Set for 1 min., high pressure mode. Vent quickly once the timer runs out to avoid overcooking the flesh.
Serve. Enjoy immediately with lemon on the side.
Recipe Variations:
Use other stock: Fish stock complements the seafood flavor, but you can definitely use

chicken broth

or veggie stock as well.
Top with fresh herbs: Sprinkle some chopped fresh dill or tarragon on the meat.
Try other seasonings: Sprinkle some

Italian Seasoning

on top for a lovely herb flavor, or go southern with some

Cajun seasoning

. Lemon salt and old bay are great too!
Steam with white wine: Add a splash of white wine to the stock for a flavor boost!
How long do lobster tails need

to be

steamed in the Instant Pot?
I set it for one minute, but note that it will take about 10 to 15 minutes for the IP to actually come to pressure.
Can frozen lobster tails be cooked in the Instant Pot?
Yes, you can certainly do so. I encourage you to defrost it before preparing, though. I find that cooking it straight from frozen gives the flesh a slightly gummy texture and makes it tricky to butterfly the shells.
Butterflying the tails once it's thawed isn't just for aesthetics – it also ensures that the flesh is cooked evenly.
How do you cook a 4-ounce lobster tail in the Instant Pot?
Once you butterfly and season them, arrange on the trivet. Switch the IP to "Steam" and set for 2 minutes. Vent quickly and enjoy!
How to tell when lobster tails are fully cooked?
The shell will turn a bright reddish-orange. The meat will be white without zero grayish or translucent color, like you'll see on raw flesh.
You can also use an instant-read thermometer. Once the meat registers an internal temp of 135 to 140F, they're ready!
How to avoid overcooking lobster tails:
Make sure it's not touching the stock, so the meat steams and doesn't boil. Use quick release as well to prevent the tails from staying too long inside the hot and pressurized pot. Finally, follow the cooking times exactly.
What to serve with lobster tails?
Enjoy it surf and turf style with a nice Pan Seared Steak! It's also amazing with zesty Chimichurri Sauce and this creamy Sauce for Salmon. You can also shred the meat and use it as salad topping, in pastas, sandwiches, or this awesome chowder!
How to store:
Cooled down and stored in a tightly covered container, they will stay plump and fresh up to two days in the fridge.
More Instant Pot Recipes:
Recipe Tips:
Don't skimp on the butter! It gives the lobsters such a rich and delicate flavor.

Open up the shell properly so the flesh is exposed and cooks evenly.

Once the lobster meat is opaque and fully white, it's done!
Deliciousness to your inbox
Enjoy weekly hand picked recipes and recommendations