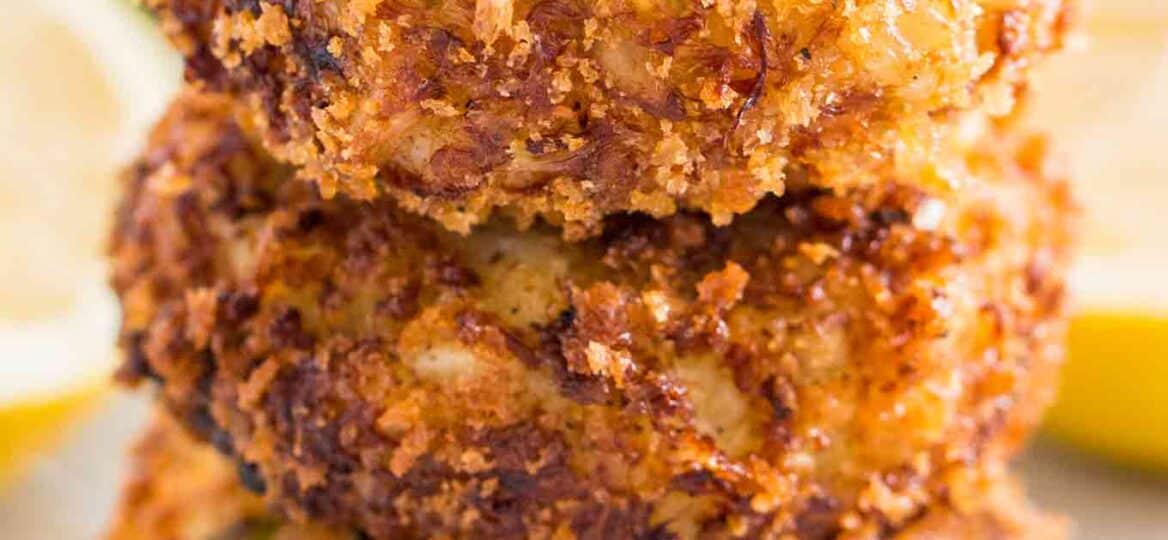 Easy Crab Cakes [VIDEO]
Crab cakes are the perfect seafood treat, crispy on the outside and tender on the inside. With fresh crab meat, high-quality ingredients and the right sauce, you will have a meal that everyone will enjoy. They are great as a snack, appetizer, or main dish.
Crispy Crab cakes are really easy to make. And, if your family enjoys these types of seafood recipes, we have alternative recipes to choose from. You should try the shrimp cakes or the salmon patties.
These are easy and delicious dishes to make, and a nice way to incorporate seafood in a meal. They are great for lunch, dinner or even as a high protein snack.
The Best Crab Cakes
Crispy Crab Cakes are so incredibly easy to make, all you need is some simple ingredients like egg, mayonnaise, and fresh crab meat, green onions and some lemon juice. We also like to add a bit of mozzarella cheese, it is not overpowering and it helps them from breaking. The patties are coated in panko bread crumbs, it gives them that crispy exterior that is so delicious.
With this delicious recipe, you will have a meal that both kids and adults will love. You can serve them as-is for lunch, or you can make a side dish and enjoy them for a dinner meal. The sauce is also very delicious and super easy to prepare.
What is a crab cake?
Crab cakes are a patty like cake with crab meat as their main ingredient. Depending on the recipe, there are other ingredients like bread crumbs, mayonnaise, eggs, and mustard that goes with it. Different recipes have different ingredients, but the main ingredient will always the crab meat.
Are crab cakes healthy?
The crab meat is a healthy protein. And, if you are choosing the ingredients that are healthy, you will have a perfectly healthy meal. It will depend on what ingredients you are using, and the type of oil that you are going to use for frying them. Also, try avoiding imitation crab meat.
Even though this is a cheaper alternative, the taste will not be the same. Just remember, that not all crab cakes recipes are designed to be healthy. With low-fat ingredients, you will have a much healthier cake. Also, try using olive oil and reduced-fat mayonnaise.
What to serve with crab cakes?
Normally, French fries or a light salad, are getting served with them. However, they can also be served with side dishes such as:
What kind of sauce goes with crab cake?
There are different sauces that compliment this dish. Any of the below will pair perfectly with them:
Smoky Onion Remoulade
Tartar Sauce
Russian Dressing
Mango Puree
Chipotle Mayonnaise
Curry Mayonnaise
Tzatziki Sauce
Can you prepare crab cakes ahead of time?
You can prepare them ahead of time, but we recommend not frying or baking them in advance. It is best to serve them immediately after being cooked. However, you can prepare the mixture and put it in the fridge or even freezer before use.
It is really important that you don't cook the cakes and then freeze them. They won't taste the same. Since they contain mayonnaise, they might become soggy and fall apart once cooked and frozen.
Can you bake crab cakes?
In this recipe, we pan-fried them to get a crispier texture. However, baking them is an excellent alternative, and also a healthier one. When baking them, make sure to use parchment paper to cover the tray. Then, bake the cakes in the oven at 350 degrees F for about 25, or until golden brown.
Many people are saying that baking the crab cakes results in a dryer texture. To avoid this issue, we recommend dipping the cakes into any of the sauces listed above.
HOW LONG WILL THE CRAB CAKES LAST?
To better preserve them, its best to refrigerate them after cooking. Use an airtight container and store them in the fridge for up to 2-3 days. To reheat, add a teaspoon of olive oil to your skillet, and heat over medium-low for about 3 minutes on each side. Also, you could microwave them before serving.
Watch Video for Crab Cakes Recipe
Deliciousness to your inbox
Enjoy weekly hand picked recipes and recommendations