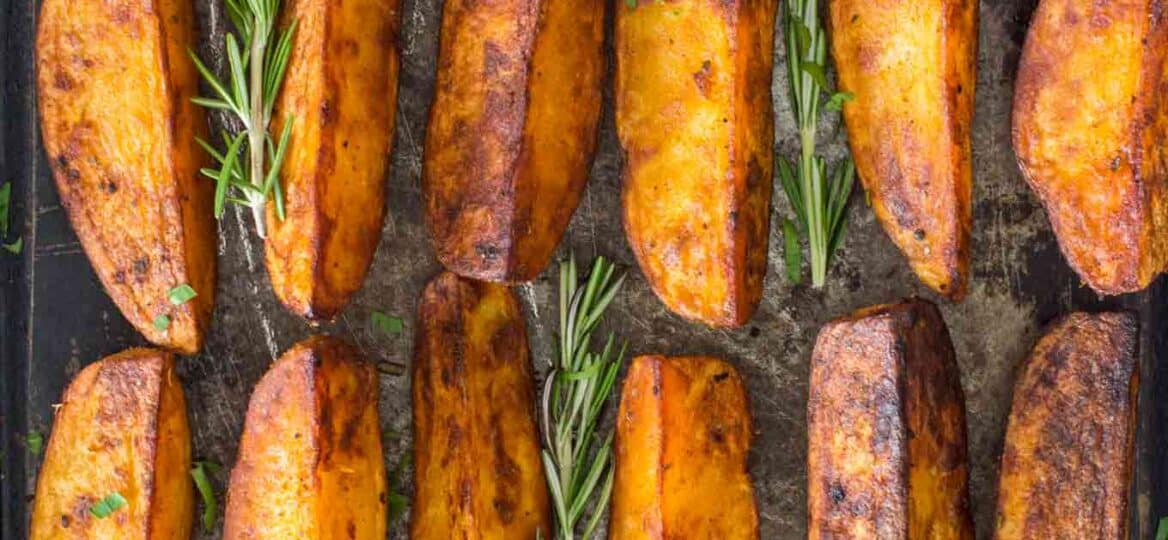 Crispy Roasted Rosemary Potatoes [Video]
Roasted Rosemary Potatoes are seasoned with herbs, smoked paprika, and garlic. Roasted to perfection, crispy on the outside and tender inside. Check out the recipe video below.
These Roasted Potatoes are one of my favorite side dishes, and in this post, I will tell you all the secrets on how to make them perfectly crispy. The potatoes are delicious served with chicken or beef dishes and they also make a great appetizer.
Easy Roasted Rosemary Potatoes
Roasted Rosemary Potatoes are very easy to make, you basically toss all the ingredients together and roast the potatoes in a hot oven. The potato wedges are the perfect party appetizer or side dish. You can also serve them with your favorite dipping sauce, I prefer Ranch or Blue Cheese.
These are usually a hit with adults and kids, and you can use the same recipe to make roasted sweet potatoes. They are perfect to serve on holidays because they are not labor-intensive, and go well with almost any main dish.
I prefer my roasted potatoes to be crispy on the outside and tender on the inside. You can cut your potatoes into chunks or wedges, the tips below on how to avoid soggy, unappealing potatoes and instead make crispy, perfect potatoes will work for both.
How to make crispy oven-roasted potatoes?
If you want to make crispy oven-baked potatoes, follow the tips below. Also, please watch the video attached.
Firstly, crispy roasted potatoes are best made with a white potato as they are not too starchy: Russet, Yukon gold, red, or fingerling, are all good choices.
After you peel and cut the potatoes, soak them in cold water for about an hour. You will notice that the water starts to get whitish, that is the potato starch. If you have time, replace the water after 30 minutes, because removing the starch will result in crispier potato wedges.
After you remove the potatoes from water, dry them with paper towels. Try to remove all the moisture, any extra moisture will create a steam effect in the oven.
Make sure that the oven is hot and that the potatoes are not overcrowded in the baking pan. They should be placed in one layer in the pan and with enough space in between each other.
If you are concerned about the oil that they are cooking in, you can always choose to arrange the potatoes on a rack placed onto a baking pan.
Pin This Roasted Rosemary Potatoes Recipe to your Favorite Board
Roasted Rosemary Potatoes Recipe Guidelines:
The smoked paprika can be replaced with regular paprika or just skipped, based on your own preference.
If the minced garlic is a little on the chunkier side, it tends to burn a bit on top of the potatoes. If you want to avoid that and have perfectly clean, golden-brown roasted potatoes, you can use garlic powder. I still highly recommend using fresh garlic, just make sure it is finely minced, almost like a paste. The flavor will be unbelievable.
You can also skip the garlic altogether if you don't like it or would prefer just the rosemary flavor.
Using fresh rosemary will add extra flavor, so definitely go for it.
Watch the potatoes closely after about 25 minutes of baking and it would be best if you can flip them once or twice during the baking process, to ensure even browning.
Ways to use leftover roasted potatoes:
No matter how crispy the potatoes are after baking, once you refrigerate them, they will lose their crispness and become softer. But no worries, if you have leftover roasted potatoes they can still be used to create some awesome meals:
Make hash-browns.
Also, dice them and add them to an omelet or scrambled eggs.
Fry them for a few minutes in a hot pan with hot oil, it will give them a crispier texture.
In addition, you can add them to tacos or salads.
Sprinkle with cheese and broil them, you will see how amazing they become!!
What do you serve Roasted Rosemary Potatoes with:
Here are a few delicious options you that will pair well with roasted potatoes:
Watch Recipe Video:
Deliciousness to your inbox
Enjoy weekly hand picked recipes and recommendations