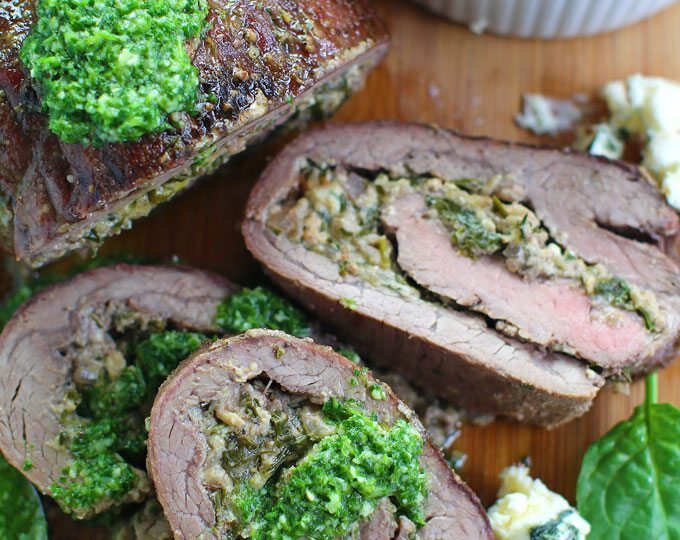 Stuffed Flank Steak with Spinach [VIDEO]
Stuffed Flank Steak with Spinach and Blue Cheese is packed with garlic, caramelized onions and walnuts. A very easy and flavorful dinner ready in less than one hour. Also, check out the recipe video below for a quick step by step tutorial
If you are looking for a gourmet steak meal with a twist, this is the right recipe for you! For a complete meal, pair it with Mac and Cheese, Creamy Mashed Potatoes, or Steamed Broccoli.
Easy Baked Stuffed Flank Steak
Stuffed Flank Steak is my new go-to dinner because it is very easy to make and has endless flavor combos! Spinach Blue Cheese Stuffed Flank Steak is the latest combo we have tried and my whole family fell in love with it. Thi dish is stuffed with a mixture of caramelized onions, lots of minced garlic, spinach and blue cheese.
After being cooked to juicy perfection, the flank steak is served with a refreshing Chimichurri Sauce. This will balance the rich blue cheese flavor. This easy to make meal involves minimum prep work while producing a great dinner that can be served on special occasions or busy weeknights!
Why You'll Love This Spinach Blue Cheese Flank Steak Recipe:
Very easy to make, requires very little prep work
A budget-friendly meal that can be served on special occasions
The filling can be made in advance to save you time
Flavorful and juicy, always a winner at the dinner table!
Why Use a Flank Steak for this recipe?
The flank is a single, boneless, thin piece of muscle located behind the rib cage, beneath the loin, and in front of the rear legs. It usually weighs between one/two pounds.
Because this cut of meat is thin, it takes very well to marinades, making it tender and flavorful and it's also very easy to roll.
How to make Spinach Stuffed Flank Steak?
Saute the spinach: In a nonstick skillet, saute onion and garlic. Then, add the spinach. Once done, transfer the mixture to a bowl, and add crushed walnuts, blue cheese, and mix to combine.
Butterfly and stuff the steak: Flatten the steak to about 1/2-inch the thickness and then, spread evenly the stuffing over it.
Roll it: Carefully roll it, and tie with kitchen string, and brush with olive oil.
Bake: Lastly bake and let it rest for a few minutes prior to serving.
Serve it: This is a delicious and flavorful meal on its own. We love topping it with our homemade chimichurri sauce.
Can I stuff the steak with other cheeses?
Blue Cheese is amazing in this recipe, BUT if you are not a fan, you can replace it with Feta Cheese or Goat Cheese. Also, you can use mozzarella cheese for this Stuffed Flank Steak recipe.
HOW LONG DO YOU COOK STUFFED FLANK STEAK
We like cooking it at a higher temperature to lock in the juices and make it extra crispy on the outside. Our cooking time is at 425 degrees F for about 35 minutes, followed by an additional 5-10 minutes of broiling.
Also, once cooked, it is important to let the steak rest for at least 5 to minutes prior to serving.
HOW DO I KNOW IF MY STEAK IS COOKED TO THE DESIRED TEMPERATURE
Everyone loves their meat cooked differently. Below you can find the internal temperature of the steak for each desired doneness. Please remember that the meat will continue to cook while it rests, and it will increase its temperature by about 5 more degrees. To check the internal meat temperature, it is best to use a meat thermometer.
Rare: 120 F degrees (with rest time it will increase to 125 F degrees)
Medium Rare: 130 F degrees (with rest time it will increase to 135 F degrees)
For Medium: 140 F degrees (with rest time it will increase to 145 F degrees)
Medium Well: 145 F degrees (with rest time it will increase to 150 F degrees)
Well Done: 155 F degrees (with rest time it will increase to 160 F degrees)
More delicious beef recipes:
Recipe Tips:
Use quality meat, preferably organic beef because the meat will be tastier and juicier.
When buying a flank steak, choose one that is as uniform in thickness as possible. Also, it is OK for it to be thicker in the center than at the ends.
This recipe works best with 2-pound steak as you need to butterfly it in half. Hence, the thickness of the steak is important. You can also ask your butcher to butterfly it for you.
This recipe tastes best when cooked to medium-rare or medium. I have family members that don't like medium-rare meat, so I tend to cook it medium, with a light pink center.
If you overcook it, the meat will become tough and tasteless.
Also, the recipe asks for a lot of garlic, what can I do, we love garlic in my family! However, you can use less or more, based on your own preference.
The ground walnuts are a very nice addition, their nutty flavor complements well the blue cheese, if you don't have any on hand, you can skip them.
Watch Recipe Video: