One Pot Mac and Cheese [Video]
One Pot Mac and Cheese is the ultimate comfort food that is very creamy and ready in less than 30 minutes. With simple ingredients, such as macaroni and different cheeses, you will have the most delicious meal that kids and adults will love. Check out the recipe step by step video below.
There are different variations from the original dish that you can also try making. We are talking about recipes like the Instant Pot Cheeseburger Macaroni and Macaroni and Cheese Casserole. These recipes are just as delicious and fast to make.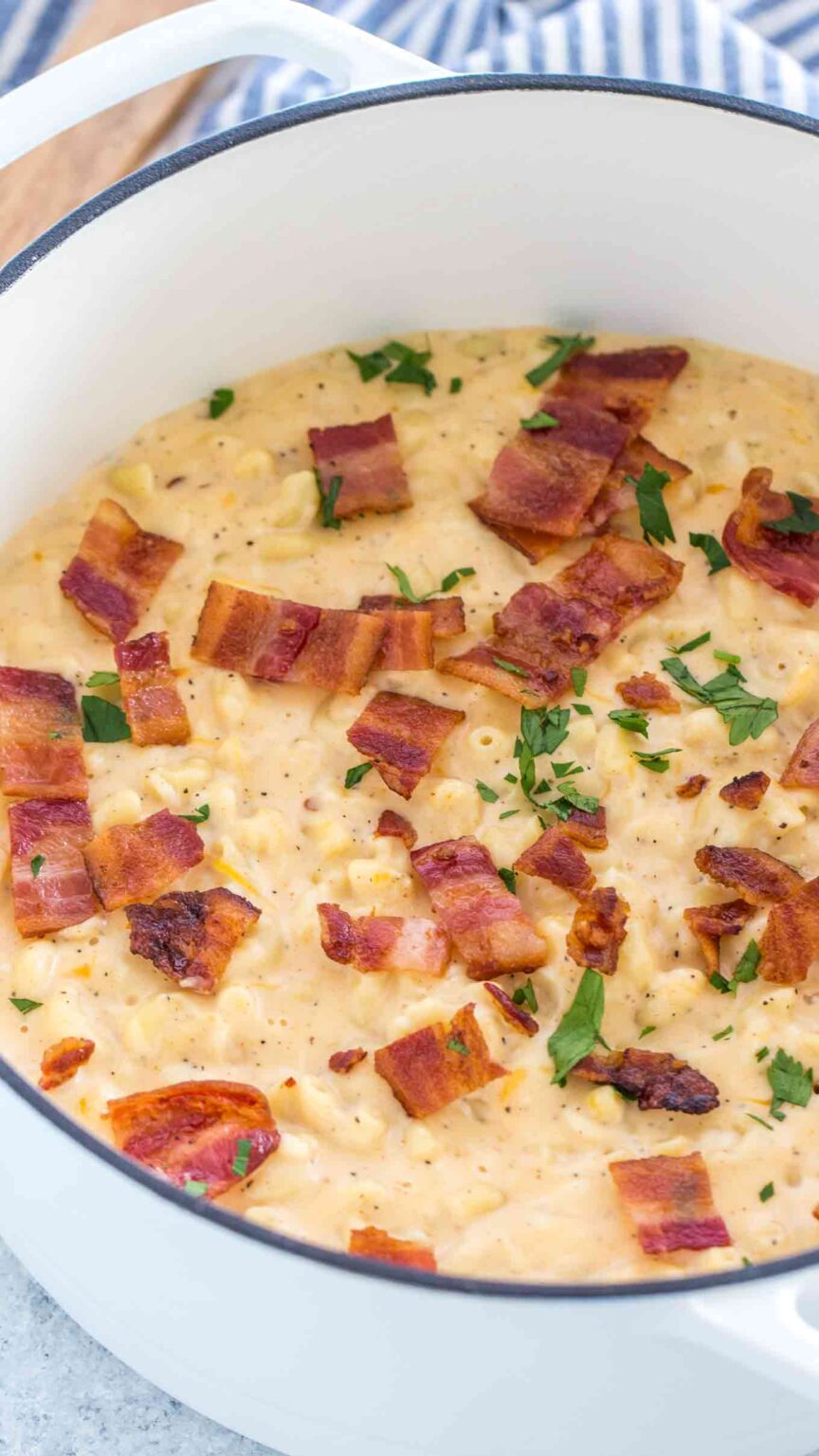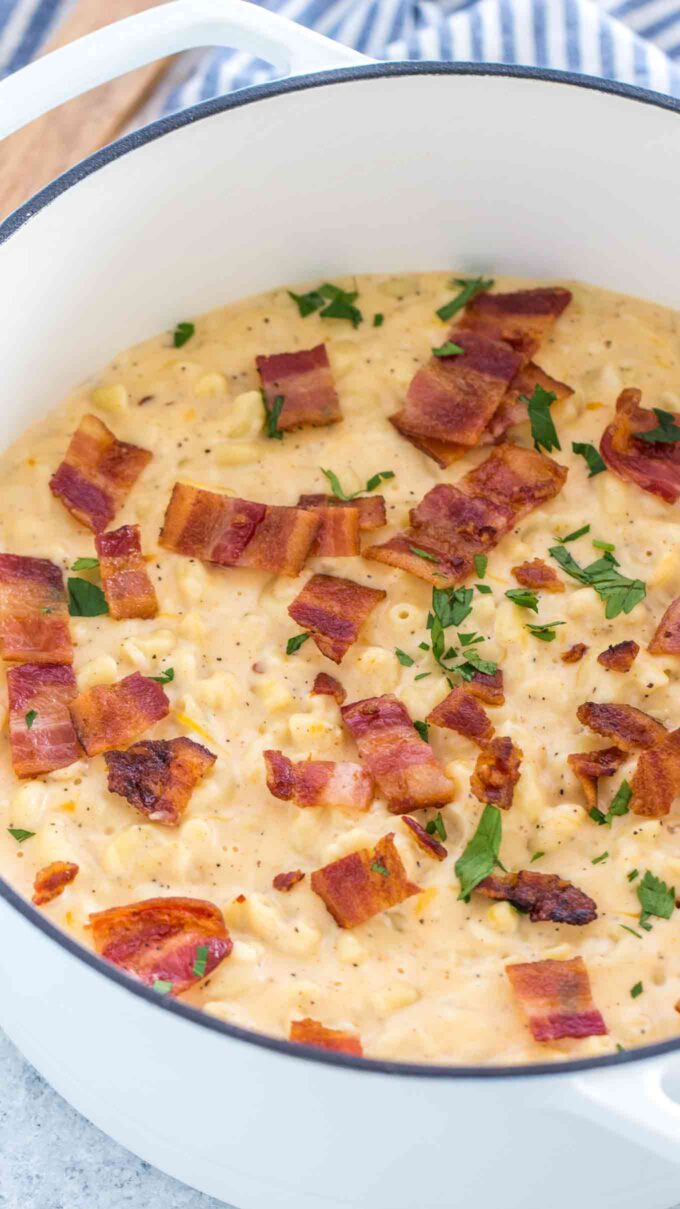 Easy One Pot Mac and Cheese
This One-Pot Mac and Cheese is probably one of the easiest and fastest meals you can put together. With simple ingredients that we all have in our kitchen, this is something that everyone can easily make. Also, the dish is ultra-creamy, cheesy, and perfect for any events or occasions. Both kids and adults love this meal.
We enjoy using a mixture of cheeses when making this delicious homemade meal. It really boosts the flavors up and is really the secret to a perfectly creamy and cheesy dish.
Usually, we mix a medium cheddar and Gruyere cheese and occasionally add mozzarella as well. The sharp tang from the cheddar and the creaminess of the Gruyere are a great match to this dish. Similarly, you could use any of your favorite cheeses.
How to Make the Best Homemade Mac and Cheese?
This is one of the easiest recipes you can make in your own kitchen. Also, check out the recipe video tutorial attached, to better guide you through the cooking steps. But the general steps are as follows:
Boil the macaroni: In a large Dutch oven, boil some water over medium-high heat. Then, add the elbow macaroni, and cook until the pasta is tender.
Make the cheese sauce: Once the pasta is cooked, drain and set aside. Next, clean the pot, and add in slowly butter, flour, milk, cheddar, salt, and pepper. Mix these ingredients with the pasta until the cheese and butter melt into the milk to create a thick sauce.
Serve: Top the dish with cooked bacon and chopped parsley and serve!
HOW LONG DO YOU COOK ONE POT MAC AND CHEESE ON THE STOVETOP?
This recipe is typically cooked in about 25-30 minutes on the stovetop.
What kind of cheese is best to use?
At the end of the day, it doesn't really matter what cheese you are using. As long as you use a mixture of cheeses that are good at melting, it will taste delicious. For those that are looking for the best tasting one-pot homemade macaroni and cheese, we recommend using one or more of these cheeses:
Parmesan
Gruyere
Sharp Cheddar
Medium Cheddar
White Cheddar
Fontina
Gorgonzola
Mozzarella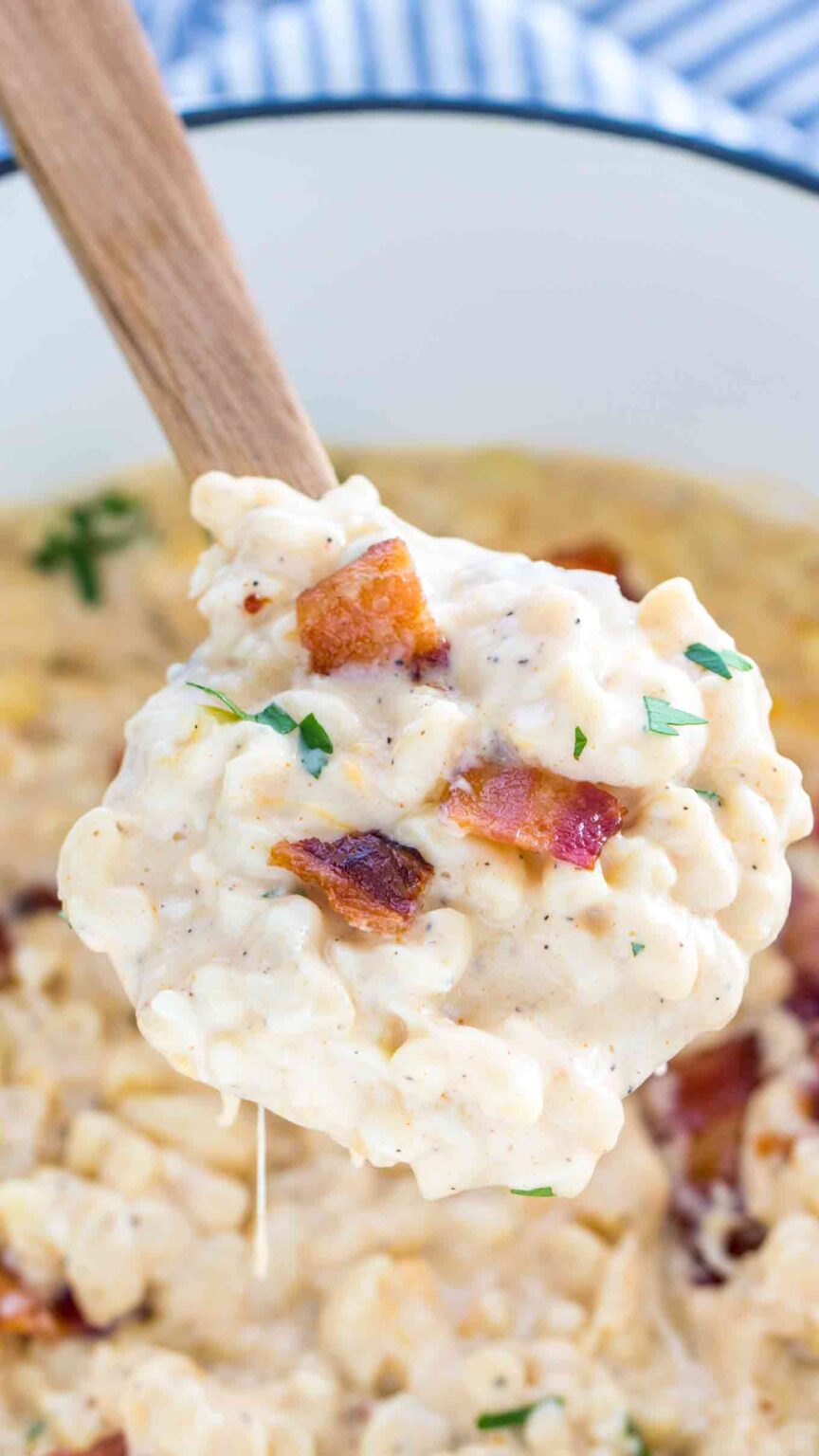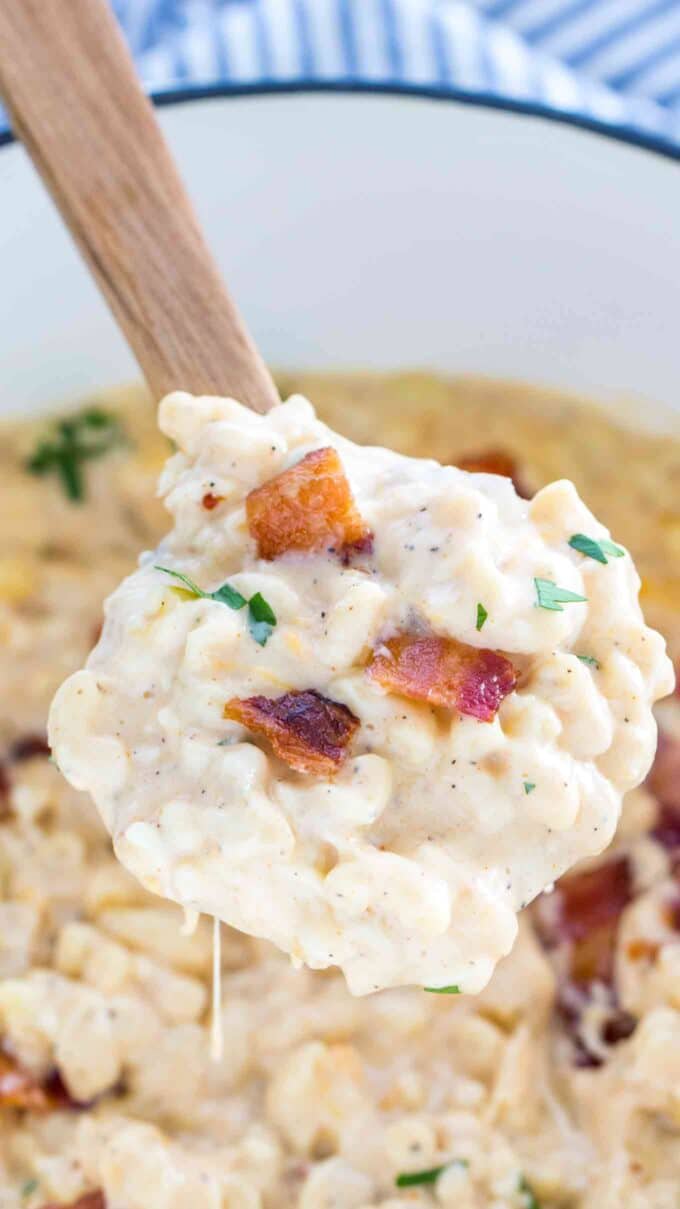 Can you make Mac and Cheese in the Instant Pot?
Absolutely. Making this recipe in the Instant Pot is a great alternative. You literally dump everything in the pot and turn it on for 5 minutes. You can check our easy and delicious recipe on how to make this dish in the Instant Pot.
How to make Mac and Cheese in the oven?
Similarly, you can bake this dish in the oven. Baking this dish is a great alternative, and it will give a nice crunch to it. Please check out the full recipe, on how to make baked mac and cheese casserole.
Can this dish be made in advance?
Yes! Make sure that the macaroni isn't overcooked and that you are putting it in an airtight container before refrigerating or freezing. This is the best way to freeze it. Once ready to eat, simply reheat the dish in the oven, or thaw and then microwave.
How long does One-Pot mac and cheese last?
If you have stored it properly in the fridge, in an airtight container, this dish will be able to last between 3 and 5 days. However, it is really important to make sure that you are storing it correctly, and directly after baking. Otherwise, it will go bad, and it will not be delicious anymore.
Also, you should store it in a container that is closing tightly. This is because this dish can absorb the smell of other food in the fridge, leaving it tasteless.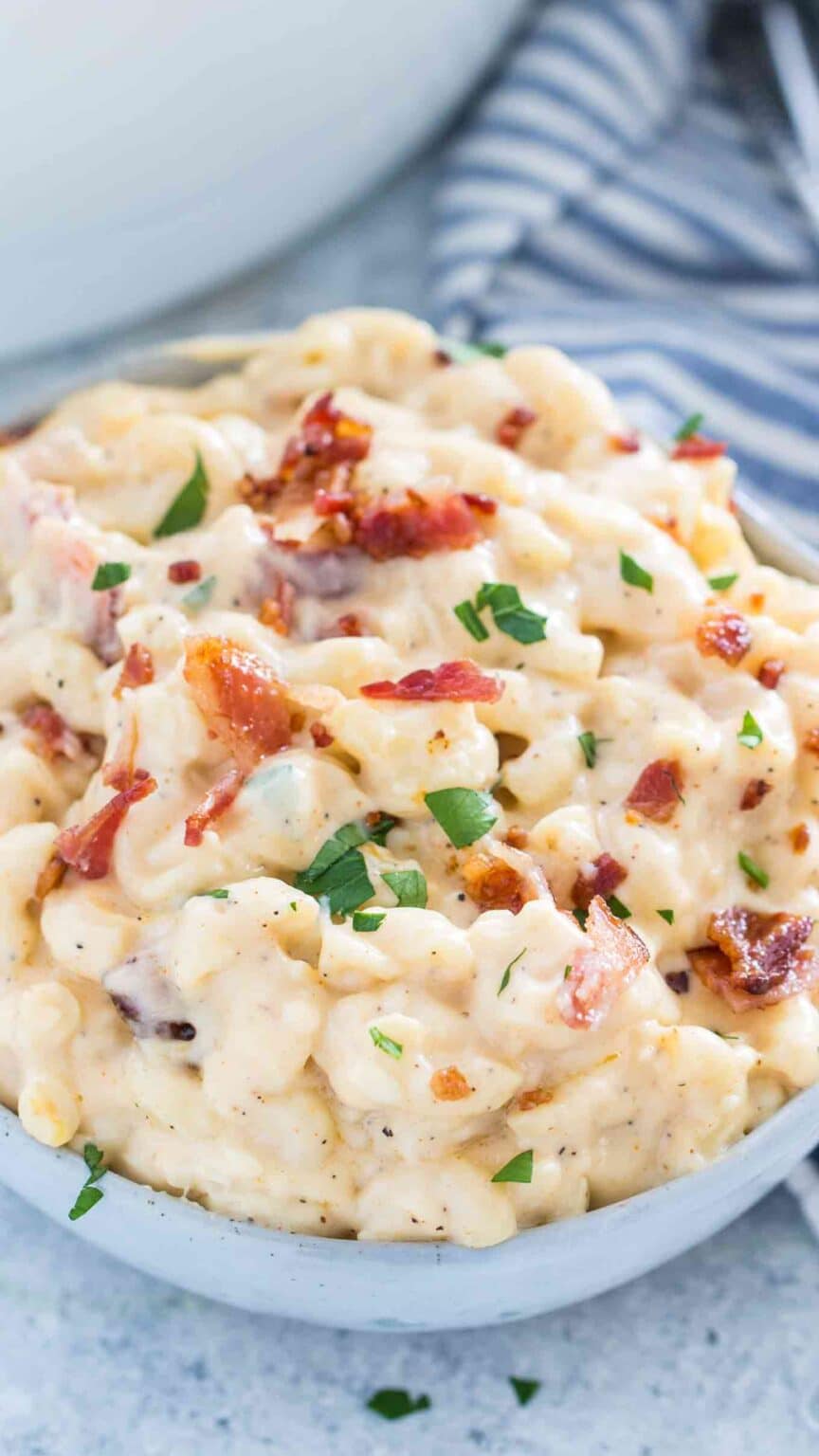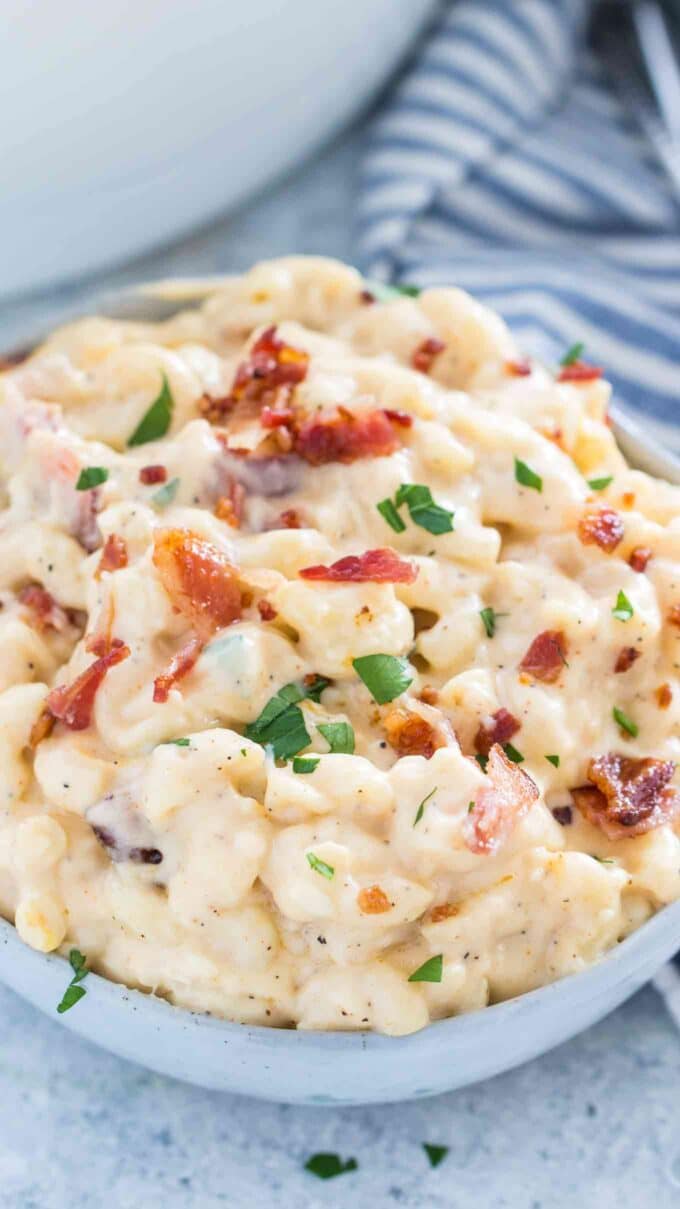 How do you reheat leftover mac and cheese?
If you want to reheat the leftover, there are a couple of methods that you can use. First of all, always reheat just the right amount that you are going to eat. The more you reheat, the less tasty it will become. And, you might want to add some milk to the leftover mac and cheese before heating.
You can reheat it in the microwave, on the stove or in the oven. The microwave is faster and will reheat well if you add some milk and stir from time to time. However, if you want to reheat a larger portion, then you might want to reheat it on the stove or in the oven at 350 degrees F for about 15 minutes. However, remember to add some milk to the leftovers and sprinkle with some cheese before reheating.
Recipe Tips:
We use elbow macaroni for this dish as it works best to absorb the cheeses and the sauce. However, you could use other variety as well, or a mix combined.
Also, the cooked chopped bacon on top is optional. It gives a lot of flavor to this dish, and what makes it stand out. But if you are not a bacon fan, simply skip it.
If you end up having too much liquid in your macaroni and cheese, just simply bring the contents back to a boil. Then, boil the milk down on low heat, and stir it till the desired consistency level is reached.
Also, it is important to remember that the mac and cheese will continue to thicken as it cools. Therefore, we recommend to turn off the heat when it is slightly on the runny side (as opposed to overly thick). The pasta will continue to absorb the sauce as you remove it from the stove. So keep that in mind.
In addition, milk can be substituted with water. However, the dish will not be as rich and creamy.
It is best to use freshly grated sharp, or extra-sharp Cheddar cheese. It has a distinct smell and flavor, which is a big plus here.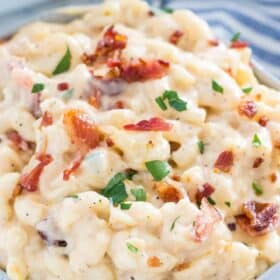 One Pot Mac and Cheese
One Pot Mac and Cheese is the ultimate comfort food that is very creamy and ready in less than 30 minutes.
Save
Share
Print
Pin
Rate
Ingredients
2 1/2

cups

elbow macaroni

(uncooked)

8

tablespoons

butter

8

tablespoons

all-purpose flour

4

cups

whole milk

(plus more if needed)

1

teaspoon

salt

(or to taste)

1/4

teaspoon

black pepper

(or to taste)

1

teaspoon

garlic powder

1

teaspoon

onion powder

1

teaspoon

mustard powder

1

teaspoon

smoked paprika powder

(or regular paprika)

1/2

cup

sour cream

(optional)

2

cups

sharp cheddar

(freshly grated)

2

cups

mozzarella cheese

(freshly grated)
Garnish:
8

slices

cooked bacon

(chopped)

Fresh chopped parsley
Instructions
Add water to a large Dutch oven or heavy bottomed pot and bring to a boil. Add a splash of olive oil, this will prevent the pasta from sticking together, and a dash of salt. Add the macaroni and cook for 6 minutes, or until al dente. Do not over-cook.

Drain the macaroni and set aside, splash some olive oil and stir, otherwise they will stick together.

Wipe down the same pot and place it back on the stove over medium heat.

Add butter and melt it by stirring with a wooden spoon.

Add flour, whisk and cook for about 1 minute to create a roux. Slowly, while still whisking, add in about 1/2 cup of milk.

Slowly continue to whisk in the remaining milk until the mixture is smooth, do NOT rush through this step.

If using, stir in the sour cream, it adds richness to the sauce and a bit of tanginess.

Add salt, black pepper, garlic powder, onion powder, mustard powder and paprika. Whisk to combine.

Reduce heat to low and stir in the cheddar cheese until fully melted. Add the Mozzarella cheese and stir until fully melted. Taste and adjust the sauce for salt and pepper. If the sauce is too thick, add a little more milk.

Add drained macaroni and stir to combine, taste the sauce again, if needed add more salt and pepper. If the sauce is too thick, add more milk, 1/2 cup at a time. If the sauce is too thin, add more cheese.

Serve immediately topped with chopped cooked bacon and chopped fresh parsley if desired.
Optional:
For a crunchy top, sprinkle some cheese on top of the macaroni and some pane bread crumbs. Broil for a few minutes.
Nutrition
Calories:
823
kcal
|
Carbohydrates:
66
g
|
Protein:
40
g
|
Fat:
44
g
|
Saturated Fat:
17
g
|
Cholesterol:
80
mg
|
Sodium:
1359
mg
|
Potassium:
590
mg
|
Fiber:
3
g
|
Sugar:
10
g
|
Vitamin A:
1635
IU
|
Vitamin C:
0.2
mg
|
Calcium:
893
mg
|
Iron:
2.3
mg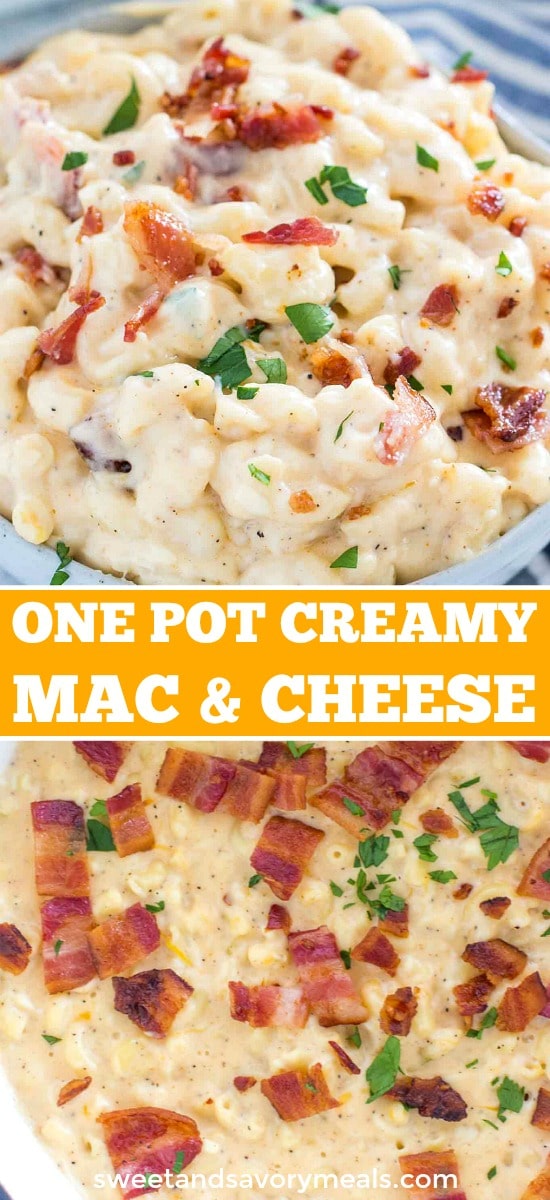 More recipes you might love