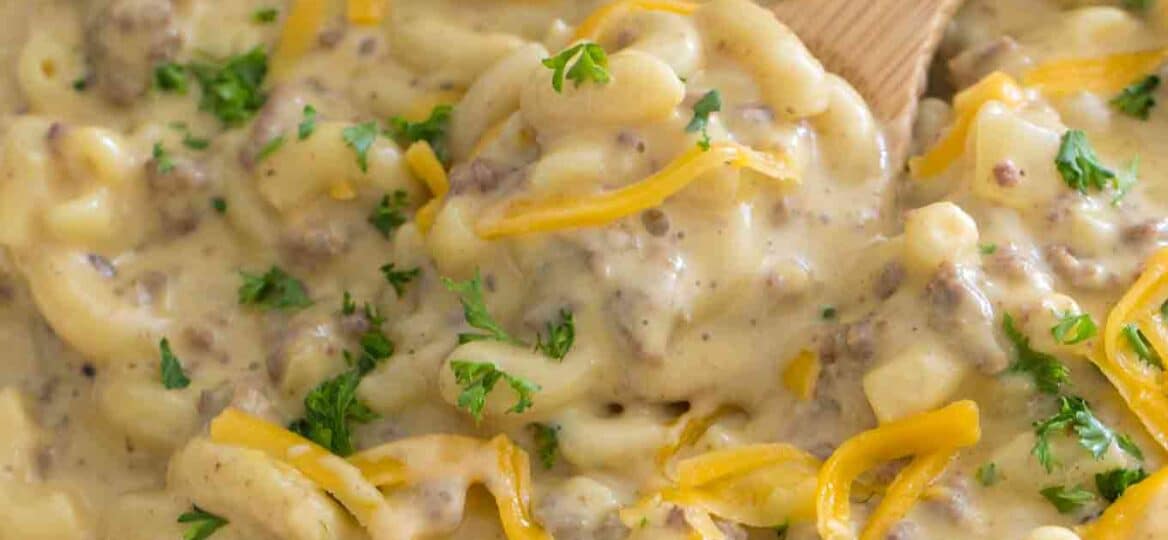 Instant Pot Cheeseburger Macaroni [VIDEO]
Instant Pot Cheeseburger Macaroni is the creamiest dish you will ever try! The hamburger helper gets reinvented, made entirely using the pressure cooker, in under 30 minutes for a quick and delicious dinner.
We love making easy and comfort pasta dishes in the Instant Pot. Among our most popular ones are Tuscan Chicken Pasta, Chicken Pot Pie Pasta, and Philly Cheesesteak Pasta.
Easy Instant Pot Cheeseburger Macaroni
Instant Pot Cheeseburger Macaroni is a delicious, quick and easy meal that you can make in just under 30 minutes. This is one of the creamiest and most luxurious, cheesy hamburger helper that you will ever try. I love making this recipe in my pressure cooker, as it allows me to make the meal entirely in one pot and in just a fraction of the time.
From browning the beef to adding all the other ingredients and cooking everything for 4 minutes on high pressure. Yes, you add the uncooked pasta to the pot as well, no need to cook anything separately!
This creamy dish has two secret ingredients, that well, are not a secret anymore: I used Velveeta Cheese and also Cheeseburger Soup to make this meal extra creamy and cheesy. You will so not regret these two additions, they honestly make a huge difference! You will basically lick your plate clean.
How to make Cheeseburger Macaroni in the Instant Pot?
Start by browning the ground beef and onion in the pot using the sauté setting.
Then, add the garlic along with spices to it. If not a garlic fan, simply omit it.
Once the meat is browned, add the water or broth.
Then, add the uncooked macaroni, and close the lid.
Cook under pressure for 4-5 minutes, followed by pressure release.
Next, stir in the sour cream and also add the shredded cheese. Stir gently until the cheese is fully melted.
Serve warm.
Can I use other meats?
Yes! You can easily swap the ground beef with any ground meat: chicken, turkey or pork. They all work great and can be a nice rotational dish as well. Also, the cooking time will still be the same if you use the same amount of ingredients
Instant Pot Cheeseburger Macaroni Recipe Tips:
Use quality meat because a good meat-centered meal starts with quality meat. Preferably use organic beef for this meal.
Look for fresh meat that has a bright color, and about 15-20% fat content. Due to higher fat content, the meat gets great flavor and tenderness.
Also, browning the beef is essential because it will lock in and elevate the flavors.
You don't have to pre-cook the pasta for this recipe. Add the uncooked pasta to the pot and 5 minutes on HP will give you al-dente pasta, and 6 minutes will result in more well-cooked pasta.
For a spicier kick, add some red pepper flakes to the dish.
Similarly, you can skip the Velveeta Cheese and use only cheddar cheese, in case you prefer to avoid processed stuff. Usually, I am not Velveeta's hugest fan, but in this recipe, it works amazing because of its melting properties. It creates a really creamy and cheesy sauce.
This meal can be made with other types of pasta, I like to use large shells or fusilli pasta.
Instant Pot – I have the 6 quarts one. It makes weeknight meals so much easier.
What is Velveeta Cheese?
Velveeta is a brand name for a processed cheese product that tastes like American cheese. It has a softer and smoother texture than cheese and when melted, it keeps a fully integrated and evenly clump-free liquid texture.
How to freeze Cheeseburger Macaroni:
To freeze, transfer the mixture to a buttered 9-by-13-inch freezer-to-oven baking dish. Cover tightly with aluminum foil. Freeze for up to 6 months. Bake, frozen and covered with foil, at 350°F, for 1 hour.