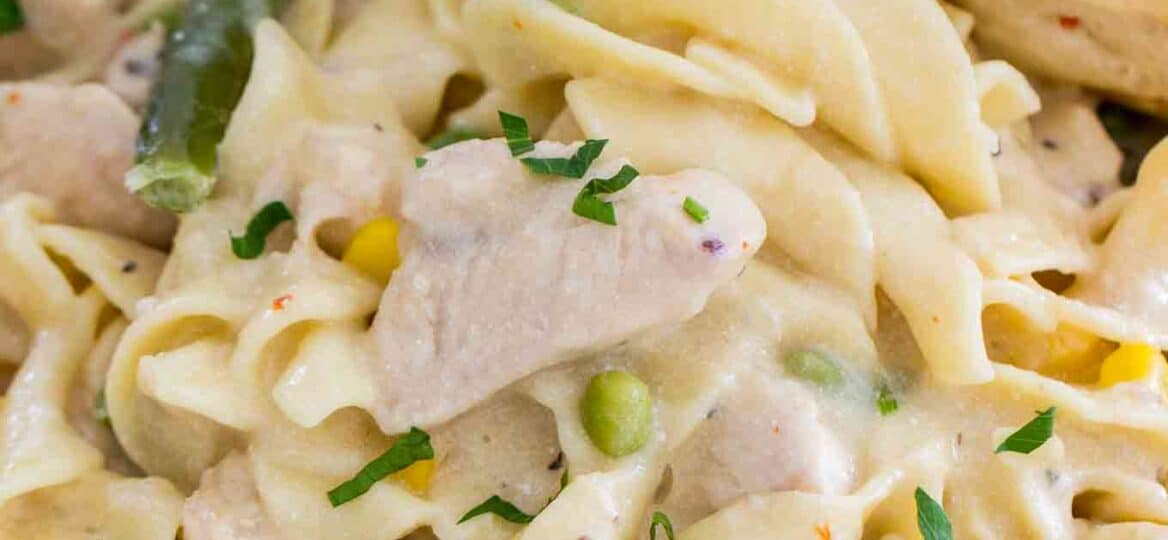 Instant Pot Chicken Pot Pie Pasta [video]
Instant Pot Chicken Pot Pie Pasta has all the flavors of a classic chicken pot pie, yet is insanely easy to make. It is loaded with tender chicken and veggies in a very creamy sauce.
This classic dish is our family's favorite, because it is rich and flavorful, making it the perfect comfort food. We also have Cheese Taco Pasta, Pizza Pasta, or Creamy Mac and Cheese. They are all easy to make meals, that taste delicious, and can feed a large family.
Easy Instant Pot Chicken Pot Pie Pasta
Instant Pot Chicken Pot Pie Pasta is another delicious pasta meal that you can make entirely using your Instant Pot. This one-pot dish has all the amazing chicken pot pie flavors, without all the hard work.
The pasta replaces the pie crust and it's coated in the most amazing, creamy sauce. The chicken is tender and juicy, while the veggies are crunchy and chewy. This dish is easier to make in the Instant Pot than the skillet version, and I am not even talking about the baked pie version.
I have made this delicious dish already twice this week, and my family is asking for it again over the weekend. This type of meal is exactly what I call comfort food, serve it with some freshly baked buttermilk biscuits and you will not regret it.
You can use the biscuits or some crusty fresh bread to soak all that creamy goodness of sauce!
What is a chicken pot pie?
A meat pie that usually has only a top pie crust, and not a bottom one. While there are some variations that have a flaky bottom crust as well. This homemade recipe filling is usually made with chicken and veggies in a creamy and thick sauce. The pie is baked in the oven.
Recipe Tips:
First, use good quality meat. Because a centered meal starts with quality meat, preferably use organic chicken for this meal.
In this recipe, you can use chicken breast meat or boneless/skinless chicken thighs meat.
Also, you don't have to pre-cook the pasta for this recipe. Just add the uncooked pasta to the pot and cook for 4 minutes.
This dish can also be made with turkey. The cooking time will still be the same if you use the same amount of the other ingredients listed in the recipe.
Red pepper flakes can be added for a spicier kick.
You can also add 1 cup of shredded mozzarella or provolone cheese at the end.
There is no need to defrost the veggies, you can add them frozen. If you want to add broccoli florets, you will have to steam them first as they are larger.
This meal can be made with other types of pasta, I like to use large shells or fusilli pasta.
Instant Pot – I have the 6 quarts one. It makes weeknight meals so much easier.
What goes with a chicken pot pie?
You can pair it with:
Salads: Such as Pear Salad, or Arugula Salad.
Veggies: Roasted Asparagus, Steamed Broccoli, or Rainbow Roasted Vegetables.
How to store it?
Prior to storing the pasta, let it completely cool. Then, transfer it to an airtight container and refrigerate up to 4 days. Also, you can freeze it in a freezer-safe dish. Best to freeze it for up to 3 months.
How do you reheat the Chicken Pot Pie Pasta?
Usually, when refrigerated the sauce will thicken and the pasta will also absorb more of the liquid. To reheat, add pasta to a medium-large saucepan over medium heat and add 1/2 to 1 cup of milk.
Start with 1/2 cup, stir to combine and if needed add more, until you achieve the desired sauce consistency. You can also add cream instead of milk, or chicken broth.
Deliciousness to your inbox
Enjoy weekly hand picked recipes and recommendations