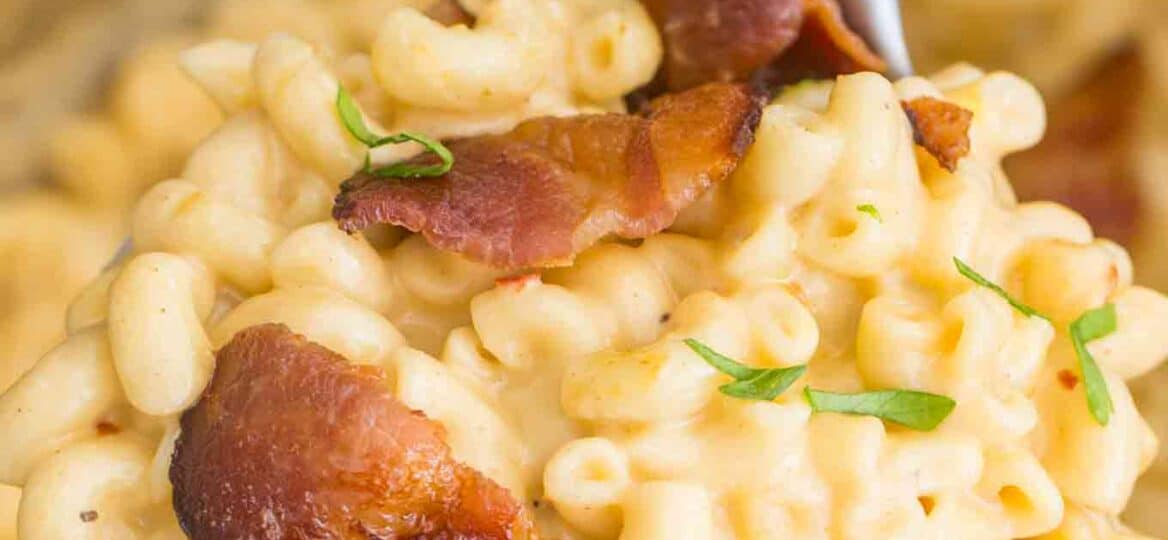 Creamy Instant Pot Mac and Cheese [Video]
Creamy Instant Pot Mac and Cheese is the easiest dish to make, yet the most delicious! Made entirely using the pressure cooker, and ready in under 30 minutes for a quick and delicious dinner. Also, watch the short video tutorial attached below and see how simple and easy this is to make!
We love making easy and comfort pasta dishes in the Instant Pot. Among our most popular once are Tuscan Chicken Pasta, Chicken Pot Pie Pasta, and Philly Cheesesteak Pasta.
The Best Instant Pot Mac and Cheese
This Creamy Instant Pot Mac and Cheese is the perfect version that delivers truly rich, creamy, and a comforting dish. After making the most amazing baked Mac and Cheese Casserole, I decided to replicate the highly popular dish in the Instant Pot. Using the pressure cooker saves time, effort, and it's very convenient. You literally dump everything in the pot and turn it on for 5 minutes.
This Pressure Cooker Mac and Cheese will quickly become your favorite easy to make the recipe, that will satisfy both kids and adults alike.
The key to getting the best Macaroni and Cheese is using a combination of different cheeses, plus milk and butter. This way, all you have to do is cook the pasta with seasonings in the Instant Pot, let off the steam, and then stir in the rest of the ingredients. The heat of the pasta is enough to melt the cheeses and cream together into a perfect, creamy sauce in no time.
INSTANT POT MAC AND CHEESE INGREDIENTS:
You will need the following ingredients to make this dish:
Pasta: We like using elbow macaroni, but feel free to use any short type of uncooked pasta.
Butter: It gives the dish a nice and creamy texture.
Water: It is used to cook the pasta. For even more flavor, you can use half water and half broth.
Dry mustard: It works great for this recipe. You can also use Dijon mustard.
Seasoning: Salt, ground black pepper, garlic powder, thyme, and red pepper flakes is what we use. Adjust per your taste.
Cream Cheese: This is what makes this meal so creamy and delicious!
Milk and heavy whipped cream: Whole milk works great. However, you can use half and half as well.
Freshly-grated cheese: Freshly grated cheddar and parmesan cheese are the best! Remember, this recipe will only taste as good as the cheese you use. So, try using good quality cheeses. You can also use other types if desired. For example, Fontina, Gouda, Gruyere, Havarti, Monterey Jack, are all great alternatives.
HOW DO YOU MAKE CREAMY INSTANT POT MAC AND CHEESE
This is one simple and easy recipe to make, and ready in no time. For exact ingredients measures, please follow the recipe card below. Also, I have attached a short step-by-step video to guide you through the cooking process. Below are the quick steps to make it:
Start with Elbow macaroni, water, butter, and seasoning.
After that, set the High Pressure on 5 minutes.
Then, add the milk, and heavy cream.
Next, add in the cheeses and simply stir.
The result is a rich, cheesy, and creamy, saucy macaroni.
POSSIBLE Recipe VARIATIONS:
It is easy to customize this homemade pressure cooker macaroni and cheese. Some great additions are:
Add some veggies: For a boost of vitamins and add some color to it, go ahead and add some baby spinach, sun-dried tomatoes or broccoli.
Meat or protein: Similarly, you can add cooked chicken, bacon, ground beef, kielbasa, lobster, or even shrimp to it.
Make it on the stove: Check out the stove version of this recipe by clicking on this link.
Alfredo Mac and Cheese: Making it with alfredo is equally delicious. Find the recipe here.
Can I use broth instead of water?
Absolutely! Using chicken broth or veggie broth as your cooking liquid will definitely add extra flavor to it. Also, I highly recommend using low sodium broth as the recipe calls for salt as well. But if you go with regular broth, then simply reduce the salt.
WHAT IS THE BEST CHEESE TO USE FOR MAC AND CHEESE?
This totally depends on your taste and preference. Any good quality melting cheese will perfectly work for this dish. A combination of cheddar, Parmesan is what I usually use. Similarly, a sharp white cheddar cheese, mozzarella, Monterrey, or Asiago will produce a smooth, rich and creamy sauce.
WHAT SHOULD I SERVE WITH MAC AND CHEESE?
This dish is very versatile, and can be served as it is, or with various pairings. Some suggestions would be:
HOW TO FREEZE CREAMY MAC AND CHEESE?
First, make sure the dish is fully chilled before freezing.
To freeze, transfer the mixture to a buttered 9-by-13-inch freezer-to-oven baking dish.
Then, cover tightly with aluminum foil.
Freeze for up to 3 months. Bake, frozen and covered with foil, at 350°F, for 1 hour.
How to Reheat Mac and Cheese
Leftover macaroni and cheese usually will suck up some of the moisture in the dish, especially when refrigerated. To get the proper texture back, it is best to add a splash of milk or cream when reheating the dish. If you microwave it, just add a little milk or cream to the bowl and stir gently together.
Recipe Tips:
This meal can be made with your preferred type of smaller pasta. I like to use Elbow pasta for this dish.
As stated above, it is best to use a combination of cheeses for the best taste. Sharp cheddar, mozzarella, parmesan, asiago, gouda, are all great combinations to use.
Additionally, use quality cheese. If you want a truly creamy texture, it is best not to use pre-shredded cheese. Take the extra few minutes and shred your own cheese.
Don't use canned milk. I like using whole milk for the best results. You could also use 2% or 4%.
Feel free to use shell or macaroni pasta. Both work very well for this recipe, as it absorbs the creamy sauce the best.
I like to garnish the dish with bacon, but this is optional. If not a bacon fan, simply skip this step, or use some freshly chopped parsley.
Instant Pot – I have the 6 quarts one. It makes weeknight meals so much easier.
Deliciousness to your inbox
Enjoy weekly hand picked recipes and recommendations