Slow Cooker Kielbasa [VIDEO]
Slow Cooker Kielbasa is a great appetizer for parties, game days and celebrations. It can also make a delicious dinner when served over rice or noodles. Made with brown sugar, orange marmalade, bbq sauce, and orange juice, this kielbasa is juicy and full of flavor.
We love slow cooker recipes, because we usually add all the ingredients to it, and leave it for hours to do its magic. It is handy and convenient, and it will turn the regular kielbasa into a real treat. If you love cooking using your crockpot, we recommend you also try Slow Cooker White Turkey Chili, Slow Cooker Baked Potato Soup. and Slow Cooker Short Ribs.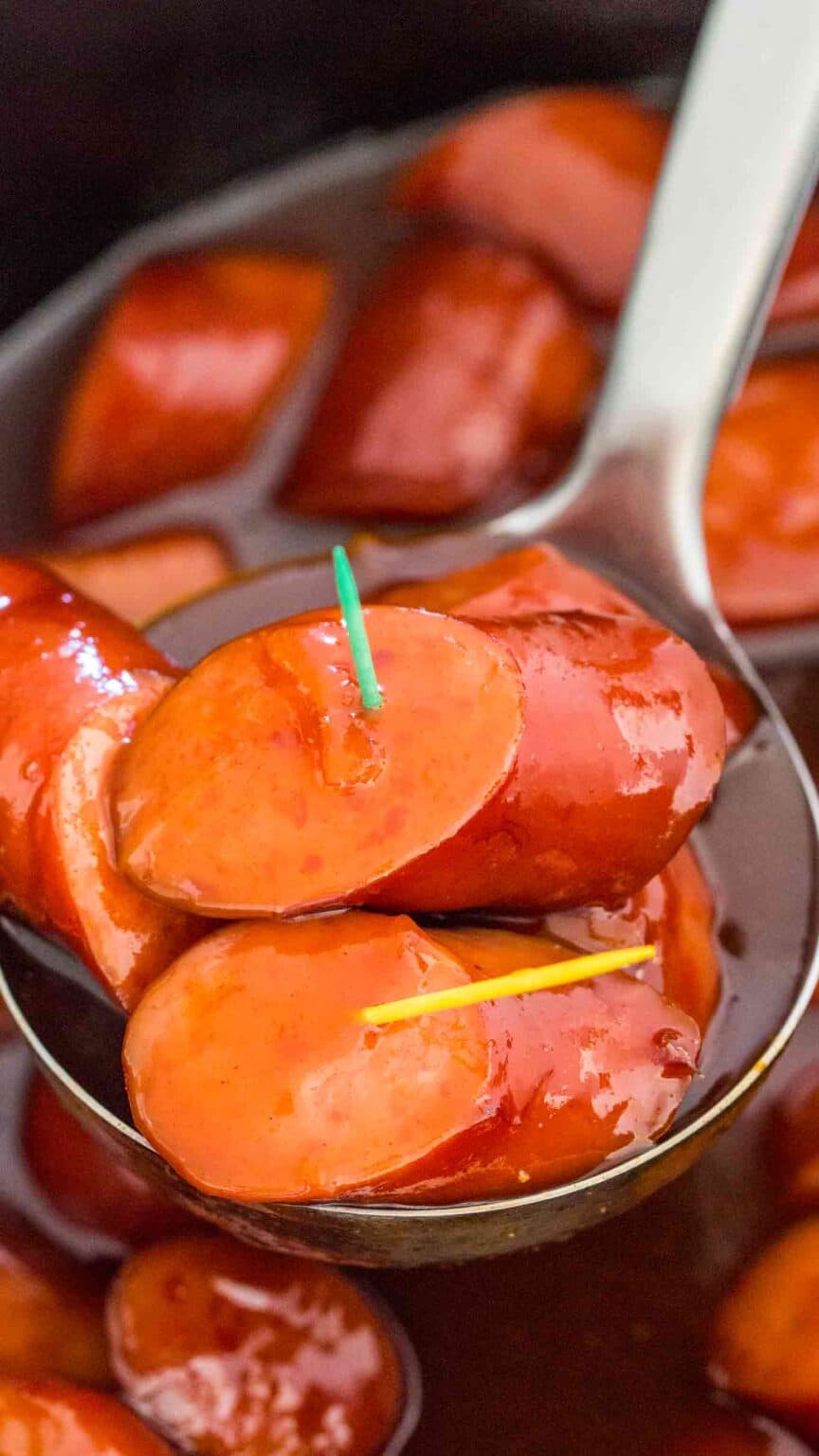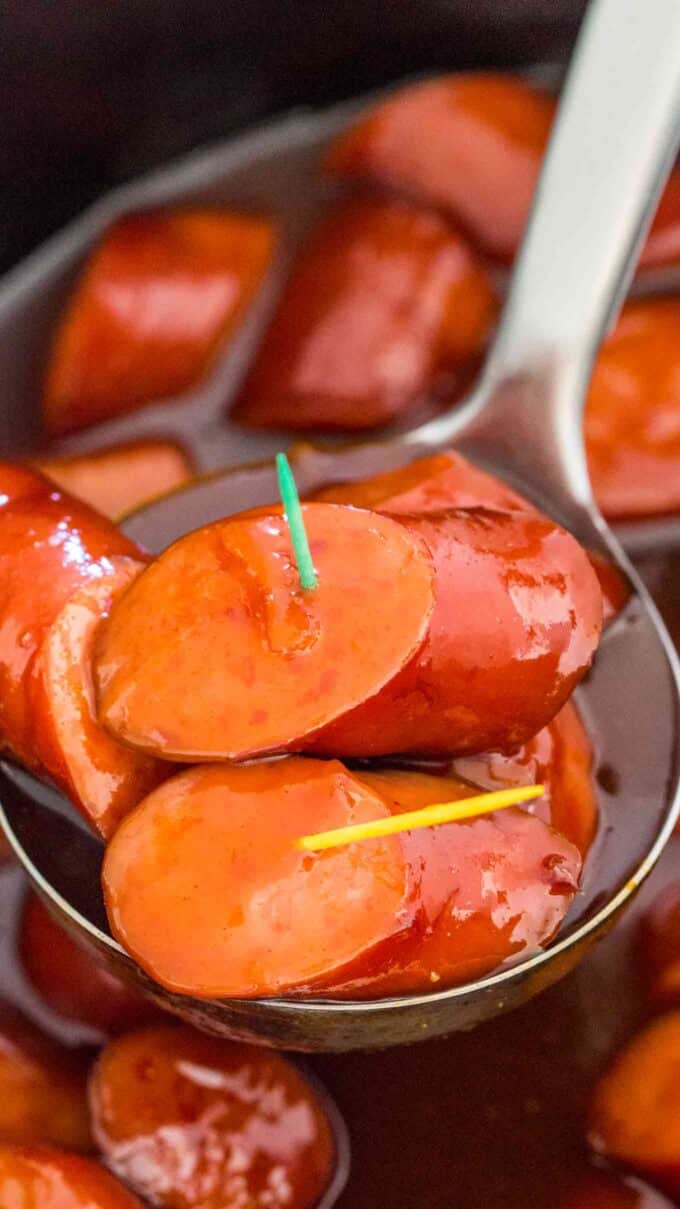 Easy Crockpot Kielbasa
Slow Cooker Kielbasa will quickly become your favorite appetizer. Making this recipe in the slow cooker really has its benefits. First, it makes the kielbasa very tender and juicy. Also, by slowly cooking in the brown sugar and barbecue sauce mixture, it elevates the flavors quite a bit. And of course, it's super easy and simple. All you have to do is add the ingredients to the slow cooker and let it work its magic.
The dish is incredibly tender and perfect for busy families. Kielbasa bites are perfect as an appetizer but are also great as a main dish. You could serve the slow cooker kielbasa over mashed potatoes, rice, noodles, or even with a salad on the side. And if you're wondering, leftovers taste just as good the next day.
What is "Kielbasa"?
Kielbasa is Polish for sausage and usually comes as fresh or smoked, and is mostly made of pork, but occasionally it may also contain beef.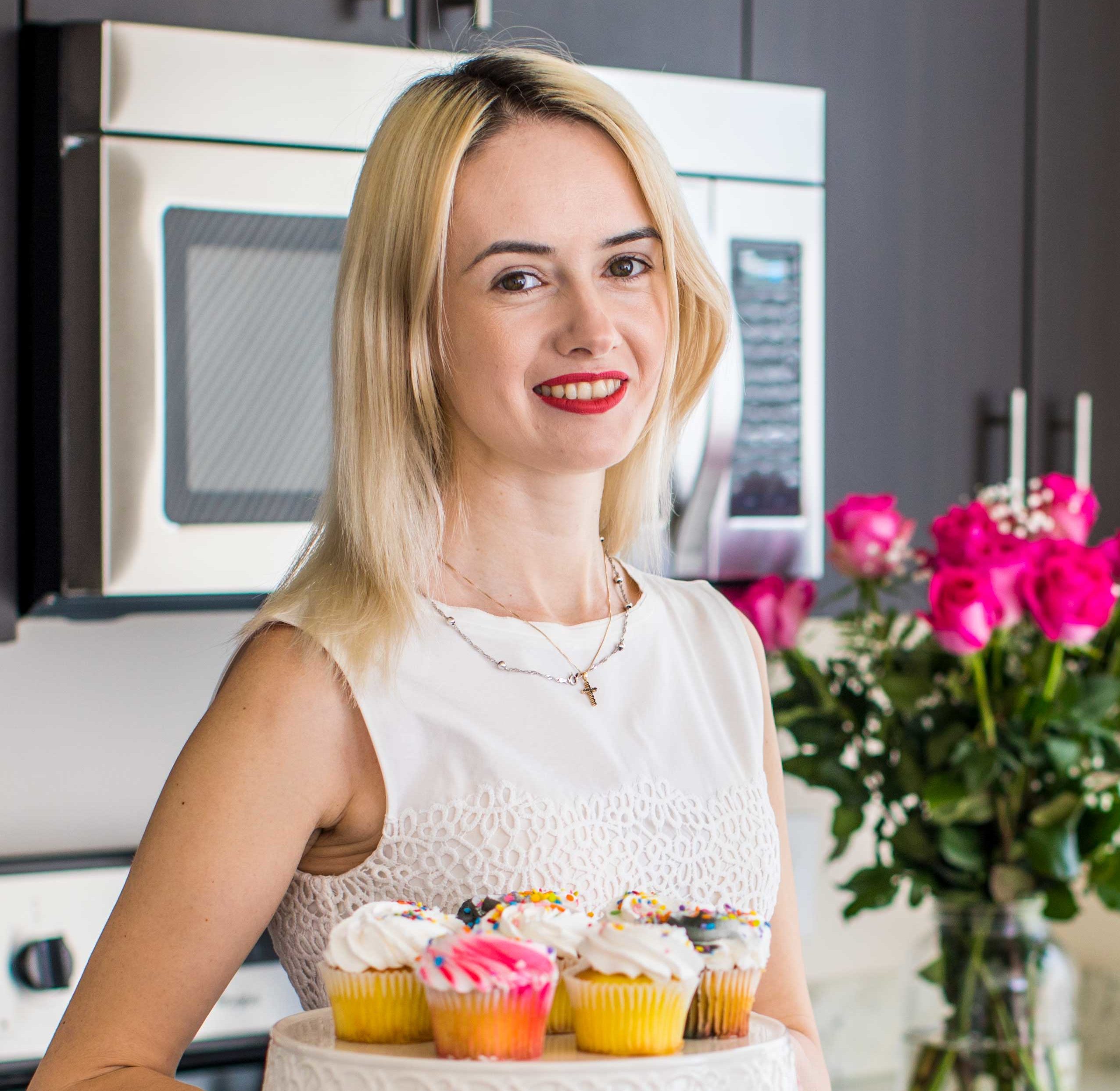 Follow us on Pinterest for more delicious recipes!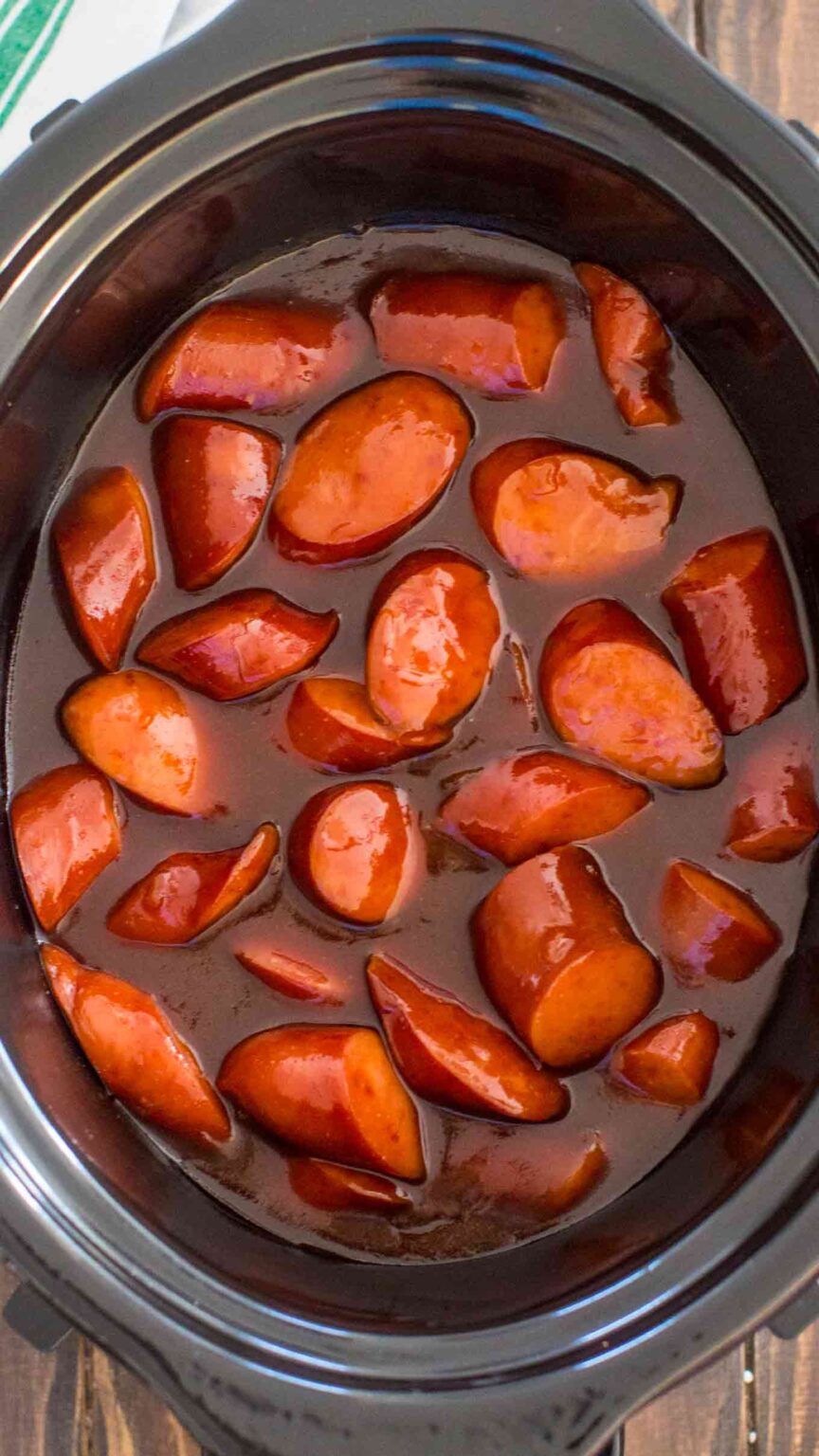 Is kielbasa already cooked?
As a general rule, the store-bought Polish kielbasa comes already cooked and only needs to be heated before serving, making it is safe to eat it right away as well.
How long does it take to cook kielbasa in a crockpot?
For best results, cover and cook on low for 4 to 6 hours, or high for 2 to 3 hours, or until kielbasa bites are heated through.
Kielbasa substitutions:
Smoked sausage of your choice
Mini Smokies
Hot dogs
What do you need to make the Slow Cooker Kielbasa?
2 to 3 lbs kielbasa
1 1/2 cups barbecue sauce
1 cup orange marmalade
2 tablespoons Worcestershire sauce
1 cup orange juice
1/3 cup brown sugar
1/2 teaspoon garlic powder
1/2 teaspoon onion powder
1 teaspoon smoked paprika
How to make the perfect Slow Cooker Kielbasa?
Spray slow cooker with cooking spray.
Then, cut kielbasa into 2-inch size pieces and add to the slow cooker.
Next, in a medium bowl add all the "Sauce Ingredients" and stir until fully combined.
After that, add to the slow cooker, pouring over the kielbasa
Cover and cook on low for 4 to 6 hours or high for 2 to 3 hours.
If you prefer a thicker sauce, mix cornstarch and water in a small bowl until cornstarch is fully dissolved. Add the mixture to the slow cooker during the last 30 minutes of cooking. Stir to combine.
Once cooked, stir again to coat the kielbasa well in the sauce and serve.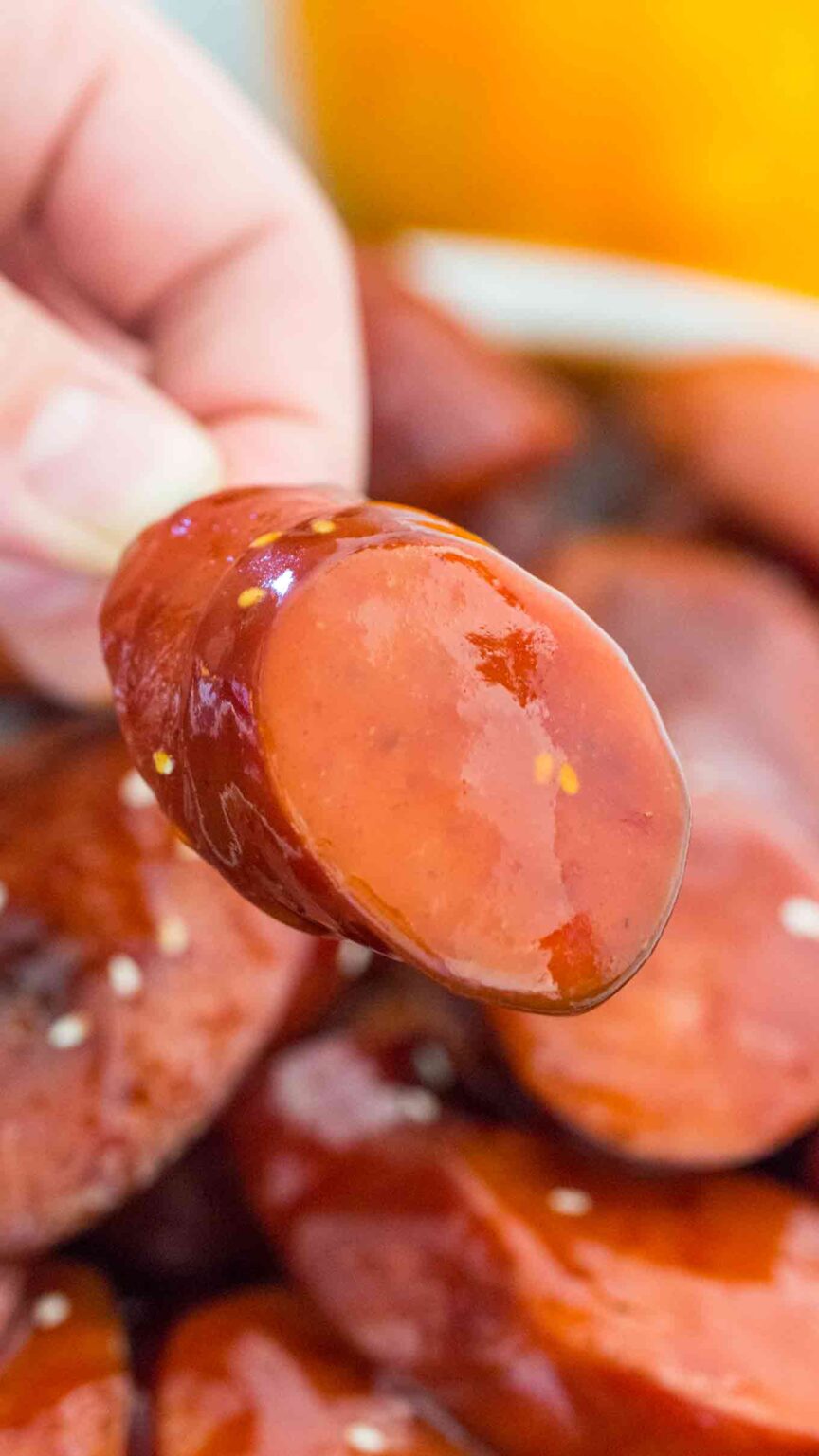 HOW TO STORE THE SLOW COOKER KIELBASA?
Store the Slow Cooker Kielbasa after cooking in a large airtight container in the fridge. Make sure that the kielbasa is at least partially covered by the sauce so it doesn't dry out. Reheat before serving.
More delicious appetizers:
CAN YOU FREEZE it?
Yes, and I recommend using quart bags for this. Make sure the sauce and kielbasa have fully cooled. Use a cup to transfer the sauce from the pot into the bag. Squeeze out excess air and seal the bags.
The bags can be nicely stored in the freezer for up to 3 months. When you decide to serve it, thaw and add it back to the slow cooker, or to a large pot on the stove pot. Heat for 10-15 minutes, or until the sauce is warmed up.
Tools Used To Make This Recipe:
Slow Cooker – I love this slow cooker, while it's more expensive, you can brown the food directly into it, so that saves you time.
Save Recipe
Slow Cooker Kielbasa
Slow Cooker Kielbasa is a great appetizer for parties, game days and celebrations. It can also make a delicious dinner when served over rice or noodles.
Author: Catalina Castravet
Serves: 8 servings
Prep time:

10

minutes
Cook time:

4

hours
Total time:

4

hrs

10

mins
Ingredients
Sauce Ingredients:
Cornstarch Mix:
Nutrition information
Calories: 146 Carbohydrates: 35 Protein: 0 Fat: 0 Saturated Fat: 0 Cholesterol: 0 Sodium: 595 Potassium: 238 Fiber: 0 Sugar: 29 Vitamin A: 305 Vitamin C: 16.3 Calcium: 33 Iron: 0.8
Save Recipe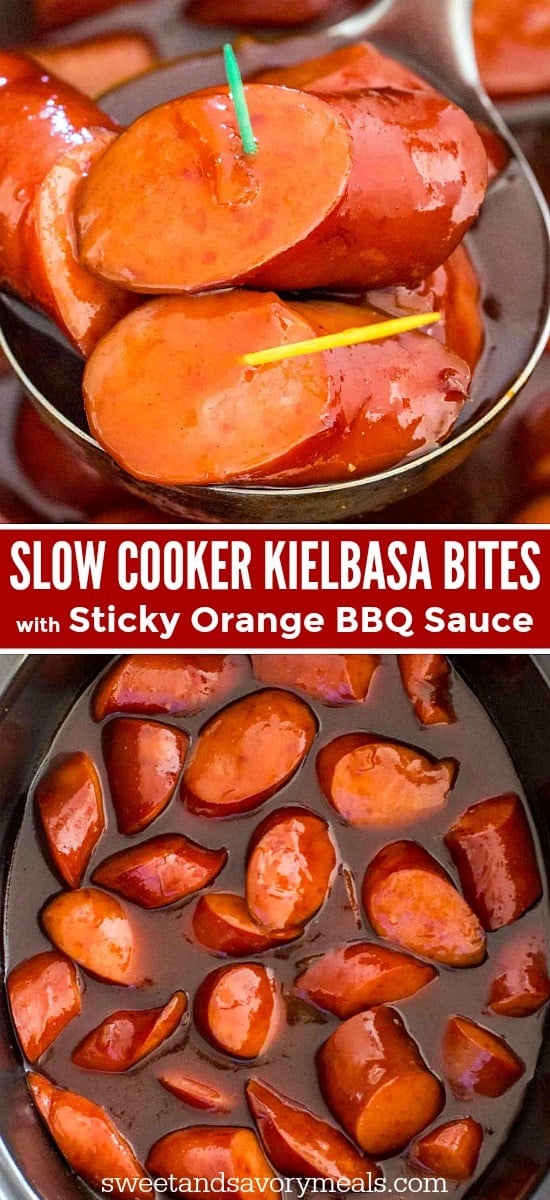 More recipes you might love
Categories: