Cheesecake Factory Avocado Egg Rolls Copycat [Video]
Last updated on June 18th, 2021 at 06:27 pm
Cheesecake Factory Avocado Egg Rolls Copycat are crunchy, creamy, and tasty made at home any time you want, without the restaurant price tag.
These Avocado Rolls are perfect appetizers for any occasion. They can be served at any event and satisfy a bigger crowd. They can also go well with dips which we have made on our blog, like Million Dollar Dip Recipe, Deviled Eggs Dip or Caesar Salad Dip.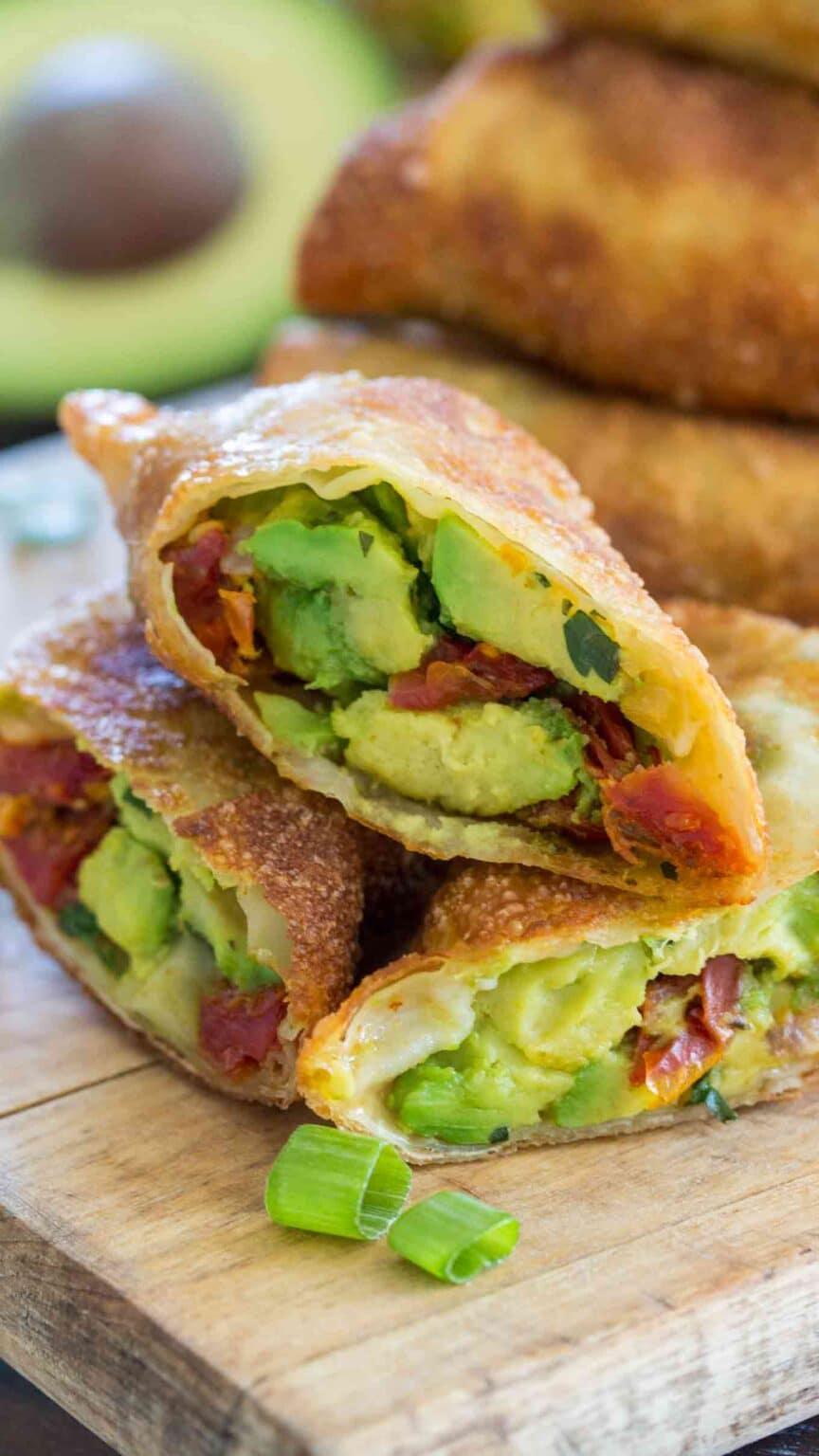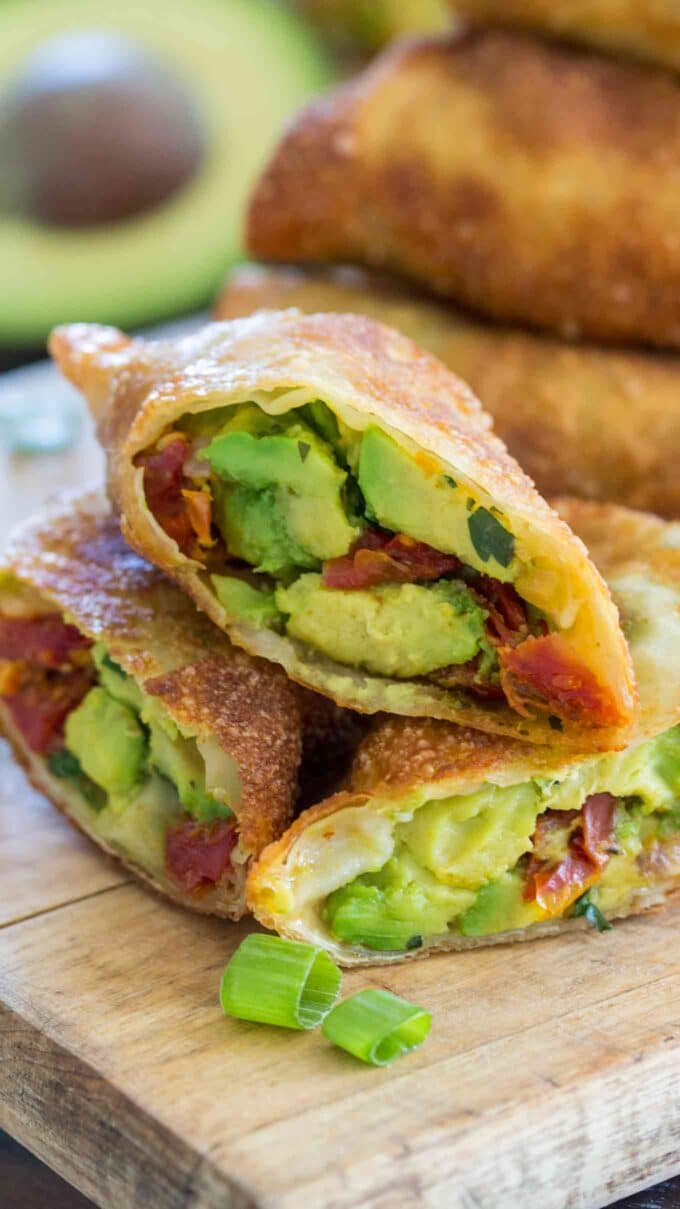 Easy Cheesecake Factory Avocado Egg Rolls
Cheesecake Factory Avocado Egg Rolls Copycat Recipe is my way of indulging in a restaurant-style meal at home. These egg rolls are the perfect appetizer, I mean, if you are an avocado fan, you will go nuts for them.
If you are like me in any way, you will make a double batch and just have them for dinner and probably won't even share them. They are deliciously addicting, creamy and chewy on the inside and crispy and crunchy on the outside.
If only you knew how easy these are to make, this Cheesecake Factory Avocado Egg Rolls Copycat Recipe will become a favorite in your household.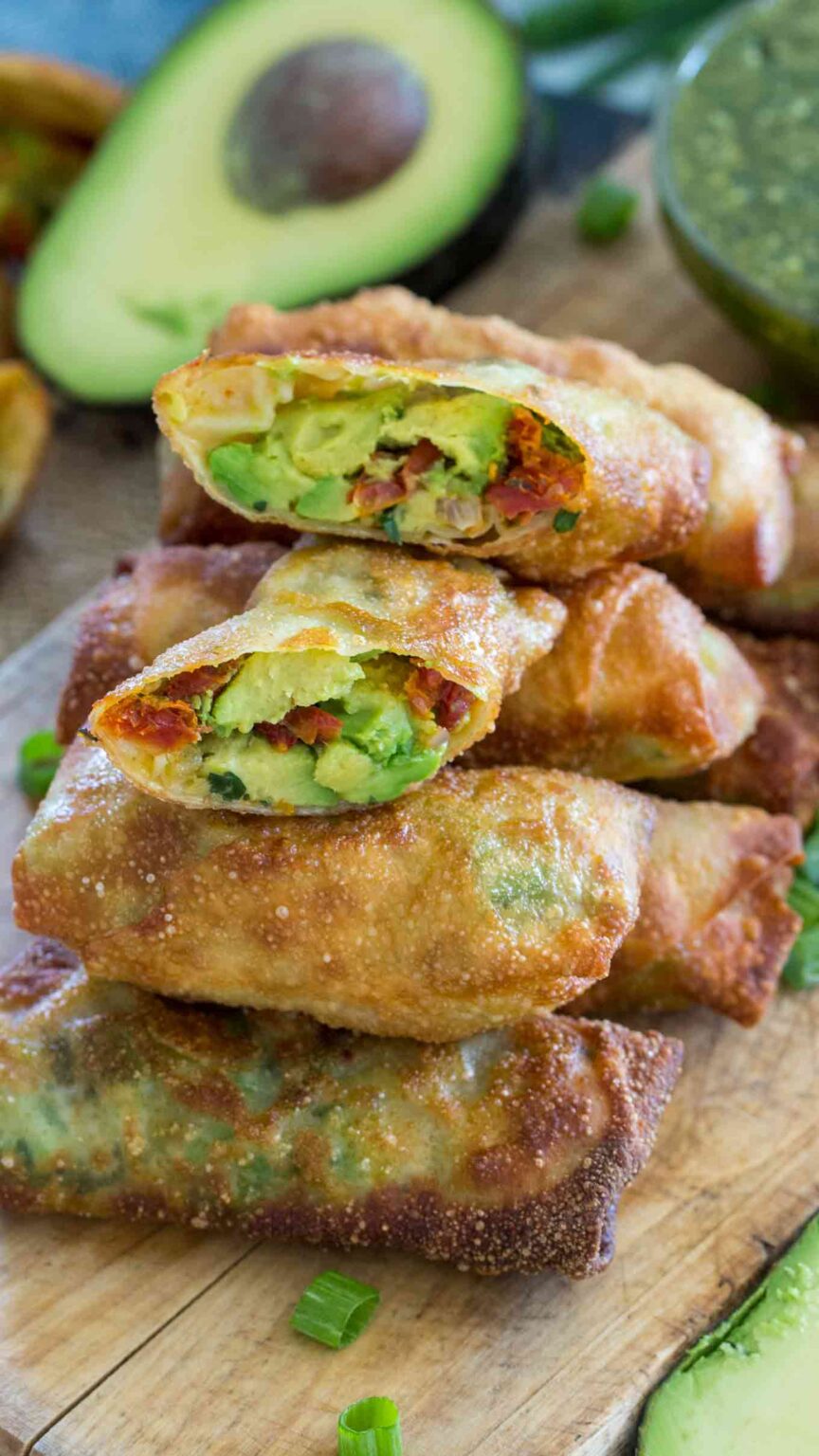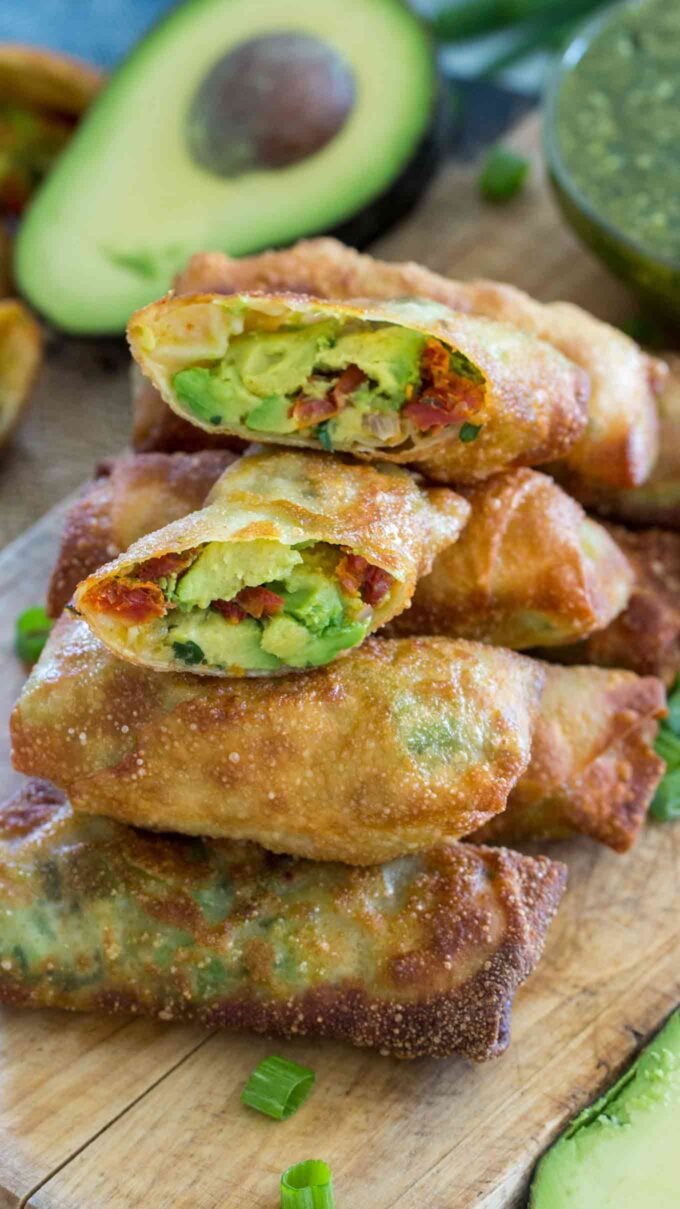 Cheesecake Factory Avocado Egg Rolls Copycat Recipe Tips:
First, make sure you choose ripe avocados. However, not too mushy or that already start to have black spots on the inside when you cut them.
To ripen a hard avocado, store it in a brown paper bag.
Also, when you dice the avocados, don't mash them, you don't want to end up with guacamole.
Roll the Avocado Egg Rolls tightly, and don't overfill them with the avocado-tomato mixture.
Use unsalted cashews, for this recipe I like using raw cashews.
In addition, when frying the rolls, it's best to use vegetable or canola oil. Because, if using olive oil, will result in darker rolls. You need a high score of oil for frying.
Fry the rolls just until they start to get golden brown. The ingredients inside don't need to be fully cooked, so you are looking to only add the crunchy shell.
You can serve the rolls with any sauce that you like, or you can make the copycat sauce listed in the recipe.
How to slice or dice an avocado?
First, cut the avocado in half.
Then, remove the pit – to do that, aim your knife at the pit and whack into it, twist the knife to pull out the pit.
Next, use your knife's tip to score avocado flesh, making squares, then scoop it out with a spoon.
If you are looking to slice the avocado, use a spoon to loosen skin all the way around, and scoop out the flesh whole. Place flat side down on cutting board and slice using the tip of your knife.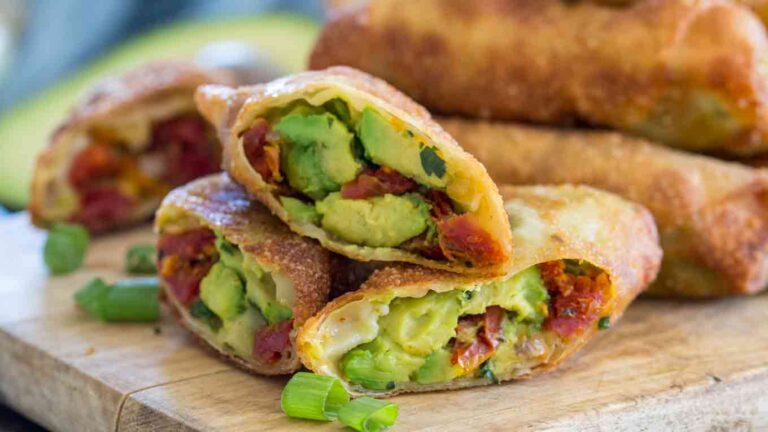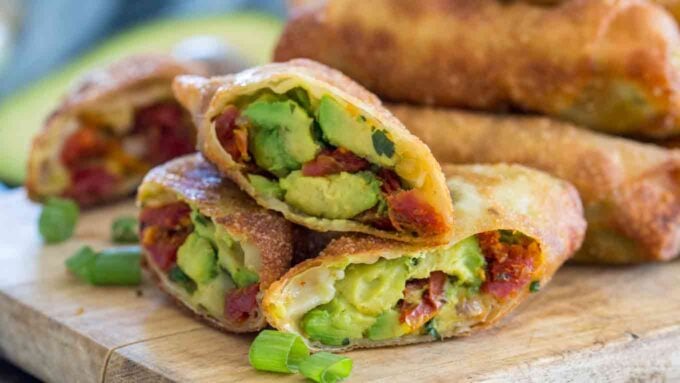 Stove deep-frying tips:
If you do not own a deep fryer, hello, here I am, I don't have one. Here are some tips for you, that will guide you on how to safely deep fry the avocado rolls on the stove, using a deep pot or pan:
First, choose an appropriate frying oil, these are great: peanut oil, vegetable oil or sunflower oil.
Add the oil to a deep pot, fill it no more than half full, to avoid spillovers. Also, use enough oil so that you can submerge a small batch of egg rolls completely.
Next, preheat the oil to the cooking temperature of 190 °C / 375 °F or 225 °C / 440 °F. Use a frying or candy thermometer to measure the oil temperature.
Make sure the food you are adding to the pot is dry. If needed, use paper towels to remove external moisture. In addition, the presence of external moisture on foods can cause the oil to splatter violently.
Don't get too close to the oil and use long tongs, a slotted deep-fry spoon, or a frying basket to add or remove foods gently from the pot.
In case of pot catching fire, NO NOT USE: water, flour, or sugar to put out the grease fire, do not try to carry a flaming pot outdoors. To suffocate the fire, USE: baking soda, a damp towel, or a fire extinguisher specifically designed for grease fires.
Once you add the rolls to the hot oil, just 1 minute may be enough. Since we are not looking to cook the interior of the food further. Also, keep in mind, smaller pieces of food will cook faster and more evenly than larger pieces.
Drain the cooked food on paper towels.
Best dipping sauce for avocado rolls:
We love dipping these rolls into our favorite sauces:
Storing instructions:
If you end up with leftovers, it is best to store them in an airtight container. Then, refrigerate for up to 5 days. Reheat prior to serving. And don't forget to dip them in one of our recommended homemade sauces from the list above!
Cheesecake Factory Avocado Egg Rolls Copycat Recipe
Cheesecake Factory Avocado Egg Rolls Copycat are crunchy, creamy, and tasty made at home any time you want, without the restaurant price tag.
Save
Share
Print
Pin
Rate
Ingredients
Egg Rolls:
3

large avocados

(peeled, pitted, & diced)

8

tablespoons

sun-dried tomatoes packed in oil

(chopped)

3

tablespoons

minced red onion

2

tablespoons

fresh cilantro

(chopped)

1/4

teaspoon

salt

Egg roll wraps

1

egg

(beaten)
Dipping Sauce:
4

teaspoons

white vinegar

1

teaspoon

balsamic vinegar

1/2

cup honey

1/4

teaspoon

powdered saffron

1/2

cup chopped cashews

1

cup

fresh cilantro

2-5

garlic cloves

2

green onions

(chopped)

1

tablespoon

white granulated sugar

1

teaspoon

ground black pepper

1

teaspoon

ground cumin

1/2

cup olive oil

(more if needed)
Instructions
Dipping Sauce:
In a small, microwave safe bowl, stir together vinegars, saffron powder and honey, and microwave for 1 minute. Stir and set aside.

Add to a blender the rest of the sauce ingredients and the honey mixture. Puree until all combined and fully blended.

Pour mixture into a bowl and stir, if needed stir in more olive oil to thin it out.

Refrigerate until ready to use.
Avocado Rolls:
In a large bowl, gently stir together diced avocados, chopped sun-dried tomatoes, onion, cilantro, and salt.

Place one egg roll on a cutting board, so that a corner is pointing toward you. Brush the edges of the wrapper with egg mixture.

Distribute avocado filling evenly onto center.

Fold the bottom corner up, 1/4 of the way over the filling. Roll up from side to side, fold top corner over all and press to seal.

Repeat with remaining egg roll wrappers.

Add oil to a deep pan over medium-high heat. You should add enough oil, in order to be able to submerge a batch of avocado egg rolls. Heat the oil to 375 degrees F.

Deep fry the egg rolls in batches, for about 3-4 minutes, until golden brown.

Remove rolls from oil and place on paper towels to drain excess oil.

Serve with the dipping sauce.
Nutrition
Serving:
0
g
|
Calories:
115
kcal
|
Carbohydrates:
8
g
|
Protein:
2
g
|
Fat:
9
g
|
Saturated Fat:
1
g
|
Cholesterol:
13
mg
|
Sodium:
85
mg
|
Potassium:
422
mg
|
Fiber:
4
g
|
Sugar:
1
g
|
Vitamin A:
335
IU
|
Vitamin C:
16.2
mg
|
Calcium:
18
mg
|
Iron:
0.8
mg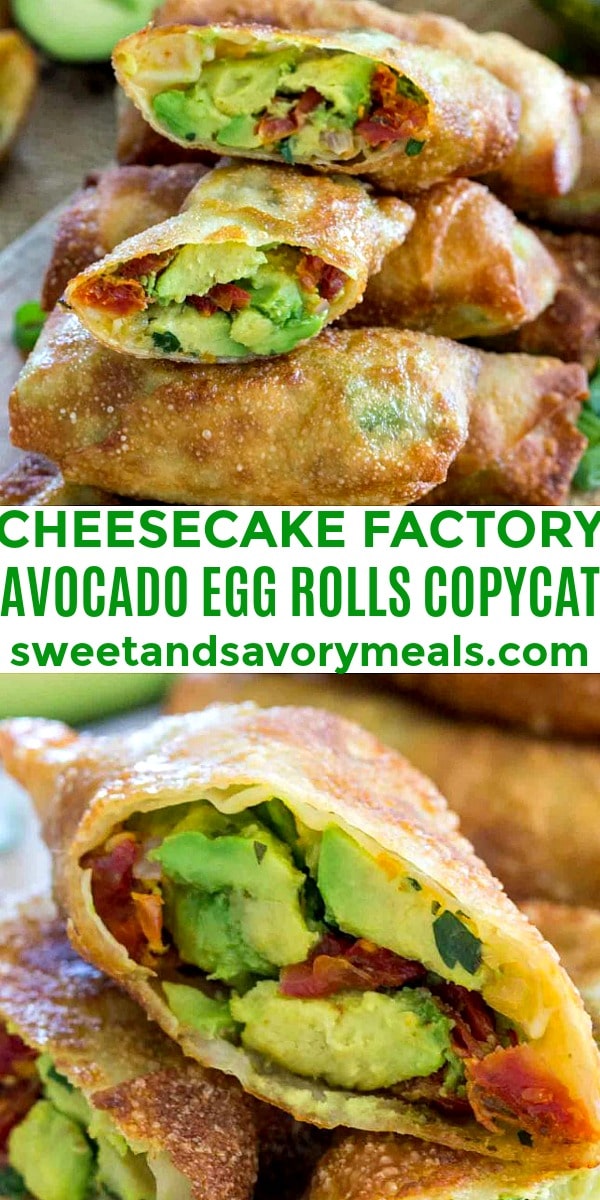 More recipes you might love