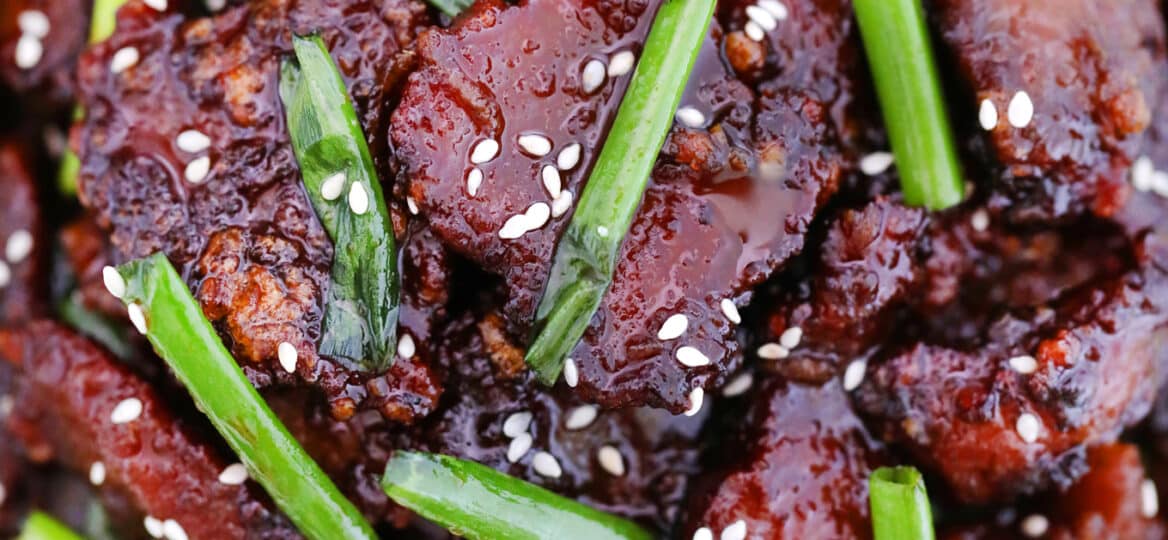 Mongolian Beef Recipe [Video]
Mongolian Beef Recipe is the easiest way to have a flavorful and delicious restaurant-style dinner at home in just about 30 minutes! This version tastes better than the famous PF Chang dish.
There is no secret that we love Asian dishes, and Mongolian Beef is high on the list. Due to our passion for this dish, we decided to create a few variations on it. We have the popular IP Mongolian Beef, followed by Pressure Cooker Mongolian Chicken, and lastly Instant Pot Mongolian Drumsticks.
PF Chang's Mongolian Beef
PF Chang's Mongolian Beef Recipe has been a long time on my to-do list. This is one of the easiest copycat recipes you can make at home. It requires simple ingredients, that you probably have on hand.
If you like Asian inspired dishes as we do, this is a must-try The recipe comes together in 30 minutes, so basically you can have a restaurant-style dinner ready in no time and for way less money. So easy to make and so delicious!
What is Mongolian Beef?
The dish originated from the Chinese Shangdong province or Xingjiang province. It is widely served in Chinese-American restaurants, especially made famous by the PF Chang chain restaurant.
It consists of sliced beef, typically flank steak, that has been fried to crispy perfection and after that stir-fried with green onions in a sweet and savory brown sauce.
What is Mongolian Sauce Made of?
Mongolian Sauce is made from a few easy ingredients:
Soy sauce
Dark brown sugar
Garlic
Ginger
Vegetable or sesame oil
Sriracha – if you want to make it spicy
To make it, you just have to cook the garlic and the ginger in a wok over medium heat and stir in the rest of the ingredients together. Cook until it thickens.
How to make Mongolian Beef:
Prepare the Beef: First, start by slicing the flank steak across the grain, mix with cornstarch, and set aside.
Fry the Beef: Next, in a large pan, fry the beef in hot oil, until crispy.
Make the Sauce: In a wok, mix all the ingredients for the sauce and cook until thickened.
Add the Beef: Add the beef to the sauce mixture, stir to combine, and add the green onions.
Can I substitute chicken for beef in this dish?
Yes, chicken or pork is a great alternative for beef in many recipes including this one. The cooking time will also vary best on the cut that you choose. You can also check our version for Instant Pot Mongolian Chicken.
What is best to serve with Mongolian Beef?
What wines pair well with Mongolian Beef?
A nice, fruity red wine such as Zinfandel or Syrah will pair nicely with the flavors in this beef dish.
If you're looking for a white option, Riesling or Pinot Grigio are always great matches for bold, somewhat spicy dishes.
More Asian recipes:
PF Chang's Mongolian Beef Recipe Tips:
Use quality meat. I always say this, but a good meat centered meal starts with quality meat, preferably use organic beef for this meal.
The best cut of meat for Mongolian Beef is a flank steak, it is also easier to cut it into thin strips.
You can definitely cut the beef very thinly as it is served in restaurants. I personally prefer to cut it a little thicker, so don't be afraid to experiment.
Traditionally, the beef in this recipe should be fried in lots of oil to make it very, very crispy. I decided to reduce the oil, sugar and all the frying in this recipe to make it healthier.
Cornstarch is a key ingredient in here, do not try to replace it with flour, the results will not be the same.
Also, I used a LOT of garlic in this recipe. We love garlic in our family and I think it works really well with the sweet and salty flavors. However, feel free to use less if you are not a huge garlic fan.
Using fresh ginger and garlic will add amazing flavor and taste to the sauce.
Deliciousness to your inbox
Enjoy weekly hand picked recipes and recommendations