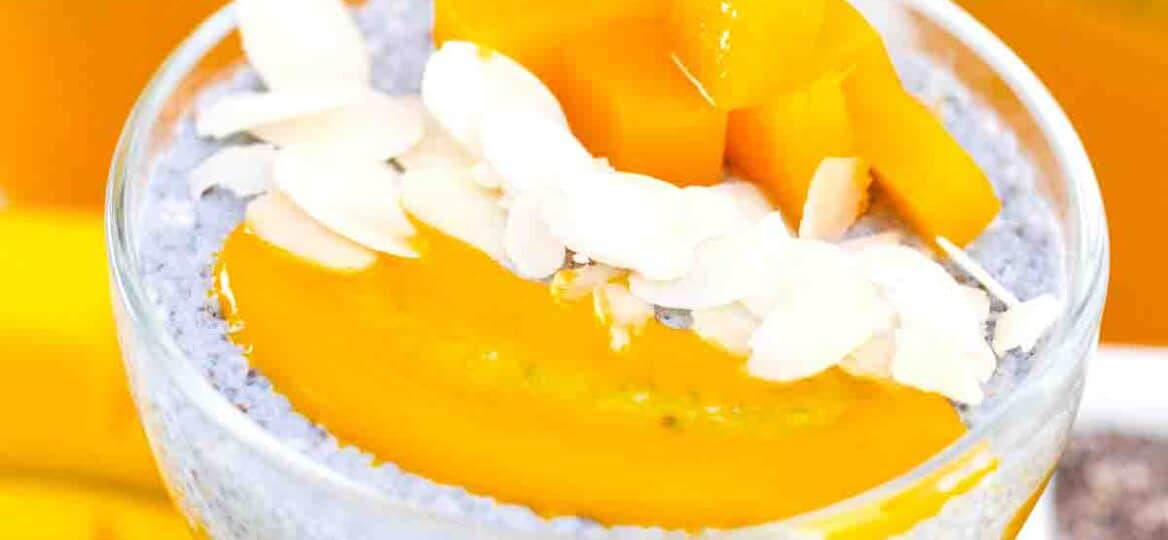 Easy Mango Chia Pudding Recipe
Mango Chia Pudding tastes fresh and is made with coconut milk, chia seeds, honey, and mango for a delicious healthy breakfast, or snack. It can even be passed as a delicious dessert packed with omega-3 fatty acids (healthy fats), dietary fiber, and lots of protein. You can change it up by using sugar or maple syrup instead of honey or mixing in some other fresh fruits.
People have been consuming chia seeds since 3500 BC when the Aztecs ate them as a main staple. They would ground it into a beverage or use it as a base for bread and fruit desserts. They even used them as an ingredient in medicine. In fact, chia seeds are thought to be a superfood and have even been referred to as magical.
This mango chia pudding recipe is perfect for a gluten-free vegan diet with a super creamy texture and sweet flavor. All you need are a few ingredients including chia seeds, mangoes, honey, and coconut milk. Add your own favorite herbs and seasonings or extra fruit and nuts to make it your own.
Ingredients needed:
Here are the few ingredients you need to make this mango coconut chia pudding recipe. Scroll down to our recipe card for the instructions and precise measurements when you are ready to begin.
Peeled, cored, and chopped mango
Chia seeds
Maple syrup
Coconut milk
Mango
How to make mango chia pudding from scratch?
Let it soak: First, add chia seeds, maple syrup, and coconut milk to a mixing bowl or a mason jar and whisk well. Let the mixture sit for 10 minutes and then stir again to break up any clumps. Cover and chill overnight before using.
Diced mango: The next day, chop ripe mango flesh into cubes and blend them in a food processor until it is pureed. Save a few mango chunks for serving.
Layer your pudding: Now, pour the mango pulp into a serving dish, and then add a layer of your chilled chia pudding on top.
Serve: Finally, serve your mango chia pudding topped with mango chunks on top.
Recipe variations:
Different milk: You can also use almond milk, oat milk, or whatever your favorite milk is.
Regular milk: Feel free to use regular dairy milk instead of plant-based milk if you are not worried about making your pudding dairy-free.
No honey: Instead of honey, you could use maple syrup or agave juice.
Different sweeteners: Monk fruit sweetener or another sweetener will also work.
More fresh fruit: Try this with other fresh fruit like peaches, strawberries, bananas, blackberries, or raspberries.
Chocolate lovers: Toss in some chocolate chips to give this sweet mango chia pudding a chocolatey twist.
Spice it up: Give your pudding a hint of spiciness with a pinch of red pepper flakes.
How to serve:
This mango chia seed pudding recipe is easy to make and tastes delicious. Just remember to soak the seeds the night before you plan to serve your pudding. Try one of these great ideas for serving this chia pudding or share some of your own in the comments section.
Sprinkle some toasted coconut flakes on top to give this some extra flavor. But it is best to use unsweetened coconut flakes or else it may make your chia pudding taste too sweet. Shredded coconut can be found in the baking section at your grocery store.
Use leftover chia pudding to thicken your next smoothie. Try it in this delicious mango smoothie recipe.
You can also add some ground cardamom to give your chia pudding flavors of citrus, menthol, pine, pepper, and eucalyptus.
This would go great with a glass of pineapple mango daiquiri.
For a more festive pudding, toss in a handful of rainbow sprinkles.
Add a dollop of whipped cream on top for an extra creamy mango chia pudding.
If you want a boozy mango chia pudding, pour in a shot of whiskey or rum.
Frequently asked questions
What are chia seeds?
Chia seeds are edible seeds from Salvia hispanica, a plant in the mint family that is native to Mexico. They are usually oval with a diameter of around two millimeters. In this recipe, you can use black or white chia seeds although black chia seeds are the most commonly found. You can find them in the baking aisle where you find herbs and spices.
Are mangoes healthy?
Mangoes have a lot of health benefits with nutrients including antioxidants, minerals, and vitamins. They are proven to help immunity, eye health, and overall gut health. They can even prevent cancer effects. They have over 20 types of vitamins and minerals like B6, A, C, copper, folate, magnesium, potassium, and beta carotene.
Why is my chia pudding watery?
Maybe you did not drain your chia seeds enough after soaking them overnight. You want the seeds to soak up the milk and honey, but you do not want any excess liquid. Otherwise, your pudding will definitely be watery. If you have this problem, add more chia seeds or add a teaspoon of cornstarch and water slurry to thicken it.
Why do I have to soak chia seeds overnight?
It is best to soak your chia seeds in the fridge overnight so they can absorb some liquid before you eat them. This not only makes them easier to digest and helps you absorb nutrients, but it also prevents bloating. Soaking will also give them the extra flavor of whatever you are soaking them in.
What are the nutrition facts in this recipe?
Each nutrition serving is one cup and has 289 calories, 22 grams carbs, 23 grams of fat, and 16 grams of saturated fat as well as 32 grams of sugar and 72 mg of sodium. But you also get 10 grams fiber, 6 grams of protein, 3 grams iron, 1 gram monounsaturated fat, 5 grams polyunsaturated fat, 243 mg potassium, 902 units of vitamin A, 30 mg vitamin C, and 154 mg calcium.
More no-bake recipes to try:
How to store leftovers:
Store: Refrigerate leftover mango chia pudding in an airtight container like a mason jar. It will stay fresh for several days.
Freeze: Separate your chia pudding leftovers by servings and freeze them in small containers so you can just thaw and eat them whenever you like. They will stay fresh for up to 60 days.
Thaw: Thaw overnight in the fridge for the best flavor and texture.
Recipe tips:
You can use canned coconut milk or bottled, but it is best to use full-fat coconut milk. Using light coconut milk or lite coconut milk is healthier but it may not give you the creaminess and flavor you want.
It can be hard to find fresh mango at certain times of the year in some areas. Fresh or frozen mango will both work. If you cannot find fresh mangoes, you can use frozen mangoes or frozen mango chunks to make your mango puree.
Are you looking for other chia puddings to try? We have several different recipes on our food blog. We also have many different breakfast cuisine recipes to try.
Put your phone in cook mode. Prevent it from going dark while you are cooking.
Shorten meal prep by using precut mangoes.
Make sure you soak your chia seeds for at least 24 hours before eating. They can cause digestive issues if you do not soak them first.
You can add cocoa powder or vanilla extract to make your pudding even more flavorful.
The nutrients for our mango chia pudding published here are estimated.
Mango Chia Pudding
Ingredients
Pudding:
1/4

cup

chia seeds

1 1/4

cups

coconut milk

or any milk of choice

2

tablespoons

maple syrup

or sweetener of choice - add to taste

1

teaspoon

vanilla extract

optional
Mango layer:
1

ripe mango

or canned mango
Toppings:
coconut flakes

chopped mango

slivered almonds

granola

berries
Instructions
In a bowl, mix all the pudding ingredients, making sure the chia seeds don't form clots.

Place mixture in the fridge to set, at least 60 minutes but up to 12 hours.

Peel the mango and remove the flesh. Add it to a high-powered blender and blend until smooth.

Once the chia pudding has been set, grab two jars and the chia pudding with the mango puree.

Serve it with chopped mango, mango pulp, slivered almonds, and berries!
Deliciousness to your inbox
Enjoy weekly hand picked recipes and recommendations