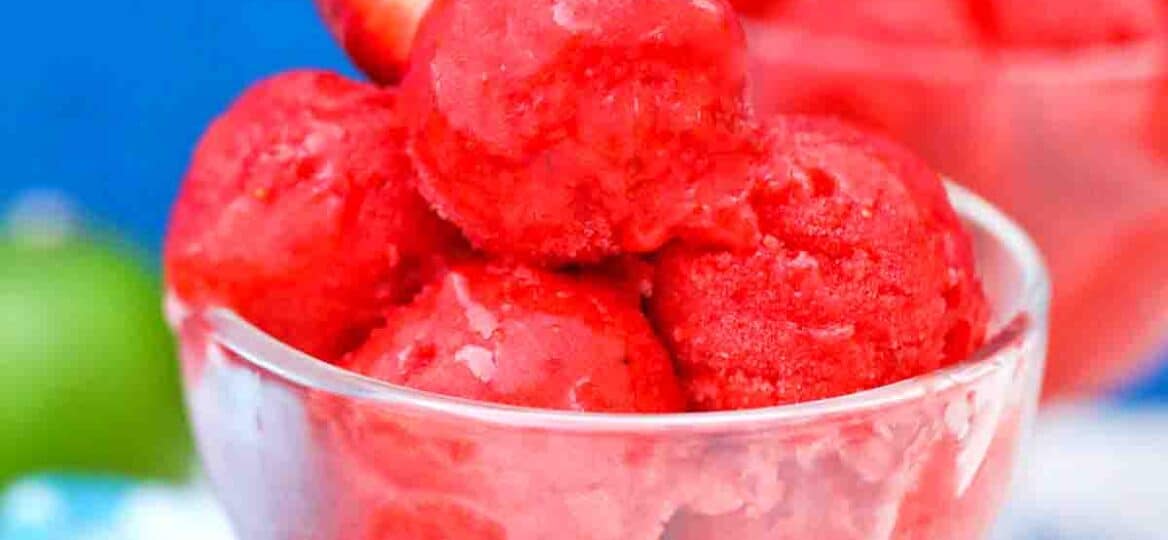 Strawberry Sorbet Recipe – No Ice Cream Machine
Strawberry Sorbet is a delicious dessert to make using frozen fruit, honey, and refreshing lime juice, to make a light and healthy treat. You can actually make any kind of fruit sorbet, but we love the strawberry sorbet best. You can use fresh-picked strawberries or some from the grocery store but no matter what, they have to be frozen before you use them. Otherwise, they will just turn to cold strawberry mush. But if that happens, you can make it into a strawberry smoothie.
According to historians, the sorbet was the first type of chilled treat, served way back in 550 BC in ancient Persia. However, it was not the modern kind we have now because they did not have freezers or sugar. In the middle 1600s, Antonio Latini was the first one who wrote a recipe for sorbet (they called it sorbetto) when working in Naples for a Spanish Viceroy. So, we have him to thank for this delicious frozen dessert.
What makes this the best strawberry sorbet recipe is that it is dairy free, has no processed sugar, and there are no preservatives. And you only need a few ingredients including strawberries, raw honey, lime juice, and zest. Try our amazing recipe for a homemade treat that everyone will love no matter their age.
Ingredients needed:
The ingredients for this easy strawberry sorbet recipe are just below. When you are ready to begin, scroll down to our recipe card for the instructions and exact measurements.
Fresh or frozen strawberries
Lime juice
Lime zest
Raw honey
Warm water
How to make strawberry sorbet from scratch?
Freeze your strawberries: First, if you use fresh strawberries, you should put them in the freezer until they are frozen completely solid. This usually takes about one or two hours, but you can freeze them overnight too.
Blend the strawberries: Next, separate any big clumps and then put your frozen strawberries in a blender or food processor and process on high until smooth.
Press it down: Then, add some lukewarm water and press it down to make a solid creamy mixture, pressing with a wooden spoon or spatula as needed.
Add honey: Once it is smooth, taste it and add the raw honey if you want it sweeter.
Serve or freeze: Finally, serve immediately if you like it soft or you can transfer the churned sorbet to a container and let it chill for one to two hours for a more solid texture.
Recipe variations:
Other fruits: You can use any other fruits you like. For example, try using raspberries, blackberries, mangoes, cherries, or watermelon slices.
Different juice: Instead of lime juice, try using orange or lemon juice for a different taste.
Other sweeteners: You can also try maple syrup, sugar, or simple syrup.
Sweetness: If it is still not sweet enough, you can add more sugar. or syrup.
No sugar: For those who cannot have sugar, try using a sugar substitute.
Herbs to add: This strawberry sorbet can also be combined with other flavors, like fresh mint, vanilla bean paste, or rosemary for a different taste experience.
Hot strawberry sorbet: Add a pinch of red pepper flakes for a bit of spiciness.
How to serve:
This strawberry sorbet is done in minutes so you can serve it right away if you like it soft. For a more solid dessert, let it freeze for one to two hours. Try one of these neat ideas or share some of your own suggestions in the comments section at the bottom of this page.
This frozen treat can be paired with many recipes including our cakes, cookies, and cupcakes.
Or serve a bowl of strawberry sorbet with a dollop of our homemade whipped cream.
This is the perfect refreshing treat to chill out with any time it gets hot. Let the kids eat a cup of this strawberry sorbet instead of ice cream or other sugary desserts while playing outside.
Try a small bowl of this delicious dessert with our sweet and savory strawberry spinach salad.
You can add just about any topping to this sorbet including shaved chocolate, shredded toasted coconut, or even rainbow sprinkles.
Our easy strawberry sorbet also pairs well with champagne or this apple cider mimosa.
For something even more fun for the kids, spoon the soft sorbet into popsicle molds for yummy fruit pops.
Frequently asked questions
What is sorbet?
The definition of sorbet is a frozen dessert made with fruit juice or fruit puree and other ingredients that may include sugar and other sweeteners. It is similar to sherbet but does not have any milk or other dairy. When you buy it at the store or an ice cream shop, you are going to get a dessert with lots of sugar. Making it yourself with this recipe gives you a healthy dessert made from fresh fruit with no added sugar.
Are strawberries really good for you?
Besides being low in calories and fat, strawberries also have vitamin C and antioxidants that reduce your risk of heart disease, stroke, diabetes, and cancer. They are also a great source of protein, fiber, vitamin K, folate, potassium, calcium, and magnesium. Also, with less than 5 grams per serving, strawberries are also low in sugar.
Why do I have to wash my strawberries?
When you are not cooking them, you have to wash them well to kill any bacteria that may be on them. In addition, fresh strawberries are typically dirty when you get them because they are packed right after pulling them from the ground. They also can have residue from pesticides or other sprays. Organic strawberries are better, but they still need to be washed.
What is raw honey?
When shopping for honey, you may find many different types such as raw, regular, and pure. Raw means exactly what it says. It came straight from the hive without any additives. Regular honey is pasteurized and often contains extra sugar. Pure is pasteurized but has no sugar or other added ingredients.
Can I use an ice cream maker for this recipe?
Although you do not have to, you certainly can churn sorbet in an ice cream maker using the manufacturer's instructions on the package. When you make strawberry sorbet with a machine, it comes out creamier. So, if you want extra creamy sorbet, using an ice cream maker or machine is a good idea.
What are the nutrition facts for this recipe?
Each serving of this delicious treat has 70 calories, 1 gram of fat, and 1 gram of saturated fat. It also has 2 mg of sodium, 18 grams carbohydrates, and 13 grams sugar. On the good side, this strawberry sorbet has 175 mg potassium, 1 mg iron, 20 mg calcium, 18 units vitamin A, 70 mg vitamin C, 2 grams fiber, and 1 gram protein. The nutrition, calories, and fats are estimated.
Homemade no-churn ice cream recipes:
How to store leftovers:
Store: You can store your leftover strawberry sorbet in an airtight container in the freezer for up to three months.
Recipe tips:
You could also combine this sorbet with other flavors you like such as fresh mint, frozen berries, frozen bananas, or even your favorite wine for a different kind of flavor experience.
After freezing, let your sorbet sit out for about five or nine minutes to soften. Then stir to make it more consistent before serving.
You can use whole strawberries. No need to slice them first. Just be sure to remove the stem and leaves.
Shorten prep time by using a bag of frozen strawberries. You do not have to clean and de-stem them when you use the frozen ones.
Get a freezer-safe container just for homemade ice cream where you can store frozen treats all summer long.
Be sure to let your frozen strawberries thaw just enough to break them into chunks before putting them into your blender or food processor.
If you are looking for other sorbet recipes, check out our food blog.
Strawberry Sorbet
Ingredients
16

oz

strawberries

fresh or frozen

2

tablespoons

honey

optional - or maple syrup

1/4

cup

warm water

or warm strawberry juice - as needed

1

lime

juiced and zested⠀
Instructions
If you are using fresh strawberries, arrange them on a tray and freeze them until completely solid. This will take about 2 hours.

Next, add the frozen strawberries to the bowl of a food processor or heavy-duty blender and blend until smooth. ⠀

Add warm water to loosen the sorbet, and use a spatula to press the fruit to the bottom of the processor.

When smooth blend in the honey, taste, and add more if needed. Blend in the lemon juice and zest.

Transfer the sorbet to a freezer-safe container and freeze for 1-2 hours or overnight. Serve and enjoy!
Deliciousness to your inbox
Enjoy weekly hand picked recipes and recommendations