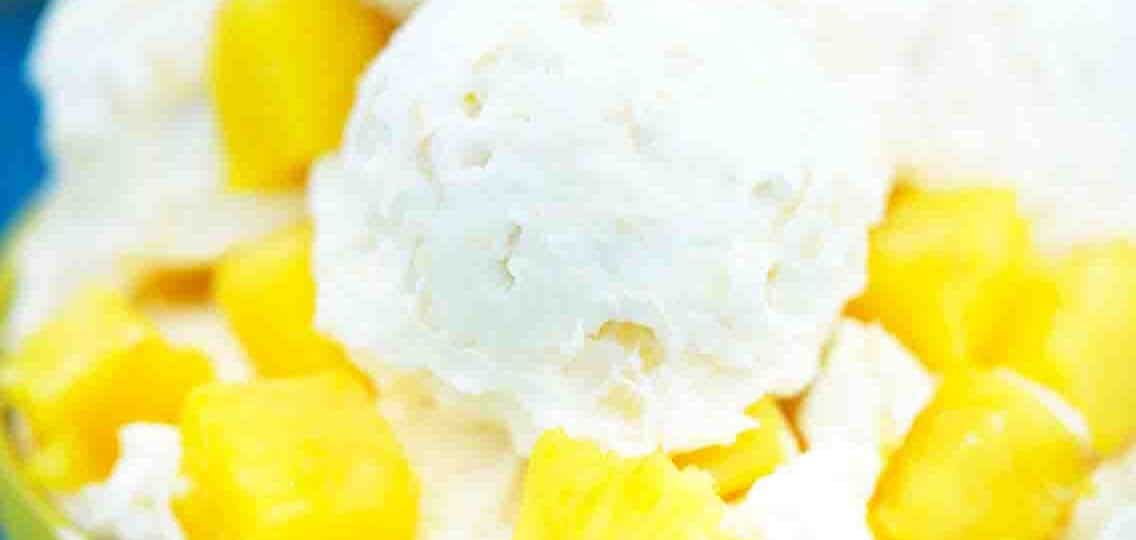 No-Churn Pineapple Ice Cream Recipe [Video]
No-Churn Pineapple Ice Cream made with just 6 ingredients, is sweet, creamy, refreshing, and bursting with tropical flavors, made without an ice cream maker. This is one of the easiest creamy and tasty desserts you can make, and you only need a handful of ingredients. Sweetened condensed milk, pineapple, whipping cream, vanilla, and lime is all you need for this frozen dessert.
If you love pineapple, add a scoop of this homemade ice cream to the top of our Cinnamon Fried Pineapple made with brown sugar and cinnamon. Both of these desserts would go great with a glass of this Pineapple Lemonade on a hot summer day.
Homemade pineapple ice cream can be made at home and ready to eat in less than eight hours. In fact, prep time is only a few minutes. No need to run out to the store or the corner stand to get a bowl of pineapple ice cream.
You can make your own for a much better price and it will be delicious. In fact, you can have more than one large bowl with this recipe. So make delicious homemade ice cream any time you want without using an ice cream maker.
Another deliciously sweet pineapple recipe you may enjoy this summer is our air fryer pineapple rings flavored with brown sugar and coconut oil. Or you can try this light and fluffy maraschino cherry pie made with cool whip and mascarpone cheese in a graham cracker crust.
This tropical dish also goes great with our pineapple teriyaki chicken recipe flavored with tangy Asian chili garlic sauce and pineapple. Another fantastic cold dessert is our Shamrock Shake with mint and vanilla ice cream. It does not have to be St. Patrick's Day to enjoy this green treat!
Ingredients needed:
Here are the basic ingredients needed for this no-churn pineapple ice cream recipe. You can also find our printable recipe card at the bottom of the page for exact measurements and instructions.
Canned crushed pineapple: Drained.
Heavy whipping cream: Or heavy cream.
Sweetened condensed milk: Not evaporated milk.
Vanilla extract: 100% pure vanilla extract for the best flavor.
Lime juice
Lime zest
How to make no-churn pineapple ice cream from scratch?
Whip the heavy cream: To begin, put the heavy whipping cream in a mixing bowl and beat on medium speed with a hand or stand mixer to form soft peaks. This typically takes about three to five minutes.
Add other ingredients: Then, add the vanilla, lime juice, lime zest, and sweetened condensed milk. Beat to combine fully.
Stir in the pineapple: Finally, use a rubber spatula to carefully mix in the crushed pineapple a little at a time.
Freeze the homemade ice cream: Lastly, pour the mixture into a freezer-safe dish and cover. Put it in the freezer for six to eight hours or until it is completely frozen solid.
Recipe variations:
No whipping cream: If you do not have any heavy whipping cream, you can use 7/8 cup of half-and-half with 1/8 cup of melted butter.
Other fresh fruit: You can also make no-churn ice cream with other fruits like peach, blueberry, strawberry, or whatever fruit you like.
Mango chunks: Feel free to add more fresh fruit to your ice cream. Mango chunks in pineapple ice cream would be scrumptious.
Make it crunchy: Add crushed pecans, walnuts, or almonds to your ice cream mixture before freezing to add some crunchiness.
Chocolate chips: Another delicious add-in would be chocolate chips.
Other chips: Or, for those who do not like chocolate chips, try butterscotch or peanut butter chips instead.
How to serve:
This yummy no-churn pineapple ice cream is the perfect frozen treat for summer. You can make it in minutes, and it only takes a few hours to freeze. Make several batches in different flavors so you have a variety. Take a look at some of these awesome serving suggestions:
All the fruit does not have to be inside the ice cream. Put a scoop of fresh fruit on top of your ice cream too.
For an even creamier frozen treat, add a dollop of whipped cream on top.
Make a truly tropical bowl of pineapple ice cream with fresh coconut flakes. To toast the coconut, spread it in an even layer on a baking sheet lined with parchment paper. Bake at 350 degrees F for 10 minutes.
Add other fun toppings like chocolate chips, rainbow sprinkles, or nuts too.
Add a quarter cup of rum for a boozy pina colada ice cream.
For a really fun way to serve, get a fresh pineapple and cut off the top. Core and remove the fruit before chilling the hollowed-out pineapple shell while you make the ice cream. Then, add your pineapple ice cream to the frozen shell and let it freeze, covered for eight hours. When ready, cut pineapple in half and then into wedges for serving.
You could also use a hollowed-out pineapple for a bowl. Just cut it in half and scoop out the insides.
Frequently asked questions
Can I use fresh pineapple instead of canned pineapple?
Yes, if you can find fresh pineapple at the grocery store and have the time to prepare it, this is the way to get the freshest tasting pineapple ice cream. However, you will have to do all the peeling, cutting, and coring yourself. Then, you will need to use a food processor or blender to make crushed pineapple.
Why not just use chunks of pineapple instead of crushed pineapple?
There is nothing wrong with having some pineapple chunks in your ice cream. However, to get the flavor throughout the whole body of the ice cream, crushed pineapple works best. Why not use a can of crushed pineapple and add a handful of chopped pineapples as well? Then you can enjoy both.
Can I refreeze melted ice cream?
It is not advisable to refreeze your no-churn pineapple ice cream if it has completely frozen out of the fridge. However, if it is only slightly melted, you can put it in the freezer to refreeze. Make sure you put a piece of plastic wrap between the ice cream and the cover to prevent ice crystals.
What is the nutrition information for this ice cream recipe?
You can scrimp on calories and fat with some dishes, but this is ice cream. As long as you are not eating it every day, go ahead and use the full-fat milk and cream. In one serving, you will get 300 calories, 30 grams of carbs, 18 grams of fat, and 28 grams of sugar. But you also get 5 grams of protein and 1 gram of fiber.
How to store leftovers:
Store: Obviously, since this is ice cream, you want to keep it in the freezer. It is best to eat it within one month, but it will last six to eight weeks if you have not opened it several times. Remember, the more you open it and let air in, the more ice crystals will form.
More no bake recipes:
No churn ice cream making tips:
Remember that your ice cream will only be as good as the ingredients you put in it. Try to get the highest quality milk, cream, pineapple, and flavorings.
Scooping ice cream is easier if you dip your scoop or spoon in hot water for every scoop.
To prevent ice crystals at the top, place a piece of plastic wrap or wax paper on top of the ice cream before putting it on the lid. Make sure the plastic wrap is sitting on top of the ice cream mixture.
Be careful not to overwhip the cream or it will be too hard. If this happens, just add more cream.
If you do not have any sweetened condensed milk, you can make your own. Just mix two cups of whole milk with one cup of sugar. Heat to boiling on the stove and let it simmer on low for about 30 to 35 minutes, until the milk is reduced.
Or you can mix 1 1/2 cups of sugar with one can of condensed milk. Boil in a saucepan over medium heat, stirring constantly. Then continue to cook on medium-low until the milk is thickened.
No-Churn Pineapple Ice Cream
Ingredients
2

cups

heavy whipping cream

cold

1

can

14 oz. sweetened condensed milk

1

teaspoon

vanilla extract

1

tablespoon

lime juice

1

teaspoon

lime zest

1

can

16 oz. canned crushed pineapple

drained
Instructions
In a large bowl, add the whipping cream, and using a hand or stand mixer, beat on medium speed until soft peaks form, about 3-5 minutes.

Next, add sweetened condensed milk, zest, juice, and vanilla. Beat on medium speed until fully combined, stop to scrape the sides and bottom of the bowl a few times.

Using a rubber spatula, fold in the crushed pineapple.

Pour the ice cream mixture into a freezer-safe dish, and cover with plastic wrap or a lid if available.

Freeze for 6 to 8 hours or overnight.
Deliciousness to your inbox
Enjoy weekly hand picked recipes and recommendations