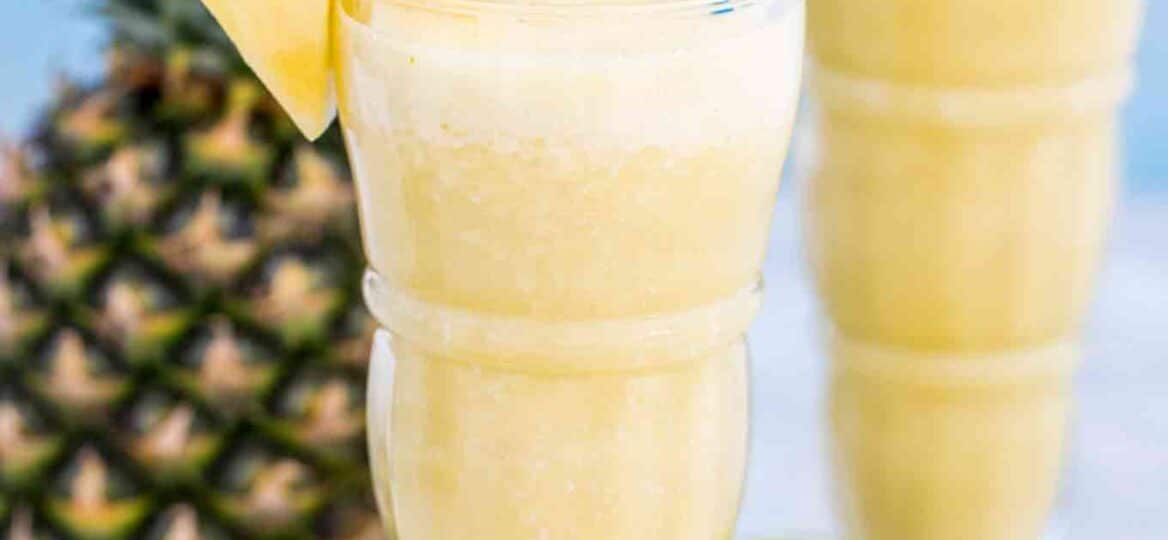 Pineapple Smoothie [Video]
Pineapple Smoothie is sweet, creamy, and full of fresh tropical flavor. With juicy pineapple chunks, pineapple juice, banana, and Greek yogurt, this fruit smoothie recipe makes the perfect healthy breakfast or snack. The secret to making it so good is using greek yogurt and some lime zest.
Smoothies are so easy to make and they are perfect as a breakfast on the go or as a nutritious snack. When you make your own, you can control the amount of sweetness and the quality of the ingredients. Check our Spinach Smoothie that is packed with vitamins and tastes great.
Easy Pineapple Smoothie Recipe
Pineapple Smoothie is so fresh and it's bursting with a tropical flavor that is nicely balanced by the lime juice and zest. It takes only 5 minutes to make it and you can enjoy it any time of the time. Thanks to the pineapple banana combination, this beverage is refreshing and sweet.
To make it a filling breakfast, just add a scoop of protein powder or some gluten-free rolled oats. This way you can have a delicious and nutritious breakfast on the go. We love using a bunch of pineapple products like fresh fruit, yogurt, and juice to give it the most amazing tropical flavor.
This drink is naturally sweet, to enhance its nutritional value, add a cup of spinach, kale, or some spirulina.
Is this a healthy drink?
As long as you keep added sugars to a minimum, fruit smoothies like this one are definitely healthy. There are some great health benefits of pineapple. It's a good source of vitamins and minerals, it has anti-inflammatory benefits, helps with digestion, and it's good for your immune system. High in Vitamin C and manganese.
This recipe has no added sugar and no saturated fat, so it's a guilt-free treat!
Can I use frozen pineapple?
If you have trouble finding fresh fruit, frozen will work as well. Try not to let the frozen fruit thaw out or you may have trouble blending it.
What else can I add to a pineapple smoothie?
If you want to have a variety of fruits, feel free to add some more! Mango, papaya, kiwi, and banana are great choices.
For an antioxidant boost and some Vitamin C add some berries: raspberries, blueberries, blackberries or strawberries.
One of the nice things about fruit smoothies is how easy they are to customize. To make yours even healthier, consider using some of these add-ins:
rolled oats – a good source of fiber.
flaxseed – great to boost your intake of Omega 3.
whey protein powder – instantly increase your daily protein intake!
wheat germ – a great source of fiber, healthy fat, and high in Vitamin E.
chia seeds – another great source of Omega 3.
coconut milk – some studies suggest that it may reduce inflammation, decrease ulcer size, and fight viruses.
add a handful of baby spinach or kale to make a green smoothie – high in iron and antioxidants.
If you like really thick smoothies, add more ice cubes; you'll think you're drinking a milkshake!
How to make a mango pineapple smoothie?
Simply, follow the recipe card below, and add about 1 cup of frozen mango pieces. Also, you could use fresh mango if you do not have a frozen version. Use about 1 ripe mango, and add it to the blender.
Similarly, you could add some strawberries to it. It is super refreshing and delicious. Just like with mangoes, you can use fresh or frozen fruits here. Both versions work fine, and will result in one delicious drink!
CAN YOU STORE PINEAPPLE SMOOTHIE?
You can store it in the fridge and enjoy later it or the next day, it will still taste great, just make sure you give it a good stir before consumption.
Deliciousness to your inbox
Enjoy weekly hand picked recipes and recommendations