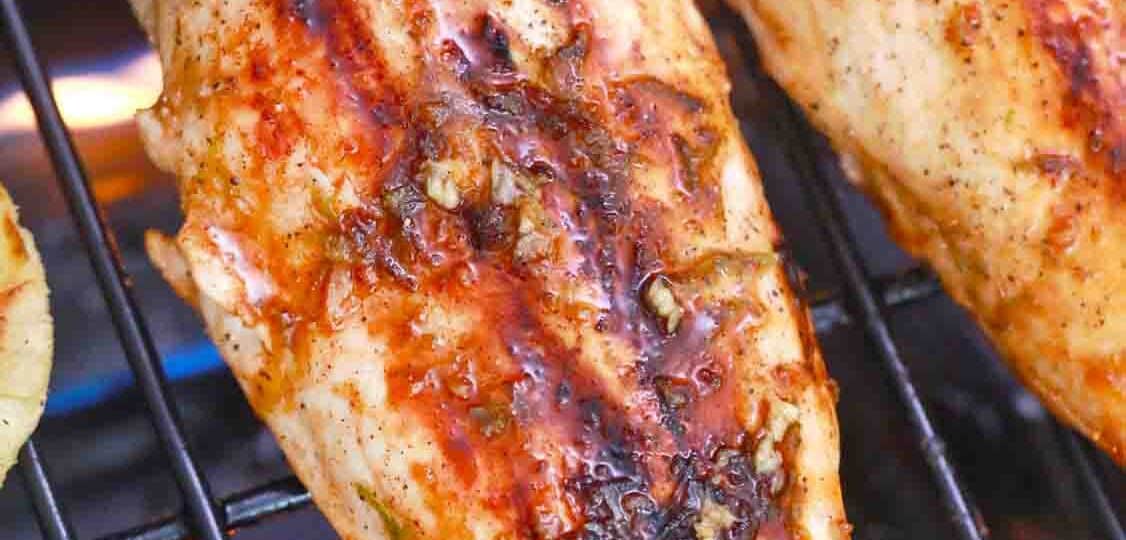 Grilled Pineapple Chicken [Video]
Grilled Pineapple Chicken is one of the most delicious recipes, chicken and pineapple smothered in soy sauce, ginger, and fresh pineapple juice. Whether you use chicken thighs or breasts, your entire family will love it. This is a terrific choice for those busy weeknights when you only have a short time to make dinner because they cook so fast.
For an even faster pineapple chicken recipe, try our Instant Pot Pineapple Chicken made with chicken thighs, hoisin sauce, and pineapple juice. Or if you would rather have plain chicken, enjoy this recipe for Grilled Chicken made with red wine vinegar and lemon juice.
This delicious grilled pineapple chicken meal is sensational with coconut rice or any other side dish your family enjoys. Recipes like this can turn a boring chicken breast recipe into a delicious meal the whole family will be talking about for days.
In fact, they will probably want you to cook it more often and since it is one of those simple recipes with basic ingredients, you can definitely do that. This is the perfect main dish for a potluck or a bbq party.
It is great to make when you have to feed a crowd. You can marinate the chicken in advance and easily cook it when ready to serve. Another way to add pineapple to your dinner is with our Slow Cooker Pineapple Pork Loin recipe.
Another great recipe you can try with chicken is this Mongolian chicken with dark brown sugar and sesame seeds or Panda Express Mandarin teriyaki chicken that you cook in lemon juice, brown sugar, and soy sauce. And turn your leftover pineapple rings into a scrumptious dessert in this air fryer pineapple ring recipe.
Ingredients needed:
Here are the things you are going to need for this great recipe. For step-by-step directions and precise measurements, scroll on down to our handy, printable recipe card at the bottom of the page.
Canned pineapple rings: Drained with juice reserved.
Boneless skinless chicken breasts: You could also use boneless chicken thighs.
Chicken marinade:
Brown sugar: Light or dark brown sugar are both fine.
Low sodium soy sauce: You can also use regular soy sauce.
Garlic cloves: Minced garlic cloves.
Lime: Zested and juiced.
Fresh ginger: Minced ginger.
Hot sauce: Whatever your favorite hot sauce is, or you could use red pepper flakes.
Ground black pepper
How to make grilled pineapple chicken recipe?
Make the marinade: The day before, mix marinade ingredients in a large bowl with the pineapple juice until the sugar dissolves. Put 1/2 cup of the marinade aside for cooking.
Marinate chicken breasts: Then, put the chicken breasts with the marinade mixture in a zipper bag and squeeze out excess air. Seal up the bag and place it on a shallow bowl or plate in the fridge overnight.
Preheat: The next day, heat grill to 350 degrees F and rub the grates with olive oil to prevent sticking.
Make the grilled chicken: After, remove the chicken breasts from the marinade and shake to remove excess. Then, grill the chicken on medium-high heat for five to eight minutes per side, depending on the thickness of the meat. Be sure to brush the chicken with the remaining marinade mixed with pineapple juice several times while cooking for the best flavor and to keep it from drying out.
Grill pineapple rings: Also, the pineapple rings can be grilled alongside the chicken while it cooks. Keep the pineapple rings on there until they are hot and have grill marks on them.
Remove chicken: Lastly, remove the chicken breasts when the internal temperature is 165 degrees F with an instant-read thermometer. Rest for five minutes after removing it from the grill.
Serve grilled chicken and pineapple: Finally, top chicken with pineapple slices before serving.
How to make grilled pineapple chicken in the oven:
Prepare the sauce: To prepare, the day before you plan to cook your grilled chicken and pineapple, mix the soy sauce, pineapple juice, and other marinade ingredients into a large bowl and stir until the sugar dissolves. Save 1/2 cup of the sauce for cooking and pour the rest in a gallon-sized zipper baggie.
Marinate chicken breasts: Then, place chicken in the baggie and make sure you let all the air out before sealing. Set it in a bowl or on a plate in your refrigerator overnight to marinate.
Preheat the oven: The following day, preheat the oven to 350 degrees F and prepare a grill pan by coating it in olive or sesame oil or spraying it with non-stick cooking spray.
Bake chicken: After the oven is hot, bake the chicken in the oven on the grill pan for eight to 10 minutes per side. Baste several times with the extra marinade mixed with pineapple juice to keep the chicken pieces from drying out.
Grill pineapples: During the last five minutes, add pineapple slices to the grill pan and cook with the chicken, flipping once for even grill marks.
Serve pineapple and chicken: When everything is done, let the meat rest for five minutes, and then serve with pineapple slices on top.
Recipe variations:
No spiciness: If you are not a spicy food fan, leave out the hot sauce.
Garlic powder: If you do not have fresh garlic cloves, use one teaspoon of garlic powder instead.
Other chicken: Try using other cuts of chicken. Chicken thighs or leg quarters would work great too.
Pork chops: You could also use this Hawaiian chicken recipe with pork chops.
Other meat: In fact, you can try beef steaks or turkey instead of chicken or pork. Everything goes great with pineapples.
Other fruit: Although pineapple goes perfectly in this recipe, you could also make it with peaches or pears.

Green onions: Add a handful of chopped green onions into the sauce for a delicious flavor combination.
Favorite recipes: Make this your favorite recipe by adding or omitting any of the ingredients. For instance, you can use teriyaki sauce instead of or in addition to the soy sauce and add onions or onion powder to the marinade as well.
How to serve:
If you love grilled pineapple, this recipe will be perfect for any night of the week. You can grill it inside or outside, so you do not have to worry about the weather either. This grilled pineapple chicken recipe is absolutely delicious with coconut rice or whatever side dishes you like. Or you can try one of these serving suggestions:
Serve this Hawaiian chicken with a side of Hawaiian BBQ sauce for even more flavor.
Actually, any kind of barbecue sauce adds a great flavor to this easy recipe. Try our tangy homemade barbecue sauce recipe with maple syrup and Worcestershire sauce.
Our pineapple grilled chicken goes great on top of a bed of white or brown rice.
My entire family loves this delicious recipe served with mashed potatoes and green beans.
Add extra soy sauce and brown sugar on top of the chicken breasts and grilled pineapple when serving for a delicious flavor combination. Fresh pineapple tastes amazing with soy sauce and brown sugar.
Use leftover chicken pieces and pineapple slices for this grilled chicken skewers recipe.
Your family may also enjoy these leftovers in this slow cooker Hawaiian chicken recipe.
Frequently asked questions
Is pineapple juice good for marinating chicken?
Yes, pineapple juice is perfect for marinating chicken since the juice has acid in it. The juice also has an enzyme called bromelain, which softens the meat by breaking down the muscles and collagen. It also gives your chicken a delicious flavor.
Is it okay to reuse a marinade that had raw chicken in it?
It is perfectly fine to reuse the marinade that was used for raw chicken for basting. Although you cannot use it as a sauce after it is cooked. To be on the safe side, stop basting it several minutes before it is finished cooking.
Another option for this is to boil the marinade for five minutes. That will kill any bacteria that may be lurking.
Can I use fresh pineapple?
Although canned pineapple is much easier and faster, fresh will taste… fresher. If you have the time, go ahead and get a whole pineapple from the grocery store and slice it into pineapple rings. You can even drain the juice out of it.
What is the nutrition information for this pineapple and chicken recipe?
There is no reason for healthy eating to be boring or tasteless. This grilled pineapple chicken is actually a very healthy food choice. Each serving of this delicious grilled chicken and pineapples has just about 350 calories, 15 carbs, 7 grams of saturated fat, and 100 milligrams of cholesterol.
On the good side, this delicious dish also provides 12 milligrams of Vitamin C, 345 units of vitamin A, 25 grams of protein, 1 gram of polyunsaturated fat, and 1 gram of monounsaturated fat, and 2 grams of fiber.
How to store leftovers:
Store: If you have any leftovers, put them in a zipper bag or an airtight container. They will stay fresh in the fridge for up to four days.
Freeze: For those leftovers you cannot finish in a few days, go ahead and put them in the freezer. They will stay fresh for a few months.

Thaw: Be sure to remove the frozen chicken and thaw them overnight in the fridge before serving for the best flavor.
Reheat: When you are ready to reheat your pineapple chicken, put them in a microwave-safe dish in the microwave for one minute.
More recipes on the grill:
Grilled chicken cooking tips:
Make sure your chicken is properly cooked by checking the internal temperature with a meat thermometer. It should be 165 degrees F when it is done.
Although this is the perfect recipe for summertime, you can also make it indoors on an indoor grill or in your oven.
In fact, they even have indoor grills you can use for this recipe. Just set the grill to medium and grill the chicken for 8 to 10 minutes on each side.
The grilled pineapple can be served as a side dish or dessert as well so make sure you get extra pineapple rings.

Leftovers can also be used to make chicken tacos, nachos, or burritos.
Grilled Pineapple Chicken
Ingredients
4

chicken breasts

boneless and skinless

8

oz

can pineapple rings

juice drained and reserved
Marinade:
1/4

cup

brown sugar

light or dark

1/4

cup

low sodium soy sauce

4

cloves

garlic

minced

1

lime

zested and juiced

1

teaspoon

fresh ginger

minced

1

teaspoon

hot sauce

optional

1/8

teaspoon

ground black pepper
Instructions
In a large bowl mix the marinade ingredients plus the reserved pineapple juice. Mix well until sugar is dissolved.

Reserve 1/2 cup of marinade for later use and add the rest to a Ziploc bag.

Place the chicken breasts into the marinade. Squeeze out the air, seal, and place in the refrigerator for 30 minutes or better overnight.

Preheat the grill to 350 degrees F or preheat the grill pan over medium-high heat.

Remove chicken breasts from marinade and shake off excess liquid. Arrange on the grill and cook for 5-8 minutes per side. While grilling, brush it a few times with the reserved marinade. Chicken breasts are cooked when the internal temperature reaches 165 degrees.

While chicken is grilling arrange pineapple rings onto the grill and cook until lightly charred with grill marks.

Arrange chicken on a platter, top with pineapple slices, and serve.
Deliciousness to your inbox
Enjoy weekly hand picked recipes and recommendations