Pineapple Teriyaki Chicken Recipe
Quick and easy, better than takeout pineapple teriyaki chicken made in the comfort of your home with just a few ingredients for a weeknight dinner.
Happy Thursday! How is everyone doing? Almost the end of the week, woohoo! Any fun plans for the weekend? Mine will involve lots of cooking, we are leaving for Paris next week so I need to schedule the posts for you well in advance. While we were running around this week I fixed a quick and easy pineapple teriyaki chicken over rice dinner for us, that turned out way too good not to be shared. So here it is, a delicious, midweek dinner, that will be ready much sooner than take out gets to your door!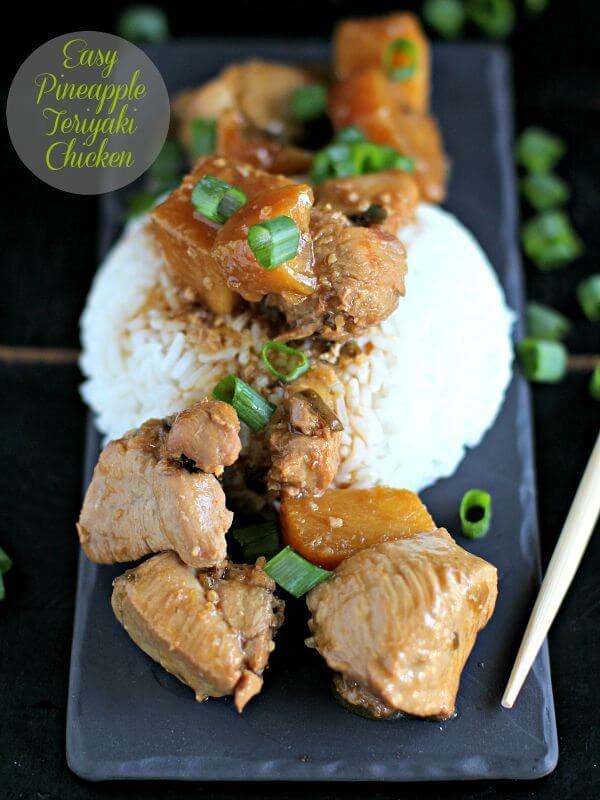 All you really need for this recipe is a good teriyaki sauce that preferably its not a sugar bomb, try to go for a one that its on the healthier side. I honestly enjoyed how delicious this pineapple teriyaki chicken turned out. I had some leftover ripe pineapple on hand, so that was a last minute addition that totally made the dish. The caramel notes from the sweet pineapple add a very nice flavor to the whole dish, and actually makes it sweeter without increasing the caloric intake too much.
This pineapple teriyaki chicken is perfect for busy nights, and for busy moms, who just want something on the healthier side, that its easy to put together and will satisfy a craving for Chinese take out. You can serve the dish with brown rice, for a higher nutritional value, and one tip here: cook some rice at the beginning of the week, and use it for meals during the week. In this case, all you have to do is cook the pineapple teriyaki chicken and serve it!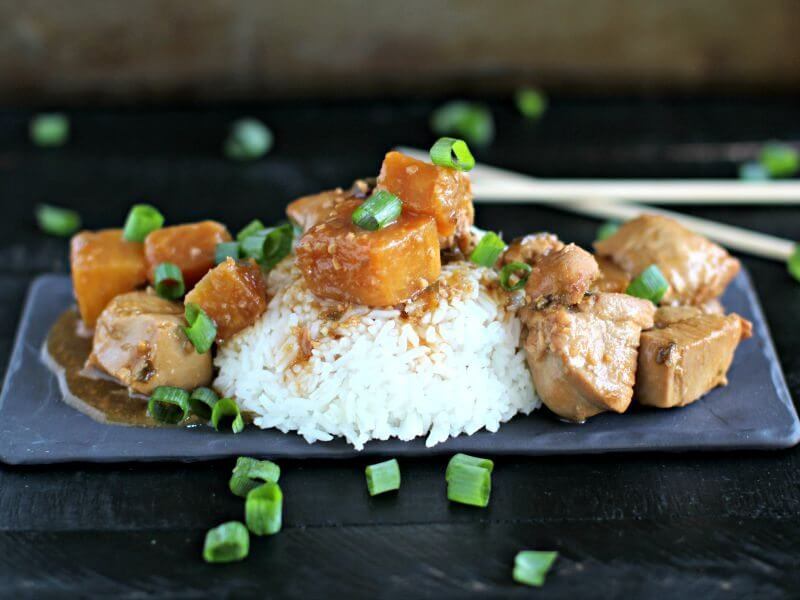 White chicken breast adds lots of quality protein here to keep you satisfied, and the sweet sauce is delicious over the rice. Grab your chop sticks and give this quick meal a try.
pineapple teriyaki chicken
Quick and easy, better than takeout pineapple teriyaki chicken made in the comfort of your home with just a few ingredients for a weeknight dinner.
Author:
Katalina Kastravet
Ingredients
2 chicken breast, cut into 1 inch cubes
2 cups chopped pineapple
⅓ cup soy sauce
8 garlic cloves, minced
4 tablespoons oil
½ cup teriyaki sauce
2 cups white rice
4 cups water
salt
pepper
Instructions
Place chopped chicken in a container. Mix the soy sauce with minced garlic and pour the mixture over the chicken. Let it marinade for 30 minutes.
In the meantime, cook the rice and chop the pineapple.
Wash, rinse and drain the rice. Place in a saucepan, add the water and some salt, and 1 tablespoon of oil and stir once. Bring to a boil, then turn the heat on low, cover the pan tightly with a lid and cook on the lowest heat possible for 10-15 mins without uncovering the pan.
Turn off the heat, let it sit with the lid on for another 10 minutes, uncover and fluff up the cooked rice with a fork.
Add the meat with the marinade to a large skillet over medium - high heat, add the pineapple, cook for 5 minutes and add the teriyaki sauce. Cook for another 10 minutes, stirring occasionally until the meat is cooked. Add salt and pepper to taste.
Serve over rice.