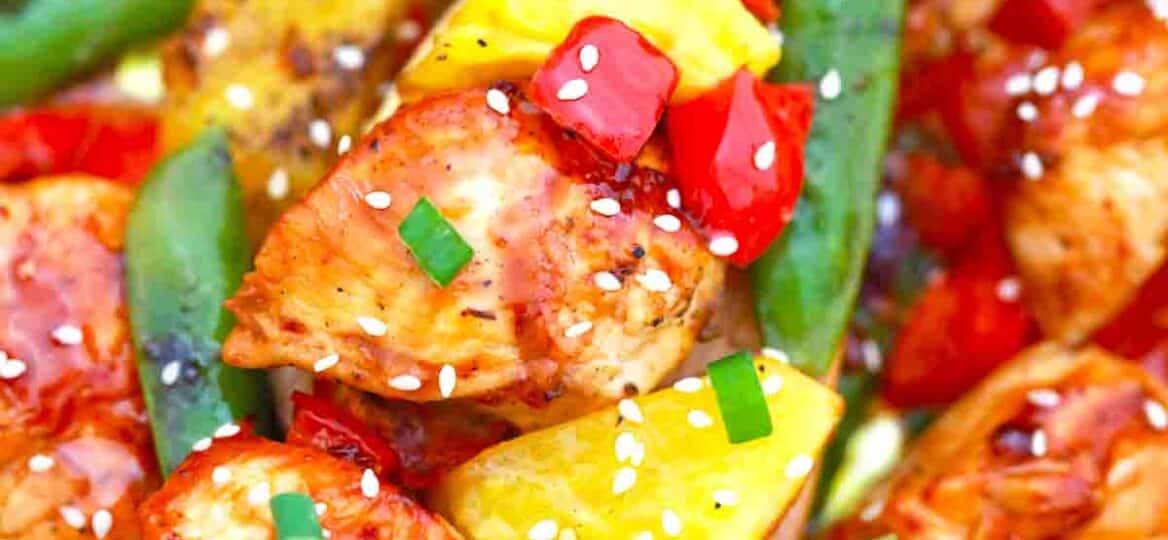 Pineapple Teriyaki Chicken Recipe
Pineapple Teriyaki Chicken is made with tender chicken, sweet pineapple, and tangy teriyaki sauce mixed with veggies for a meal the whole family will love. This has been a family favorite at my house for as long as I can remember. And the best part is that you can change it as you wish.
Are you looking for more pineapple recipes? Try this Instant Pot Pineapple Chicken made with sesame oil, hoisin sauce, and red pepper flakes. It only takes 30 minutes! Instead of chicken, try our Slow Cooker Pineapple Pork Loin seasoned with reduced-sodium soy sauce, brown sugar, and fresh pineapple chunks.
You can make pineapple teriyaki chicken in several different ways with our optional instructions below. There is very little prep time, and you can add or remove ingredients as you like. Add coconut extract for a more tropical flavor and serve with our delicious coconut mojitos.
With juicy chicken and fresh pineapple chunks, lime zest, and pineapple juice, along with peppers, peas, teriyaki, and Asian chili garlic, this pineapple chicken teriyaki is the perfect weeknight meal.
It is one of those healthy dinner recipes everyone loves. You can make it sugar-free, gluten-free, or low-carb to turn an easy weeknight meal into one of your family's favorite recipes.
Also, this copycat Panda Express Mandarin Teriyaki Chicken recipe tastes better than the real thing with a sweet and sticky ginger garlic sauce.
Another Asian recipe your family may enjoy is our slow cooker garlic sesame chicken made with tender chicken thighs, garlic, and rice vinegar or crispy ginger sesame chicken seasoned with our homemade ginger sauce. Instead of chicken, beef fans will love this Slow Cooker Beef Teriyaki recipe.
Ingredients needed:
Here are the simple ingredients you will need to make this delicious meal. Scroll down to our recipe card for more details.
Boneless, skinless chicken breast: Diced into bite-sized pieces.
Fresh pineapple: Diced into bite-sized pieces.

Red bell pepper: Trimmed and diced into bite-sized pieces.
Teriyaki sauce: Use homemade teriyaki sauce for even more flavor.
Olive oil: With extra for drizzling on veggies.
Sugar snap peas
Lime juice
Lime zest
Minced garlic cloves
Honey
Asian chili garlic sauce
Ground ginger
Freshly ground black pepper
Salt and pepper: For seasoning.
Sesame seeds: For garnish.
Green onion: Sliced for garnish.
How to cook pineapple teriyaki chicken recipe?
Preheat oven: First, preheat oven to 475 degrees F and line a baking sheet with aluminum foil.
Season and marinate chicken: Then, put the meat, one tablespoon pepper, ginger, chili sauce, honey, oil, and teriyaki sauce into a large zipper baggie. Seal the bag securely and swish it around to coat the meat evenly. Then, put the bag in the fridge for at least 30 minutes.
Meal prep: Meanwhile, add the veggies to the baking sheet greased with cooking spray, drizzle olive oil on top, and season with salt and pepper. Then add the chicken from the bag and toss it all together to coat evenly.
Bake: Next, place the pan on the middle oven rack and bake for 15 minutes or until the chicken is cooked. Stir the mixture after seven minutes to make sure it cooks evenly.
Garnish and eat: Last, garnish with the green onions and sesame seeds before serving.
Making stovetop pineapple teriyaki chicken:
Marinate the chicken: To begin, add chicken, teriyaki sauce, olive oil, honey, chili sauce, fresh ginger, and one tablespoon of pepper to a large bowl and gently stir. Make sure everything is covered in the teriyaki marinade and put it in the fridge to chill for at least 30 minutes.

Stir-fry: After, heat oil in a large skillet over medium heat until it shimmers. Then add the chicken mixture to the pan and cover. Let it simmer for 10 minutes, stirring often until the veggies are tender and the chicken reads 165 degrees F on a meat thermometer.

Rest the chicken: Let the pineapple teriyaki chicken rest for five minutes before serving over brown rice or whatever rice you prefer. Garnish with green onions.
How to make slow cooker pineapple teriyaki chicken:
Marinate: To start, mix the teriyaki sauce, chicken, oil, honey, fresh ginger, garlic chili sauce, and one tablespoon of pepper in a large bowl and toss to coat everything. Chill in the fridge for at least 30 minutes.

Brown the chicken: Afterward, cook the chicken in olive oil in a skillet on medium heat for one minute or until it is golden brown on all sides.

Slow cook: Then, put everything in the slow cooker and set for three hours on high or six hours on low.

Serve: Last, check that the chicken is cooked to 165 degrees F and garnish with green onions before serving.
Recipe variations:
Chopped cashews: Add chopped cashews for a crunchy texture and unique taste.
Other veggies: Feel free to add any veggies you like such as green bell peppers, chopped scallions, broccoli, mushrooms, or carrots.
A different cut of chicken: Try using chicken thighs instead of chicken breast for a juicy moist chicken.
Homemade teriyaki sauce: Our easy teriyaki sauce recipe is much better than the store-bought stuff.

Thicker sauce: For a thicker sauce, mix a corn starch slurry and add it to a small saucepan with the remaining teriyaki sauce. Bring to a boil and cook over medium-high heat until it is the desired consistency.
Canned pineapple: You can also use canned pineapple for this dish. In fact, you can add some of the juice to the teriyaki sauce.
Rice vinegar: Try adding a tablespoon of rice vinegar to your chicken teriyaki sauce for a tangier flavor.

Dry sherry: Use dry sherry instead of soy in your teriyaki recipe to make it gluten-free.
Sesame oil: Use sesame oil instead of olive oil for a more authentic taste.
How to serve:
This easy pineapple teriyaki chicken is a delicious idea for dinner tonight. Add some more veggies to use as a side dish for an entire meal everyone will love. Or try one of these serving suggestions:
Serve with our amazing pomegranate orange salad. It goes perfectly with the lime and pineapple flavors.

Put pineapple rings on top of each bowl of chicken teriyaki for an extra touch.
This delicious homemade teriyaki chicken recipe is perfectly served on top of brown rice or white rice, whichever you prefer.
Alternatively, serve over a small bowl of cauliflower rice for fewer carbs. Try our easy recipe.
Pineapple juice drizzled on top would also add great flavor.
Keeping with the Asian theme, other great toppings would be hoisin, tamari, or General Tso sauce.
Frequently asked questions
Does teriyaki have pineapple in it?
Most teriyaki sauces are made with sugar and soy sauce, but some have added pineapple juice for extra pineapple flavor. The authentic teriyaki sauce is made with soy sauce, sugar, and mirin. The mirin gives it a nice smooth sweet flavor.
Can I use other juice instead of lime juice and pineapple?
The lime juice and zest give this pineapple teriyaki chicken recipe its unique tanginess you do not get with other recipes for the same dish. However, if you do not have lime, you can try orange juice or lemon juice instead.
What are the nutrition facts for this recipe?
For each serving of our pineapple teriyaki chicken, you get 49 grams of protein, 29 grams of fiber, 14 milligrams of calcium, and 40 units of vitamin A. The total fat is 16 grams with 11 being saturated fat. To lower the salt in this recipe, use reduced-sodium teriyaki sauce.
Where did teriyaki chicken originate?
Although the teriyaki sauce was created in Japan, the chicken teriyaki dish actually came from the United States. It was in Hawaii that this delicious meal was first served.
This makes sense, considering that Hawaii is known for its pineapple production. However, if you look up teriyaki, you will find the definition is a Japanese meal of meat grilled after being marinated in seasoned soy sauce.
How to store leftovers:
Store: Put leftover pineapple teriyaki chicken in an airtight container in the fridge where it can stay fresh for about three or four days.
Freeze: Or you can even put it all into a freezer bag after it cools to room temperature and toss your leftovers in the freezer for up to 90 days.
Thaw: Thaw out chicken teriyaki overnight in the fridge for best results and flavor.
Reheat: Reheat for one minute in the frying pan on medium-high heat or about 90 seconds in the microwave. Cooking time varies depending on how much you are reheating.
More easy dinners:
Cooking tips:
Marinate overnight for an even more intense pineapple teriyaki flavor.
Start checking at about 10 minutes. Small chicken pieces cooked at a high temperature with sugary pineapples make it easy to burn.
Make sure the internal temperature is 165 degrees F with a meat thermometer before removing it from the oven.
This is the perfect one-pan dinner for the next time you need an easy weeknight meal.

You can use a whole pineapple or canned, whichever you prefer. But the canned is sweeter and juicier.
To cut prep time, use precooked and chopped chicken and veggies. You can typically find these in your grocer's freezer.
Pineapple Teriyaki Chicken
Ingredients
1 1/2

pounds

chicken breasts

boneless and skinless, diced into 1 inch pieces

1/4

cup

teriyaki sauce

store-bough or homemade

4

tablespoons

olive oil

2

tablespoons

honey

or maple syrup

1

tablespoons

Asian chili garlic sauce

3

cloves

garlic

minced

1

teaspoon

lime juice

1

teaspoon

lime zest

1

teaspoon

ground ginger

1/2

teaspoon

freshly ground black pepper

2

cups

fresh pineapple

diced into 1 inch pieces

1

cup

sugar snap peas

1

red bell pepper

diced into 1 inch pieces

3

green onions

diced

sesame seeds

for garnish
Instructions
Add the chicken to a large Ziploc bag, and add the teriyaki sauce, 2 tablespoons olive oil, honey, chili garlic sauce, ginger, garlic, lime juice, lime zest, and black pepper.

Seal the bag, and toss it around to distribute the marinade evenly, chill for at least 30 minutes or overnight.

Preheat the oven to 475 degrees F and line a baking sheet with foil.

Add the pineapple, sugar snap peas, and red bell pepper, in one layer and drizzle with the remaining olive oil, also season with salt and pepper.

Using a slotted spoon, transfer the chicken from the bag to the baking sheet, and toss to combine with the fruit and veggies. After that distribute the mixture evenly on the baking sheet.

Bake for about 15-20 minutes or until chicken is cooked through. Make sure to stir and flip once halfway through baking.

Once done, serve with rice and garnish with green onions and sesame seeds.
Deliciousness to your inbox
Enjoy weekly hand picked recipes and recommendations