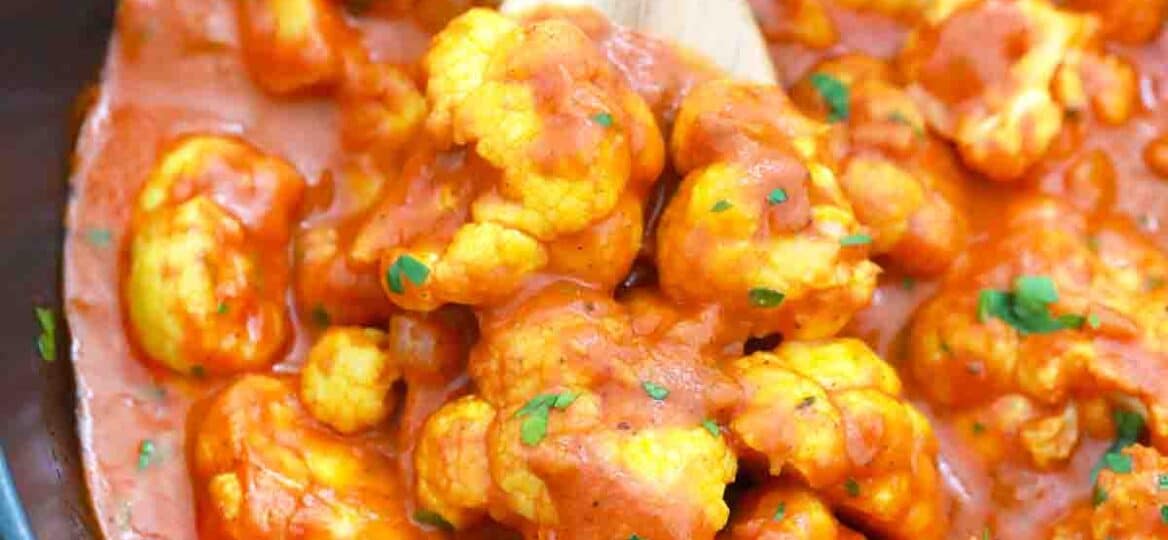 Indian Coconut Butter Cauliflower Recipe
Indian Coconut Butter Cauliflower is delicious, combining vegetables with a variety of spices like red curry powder, garlic, and garam masala to create the perfect vegan dinner. The lime juice and zest give it a little zing and freshness. With very little prep time, you can have this meal on the table in minutes.
If you would rather have the original version of this, our Slow Cooker Butter Chicken recipe made with Greek yogurt, evaporated milk, and tomato sauce is easy and amazing. Or try our One-Pan Hunan Chicken recipe made with zucchini, soy sauce, and oyster sauce. Another terrific chicken recipe to try is this Instant Pot Cashew Chicken.
Creamy coconut butter cauliflower is the perfect dish for any day of the week. One of the best things about this recipe is that you can change the herbs and spices and combine them as you like. If you like it spicy, add more cayenne pepper or remove it completely if you are not into hot food.
If you are a fan of Indian cuisine, this recipe will fit you like a glove. The cauliflower is cooked in the most luxurious and buttery sauce. The dish is so rich, that you won't even realize it's vegan.
This easy recipe is the perfect meatless alternative to the famous Indian butter chicken. Hence, if you are looking for a meatless version of your favorite dish, this is it!
Looking for more vegan recipes? Try our creamy vegan pasta with avocado sauce, snow peas, and mushrooms, or this vegan lemon tofu cheesecake for dessert. Interested in more cauliflower recipes? Our cauliflower steaks are delicious and this sticky sesame baked cauliflower is perfect.
Follow us on Pinterest for more delicious recipes!
Ingredients needed:
Here are the main ingredients in this easy Indian coconut butter cauliflower recipe. For more complete instructions and details, scroll down to our handy printable recipe card.
Large cauliflower head: Chopped into florets.
Canned full-fat coconut milk
Garlic cloves: Grated or minced.
Fresh cilantro: Chopped roughly.
Yellow onion: Chopped.
Extra virgin olive oil
Tomato paste
Coconut oil
Lime zest
Lime juice
Grated fresh ginger
Kosher salt and black pepper
Garam masala
Red curry powder or Yellow curry powder
Turmeric
Cayenne pepper
How to make Indian coconut butter cauliflower recipe?
Preheat: First, preheat your broiler on high and grease a baking sheet with olive oil.
Marinate and broil cauliflower: Next, mix the salt, ginger, two cloves of garlic, and cauliflower in a large bowl and let it marinate for 10 minutes. After it is marinated, spread it in an even layer on your prepared baking sheet and broil for three to four minutes. You should just see it beginning to char around the edges.

Start the sauce: Then, let the olive oil come to a simmer in a large skillet over medium heat. Fry the chopped onion for five minutes before adding the ginger and remaining garlic. Sauté for another five minutes and stir in the cayenne, turmeric, curry powder, and garam masala. Let it simmer for one minute.

Add the milk: After, mix in two cups of the milk, bring it to a boil, and simmer for five minutes. It should just be slightly thick. Add the coconut oil next and if it seems too thick, you can add the rest of the milk or water.
Add the cauliflower: Lastly, transfer the broiled cauliflower and its juices to the pan and cook for five minutes, stirring occasionally until the sauce thickens slightly. Remove from the heat and stir in the salt, pepper, and cilantro.

Serve: Finally, serve with steamed rice, fresh naan, and mango chutney.
How to make instant pot Indian coconut butter cauliflower:
Sauté: To begin, turn your instant pot to sauté and select the high temperature. When it says it is hot, pour in the olive oil. You will probably have to cook your cauliflower in batches, just until browned, about two minutes per side.

Prepare the pan: Next, move cauliflower to a plate and cover them with aluminum foil. Pour 1/4 cup of water into the pot and scrape up any brown bits from the bottom.
Make the dressing Then, add all the ingredients except for the cauliflower, milk, and tomato paste and cook for three minutes.

Add the cauliflower: After, add the cauliflower and tomato paste, cover, and lock the pot before turning the valve to seal.

Cook: Immediately, cook for 10 minutes on high pressure and then 10 minutes natural release before allowing the rest of the pressure out.

Add the milk: Next, set the pot back to sauté mode and stir in the milk. If it is too watery add corn starch slurry and cook for another two minutes.

Serve: Last, serve the coconut butter cauliflower over white rice with naan bread.
Recipe variations:
Another oil: Feel free to use another oil besides coconut oil if you like.

Tomato paste: If you do not have tomato paste, use tomato sauce. Just triple the amount the recipe calls for.
More veggies: Add some more veggies like broccoli, carrots, and chickpeas.

Curry powder: Similarly, you can substitute the yellow curry powder with paste. Just replace one teaspoon of powder with one tablespoon of paste.
No coconut milk: Substitute heavy cream for coconut milk if you prefer.

Add meat: If you are not going for the vegan recipe, add chicken, pork, or beef to the mix.
How to serve:
This is one of my family's favorite recipes, so I am always looking for new ways to serve it. Check out some of these serving ideas:
Add to a bed of pasta for a different twist.

It also tastes terrific on top of mashed potatoes. Try our recipe for vegan mashed potatoes.
One of our favorite ideas is to eat this delicious dish with bowls of fresh veggies and fruit.
Serve with our homemade hummus to dip your cauliflower in.

Use leftovers to make a scrumptious soup or stew.

You can also try serving these with chickpeas like in this delicious chickpea salad.
Frequently asked questions
Is canned coconut milk the same as coconut milk in the carton?
No, canned coconut milk is much thicker since the stuff that comes in the carton has a lot of added water. Canned coconut milk is thick and rich, made by grinding up coconut meat and squeezing the liquid out. This creamy coconut milk is what is typically used in Indian dishes.
Is this a healthy recipe?
With nutrient-packed cauliflower and low-fat coconut milk, you can make this recipe as healthy as you want. Being a vegan dish, most of the ingredients are fresh herbs including some that are healthy like turmeric, ginger, and curry powder.
The nutritional information according to Half Baked Harvest shows seven grams of protein, six milligrams of iron, and 760 units of vitamin A as well as 82 milligrams of vitamin C and 71 milligrams of calcium. There are only 22 carbs and 28 grams of saturated fat with just 312 calories per serving.
Why is it called Indian coconut butter chicken?
The dish originated in 1948 in Northern India by the owners of Moti Mahal Restaurant, Kundan Lal Gujral, and Kundan Lal Jaggi. Also known as murgh makhani, the recipe is very similar to tikka masala, which is British.
They discovered this amazing recipe when combining leftover tandoori chicken with buttery tomato gravy.
Should I marinate my cauliflower?
Using marinated cauliflower will certainly intensify the flavor. But since it is not as tough as meat, it may end up mushy if you soak it too long. Unlike the classic butter chicken, the cauliflower should only be marinated for 10 minutes.
How to store leftovers:
Store: Use an airtight container to store leftovers in the refrigerator for up to four days.
Freeze: If you cannot eat it all in several days, put it in separate freezer bags in the freezer for individual servings. These will be good for about three months.

Thaw: Thaw out leftovers in the fridge overnight for best results.
Reheat: Microwave for one to two minutes depending on how much you are reheating.
More cauliflower recipes:
Cooking tips:
For an extra creamy dish, whisk up some whipping cream in the coconut milk. It will not be vegan anymore, but it will be delicious.

Double the recipe and make extra to freeze for fast and easy future meals.
Do not soak your cauliflower longer than 10 minutes or it will get mushy or soggy.
Add parsley to the recipe for even more vitamins and minerals like iron, calcium, and magnesium.
This is a fragrant dish. Expect to be smelling the savory fragrances of curry, garlic, and other spices for days.
Indian Coconut Butter Cauliflower
Ingredients
1

head cauliflower

cut into florets

2 1/2

cups

canned coconut milk

full fat

4

cloves

garlic

minced

2

tablespoons

fresh ginger

grated

Kosher salt and black pepper

to taste

2

tablespoons

extra virgin olive oil

1/2

yellow onion

diced

2

tablespoon

garam masala

2

teaspoons

red curry powder

1/2

teaspoon

turmeric

1/2

teaspoon

cayenne pepper

or to taste

6

oz

can tomato paste

2

tablespoons

coconut oil

1/4

cup

fresh cilantro

chopped
Instructions
Preheat the broiler to high.

Grease a large rimmed baking sheet with olive oil.

In a large bowl, combine the cauliflower florets, 1/2 cup coconut milk, 2 cloves of minced garlic, 1 tablespoon grated ginger, and a bit of salt.

Stir to combine and let marinate for 10 minutes to 30 minutes.

Spread the florets in an even layer on the prepared baking sheet and broil for 3-4 minutes, until the edges of the florets just start to char.

In the meantime, place a large cast-iron skillet over medium heat and add the olive oil. Add the onion and cook for 4-5 minutes.

Add the remaining garlic and ginger, and cook stirring for another 4-5 minutes.

Stir in the garam masala, curry powder, turmeric, cayenne, lime zest, and lime juice, and cook for about 1 minute.

Next, add the tomato paste and the remaining 2 cups of coconut milk. Stir to combine, and bring the sauce to a boil, cook for 5-7 minutes, until it starts to thicken. Stir in coconut oil.

If the sauce is too thick, add more coconut milk a little at a time.

Add the cauliflower florets to the pan, including the juices from the baking sheet. Toss gently to combine and cook, stirring until the sauce thickens about 5 minutes. Taste and adjust for salt and pepper.

Remove from the heat and sprinkle with cilantro.

Serve over rice with fresh warm garlic naan on the side.