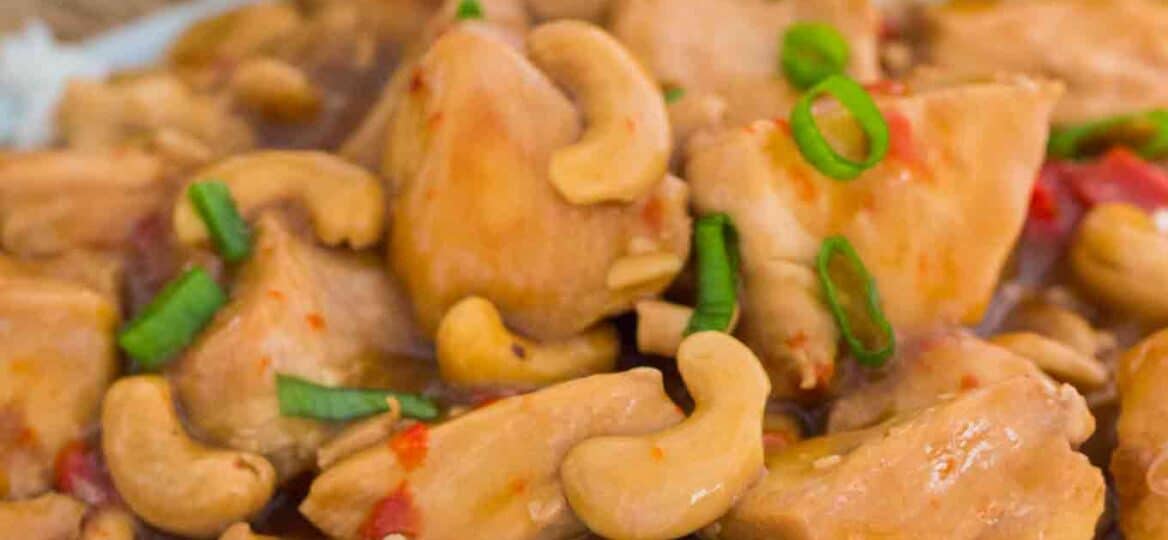 Instant Pot Cashew Chicken [Video]
Instant Pot Cashew Chicken is the perfect dump and cook meal, with easy preparation and cooking the rice at the same time. You have a full meal ready in just about 30 minutes with minimum effort.
Quick and easy Instant Pot recipes are a staple around here. I have a large library of delicious Asian Instant Pot recipes, like Orange Chicken and Sesame Chicken, which should be on top of your must-try list. I wanted to add a Cashew Chicken recipe for a while, and finally, it is here.
Pressure Cooker Cashew Chicken recipe is such a staple in Asian cuisine, with this easy version, you will make it for so many weeknight dinners. Instead of getting Chinese take out, try this great recipe, is just as good as your favorite Chinese restaurant.
The only difference is that you can easily and conveniently make it at home at a fraction of the cost and in a fraction of the time pressure cooking it. Also, it is healthier as you can control the sauce ingredients and the protein that you use.
I love a good dump-and-cook meal, as it makes meal prep so easy. The best part of this meal is that there is no marinating or sautéing involved. Another bonus point, you cook the rice at the same time. Hence, you have your main dish and side dish ready at the same time.
The instant pot cashew chicken tastes so good, sweet and savory, it will make your taste buds very happy. In just about 30 minutes you will have a delicious and juicy chicken, with sweet bell pepper and tender cashews, a meal that thee entire family will love.
Ingredients needed:
Meat: Skinless chicken breasts or boneless and skinless chicken things.
Veggies: We like to make this great recipe with red bell peppers, however any type of bell peppers will work. In addition, we add some fresh garlic and ginger. Also, you can add other veggies as well.
Oil: For extra flavor, we make this recipe using sesame oil.
Liquids: The cashew chicken sauce is made with a combination of low sodium soy sauce, rice wine vinegar, low sodium chicken broth or chicken stock.
Sweeteners: We use a mixture of brown sugar balanced with hoisin sauce.
Nuts: Obviously to make this easy recipe we use unsalted cashew nuts, raw cashews are great too.
Seasoning: Salt and red pepper flakes
Rice: We make this recipes the pot-in-pot method, therefore we also cook the rice with the meat. You can use white rice, brown rice, jasmine rice or basmati rice.
Butter: In addition, we use some unsalted butter for the rice.
Cornstarch: We use it to thicken the homemade sauce, if you don't have any on hand, try arrowroot flour.
How do you make Instant Pot Cashew Chicken?
Dump: First, since this is such an easy meal to make, in the first step you add all the ingredients for the chicken to the bottom of electric pressure cooker inner pot. Stir well to combine.
Rice: If you are following the pot-in-pot method, at this point add a trivet on top of the chicken mixture and mix the ingredients for the rice in a heatproof pot. Cover it and place it on the trivet.
Pressure cook: Next, cover with the lid and lock it, set the pressure valve into the sealed position and cook on high pressure for 5 minutes.
Natural pressure release: When the cooking time has been completed, do a 10-minute natural release.
Quick pressure release: After that, open the valve and quick release the remaining pressure.
Saute: Remove the pot with the rice and set it aside. Also remove the trivet. Select sauté mode, and add the cornstarch mixture. Afterward, stir well and cook for a few more minutes to make a thick sauce.
Serve: Finally, fluff up the rice and serve everything together garnished with green onions and sesame seeds.
Recipe Variations:
Meat: This easy dump-and-cook stir fry recipe can be made with bite size pieces of dark meat as well, it has so much flavor.
Gluten-free: To make the savory sauce gluten free, use coconut aminos instead of soy sauce.
Veggies: In addition, you can add more veggies into the mixture, we like adding Chinese corn, water chestnuts, mushrooms, and broccoli.
Spicy sauce: As an alternative add more red pepper flakes and some sriracha sauce to have the savory and sweet sauce taste spicier.
Skip the rice: Another option is to skip the rice and just make the healthy cashew chicken in the easy homemade sauce.
Peanut butter: If you like Thai food, add a few tablespoons of peanut butter into the sauce for extra flavor.
How to serve:
Can I use chicken thighs instead?
Absolutely! I usually make this best instant pot cashew chicken recipe with boneless chicken breasts because I prefer white meat, and it always turns out moist and tender. Alternatively, you can easily use thighs instead.
The thighs are even juicier and more succulent when cooked under pressure. Just like at a local Chinese restaurant, making it with thighs will be amazingly flavorful. No matter which cut you decided to use, the cooking time will be the same.
More Asian recipes you will love:
Storing instructions:
Refrigerate: First let the dish completely cool. Then, transfer leftovers to an airtight container and refrigerate for up to 3 days.
Freeze: To freeze, use a freezer-proof container or freezer bags. Freeze for up to 3 months.
Thaw: When ready to serve, plan in advance and let the mixture thaw in the fridge overnight.
Reheat: The easiest way to reheat it would be in the microwave for a few minutes until warm. Also, you can reheat it in a wok over medium heat.
Cooking tips:
Preferably use organic chicken, this recipe can be made with boneless, skinless chicken thighs.
Also, using fresh minced garlic and ginger is key, it will add amazing flavor.
Cornstarch is a key ingredient in here, do not try to replace it with all-purpose flour, the results will not be the same.
When adding the cornstarch, mix it with water until fully dissolved. Add the slurry to the Instant Pot at the end to thicken the sauce.
If the sauce is too runny, mix another 1-2 teaspoons of cornstarch with water and add it to the pressure cooker. Keep in mind, the sauce will thicken with time, so wait a bit before adding more cornstarch slurry.
Special tools:
Instant Pot – I like that I can just sauté / brown the meat and veggies directly in the pot using the Sauté function.
Cornstarch – I prefer using cornstarch instead of flour to thicken sauces, and this organic brand is my favorite.
In addition, a long legged trivet and an oven-safe dish, I personally like to use these stackable pans to cook the rice at the same time.
Deliciousness to your inbox
Enjoy weekly hand picked recipes and recommendations