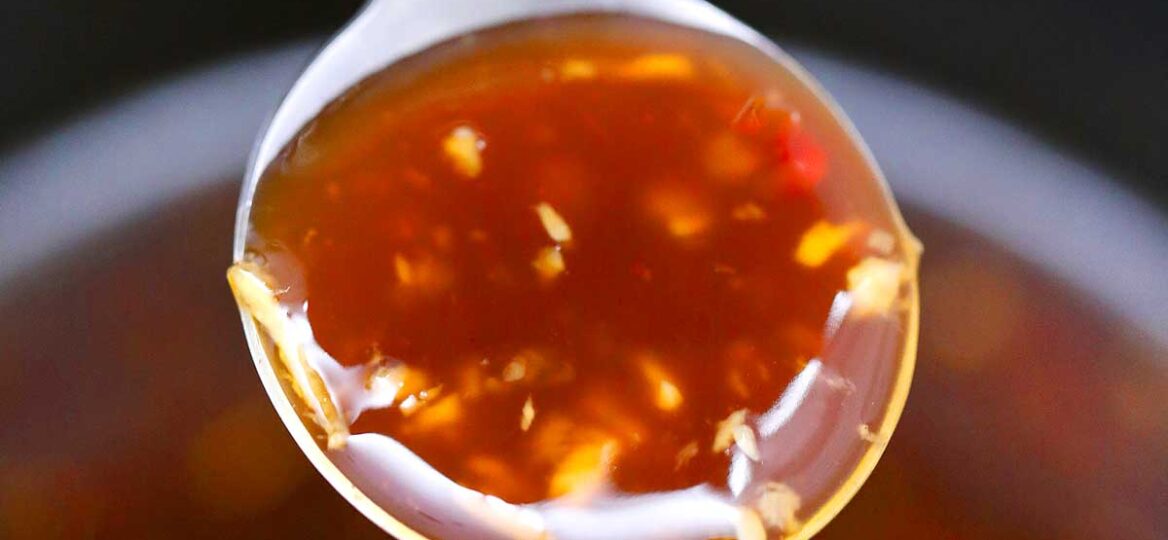 Teriyaki Sauce Recipe [Video]
Teriyaki Sauce is salty, sweet, and everything in between! With this easy recipe, you can make it from scratch at home using basic pantry ingredients! Check out the short video tutorial and see how easy and delicious this recipe is!
This is Asian-inspired, and if you have been buying the stuff from stores, then, switch now! This recipe is as easy as my other recipes like the Asian Steak Marinade, Chinese Hot and Sour Soup, and Instant Pot Garlic Sesame Chicken.
Homemade Teriyaki Sauce Recipe
Teriyaki Sauce is something you can easily buy from the nearest store, but did you know that you can easily whip it up in the kitchen? The outcome is more flavorful, too!
It is sweet, salty, and savory with a bit of tang. With the range of flavors that it has, you can use it in many ways.
You can make it thick and use as a dip, or thin it out and use it as a marinade. Enjoy it both ways using this simple recipe. It is good for glazing meat and fish and flavoring stir-fries, too!
This version is inspired by the dip that is served alongside grilled meat which is the authentic Japanese way. Feast on Japanese-inspired dishes at home without the need to go to the store with this recipe. After all, it is so easy you can make it anytime!
What is Teriyaki Sauce:
It is a combination of a sweetener with a base of soy sauce and vinegar. The flavors make it an ideal pair to grilled meat or fish.
After all, the term "teriyaki" is a combination of "teri" which means glaze and "yaki" which means grilled. Japanese migrants came up with this westernized version utilizing local ingredients.
Teriyaki Sauce Ingredients:
Sweeteners: This recipe uses honey or maple syrup and brown sugar.
Base: Soy sauce gives it its characteristic umami flavor along with the aromatics. Rice wine or mirin adds a nice balance to it and it also adds a bit of its sweetness.
Aromatics: To add zing, garlic, ginger, and red pepper flakes complete the taste.
Slurry: To thicken the texture, you may dissolve cornstarch in water and stir it in.
How to Make Teriyaki Sauce
Combine: In a pan, combine all the main ingredients except the slurry.
Simmer: Over medium heat, allow the mixture to simmer.
Thicken: In a small bowl, prepare the slurry. Then, add it to the simmering liquid. Continue heating until you achieve the desired thickness.
Serve: Allow it to cool a bit before serving as a dip.
Recipe Variations:
Soy sauce: You can substitute reduced-sodium or tamari. Tamari is a gluten-free substitute.
Rice wine: You can substitute cider vinegar or add sugar to sake.
Slurry: Replace cornstarch with flour, or gluten-free arrowroot starch.
What goes with Teriyaki Sauce?
It goes well with pretty much anything – may it be grilled chicken, pork, beef, or salmon. Meatballs and wings also are great with this.
You can use it as a dip for tofu, spring rolls, or as a dressing for salads or burgers. As a dressing, you may want to water it down a little.
Can I use it as a marinade?
Yes! You may leave out the slurry entirely if you are making a marinade out of it and there is no need to simmer it. Just combine the ingredients.
It is great to use as a marinade for salmon, chicken, pork, or even tofu. For salmon and other fishes, marinate for only 15 minutes. At least double that time if you are marinating chicken, pork, or tofu.
Here are some recipes that you can follow and use this recipe for:
How to store Teriyaki Sauce:
Refrigerate it for up to a week, stored in an airtight container.
Recipe Tips:
If you use it as a marinade, discard it after using it and make a separate batch for the sauce.
Always use freshly minced garlic for the best results as the pre-minced or powder kinds will not be as flavorful.
You can leave out the aromatics entirely if you wish.
Deliciousness to your inbox
Enjoy weekly hand picked recipes and recommendations