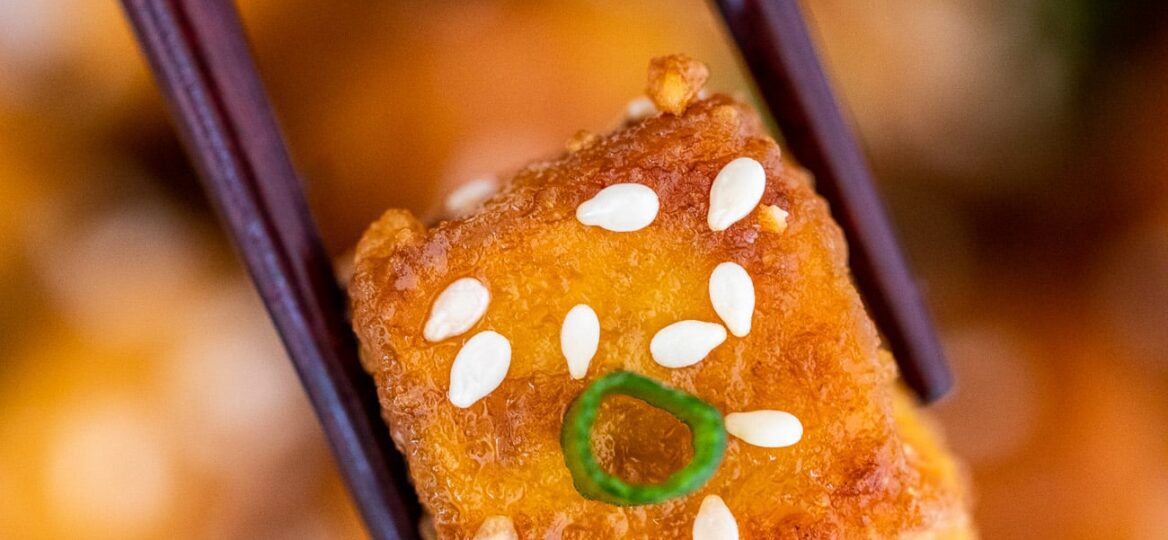 Crispy Baked Tofu [video]
Baked Tofu can be added to many recipes in place of meat for that needed protein boost. It is vegan, high in protein, affordable, and so easy to make!
Baking is not only for cakes but also for savory dishes like this one and our other similarly easy savory recipes for chicken breasts, tilapia, and brown sugar garlic chicken.
Easy Baked Tofu Recipe
Baked Tofu is a simple recipe to prepare, the result is perfectly crispy texture on the outside, but soft on the inside. It is also full of flavors from the spices which enhance the mild soy flavor.
You can now see this commercially available but why buy when you can make your own? Learn how to make this versatile dish which you can use as an ingredient to other stellar dishes. Put it on salads, in fajitas, wraps, sandwiches – the possibilities are endless!
What is tofu?
Similar to cheese, it is produced by pressing condensed soymilk into blocks. It is rich in protein and other micronutrients but has few calories. Hence, it is an ideal vegetarian food item as a plant-based replacement for meat.
How to make Baked Tofu
Prepare the oven – First, start by preheating the oven to 400 degrees and line a baking sheet with parchment paper.
Prepare the tofu – Squeeze out excess water from the tofu, but placing it between paper towels and slowly pressing it with a heavy object, like a cast iron pan.
Cut into cubes – Cut the tofu into cubes and to remove any remaining liquid, arrange the cubes in a single layer on a cutting board lined with paper towels. Fold over the paper towels and put something heavy over it to drain more water.
Season – Transfer the cubes into a bowl and drizzle with tamari and olive oil. In a separate bowl, combine cornstarch with the spices. Sprinkle the cubes well and toss to make sure that everything is well-coated.
Bake – Transfer and arrange the cubes onto the baking sheet then, pop it in the oven. Halfway the 25- to 30-minute cooking time, toss the pieces to cook the other side, and then, continue baking until all sides are golden brown.
How to make Baked Tofu Crispy?
To make the crispiest one, make sure to start off by using the correct type and that is the extra firm one. Next, drain as much water as you can so that it will crisp well in the oven. Also, using cornstarch adds that extra boost to crisp the edges.
How do you make baked Nasoya tofu?
The brand has its own extra-firm variant so, you can use it for this recipe. It also has a TofuBaked variant that is ready to use in any of your recipes, no draining or additional cooking required.
How long does tofu last?
Once you have opened it, you have three to five days to use it up. To extend its shelf life, you can freeze it for three to five months. Remove it from the water, tightly wrap it in plastic, and then, put it in a freezer bag or container prior to freezing.
You can thaw it in the refrigerator prior to use. Note that after freezing, the texture may change as it can be a little firmer and on the chewy side.
How long does cooked tofu last?
Cooked it can stay good for three to five days in the refrigerator. So, this is a good way to extend the shelf life of the excess ones that you bought – cook them first!
Can you freeze baked tofu?
Yes! You certainly can. It may lose crispness and become chewier after defrosting. But they will still be able to absorb flavors of dishes you will put them in after.
Flavor Combos and Variation:
As this easy recipe is also highly versatile, you can make different marinades and sauces for the finished product, and mix and match other seasonings and spices. It will absorb the flavors and will come out more flavorful.
Recipe Tips
Even it is well within the declared expiration, check for spoilage prior to cooking. Discard your tofu once you observe that the package has expanded, the smell is awful, and the water has grown thick.
To further remove water, you can put the cubes in between paper towels and then, pop them in the microwave oven for a couple of minutes.
Feel free to personalize this recipe by adding in more spices as you deem fit and cooking it longer or shorter than the prescribed cooking time. Cook it longer to make it crispier. Otherwise, cook it for a shorter period if you want it softer.
Deliciousness to your inbox
Enjoy weekly hand picked recipes and recommendations