Mediterranean Couscous Salad [video]
Mediterranean Couscous Salad is super healthy made with black olives, feta, sun-dried tomatoes, bell pepper, and cucumber. It is super easy to make, and the ideal meal for summer!
We love hearty and healthy dishes to make especially during the summer season. You might also like Strawberry Spinach Salad, Mexican Salad, and Chickpea Salad.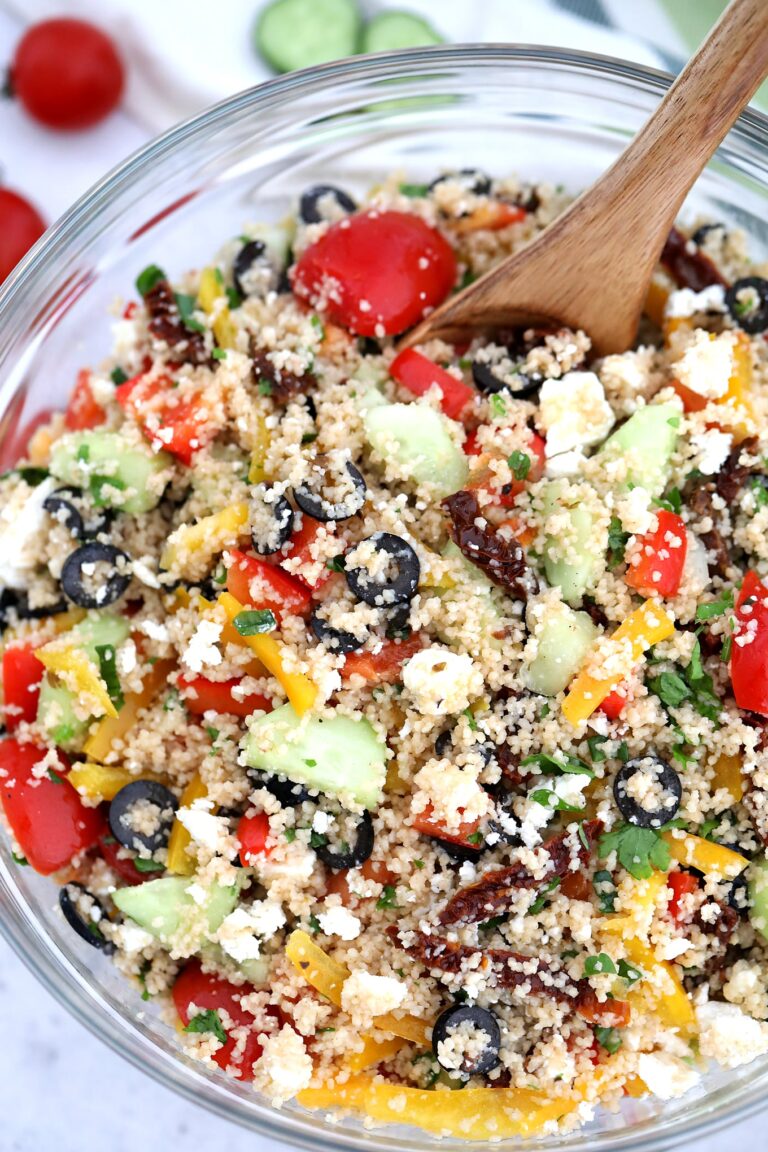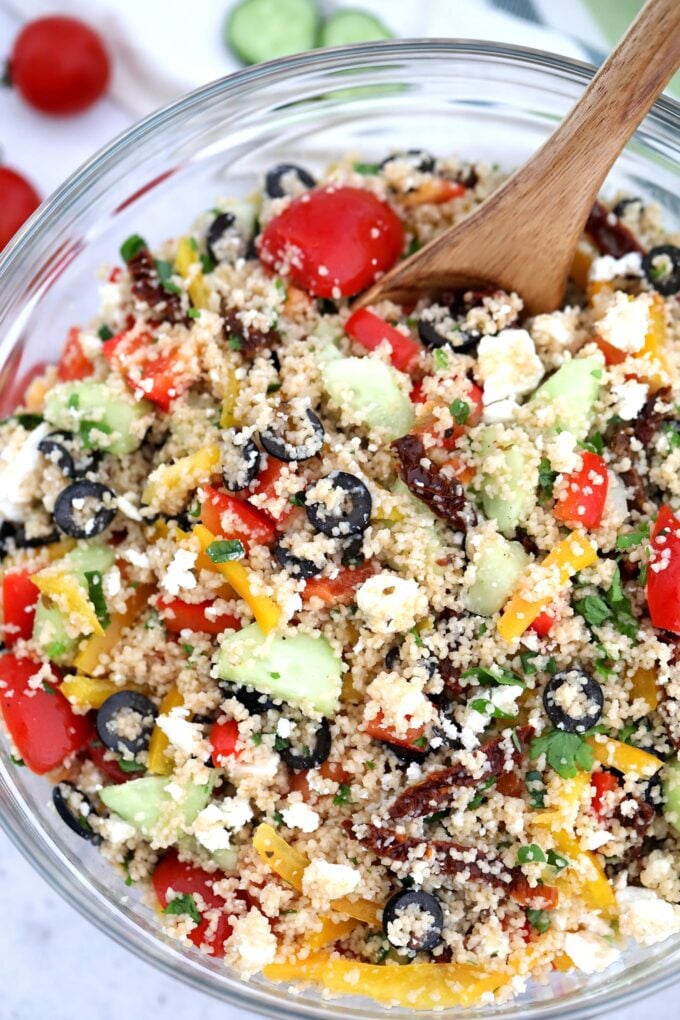 Summer Couscous Salad Recipe
What could be better than a healthy, flavorful Mediterranean Couscous Salad on a summer day?! This is the perfect dish that can be enjoyed on its own, or paired with other main dishes.
If you haven't tried couscous, then this is a great way to start experimenting with its taste and texture. It has a great flavor and some chewiness to it. Also, when incorporating it in the salad you end up with a truly delicious and hearty meal because it soaks up the moisture of the dressing well.
We pair it with a simple and refreshing dressing made with lemon juice and vinegar, and it complements this dish tremendously. This is a true Mediterranean recipe loaded with Kalamata olives, feta, and finished up with a lemon garlic dressing.
What is couscous?
It is a basically crushed durum wheat semolina that is formed into tiny spheres. It is quite popular in the northern parts of Africa, the Middle East, Greece, and Spain. This dish is so versatile, satisfying, and quick to make, that is incorporated in many daily meals. It can be enjoyed as a side dish, salads, or even soups.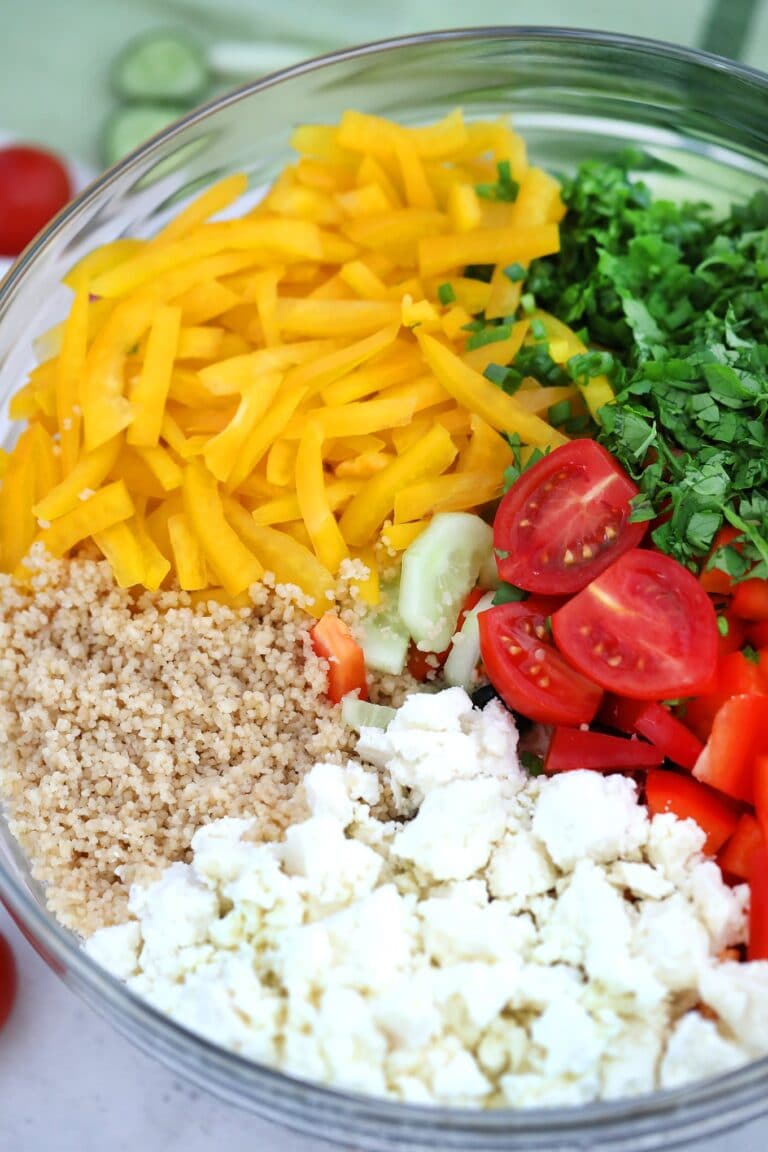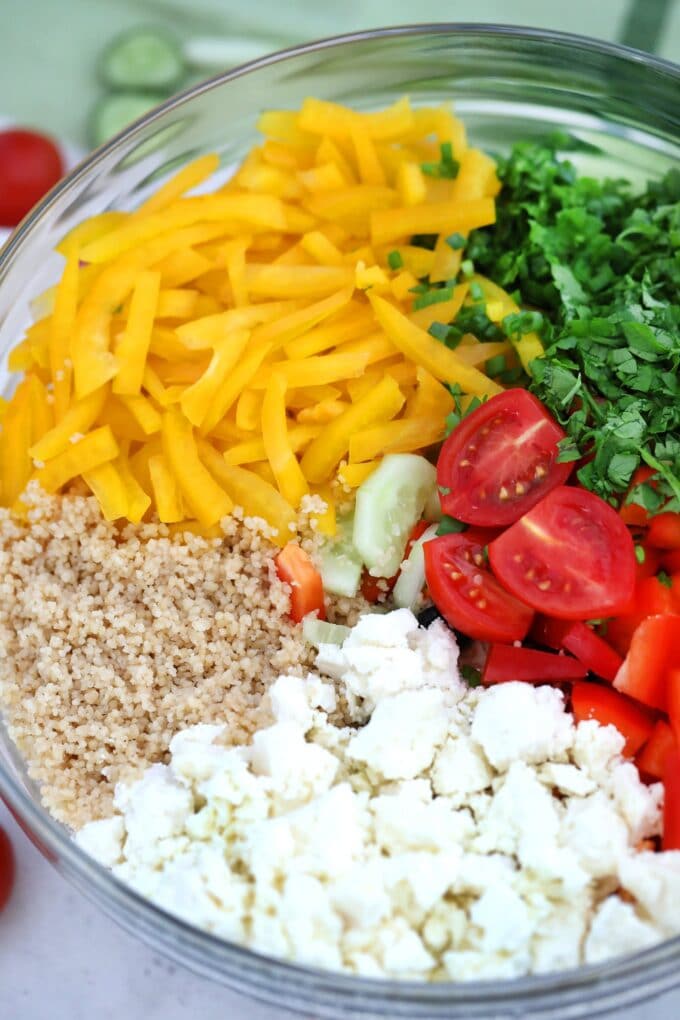 How do you cook couscous?
The secret to the perfect fluffy couscous is to utilize the right water ratio.
Water ratio:
As a general rule, for wheat or whole-wheat you want to use 1.5 cups of water for every 1 cup of couscous.
For pearl couscous type, the water ratio should be reduced, and use only about 2/3 cup of water for every 1 cup of couscous. Also, it is important to note, that 1 cup of dry couscous will yield you about 4 servings after you cook it. Therefore, plan accordingly on how much to utilize it.
Cooking the couscous:
In a pan, bring the water to boil. Then pour the couscous into the boiling water, and cover the pan. Let it sit for about 7-10 minutes. During this time, it will absorb the liquid. Use a fork to fluff it up, and then serve warm.
Also, you could add some seasoning to the boiling water for some extra flavor. For example, feel free to add some olive oil, salt, pepper, or some spices.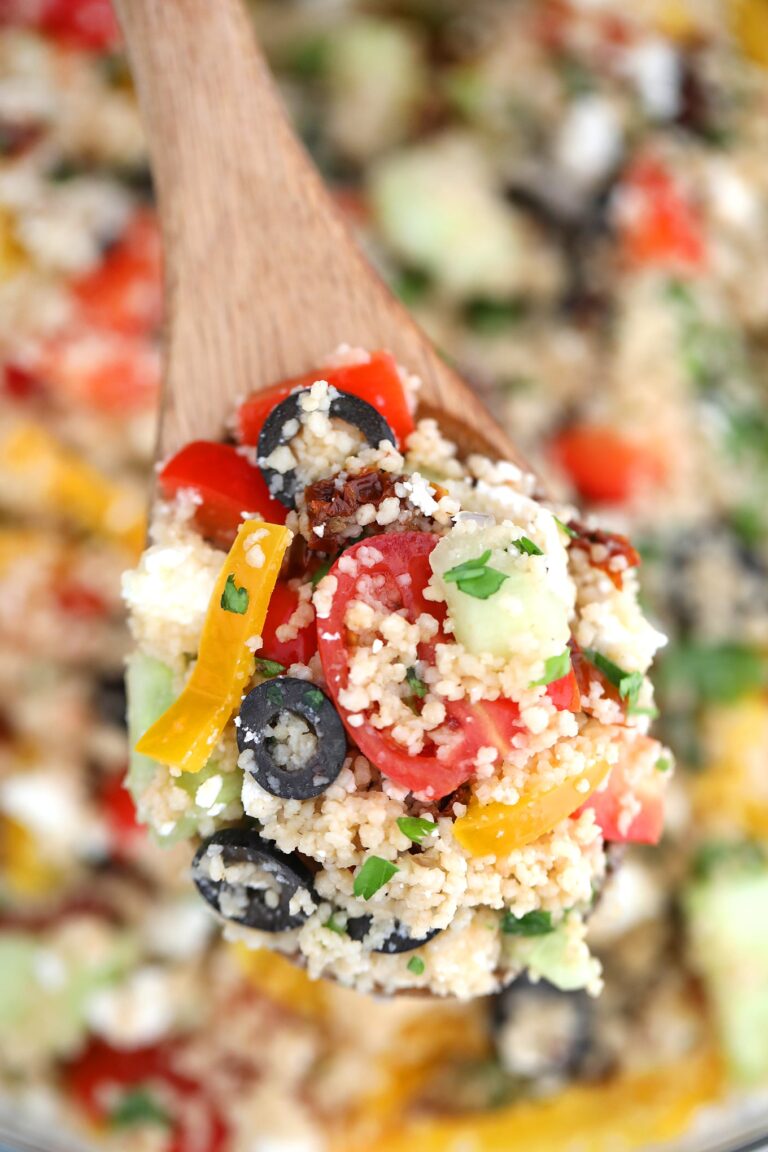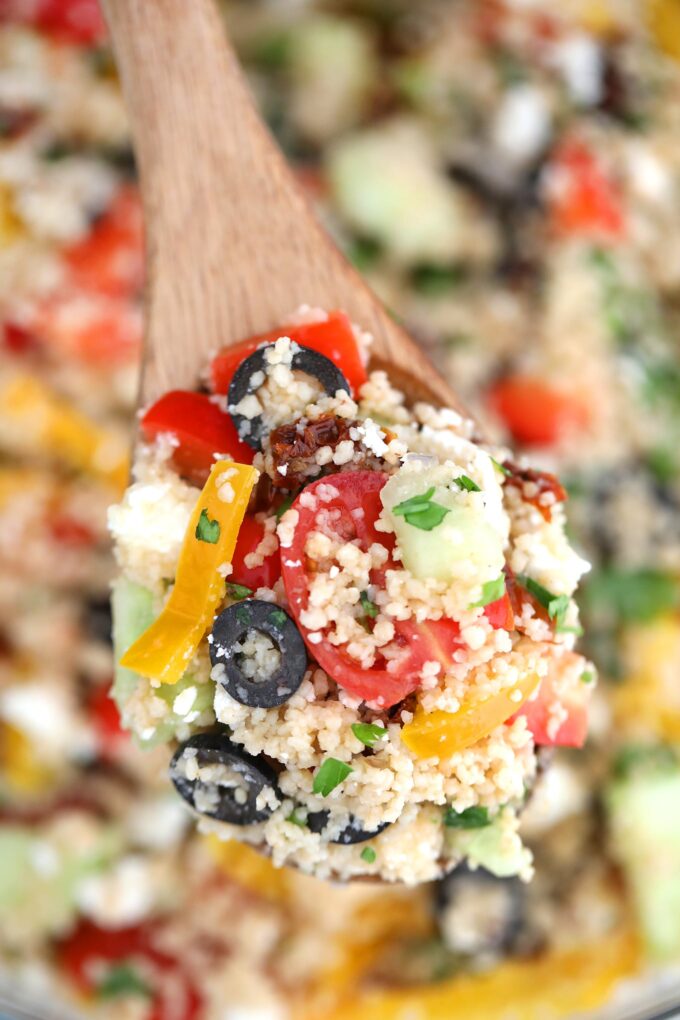 How do you make lemon vinegar dressing?
We use a refreshing and very simple dressing for this salad. You will need the following ingredients:
1/4 cup olive oil
1/4 cup lemon juice
2 tablespoons red wine vinegar
2 cloves garlic pressed or minced
1/2 teaspoon fine sea salt
Then, simply combine the above ingredient in a bowl and whisk together till all are nicely mixed.
How To Make Mediterranean Couscous Salad?
Prepare the couscous: Follow the above instruction or the packaged instructions to cook and prepare it from scratch. Once cooked, add a tablespoon of olive oil, and let it cool.
Prepare the dressing: In a bowl combine the dressing ingredients together and whisk well till properly combined.
Assemble the salad: Once the couscous has cooled, transfer it to a salad bowl. Then, using a fork, fluff it up a bit. Next, add the rest of the veggies to it, and pour the dressing on top. Gently toss it up until properly mixed together.
What other ingredients do you add to couscous salad?
In this version of it, we went with the Mediterranean flavors, as we used olives and Feta. However, this dish is quite versatile and you can mix other ingredients or any of your favorite ones. Some great suggestions for additions are:
Garbanzo beans
Black beans
Cubed butternut squash
Roasted shrimp
Greens such as arugula
Goat cheese
Nuts
Pomegranate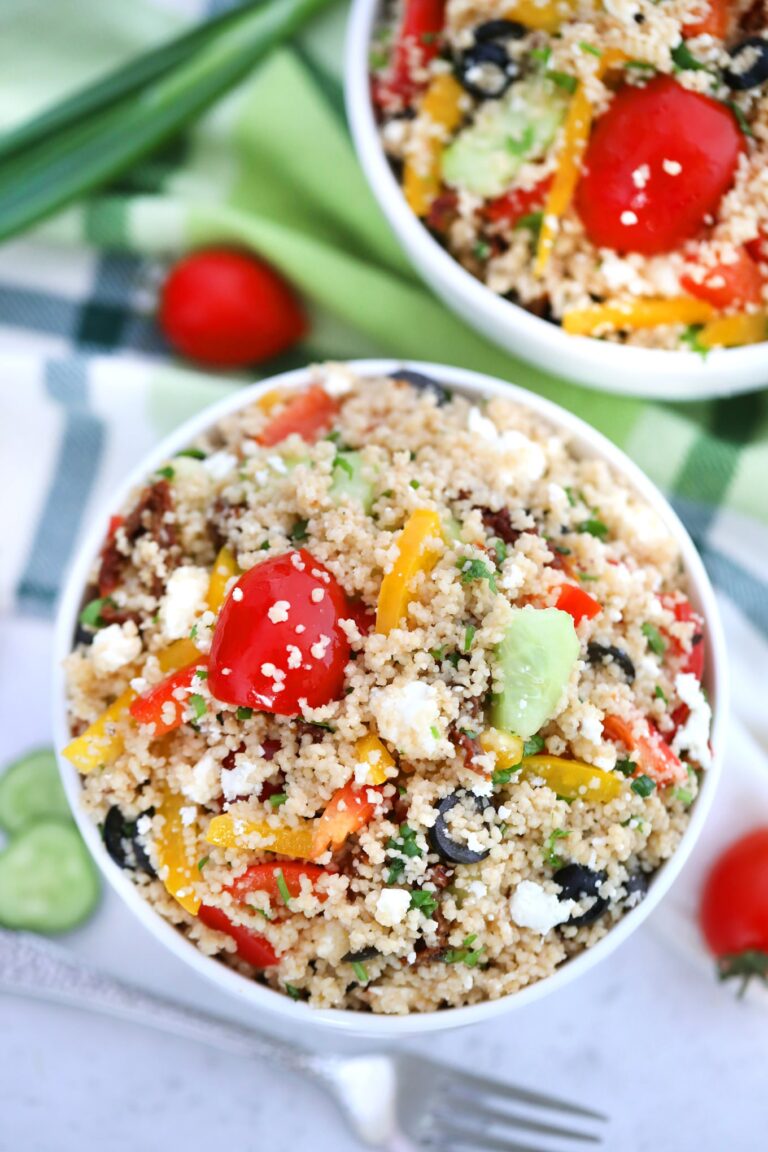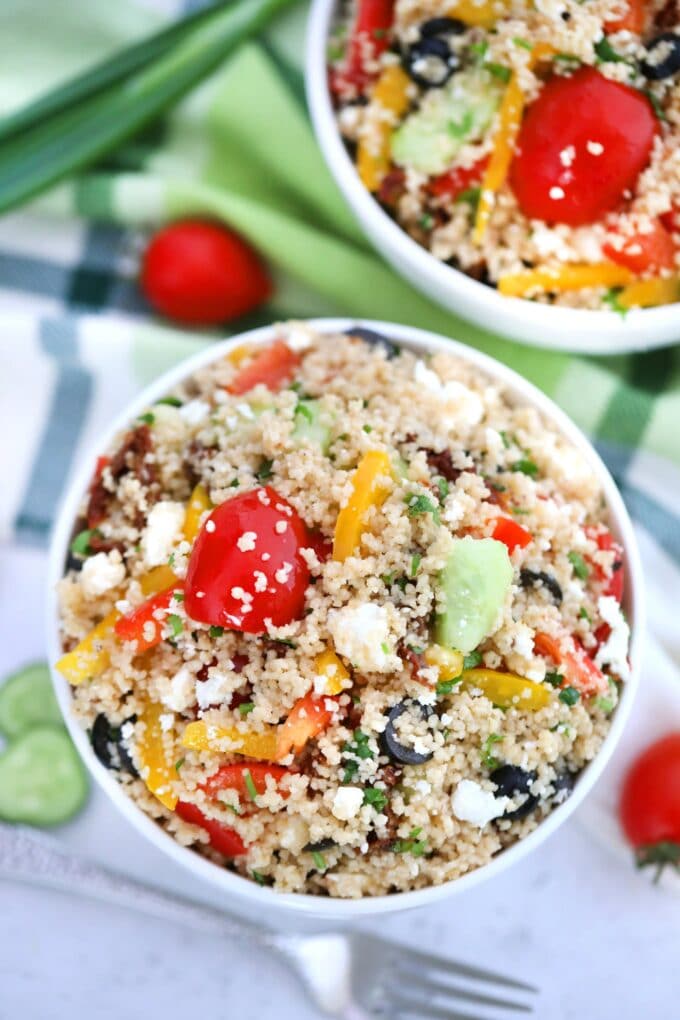 What goes with Couscous Salad?
It is truly delicious and amazing on its own, but it also goes well as a side dish. You can serve it with protein-rich meals such as:
Recipe Tips
This delicious salad is great to eat right away. However, if you want to make it a day or so in advance, remember to toss in the dressing prior to serving.
In addition, if you cannot find couscous, and would like to try this recipe, feel free to substitute it with orzo, or even rice cauliflower.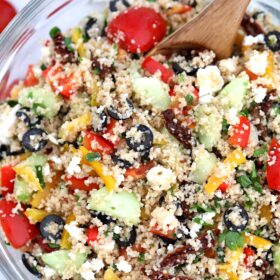 Mediterranean Couscous Salad
Mediterranean Couscous Salad is super healthy made with black olives, feta, sun-dried tomatoes, bell pepper, and cucumber. It is super easy to make, and the ideal meal for summer!
Save
Share
Print
Pin
Rate
Ingredients
Cook Couscous:
2 1/4

cups

water

1 1/2

cups

couscous

1/4

teaspoon

salt

1

tablespoon

olive oil

1

tablespoon

butter
Salad:
3-4

cups

cooked couscous

1

cup

sun-dried tomatoes

(chopped)

1/2

cup

black olives

(sliced)

2

cucumbers

(seeded and chopped)

2

cups

cherry tomatoes

(halved)

1

red bell pepper

(chopped)

1

orange bell pepper

(sliced)

1/4

cup

green onions

(chopped)

1/4

cup

parsley

(finely chopped)

1

cup

feta cheese

(crumbled)
Dressing:
1/4

cup

olive oil

1/4

cup

lemon juice

2

tablespoons

red wine vinegar

2

cloves

garlic

(pressed or minced)

1/2

teaspoon

fine sea salt

Freshly ground black pepper

(to taste)
Instructions
Cook Couscous:
In a medium saucepan over medium-high heat bring the water to a boil.

Pour the couscous into the boiling water, cover, and let sit for 5 to 10 minutes, on medium heat.

When the granules have absorbed all the liquid, fluff the cooked couscous with a fork and let fully cool before using in the salad.
Salad:
Combine all the dressing ingredients in a measuring cup and set aside.

Combine all the salad ingredients in a large bowl, except feta cheese.

Add dressing and toss. Add feta cheese and toss.

Garnish with more parsley and feta cheese and serve.
Nutrition
Calories:
564
kcal
|
Carbohydrates:
56
g
|
Protein:
16
g
|
Fat:
32
g
|
Saturated Fat:
9
g
|
Cholesterol:
33
mg
|
Sodium:
1248
mg
|
Potassium:
1579
mg
|
Fiber:
8
g
|
Sugar:
19
g
|
Vitamin A:
3305
IU
|
Vitamin C:
120.6
mg
|
Calcium:
276
mg
|
Iron:
4.8
mg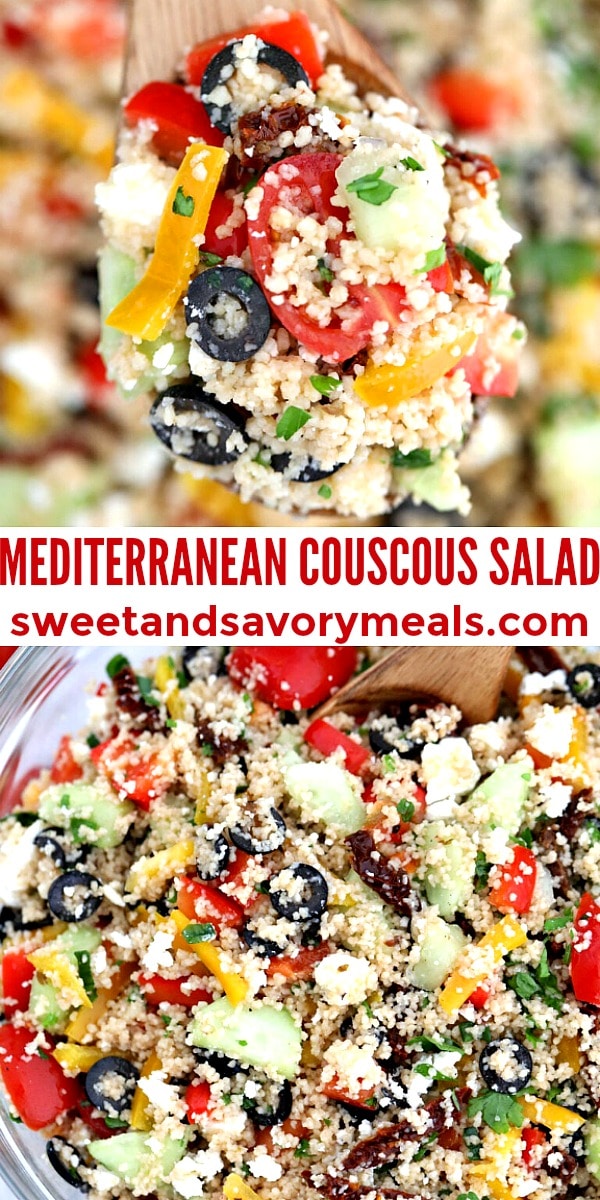 More recipes you might love