Mexican Salad Recipe [video]
Mexican Salad is a great addition to your summer menu with its rich combination of flavors from Mexican staples – beans, avocados, tomatoes, and spices! Watch the recipe video tutorial below and see how easy this is!
You can take this side dish to the beach or barbecue parties this summer along with our other refreshing summer favorites like the grape salad, cold summer soup, and avocado lime smoothie.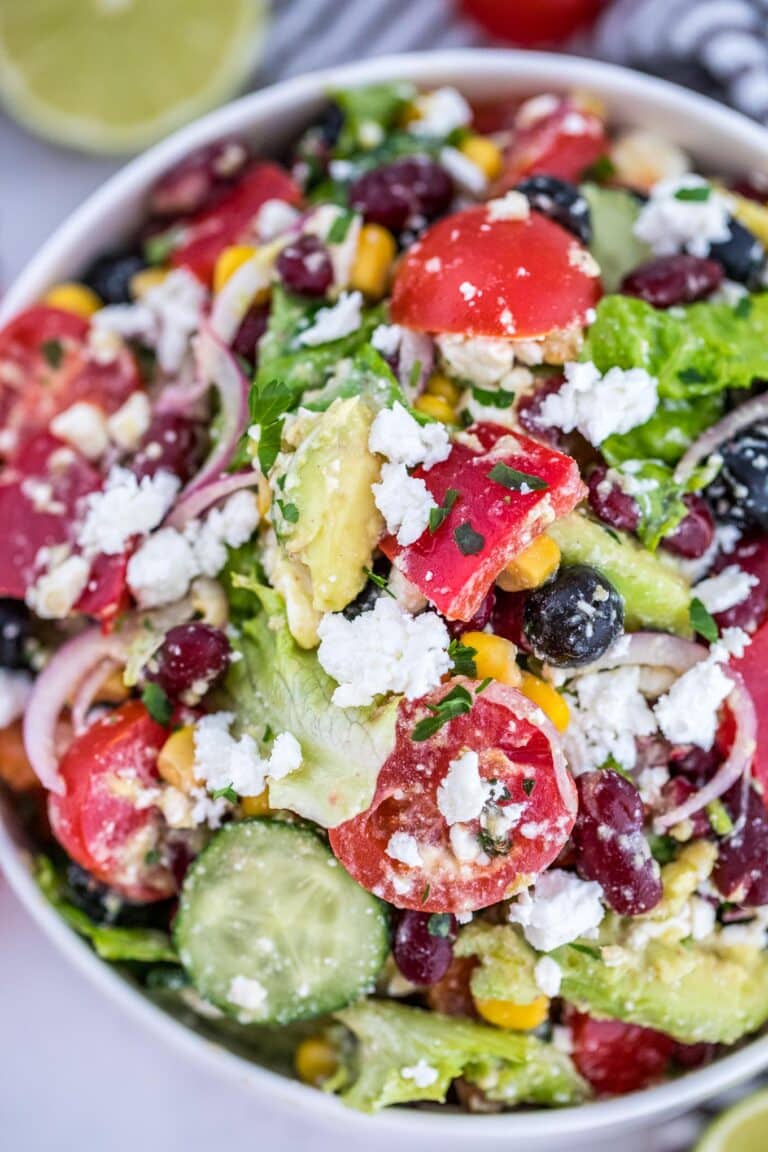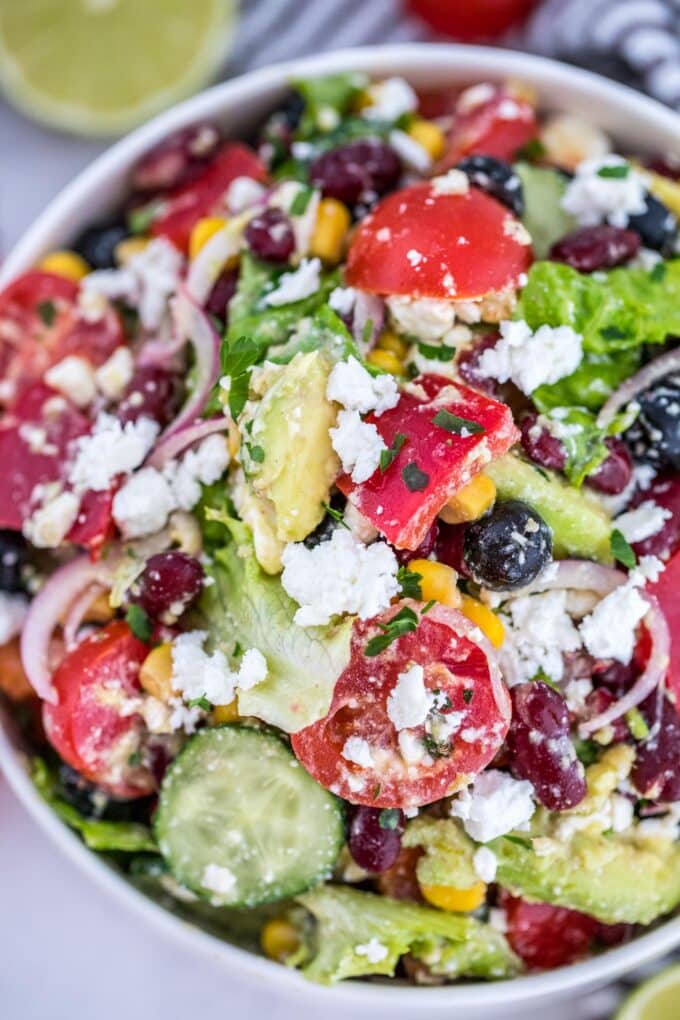 Homemade Mexican Salad Recipe
Mexican salad is easy to make and it requires only a few ingredients. You just toss and combine everything. This makes it an ideal picnic pick as it won't take much of your time to prepare.
What makes this dish ultra special is the richness of Mexican flavors balanced in one easy recipe. Also, you get all sorts of textures and flavors from the vegetables and spices all tied together nicely by the tangy lime dressing.
If you don't like any of the spices in this recipe, feel free to omit them as this is a highly versatile dish. We will teach you how to prepare the dressing so you won't have to purchase commercially available ones. This makes this side dish healthier overall aside from the generous portions of healthy greens and fruits.
What is a Mexican salad?
It incorporates the staple ingredients of Mexican cuisine including beans, corn, tomatoes, and avocados in a bed of Romaine leaves and cucumber. It has a complicated taste brought about by the cilantro, red onion, bell pepper, and black olives.
Topped with cotija cheese, this dish has all the flavors you are looking for. In addition, the lime dressing goes really well with the cilantro, too.
Is Mexican salad healthy?
Being a salad that is loaded with vegetables, this Mexican salad recipe is healthy. Also, you get fiber from the greens and corn, protein from the beans, vitamins from the tomatoes, and the list goes on!
Though avocados could have high calories and a substantial amount of fat, what you get from them is a "good fat" which could actually help in managing cholesterol levels.
And, this easy recipe has a light and tangy lime dressing, not a thick ranch dressing. This makes this recipe healthier.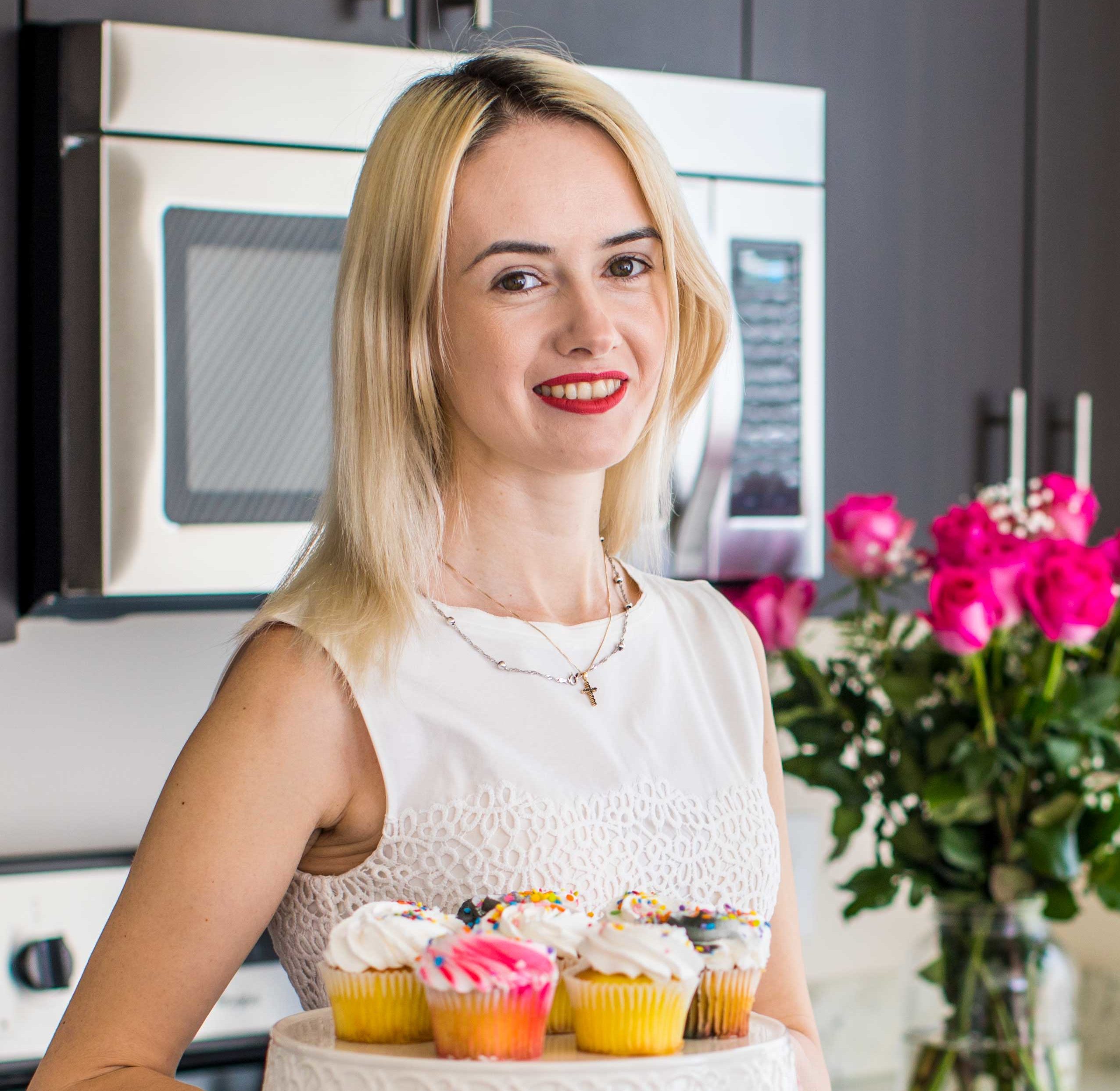 Follow us on Pinterest for more delicious recipes!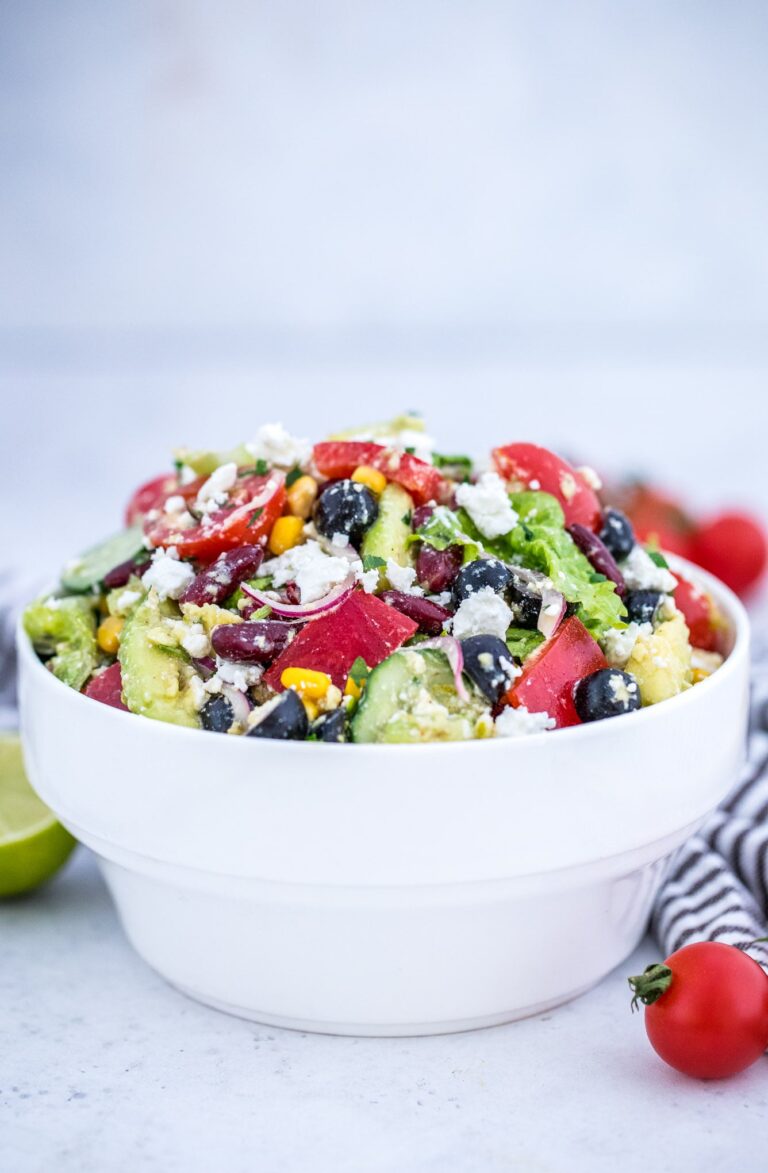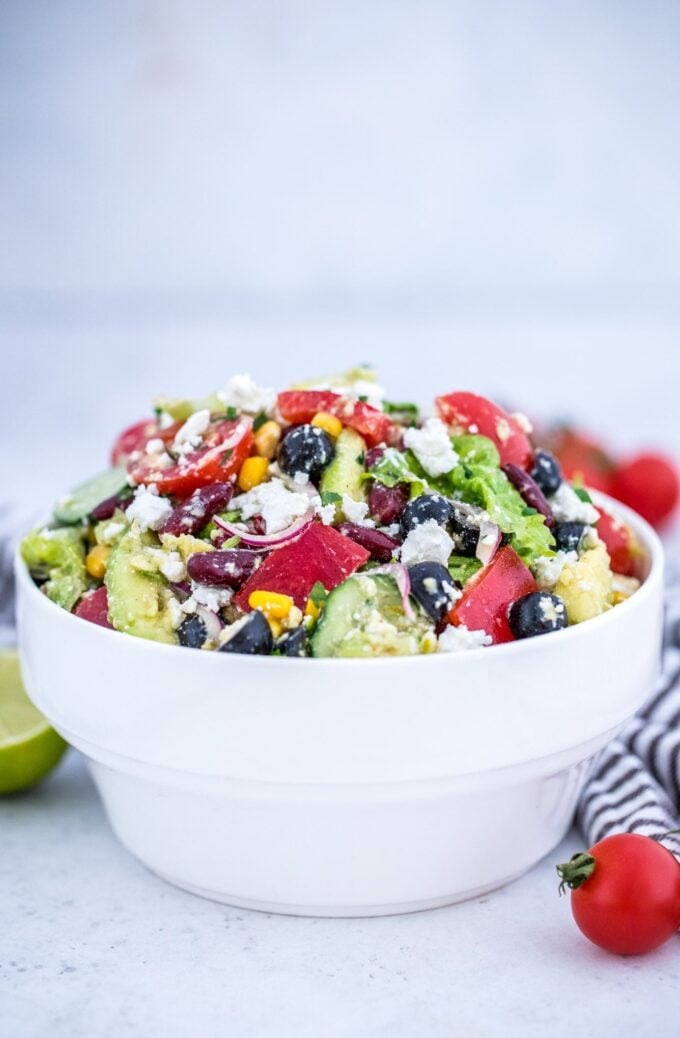 What do you need to make Mexican salad?
In this recipe, we used Romaine lettuce, cherry or grape tomatoes, avocado, cucumber, red onion, red beans, sweet corn, red bell pepper, black olives, and fresh cilantro.
We used the lime dressing for which we prepare the extra virgin olive oil, red wine vinegar, honey, lime zest and juice, cumin, chili powder, sea salt, and ground black pepper. All these ingredients make one flavorful and colorful salad!
How to make Mexican salad from scratch?
Simply prepare the ingredients for the salad, then, toss them all in a large salad bowl leaving out the cheese at first.
Whisk together the ingredients for the lime dressing in a separate bowl.
Once combined, drizzle over the salad and toss some more. Top it with the cotija cheese. Then, cover and chill the salad in the refrigerator before serving.
What are the health benefits of black beans?
Aside from red beans which we used in this recipe, we can also substitute or simply add black beans. This kind of beans has high levels of fiber and protein, as well as minerals and nutrients.
Also, it has anti-cancer properties and can be eaten as part of a healthy diet regimen as it has a lot of starch that satiates hunger.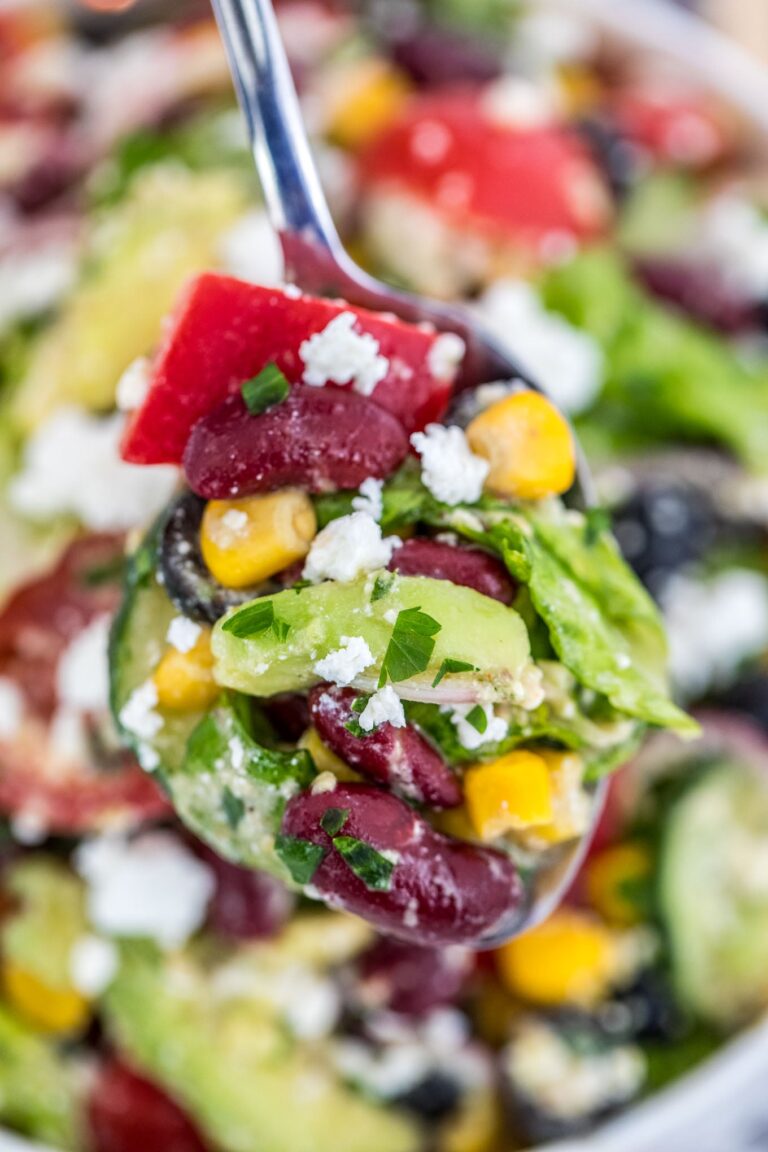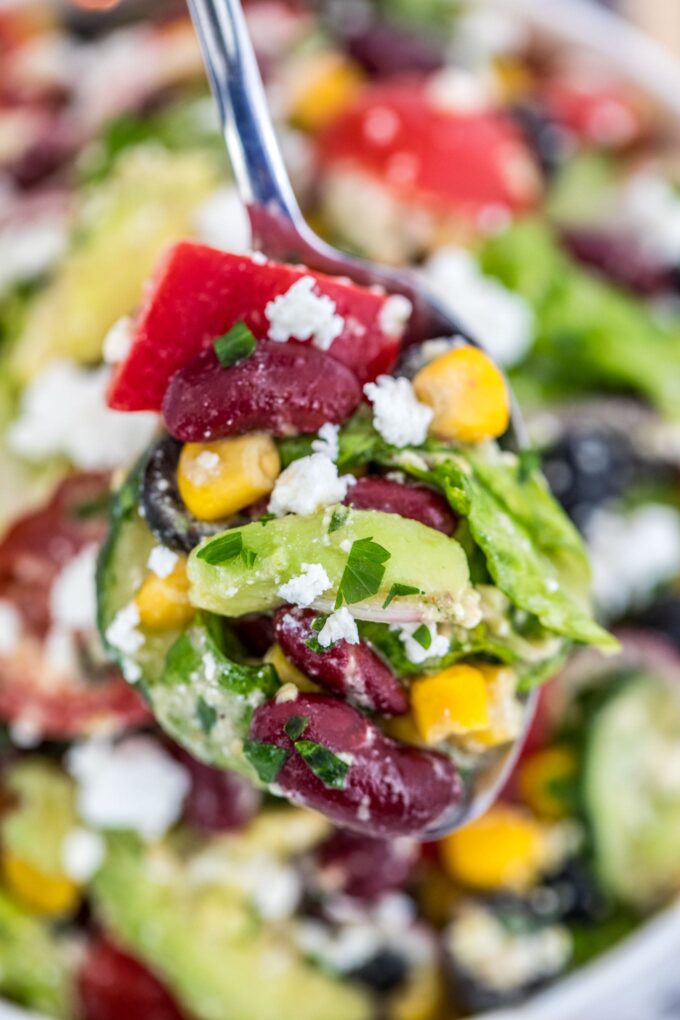 How long can Mexican salad sit out?
Salads are highly perishable because of the use of fresh fruits and vegetables and so, let it sit out for no more than two hours. Refrigerate the leftovers if there are any.
What do you serve along with it?
Mexican salads can be served along with grilled meat. You can add tortilla chips or tostada shells for some added crunch. In addition, you can enjoy this salad with seafood or any other meat dishes.
How do you refrigerate Mexican Salad?
Refrigerate the dressing separately from the salad. Place them in separate airtight containers then, just toss them together again when serving. It can be kept in the fridge for up to 5 days.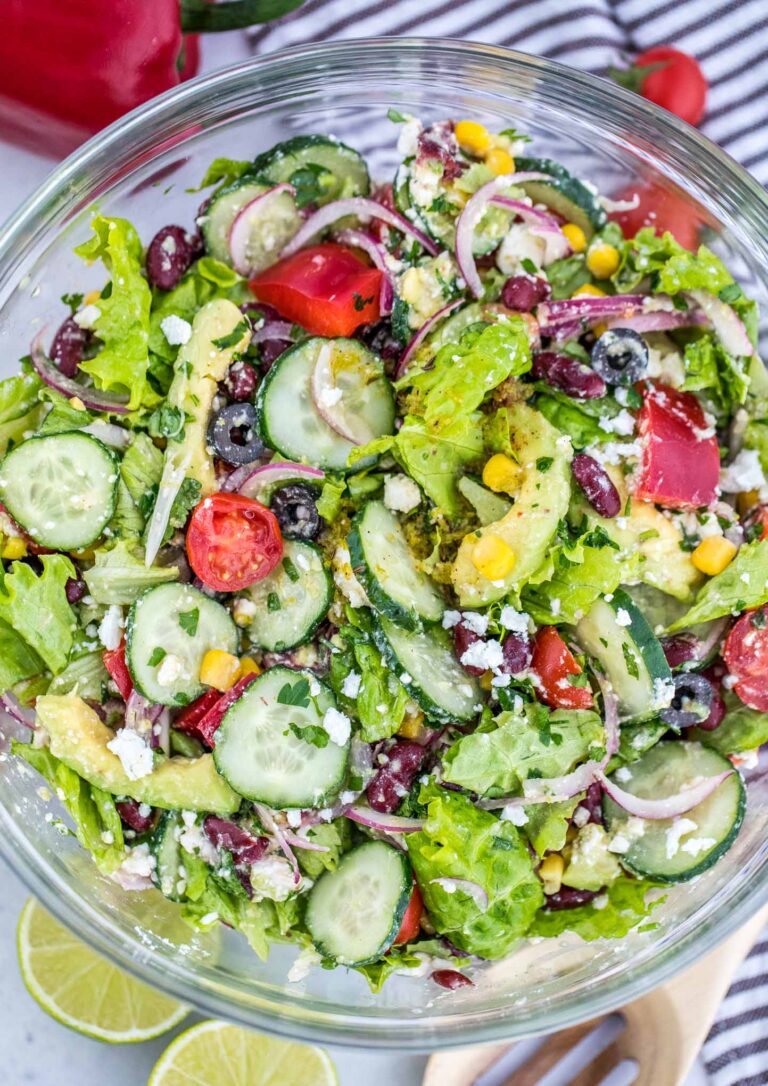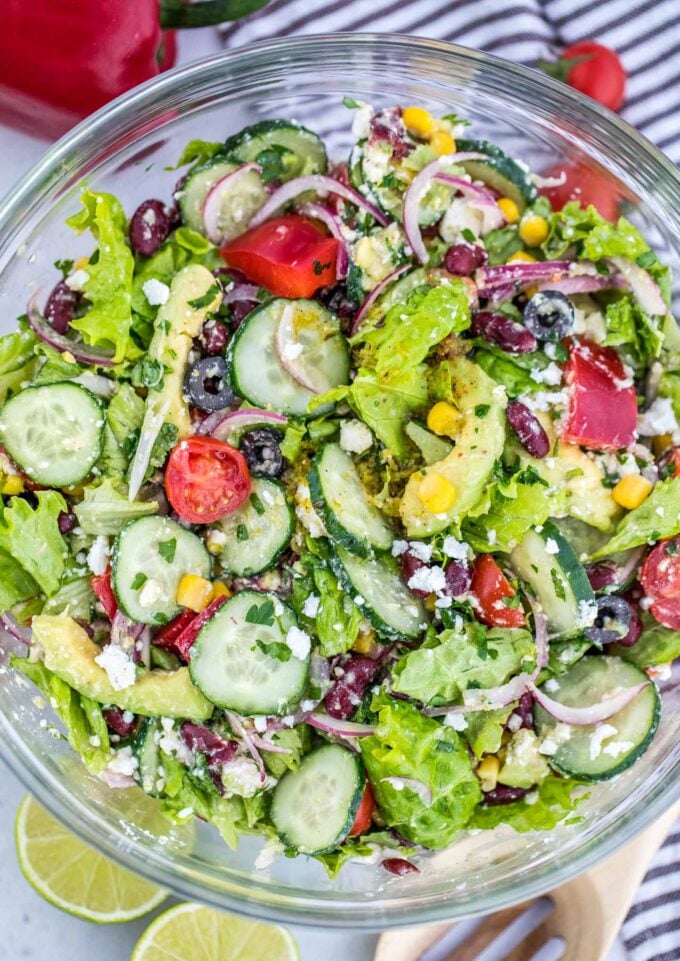 Can you make Mexican salad in advance?
Yes! Just follow the abovementioned storage requirements. This is best served cold anyway, so, it can stay in the fridge for this. You can make a batch the night before for your summer getaway the next day!
More healthy salad recipes:
Recipe Tips
For more protein, toss in some grilled chicken or shrimp.
If you are not a fan of the red onion, mellow its taste by soaking it in cold water for about 15 minutes.
In addition, in place of cilantro, you can use parsley but with lemon dressing, not lime.
For a spicier kick, add some chopped jalapeno to it.
Save Recipe
Best Mexican Salad
Mexican Salad is a great addition to your summer menu with its rich combination of flavors from Mexican staples - beans, avocados, tomatoes, and spices!
Author: Catalina Castravet
Serves: 6 servings
Prep time:

15

minutes
Total time:

15

mins
Ingredients
Lime Dressing Ingredients:
Nutrition information
Calories: 298 Carbohydrates: 16 Protein: 6 Fat: 24 Saturated Fat: 6 Cholesterol: 22 Sodium: 666 Potassium: 631 Fiber: 5 Sugar: 8 Vitamin A: 10165 Vitamin C: 41.5 Calcium: 183 Iron: 2
Save Recipe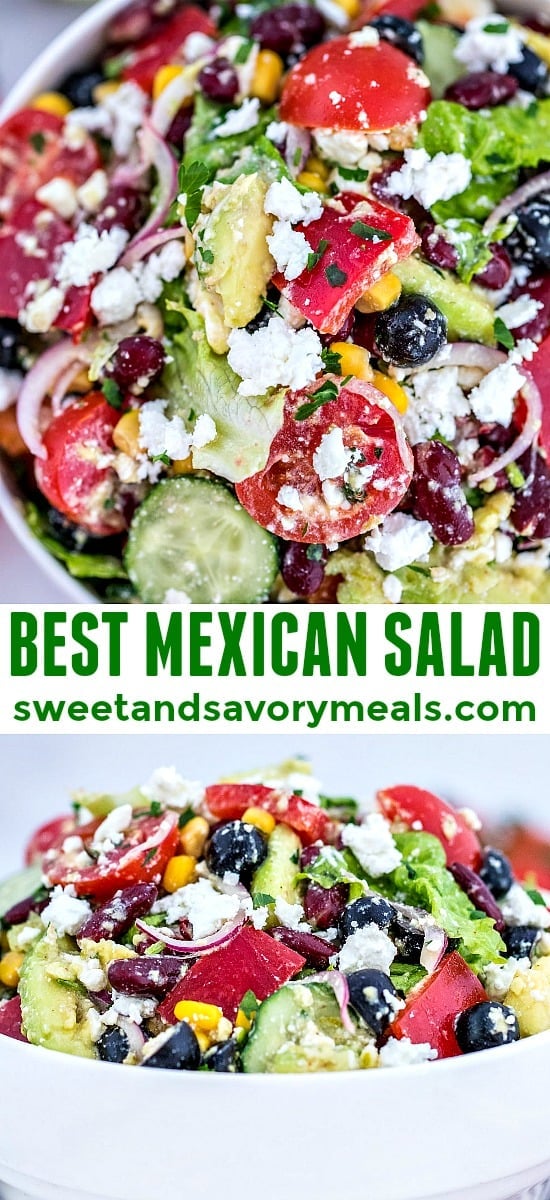 More recipes you might love
Categories: