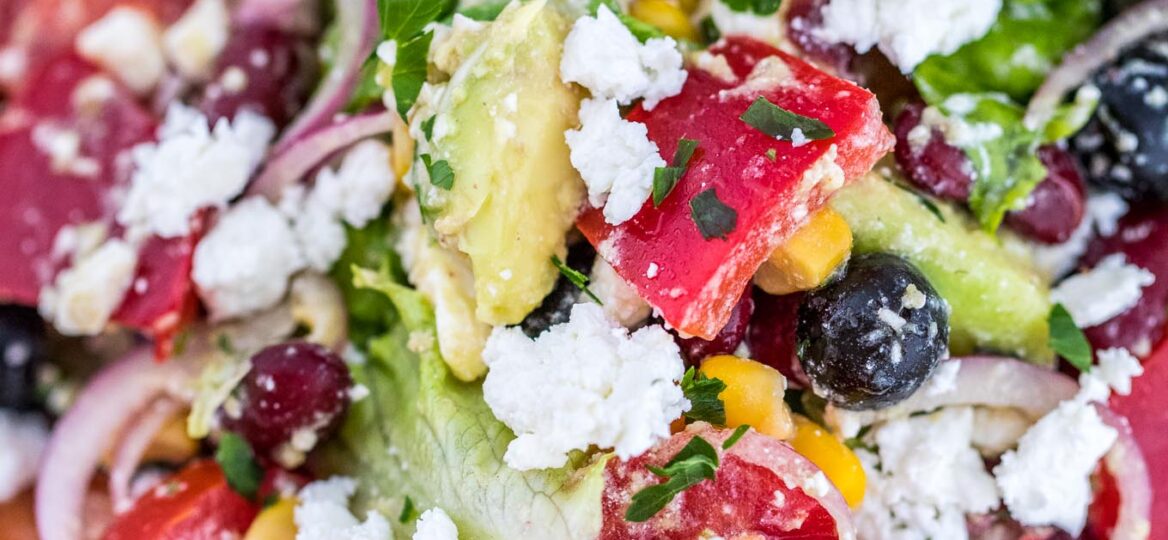 Mexican Salad Recipe [video]
Mexican Salad is a great addition to your summer menu with its rich combination of flavors from Mexican staples – beans, avocados, tomatoes, fresh cilantro, and spices! Watch the recipe video tutorial below and see how easy this is!
Salads are great and healthy side dishes to serve with pretty much any meal. You can take this dish to the beach or barbecue parties this summer along with our other refreshing summer favorites like the grape salad, cold summer soup, and avocado lime smoothie.
Chopped Mexican Salad with Cilantro
This Mexican Chopped Salad recipe is a simple and healthy addition to pretty much any meal. I love using it as a side with tacos, chicken enchiladas, grilled chicken, and shrimp.
I like using fresh and healthy ingredients here. Also, the dressing is light and is made with fresh lime juice, honey, olive oil, and seasoning. When combined together they make for a perfect and energetic side dish!
What makes this dish ultra special is the richness of Mexican flavors balanced in one easy recipe. Also, you get all sorts of textures and flavors from the vegetables and spices all tied together nicely by the tangy lime dressing.
If you don't like any of the spices in this recipe, feel free to omit them as this is a highly versatile dish. We will teach you how to prepare the dressing so you won't have to purchase commercially available ones. This makes this side dish healthier overall aside from the generous portions of healthy greens and fruits.
Salad Ingredients:
Greenes: chopped romaine lettuce and fresh cilantro
Veggies: cherry tomatoes, red onion, sweet corn, avocado, cucumber, bell pepper, black olives,
Red or black beans
Cotija cheese: this adds that authentic taste to it
Cilantro lime dressing ingredients:
Freshly squeezed lime juice and lime zest
Olive oil
Red or white wine vinegar
Honey
Seasoning: chili powder, sea salt, black pepper, cumin.
How to make Mexican Chopped Salad from scratch?
Prepare and chop the ingredients: Start by washing and chopping the ingredients for the salad, then. Then, toss them all in a large salad bowl leaving out the cheese at first.
Combined: Whisk together the ingredients for the lime dressing in a separate bowl.
Add the dressing: Once combined, drizzle over the salad and toss some more. Top it with the cotija cheese. Then, cover and chill the salad in the refrigerator before serving.
Recipe Variations:
Grilled Corn: Although sweet corn is great in this dish, you can easily substitute it with grilled corn instead. Also, you even use fresh or frozen corn if desired.
Add proteins: Feel free to add some grilled shrimp, grilled chicken breasts, pork carnitas, or beef.
Turn it into a Taco Salad
Tortilla chips: For a crunchier texture, top it with some tortilla chips.
Cheese: The classical version calls for cotija cheese but you can easily substitute it with feta cheese.
Spicy: For a spicier version chop in some fresh jalapeno peppers, or add some chili powder.
Other veggies: You can easily mix in your favorite veggies, such as sweet peppers, zucchini, jicama, etc.
What is a Mexican salad?
It incorporates the staple ingredients of Mexican cuisine including beans, corn, tomatoes, and avocados in a bed of Romaine leaves and cucumber. It has a complicated taste brought about by cilantro, red onion, bell pepper, and black olives.
Topped with cotija cheese, this dish has all the flavors you are looking for. In addition, the lime dressing goes really well with the cilantro, too.
Is Mexican salad healthy?
Being a salad that is loaded with vegetables, this Mexican salad recipe is healthy. Also, you get fiber from the greens and corn, protein from the beans, vitamins from the tomatoes, and the list goes on!
Though avocados could have high calories and a substantial amount of fat, what you get from them is a "good fat" which could actually help in managing cholesterol levels.
And, this easy recipe has a light and tangy lime dressing, not a thick ranch dressing. This makes this recipe healthier.
Follow us on Pinterest for more delicious recipes!
What are the health benefits of black beans?
Aside from red beans which we used in this recipe, we can also substitute or simply add black beans. This kind of beans has high levels of fiber and protein, as well as minerals and nutrients.
Also, it has anti-cancer properties and can be eaten as part of a healthy diet regimen as it has a lot of starch that satiates hunger.
How long can this salad sit out?
Salads are highly perishable because of the use of fresh fruits and vegetables and so, let them sit out for no more than two hours. Refrigerate the leftovers if there are any.
What do you serve this salad with?
This goes well with any Mexican entries, such as tacos, quesadillas, burritos, enchiladas, etc.
It is also delicious with grilled chicken, shrimp, seafood, pork, or beef.
Alternatively, you can serve it with tortilla chips or tostada shells for some added crunch.
Enjoy it as a side dish with burgers.
How do you refrigerate it?
Dressing: Refrigerate the dressing separately from the salad. It can be refrigerated for up to 5 days.
Salad ingredients: Can be chopped and stored in an airtight container for up to 2 days. When ready to serve, just toss them together and serve. Consume within one day.
Can you make it in advance?
Yes! Just follow the abovementioned storage requirements. This is best served cold anyway, so, it can stay in the fridge for this. You can make a batch the night before for your summer getaway the next day!
More Mexican food recipes:
Recipe Tips:
Try to chop all the veggies evenly. It looks more festive and you get the same sensation in every bite!
Also, if you want to add more proteins, then toss in some grilled chicken, beef, or shrimp.
If you are not a fan of the red onion, mellow its taste by soaking it in cold water for about 15 minutes.
In addition, in place of cilantro, you can use parsley but with lemon dressing, not lime.
For a spicier kick, add some chopped jalapeno to it.
From time to time, I like garnishing it with some bacon crumbs. This adds some crunch to it, and plenty of flavors!
Best Mexican Salad
Ingredients
1

large head

Romaine Lettuce

rinsed, chopped, and dried

1

cup

cherry tomatoes

halved

1

avocado

diced

1

English cucumber

sliced

1

small red onion

thinly sliced

1

15.25 oz can

red beans

drained and rinsed

1

15.25 oz can

sweet corn

drained

1

red bell pepper

chopped

1/2

cup

black olives

cut in half

1/3

cup

fresh cilantro

chopped

1

cup

crumbled cotija cheese

or feta cheese
Lime Dressing Ingredients:
1/3

cup

extra virgin olive oil

1/4

cup

red wine vinegar

1

tablespoon

honey

Juice of 1 lime

Zest of 1 lime

1/4

teaspoon

cumin

1/4

teaspoon

chili powder

1/2

teaspoon

sea salt

1/8

teaspoon

black pepper freshly ground
Instructions
Make the dressing:
First, combine all the dressing ingredients in a small bowl, stir to combine and set aside.
Assemble the salad:
Chop the salad ingredients and combine them in a separate bowl, except for the cheese.

Then, add the dressing and toss to combine.

Garnish with cotija cheese on top and serve.