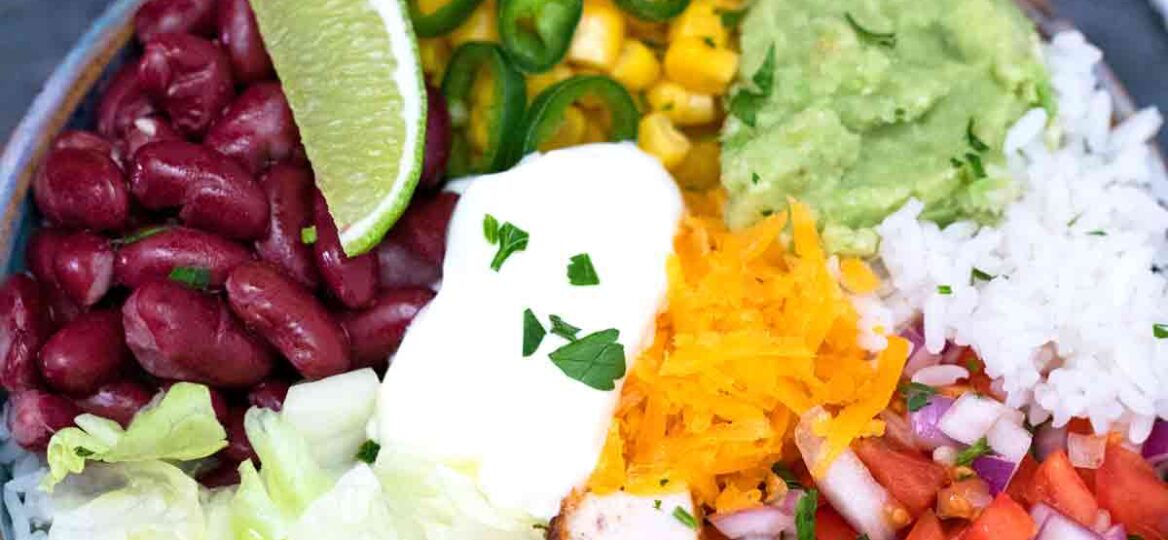 Chipotle Chicken Burrito Bowl Copycat [Video]
Chipotle Chicken Burrito Bowl Copycat is packed with fluffy rice, then piled high with grilled chicken and delicious toppings like cheese, guacamole, black beans, and salsa. Fresher, tastier, and so much cheaper than the one you can get at the chain!
For more spot-on fast-food copycats, try our homemade PF Chang's Crispy Honey Shrimp, Panera Bread Broccoli Cheddar Soup, and Cheesecake Factory Honey Truffle Chicken!
Chipotle Chicken Burrito Bowl
Chipotle Chicken Burrito Bowl Copycat is a firm family favorite. Aside from being absolutely delicious, it's so fun to eat, too. We love laying out all the toppings in little bowls, then letting everyone build their own bowl.
It is packed with so much flavor and so easy to prepare, that I make it weekly Not to mention, that is so much healthier, tastier, and fresher than any other fast food.
Every part of this dish is loaded with flavor. That juicy, grilled chicken is marinated in aromatics, broth, jalapenos, lime, and a ton of bold herbs and spices. You can use plain rice, but Chipotle Lime rice really takes this to the next level. As for the toppings, the sky's the limit!
Is a chipotle chicken burrito bowl healthy?
Yes, especially because we're using fresh, wholesome ingredients, and grilling the meat. However, there are plenty of ways to make it even healthier.
For instance, sub-low-carb cauliflower rice for the grains, or use breast meat for less fat. You can also skip ingredients like cheese and sour cream, or sub them with low-fat or vegan versions.
What's in a chipotle chicken burrito bowl?
Chicken: Use filleted breast or thigh without the bone. We're marinating this with lots of different Tex-Mex spices like chili powder and cumin, adobo sauce, several types of peppers, lime, fresh onion, and garlic, and basic herbs like cilantro. After several hours of infusing the chicken with flavor, we're grilling it to juicy perfection!
Rice: Use brown or rice, or make it extra tasty with Cilantro Lime Rice!
Toppings: You can definitely make your own, but for this recipe, we're going with the classics like shredded lettuce, creamy sour cream, sweet corn, black beans, fresh homemade guacamole, cheddar, Pico de Gallo, and spicy jalapenos.
How to make a chipotle chicken burrito bowl?
Marinade the fillets. First, blend the marinade ingredients into a smooth paste using a food processor. Put this in a bowl together with the meat, and shake up so everything is covered. Chill for up to four hours.
Grill. Next, cook the fillets on a hot grill until brown and lightly charred, and the inside hits 165F.
Build your bowls. We love serving this buffet-style, so everyone can fill their bowls with what they want! Enjoy!
What to serve with:
Recipe variations and substitutions:
Use different types of rice: Aside from brown and white, we definitely recommend enjoying it with Cilantro Lime Rice!
Try different flavorful proteins: Top it with Sofritas, Beef Barbacoa, Carnitas, or Carne Asada. Chicken Fajitas are amazing as well!
Get creative: Stuff it in a burrito, enjoy it as nacho fixings, or fill enchiladas with the components of this dish.
Vegetarian: Use grilled tempeh or tofu as the main protein (you can use the marinade for this, but sub with veggie broth). Use vegan cheese, soy-based sour cream.
What to serve with a chicken burrito bowl?
As for sides, keep the Mexican theme going with dishes like Taco Salad, Mexican Street Corn, and Tortilla Soup. Bonus points for capping the meal with Mexican Wedding Cookies and Horchata!
More Mexican Recipes:
Can you make it in advance?
Sure, but store each ingredient separately. Shred the lettuce just before serving. Make sure to grill the chicken before storing it, because the lime juice can cook the meat if you marinate it longer than 4 hours.
Recipe tips:
Again, don't marinate the meat any longer than 4 hours, or the tart lime juice starts cooking it.
We prefer our chicken without the skin, but you can definitely keep it on. Make sure to crisp it up on the grill. It's so delicious that way!
If you don't enjoy the heat, feel free to leave out the jalapenos and other peppers.
Check the internal temp before serving— if it hasn't reached 165F yet, keep grilling.
Also, I would recommend using a food processor or regular blender to yield a smooth, uniform marinade.
You can also use this marinade for thin strips of steak or pork if you like.
Deliciousness to your inbox
Enjoy weekly hand picked recipes and recommendations