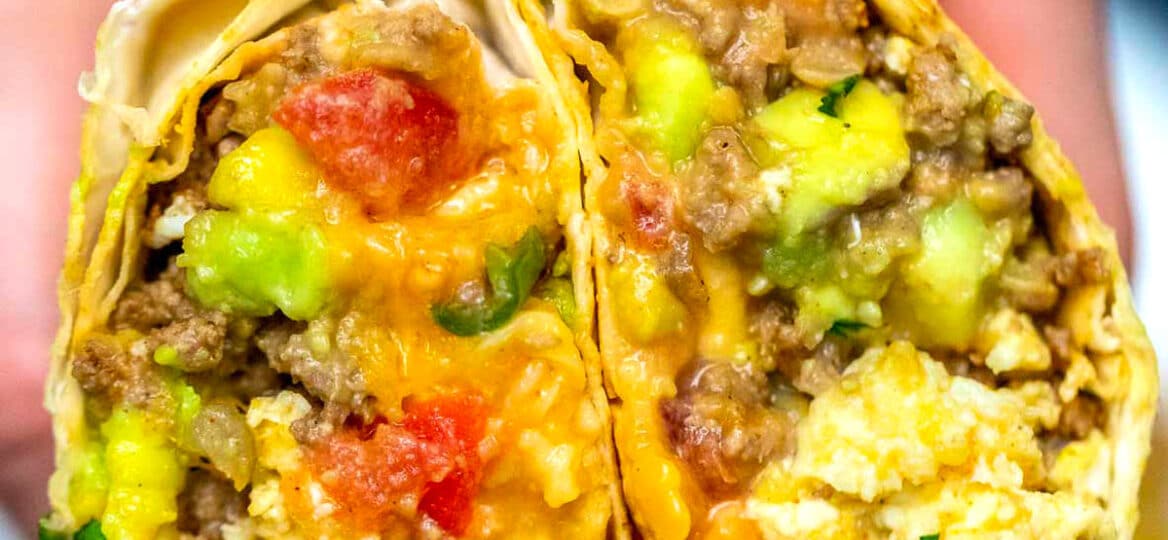 Mexican Taco Breakfast Burrito [Video]
Mexican Taco Breakfast Burrito will brighten up the start of your day! Perfectly zesty and hearty, this filling dish is packed with Tex-Mex flavors!
Who says that you cannot have Mexican food for breakfast? Try this recipe and start your day right! For other breakfast favorites, try also the recipes for French Crepes, Fluffy Greek Yogurt Pancakes, and Snickerdoodle Bread!
Mexican Breakfast Burrito Recipe
Mexican Taco Breakfast Burrito is a bundled-up mix of your favorite filling made with ground beef, scrambled eggs, cheese, tomatoes, refried beans, and avocados! The flour tortilla secures the filling perfectly and is a nice balance to all those flavors.
This breakfast item is so hearty, and they are a joy to eat. It is a nice way of preparing food on the go because you literally just grab it! I like that I get to freeze it, too, which makes preparing it in the morning super quick.
If you have leftover Tex-Mex ingredients, this is a nice way to repurpose all of those. So, if you want to strategize making great dishes without sacrificing quality, include this in your regular menu rotation!
How to Make Mexican Taco Breakfast Burrito
Brown the beef: In a skillet, heat oil and cook the meat until it is no longer pink. Don't forget to drain excess fat. Add the seasonings, aromatics, and the jalapenos. Cook until the beef is browned nicely.
Cook the eggs: In a bowl, combine the eggs and dairy. Melt butter in the skillet and add the eggs. Stir as it cooks, and season it with salt and pepper.
Assemble the burrito: Put about 1/4 cup each of the refried beans, ground beef, scrambled eggs, and cheese. Layer them with the tomato and avocado. Then, roll up the tortilla to secure.
Serve: Serve immediately with hot sauce.
Recipe Variations:
You can do the same technique but different sets of ingredients! Here are the links to my recipes using sausage and bacon instead of beef.
Also, you can switch up the ingredients to include your other favorites like:
black olives
sweet corn
black beans
And you can mix in ground pork, not just beef, in the filling, too!
How to wrap a burrito?
Place the filling near the center.
Fold the tortilla inwards from the left and right sides. These will become the two ends of the burrito.
Then, fold in the bottom side and roll it up.
Secure it with a foil if you must.
Are Taco Burritos healthy?
Yes, they are, if you control ingredients that are high in calories such as ground beef and cheese.
Store-bought ones could have high sodium content. So, it pays that you make them at home so you can control everything, including sodium.
But overall, you get a lot of energy from eating them. They have protein in the meat, carbs from the tortilla, and fiber and nutrients from the beans, tomatoes, and avocados.
Just remember to always consume them in moderation. Feel free to switch up the ingredients with healthier alternatives, too.
What goes with Mexican Taco Breakfast Burrito?
More Mexican-inspired foods:
How to freeze Taco Breakfast Burritos?
Let the filling cool completely before wrapping with the tortilla. This is to prevent it from getting too soggy to freeze.
Wrap each one snuggly in foil.
Flash-freeze them first. Then, put them in a freezer bag.
You can store them for 3 months. To reheat, pop them in the microwave.
Recipe Tips:
Make sure that the flour tortilla is at room temperature so that it does not break on you as you roll it.
Feel free to use whole-wheat tortillas, too.
Make your own refried beans with this recipe!
Deliciousness to your inbox
Enjoy weekly hand picked recipes and recommendations