Best Shrimp Ceviche Recipe [Video]
Shrimp Ceviche is as fresh as the cool summer breeze! It is light, easy, and refreshingly full of seafood goodness, avocado, mango, and a citrus dressing.
With summer just around the corner, here is an amazing appetizer recipe. It will bring you closer to the beach while staying in the comfort of your home! Enjoy it with Jerk Chicken, Homemade Lemonade, and Panna Cotta!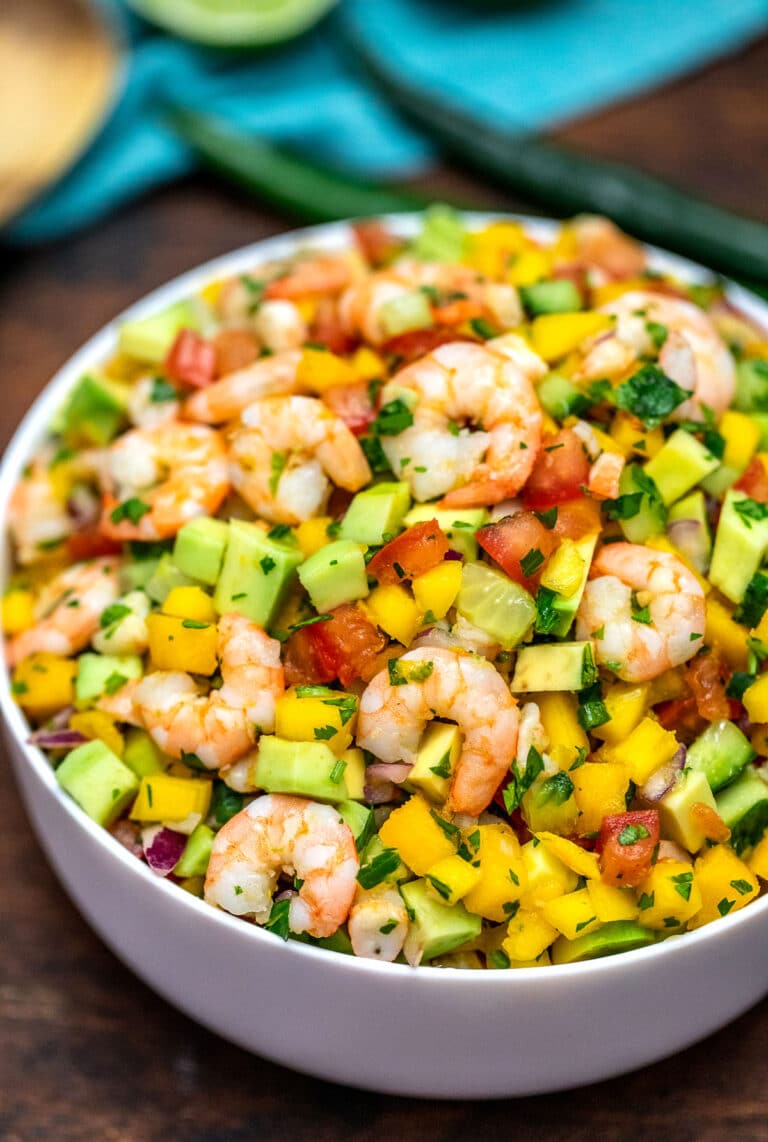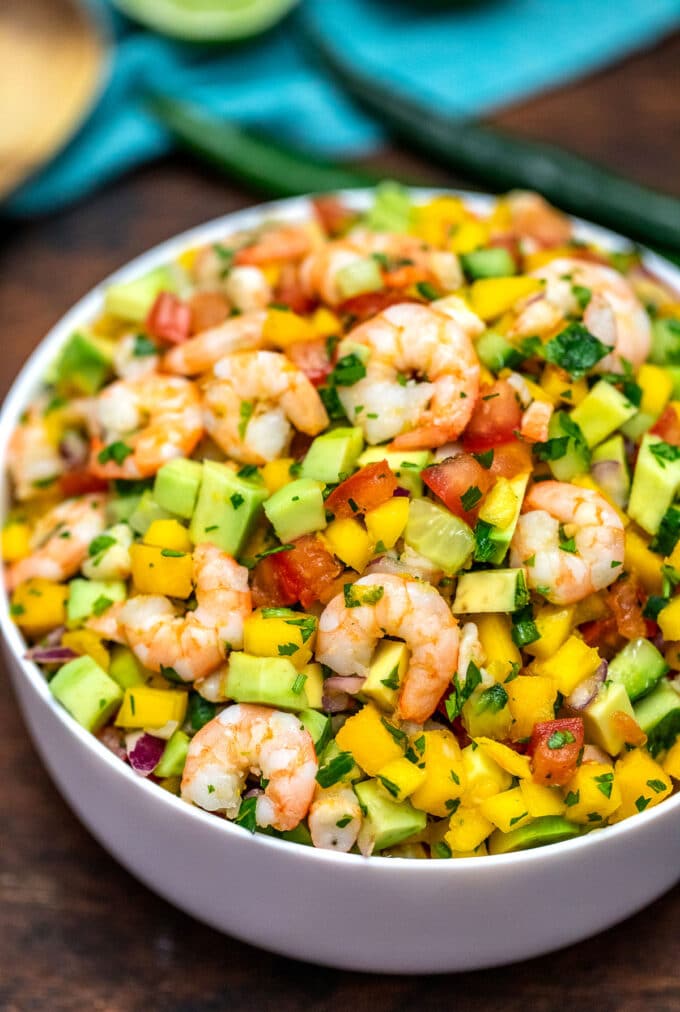 Easy Shrimp Ceviche Recipe
Shrimp Ceviche is full of citrus flavors that meld well with seafood. You can serve it as an appetizer, snack, or even as a light meal since it is packed with fruits and vegetables, too.
It is such a simple recipe that you can make at any given time, even when summer is over. The only difficult part would be waiting until you can taste it after you put it in the refrigerator!
As it marinates, the flavors get distributed throughout the dish and the result is phenomenal! And you get to enjoy it with tortilla chips which provide a nice textural contrast to the cool dish.
So, if you are looking for something zesty with a slight kick, then, this is the perfect recipe for you!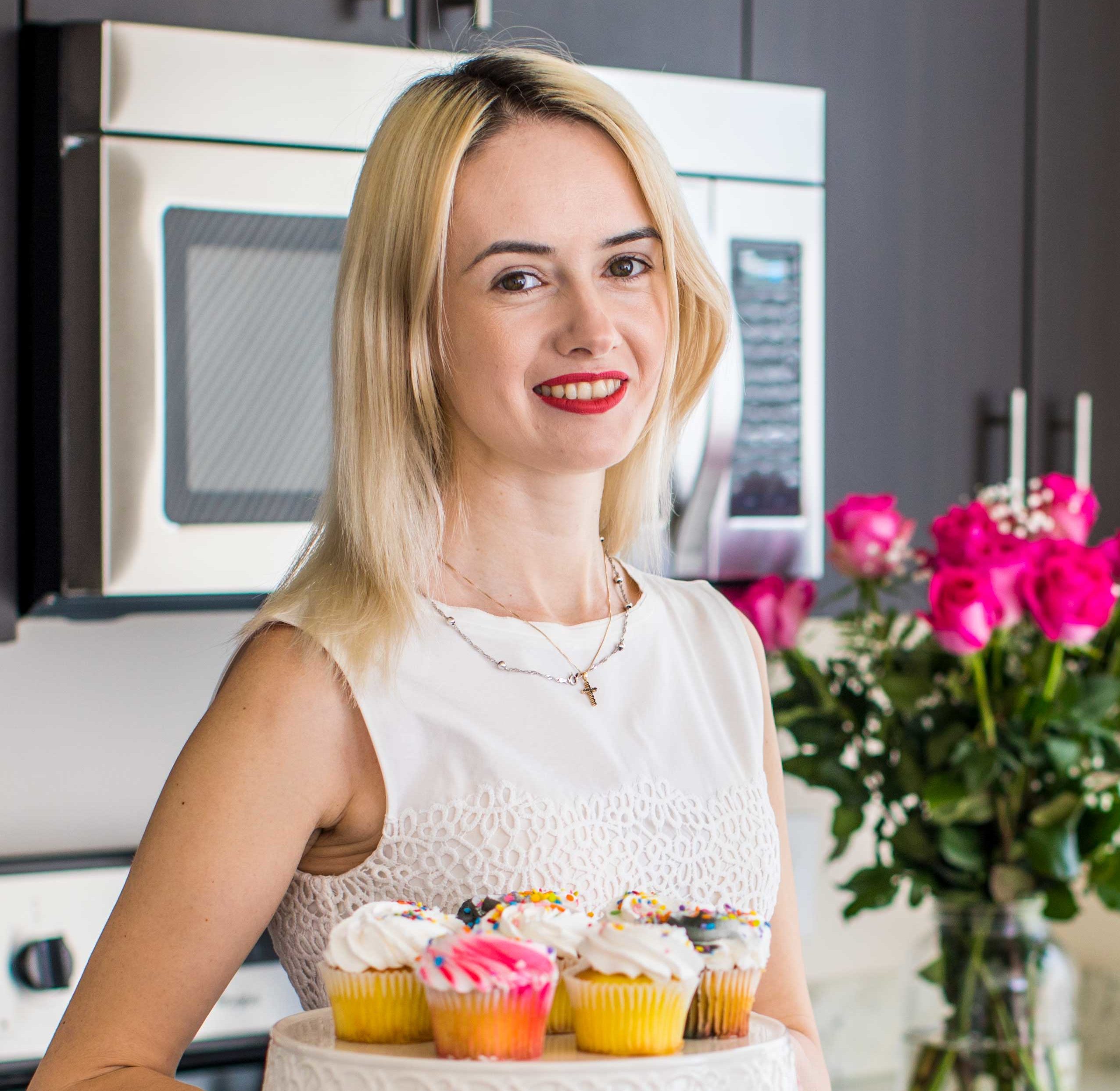 Follow us on Pinterest for more delicious recipes!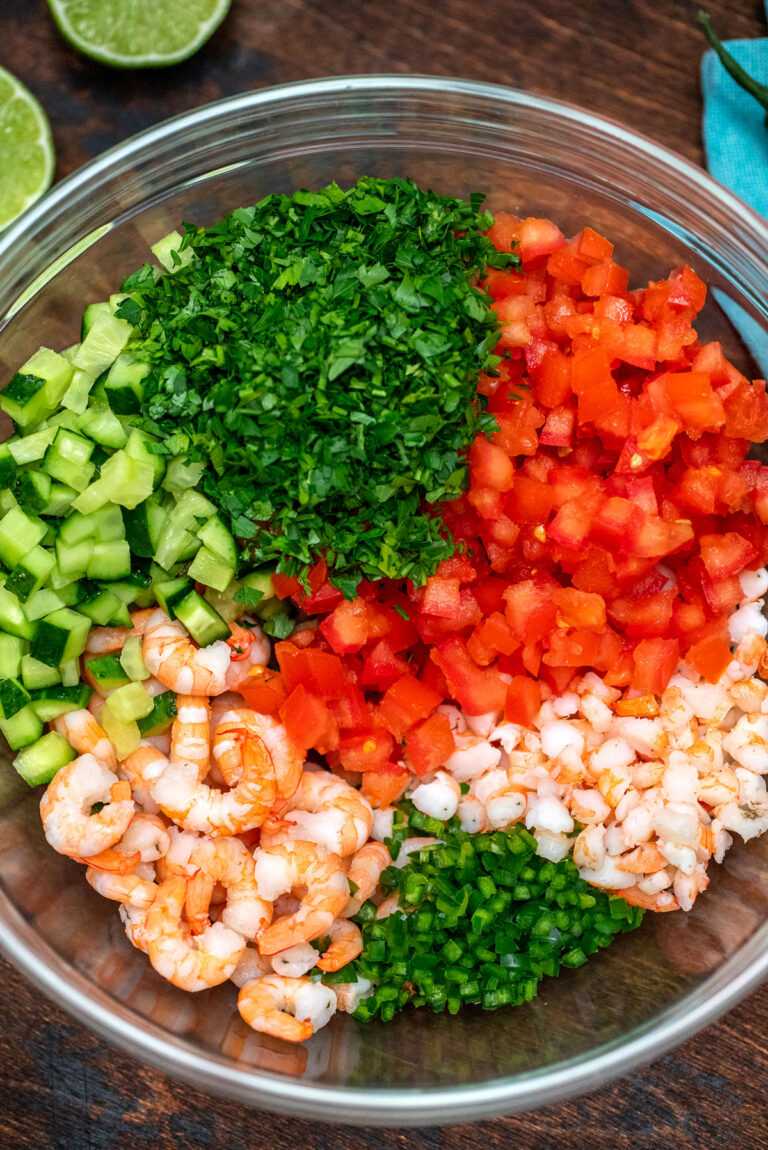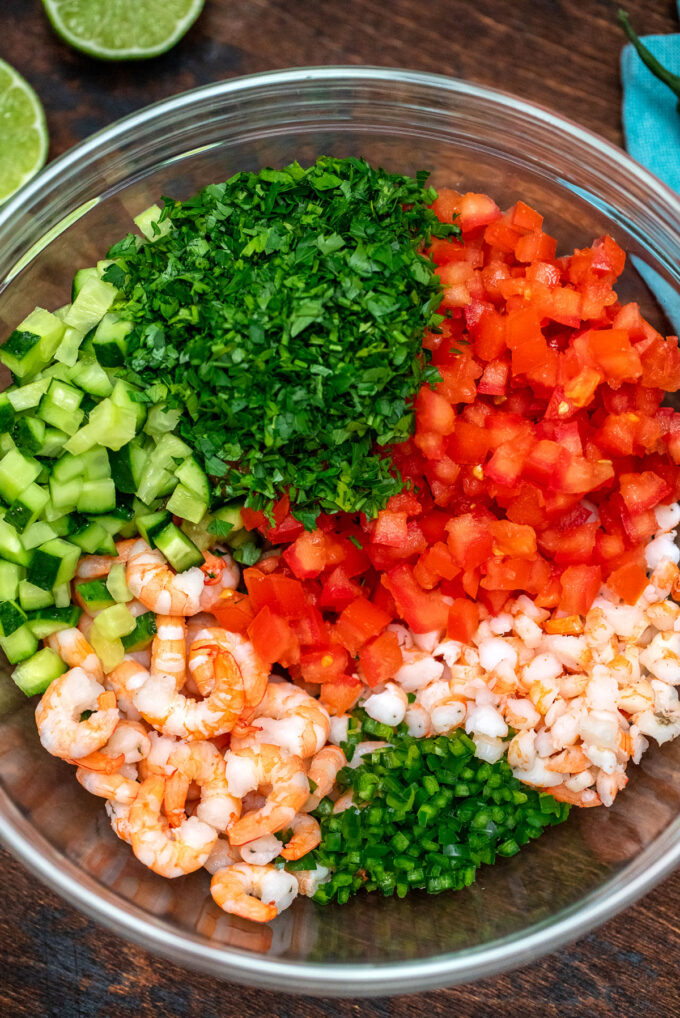 What is the Shrimp Ceviche?
It is shrimp marinated in a combination of citrus, herbs, fruits, vegetables, and seasonings. The technique of "curing" seafood dates to ancient times in various locations around the globe.
And in Peru, the ceviche is their national dish and they even have a holiday for it.
Is the shrimp raw in ceviche?
Yes, it is. But that is for the traditional version. The acid from the citrus, typically lime and lemon, will denature the protein in the seafood to soften it up.
But since consuming the seafood raw raises health concerns, this recipe uses cooked seafood instead.
Can I use frozen shrimp for ceviche?
Yes! While using fresh ones would be preferable, soaking frozen ones in cold water to defrost them completely also works.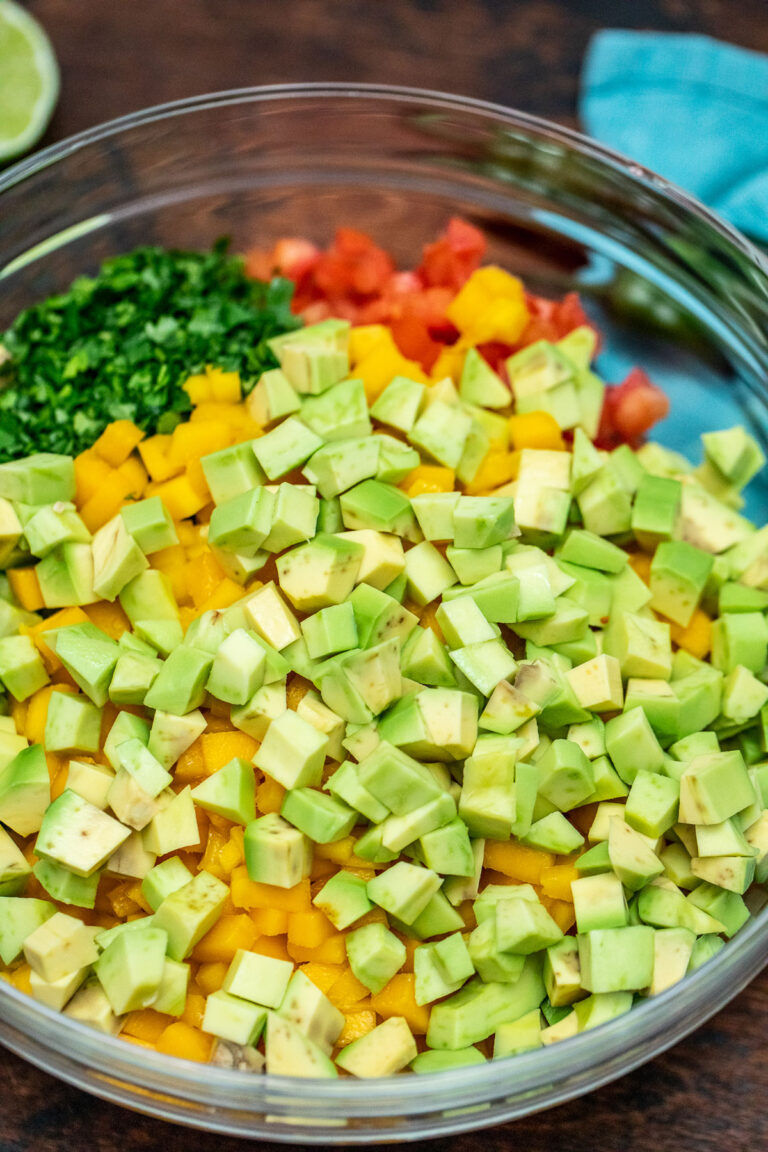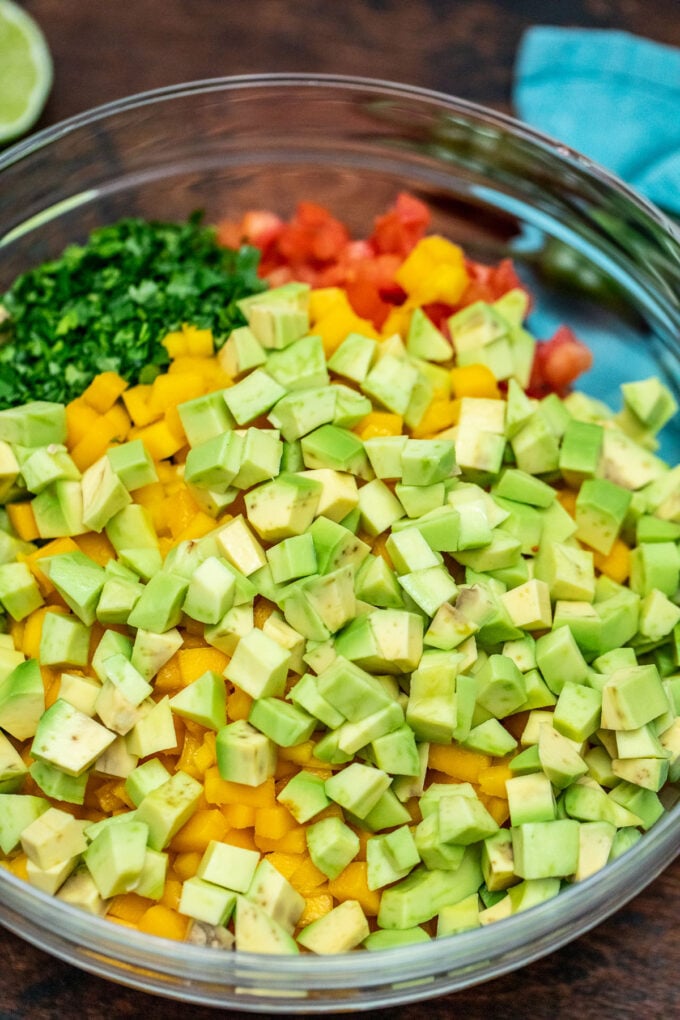 What do you need to make Shrimp Ceviche?
seafood: cooked shrimp
fruits and vegetables: cucumber, tomatoes, mangoes, avocados, red onions, jalapenos,
citrus: lime juice and zest, orange juice
herb: cilantro
others: salt, tortilla chips
How to make Shrimp Ceviche?
Prepare the seafood: Chop half of it and place everything in a bowl. Add in the fruits and vegetables.
Add the citrus: Pour the juices and the zest. Season with salt and toss everything.
Chill: Cover the bowl and chill for 30 minutes to 8 hours. If you will not consume it in the next 30 minutes, skip adding the avocado. Just add it later right before serving.
Serve: Serve with tortilla chips.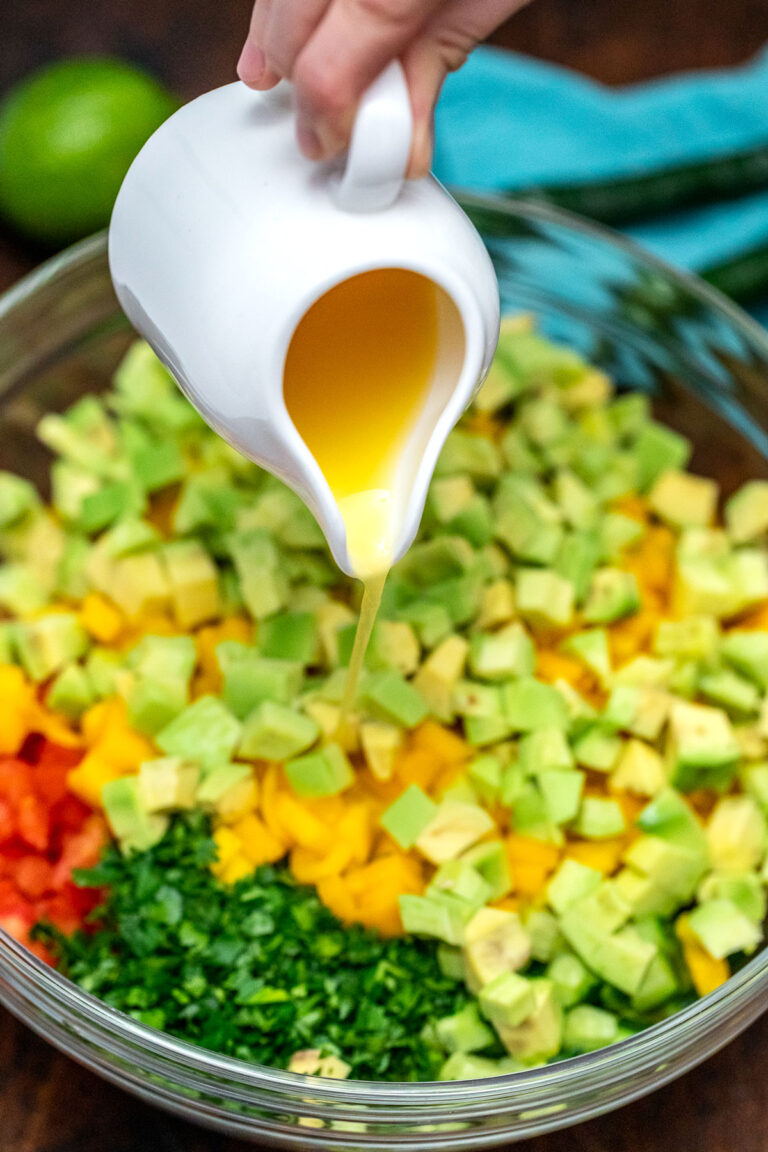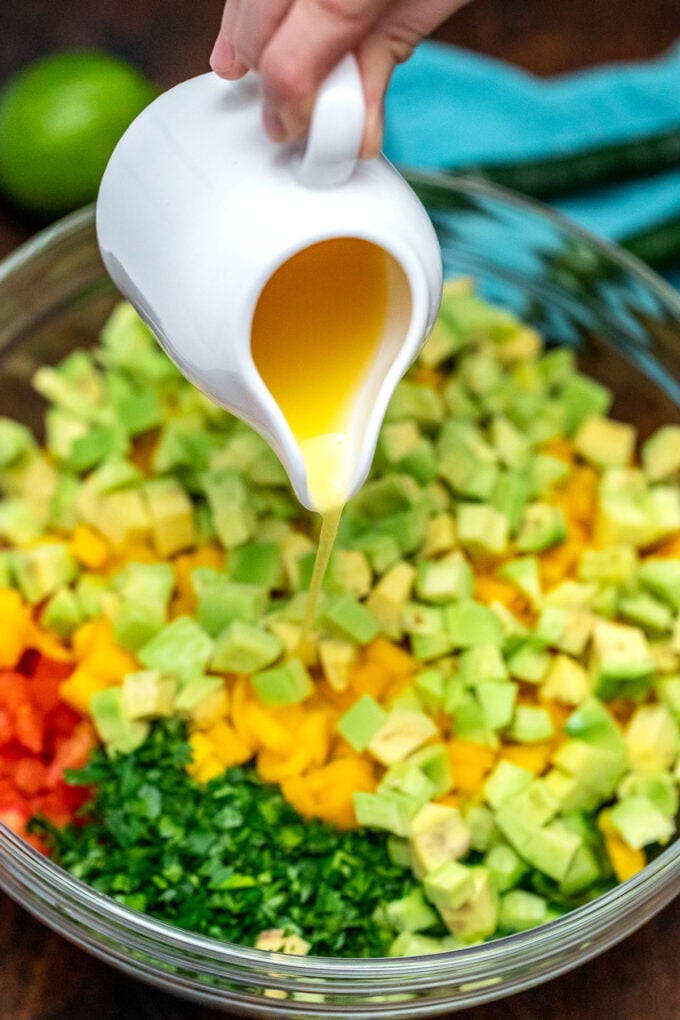 Shrimp Ceviche Variations:
You can apply the technique to other seafood. You can try:
white fish
flounder
scallops
octopus
At the same time, you can mix and match other fruits and veggies like:
apple
corn
green onions
lettuce
sweet potato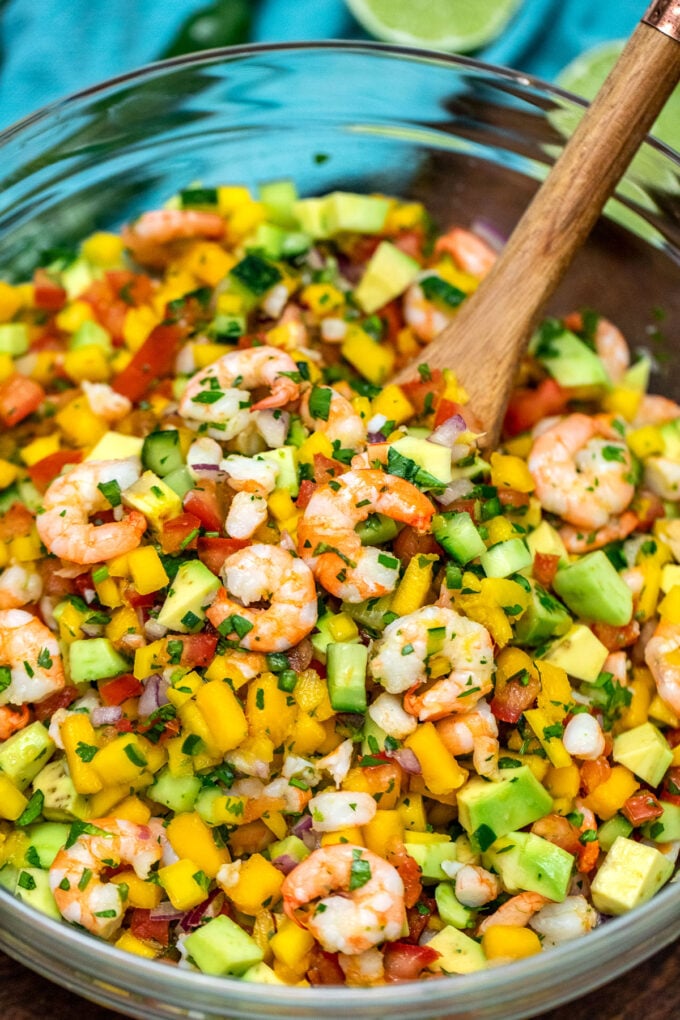 What to serve with Shrimp Ceviche?
Aside from tortilla chips, you can serve it with:
How long does Shrimp Ceviche last?
Make sure to consume it within a day. The avocados oxidize as it sits in the fridge and the cilantro turns the dish bitter.
It is better to make it from scratch each time you want to serve it to ensure freshness.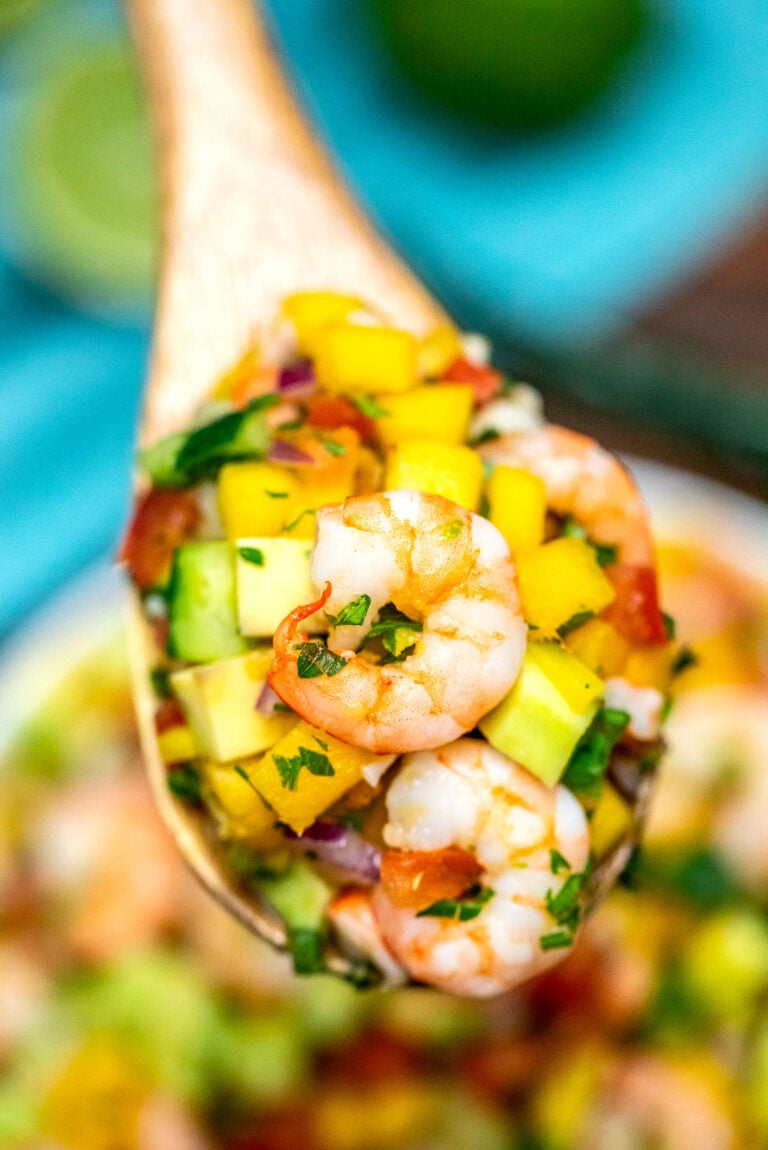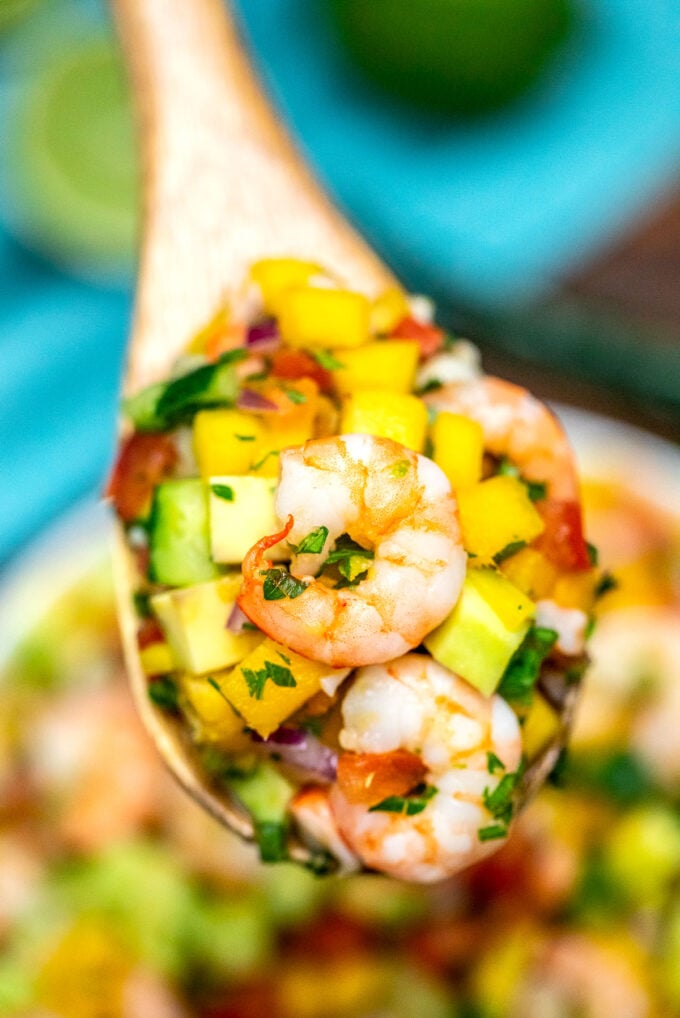 More delicious seafood recipes:
Recipe Tips:
To cook the seafood, poach it in hot water to kill any lingering bacteria. The citrus will continue "cooking" it as it sits in the fridge. Another way is to steam it partially.
When substituting with fish, opt for the freshest, sushi-quality ones.
Rinse the red onions in water to tone down the heat.
Save Recipe
Shrimp Ceviche Recipe
Shrimp Ceviche is as fresh as the cool summer breeze! It is light, easy, and refreshingly full of seafood goodness, avocado, mango, and a citrus dressing.
Author: Catalina Castravet
Serves: 8 servings
Prep time:

30

minutes
Total time:

30

mins
Nutrition information
Calories: 252 Carbohydrates: 18 Protein: 26 Fat: 9 Saturated Fat: 1 Cholesterol: 286 Sodium: 890 Potassium: 651 Fiber: 5 Sugar: 11 Vitamin A: 1266 Vitamin C: 51 Calcium: 190 Iron: 3
Save Recipe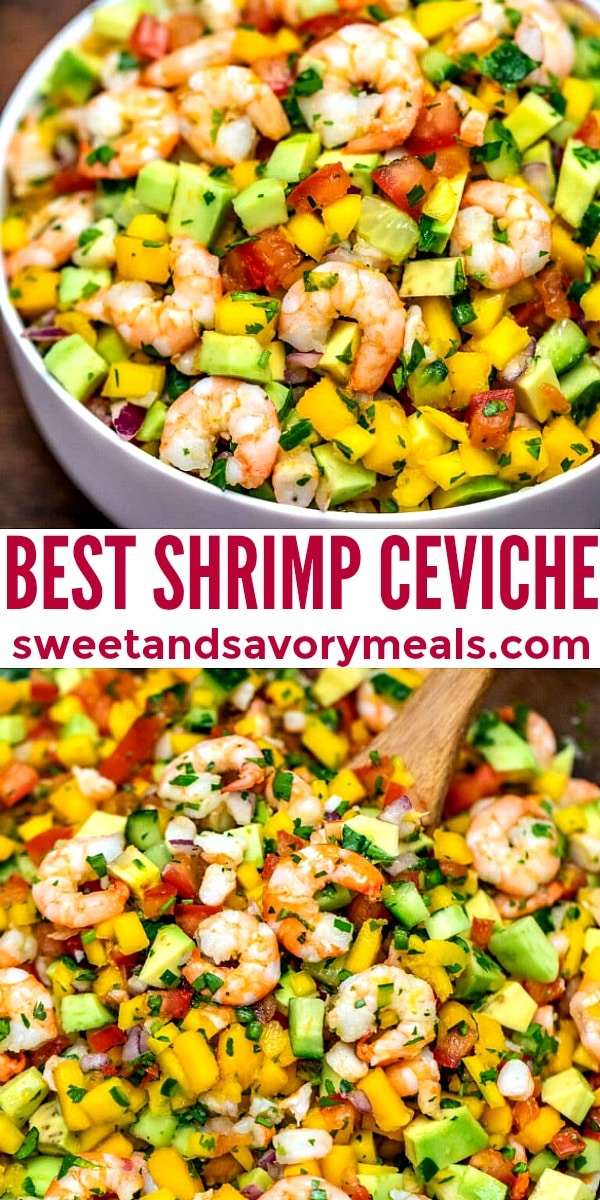 More recipes you might love
Categories: