Panna Cotta Recipe [Video]
Last updated on June 18th, 2021 at 09:31 pm
Panna Cotta is an elegant custard dessert, often served with fruits and a sweet sauce. Make a homemade version that rivals those at Italian restaurants with this recipe!
Italian cuisine offers a rich selection of desserts like this! If you liked my recipes for Baileys Affogato, Strawberry Tiramisu, and Mascarpone Cheese, then, you will also enjoy this recipe for sure!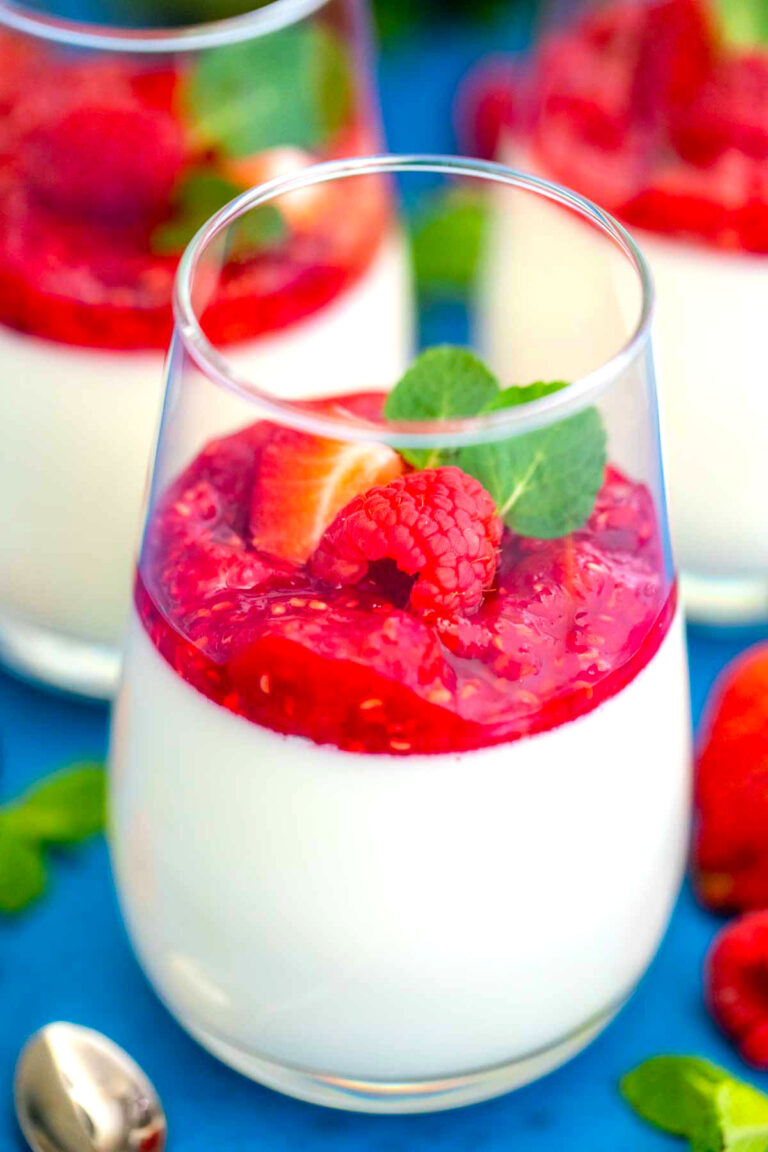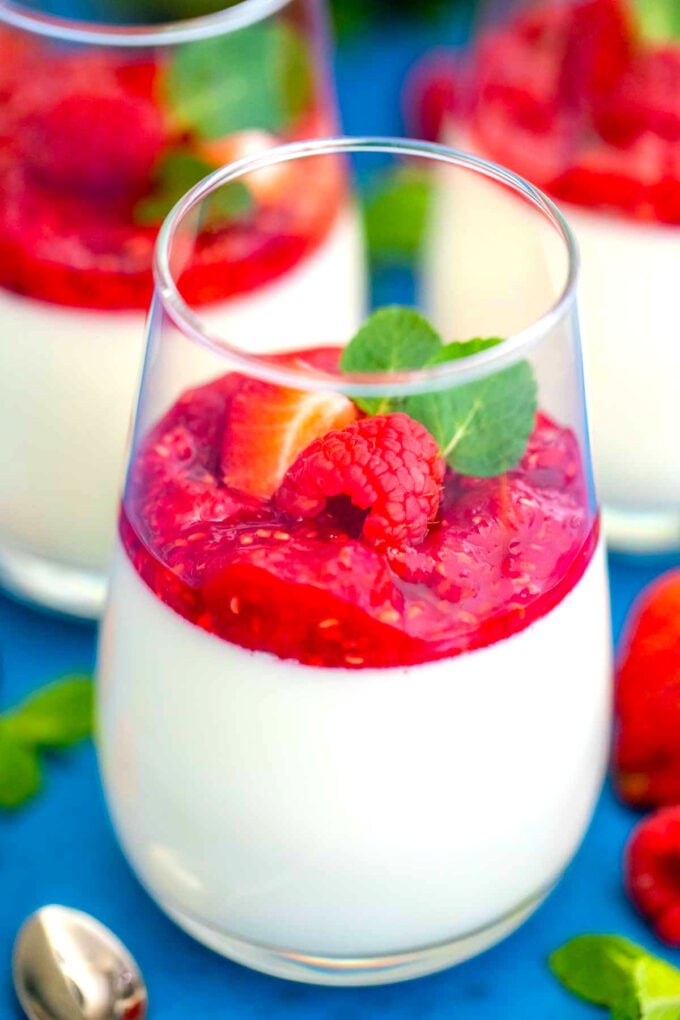 Homemade Panna Cotta Recipe
Panna Cotta is a great dessert because it is not complicated, and it cleanses the palate like a charm. It is pleasant to have after a savory meal.
Since it is best served chilled, it is refreshing making it a perfect summer dessert! But of course, you can have it anytime especially when you know how to make it.
In this recipe, you work with gelatin. And from that, you can already imagine how easy this recipe could be. It could also be tricky but let this recipe guide you. This is a no-brainer surprisingly!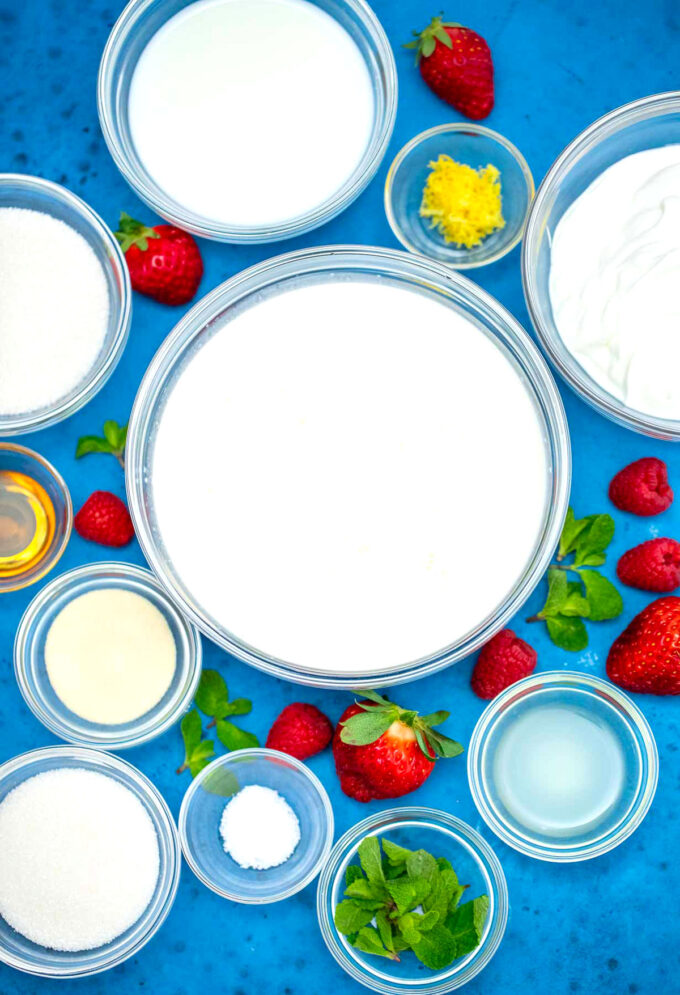 What is panna cotta?
It is a dairy-based dessert made solid with gelatin. Believed to have originated from the Italian northern region of Piedmont in the early to mid-1900s, it became an American favorite in the 1990s.
What is the difference between panna cotta and flan?
Both are sweet but the former offers more variety in terms of the toppings and sauce. Though both can be called custard sometimes, panna cotta has no egg in it, unlike the flan.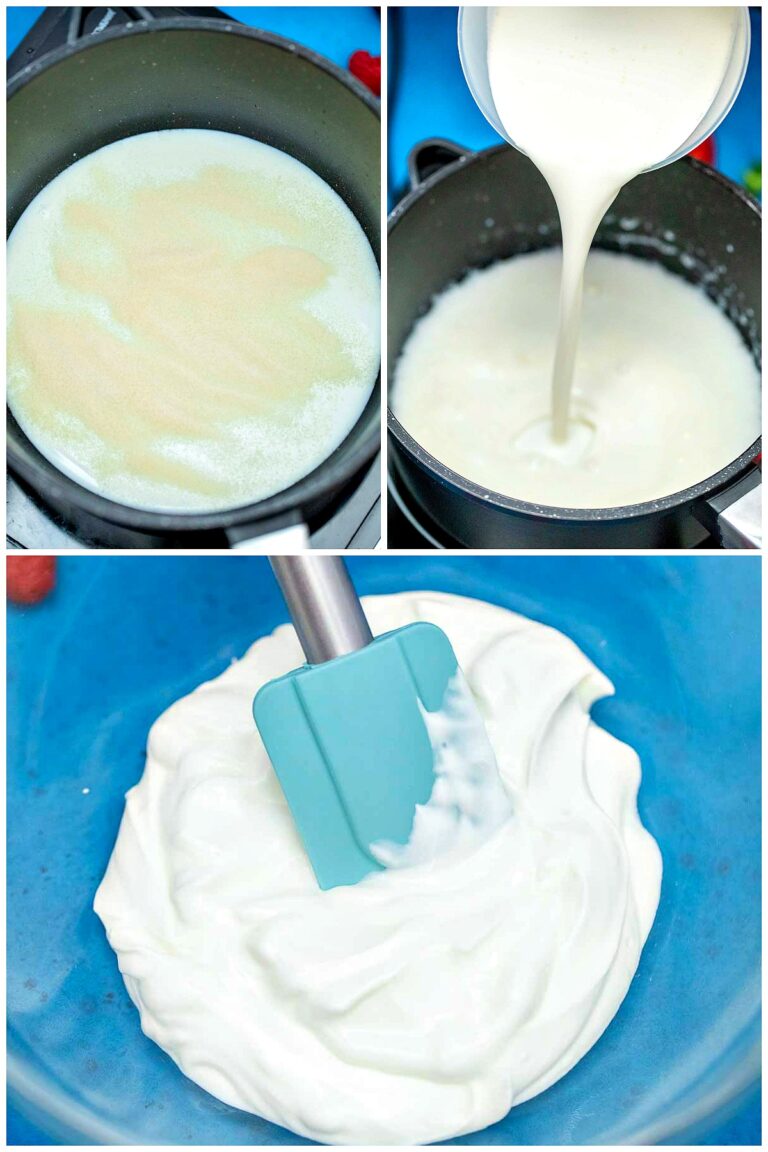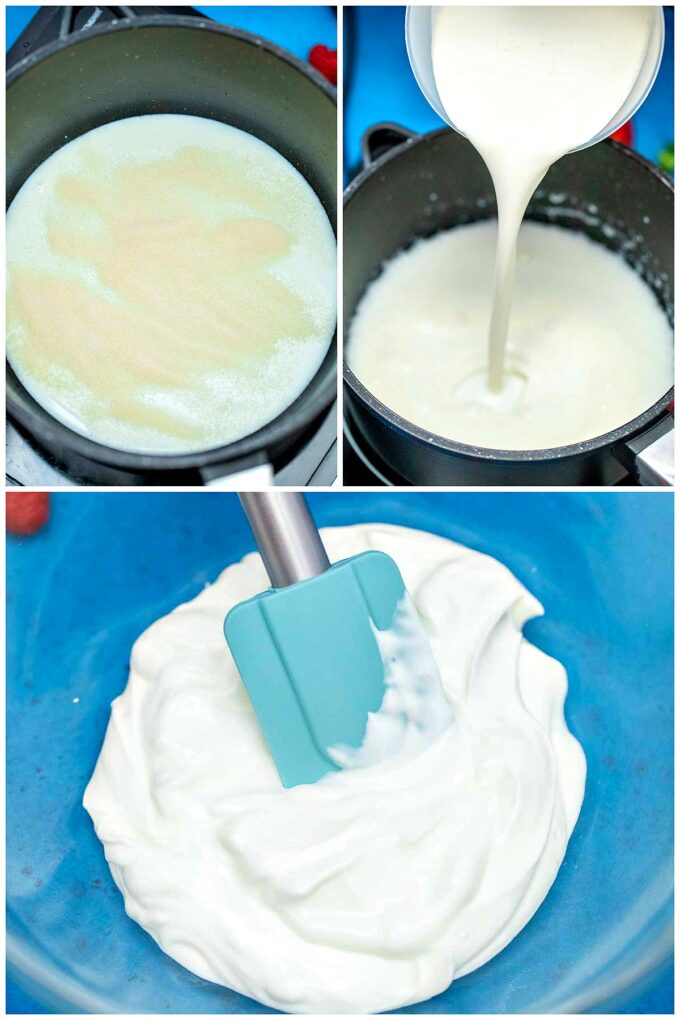 What is panna cotta made of?
Dairy: whole milk, vanilla Greek yogurt, heavy whipping cream
Gelatin: unflavored gelatin or agar-agar as a vegetarian substitute
Flavorings: salt, sugar, vanilla extract
Sauce: raspberries, granulated sugar, lemon juice, lemon zest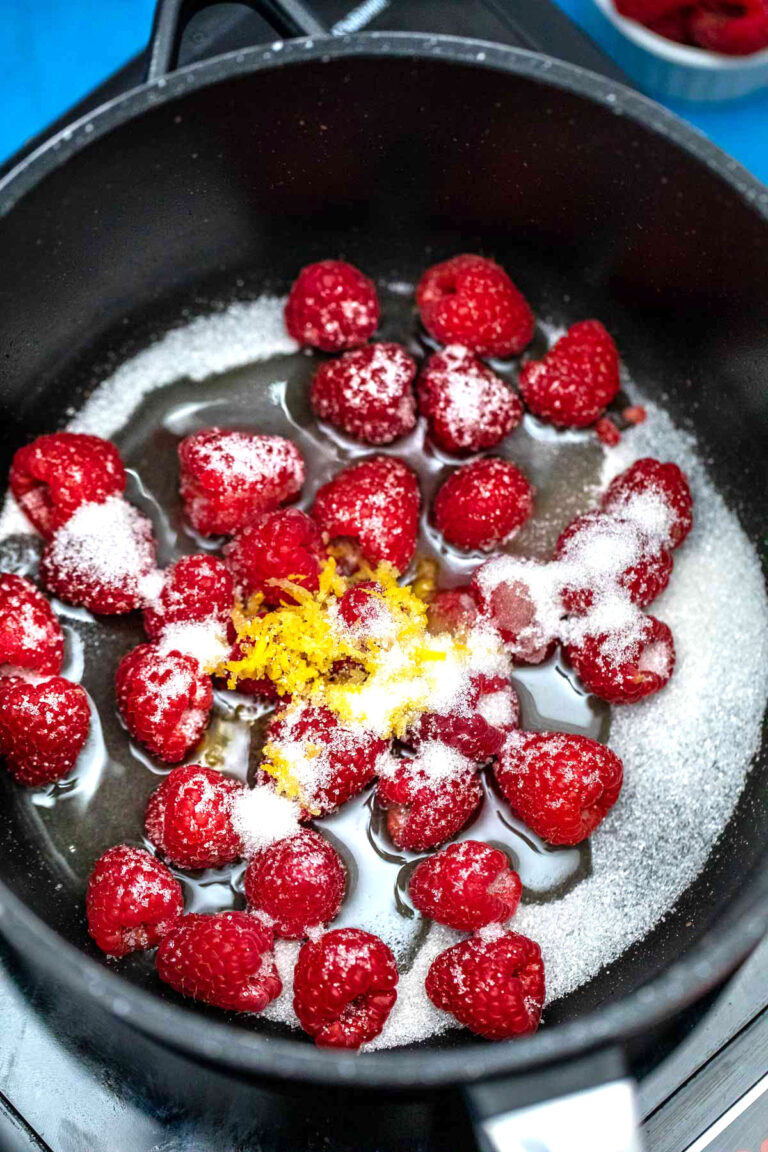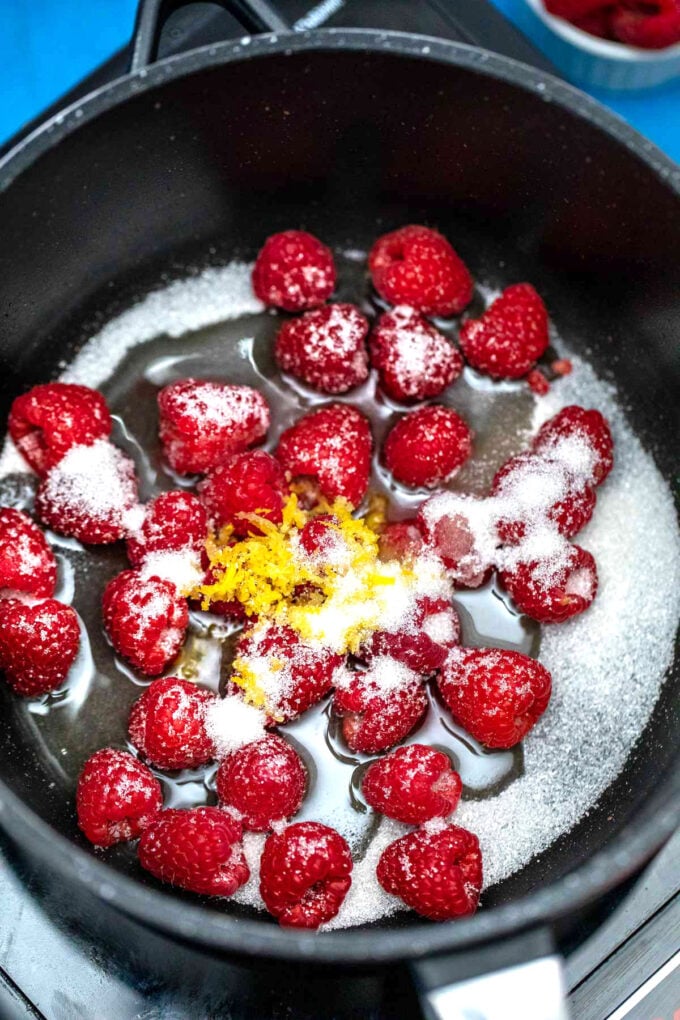 How to make panna cotta
Prepare the milk-gelatin mixture: In a saucepan, combine the milk and gelatin powder. Let it stand for up to 5 minutes before heating the mixture over low-to-medium heat for 4 to 5 minutes. Stir and do not let it boil.
Add the whipping cream: Add the heavy whipping cream and the flavorings. Stir until everything dissolves completely. Again, do not let the mixture boil. Turn off the heat and set aside to cool.
Combine with yogurt: Place the yogurt in a bowl and slowly add the warm mixture while stirring continuously. Once uniform, pour the mixture into your chosen container.
Chill: Refrigerate them to allow the gelatin to solidify. This will take around 4 to 6 hours.
Prepare the sauce: Combine the ingredients using only half of the berries in a saucepan. Let the mixture simmer and cook until it thickens. Stir in the remaining berries and take the mixture off the heat. Allow the mixture to cool down.
Serve: Top the chilled Panna Cottas with the sauce to serve.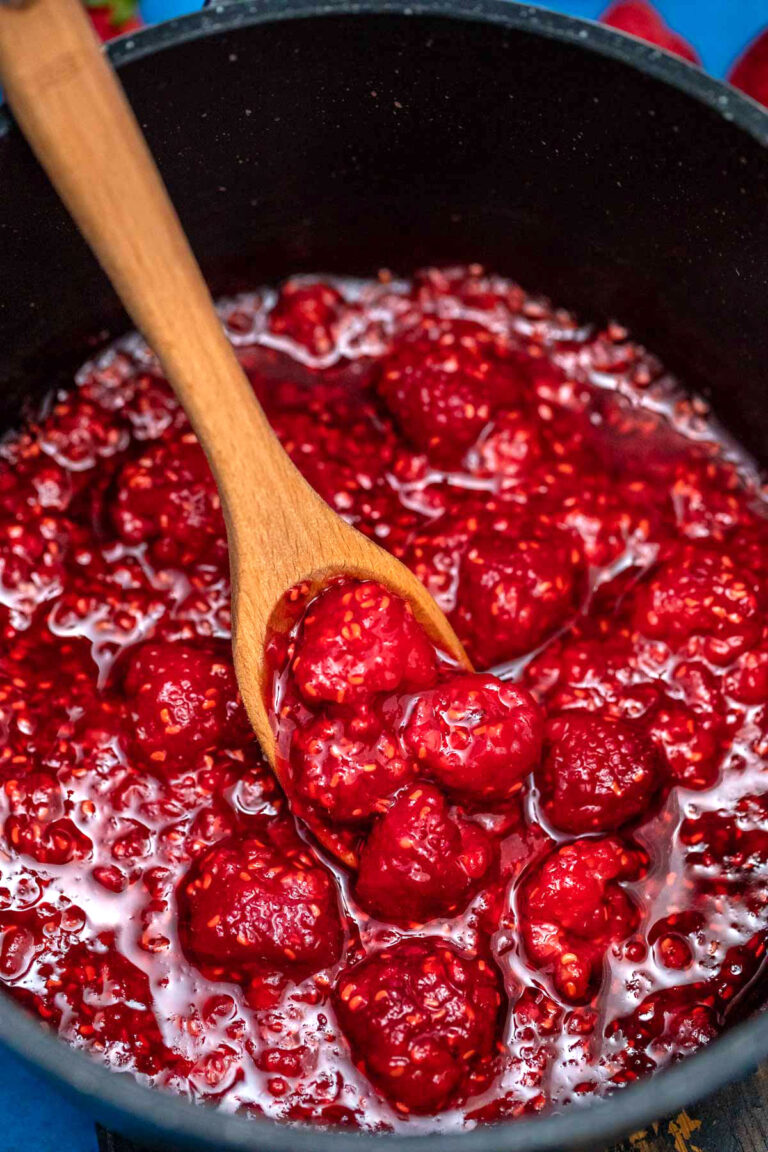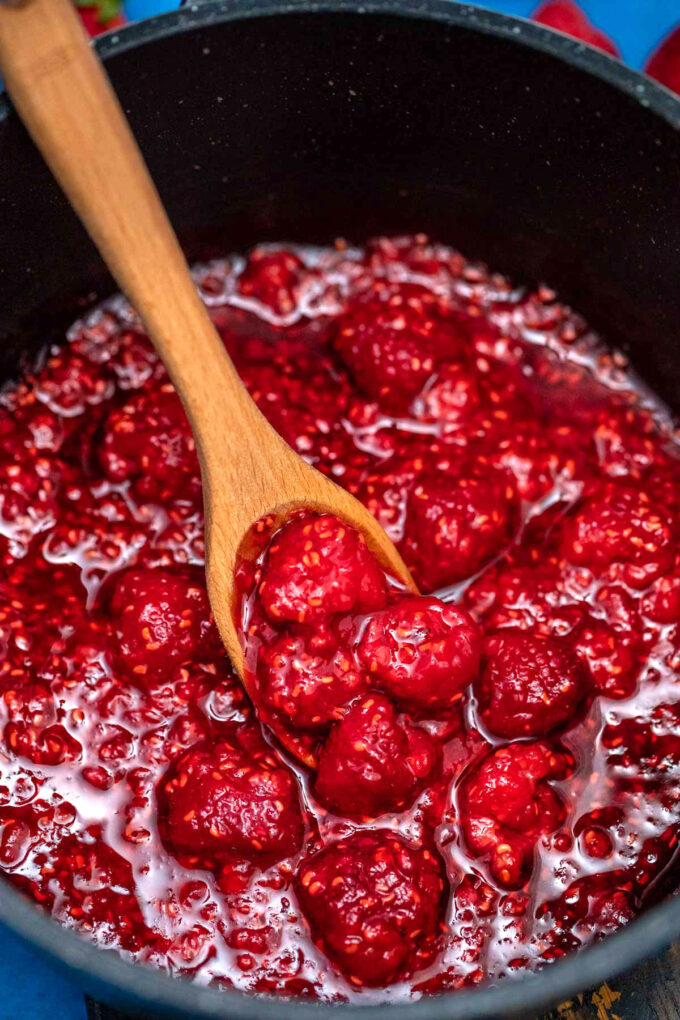 What is the best gelatin to use?
Buy the unflavored ones so that the taste does not interfere with the rest of the dessert.
If you are a vegetarian, you may want to use agar-agar or any other vegetarian substitute. You may also want to experiment on the dairy substitutes if you want to use plant-based milk and cream.
Can you make it ahead?
Yes! Make a huge batch and refrigerate for up to 3 days. Take it out anytime and put the sauce on top, then, enjoy it!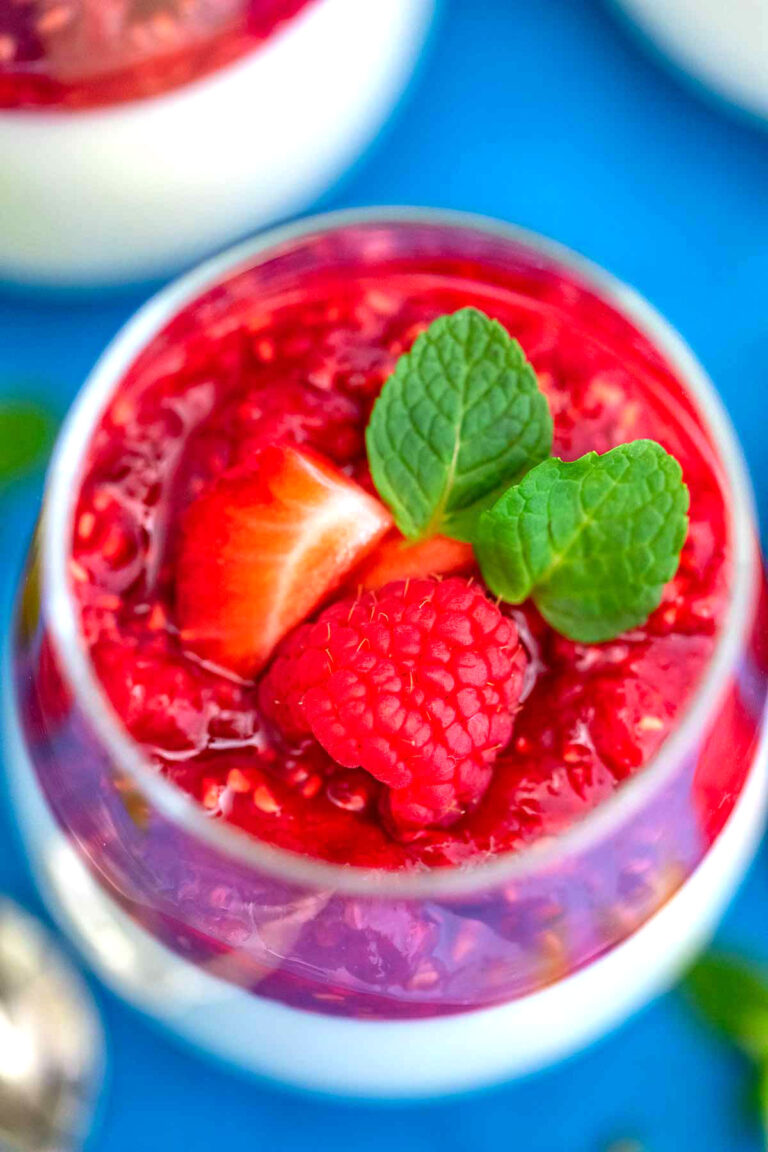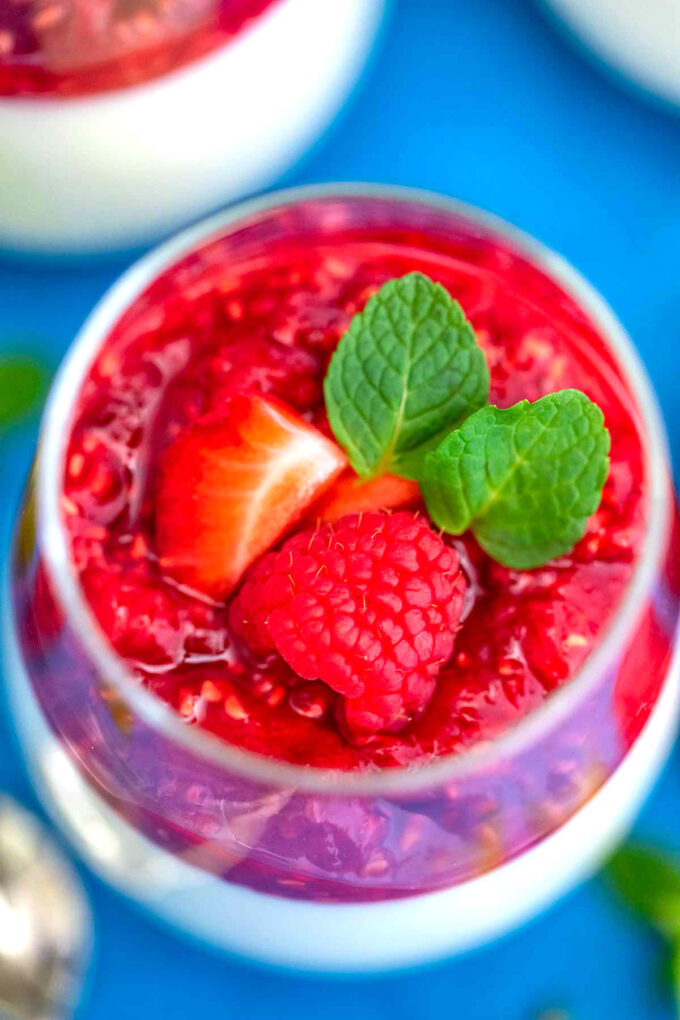 Best toppings for panna cotta:
Berries: Aside from the raspberry, you can also use strawberries, blackberries, and blueberries, or mix and match the flavors.
Fresh fruits: Top it with fresh mango, peaches, or cherries for a refreshing treat.
Sweets: Shaved chocolate, hot chocolate fudge, or caramel sauce can also sweeten up this dessert.
Nuts: Add almonds or other nuts to add a different texture that goes well with it.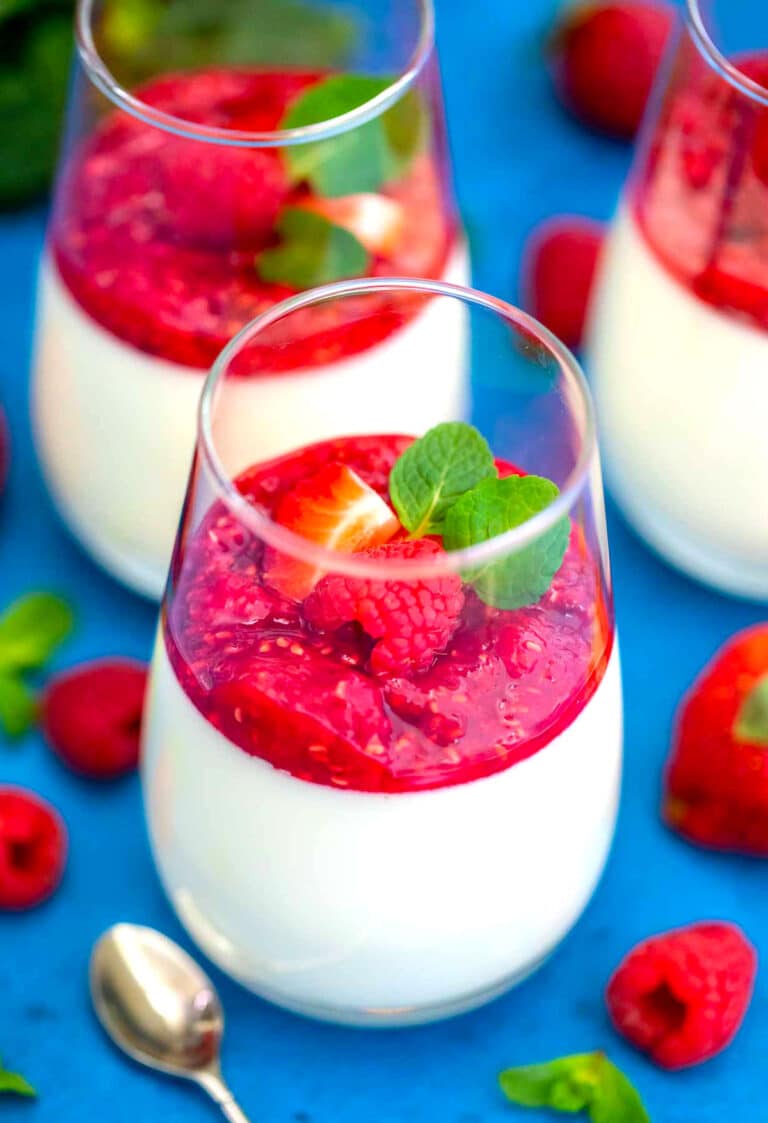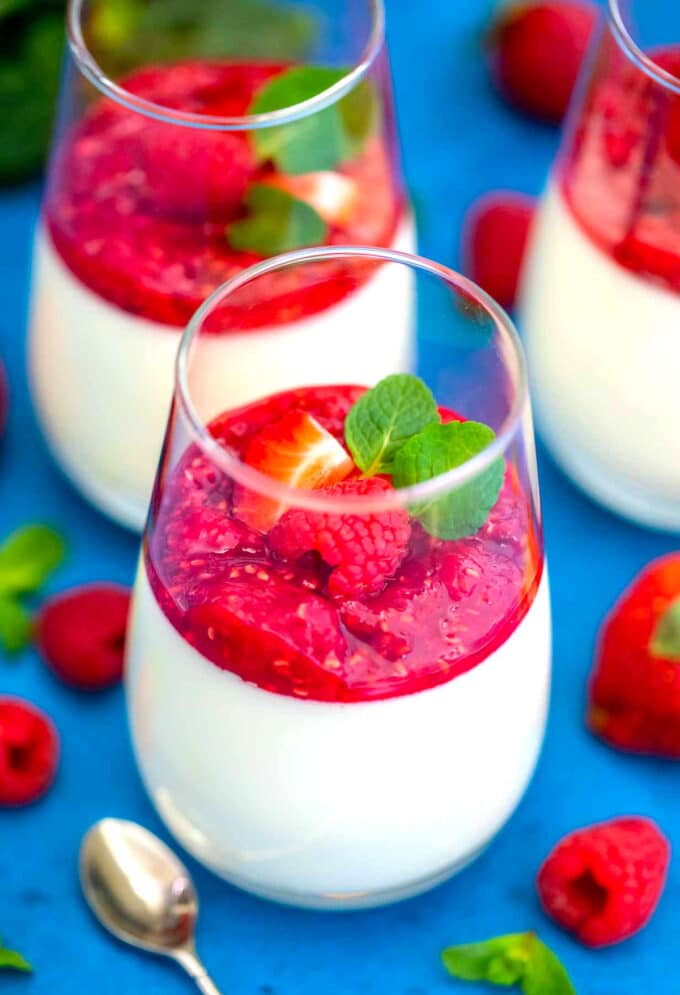 Recipe Tips:
You can serve them directly still placed from the ramekins or wine glasses. Or, transfer them into a plate upside down and top with the sauce. Do this by first warming up the bottom of the ramekin by placing it on a warm water bath for a few seconds. Then, carefully release it to the plate.
Add a fun twist by using molds of different shapes.
Cool the mixture down quickly by placing it in an ice bath right before pouring it into the molds. This way, it will set much faster without the gelatin separating.
I get so many questions about how I learned to take beautiful food photos, so I decided today to share with you a very good source for food photography tips. I get inspiration and learn new things with the help of this website all the time. It is such a great source, you will find inside industry tips and also lots of good advice on camera equipment.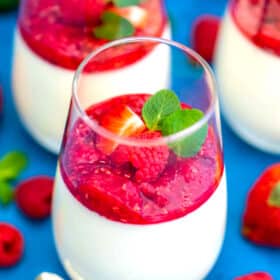 Panna Cotta Recipe
Panna Cotta is an elegant custard dessert, often served with fruits and a sweet sauce. Make a homemade version that rivals those at Italian restaurants with this recipe!
Save
Share
Print
Pin
Rate
Ingredients
Panna Cotta:
1/2

cup

whole milk

2 1/2

teaspoons

unflavored gelatin

(1 packet Knox gelatin)

2 1/2

cups

heavy whipping cream

1/2

cup

white granulated sugar

1/8

teaspoon

salt

1

teaspoon

vanilla extract

1

cup

vanilla greek yogurt

(full fat)
Berry Sauce:
2

cups

raspberries

(blueberries or blackberries)

3

tablespoons

white granulated sugar

1/2

tablespoon

lemon juice

1

teaspoon

lemon zest
Instructions
How to Make Panna Cotta:
Add the milk to a medium saucepan and sprinkle the gelatin on top. Let stand for 3-5 min or until gelatin is softened and bloomed.

Transfer the saucepan to the stove, over medium-low heat, cook and stir until gelatin dissolves, about 5 minutes, but do not bring to a boil.

Still over medium-low heat, add the heavy whipping cream, sugar, vanilla and a pinch of salt. Continue stirring for about 5 minutes, until sugar is fully dissolved, but do not boil. Remove from heat and let cool 5-10 minutes.

Add the yogurt in a medium bowl and whisking constantly, gradually add the warm cream into the yogurt, little by little. Whisk until completely smooth and fully combined.

Divide the mixture between 6 wine glasses let cool to room temperature and after that refrigerate until fully set, which will take 4 to 6 hours.
How to Make Berry Sauce:
In a small saucepan over medium heat, combine 1 cup of berries, the lemon juice, zest, and sugar. Bring to a low boil and stirring cook for about 5 minutes or until the sugar is fully dissolved and the mixture looks syrupy.

Stir in the remaining 1 cup of fresh berries and remove from heat.

Let the sauce cool to room temperature.

Scoop it over the chilled Panna Cottas, top with more fresh berries and fresh mint leaves before serving.
Nutrition
Calories:
196
kcal
|
Carbohydrates:
38
g
|
Protein:
9
g
|
Fat:
1
g
|
Saturated Fat:
1
g
|
Cholesterol:
7
mg
|
Sodium:
116
mg
|
Potassium:
271
mg
|
Fiber:
3
g
|
Sugar:
35
g
|
Vitamin A:
244
IU
|
Vitamin C:
11
mg
|
Calcium:
158
mg
|
Iron:
1
mg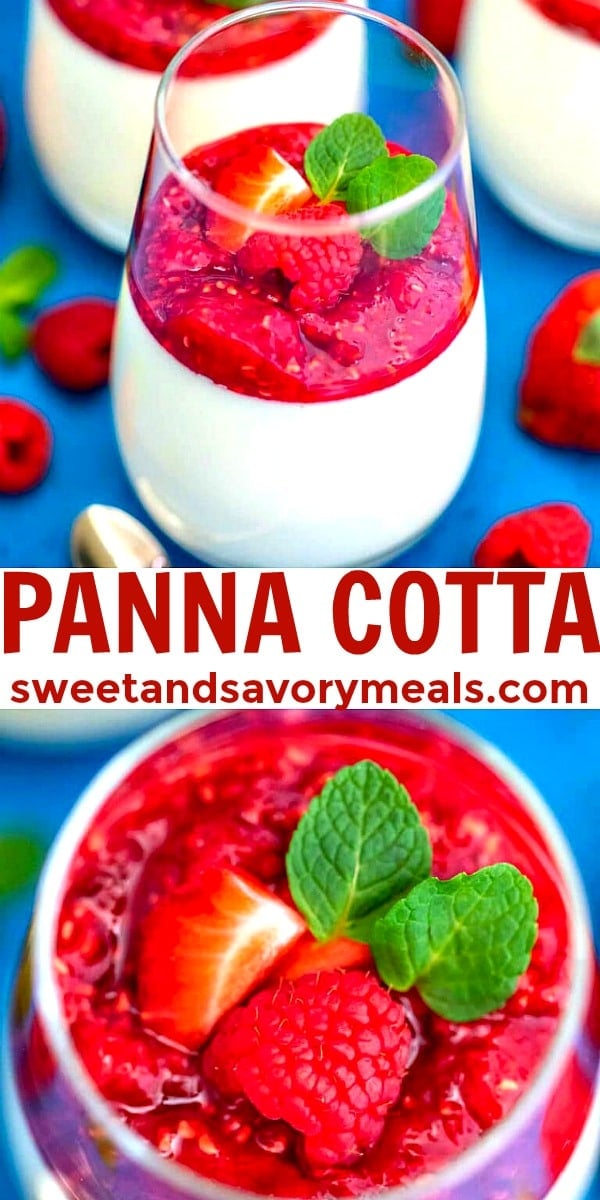 More recipes you might love