Strawberry Tiramisu Recipe [video]
Strawberry Tiramisu is a refreshing no-bake summer dessert made with fresh strawberries. This classic Italian dessert is easy to prepare and super delicious!
This dish goes well after a sumptuous meal like our Grilled Potatoes, BBQ Pork Chops, and Blackened Chicken.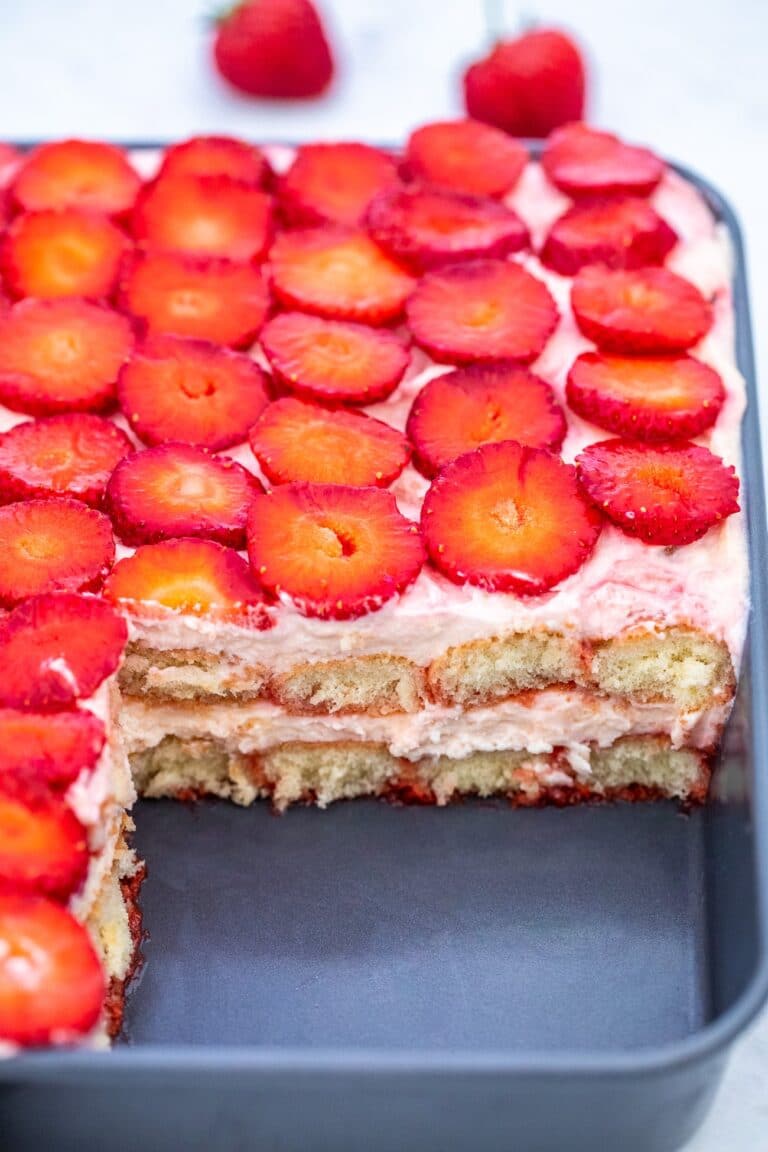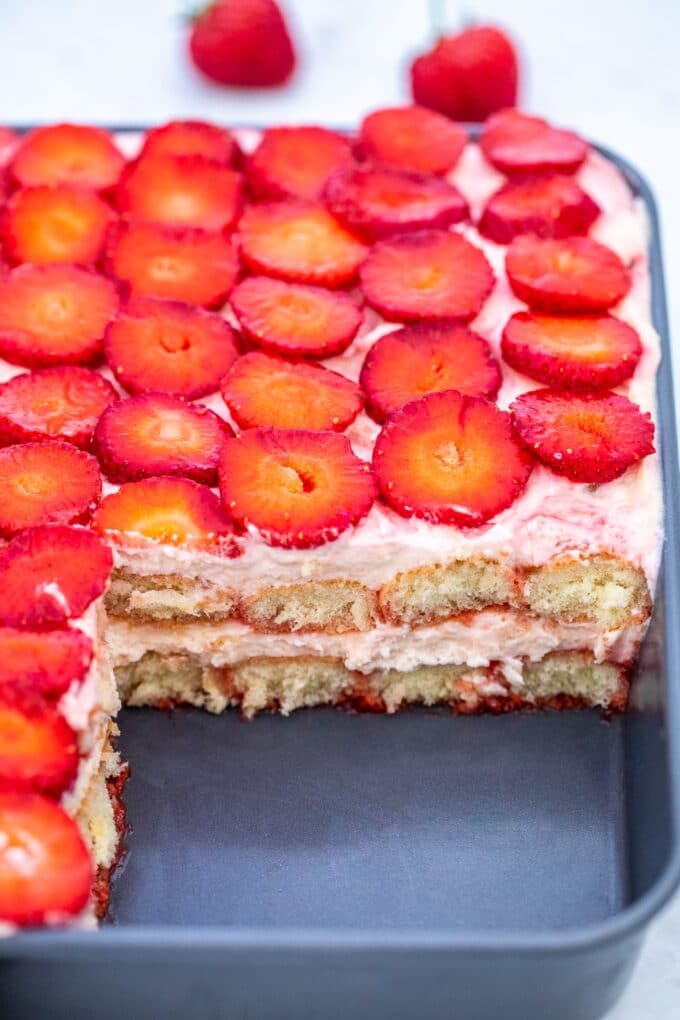 Easy Strawberry Tiramisu Cake
This Strawberry Tiramisu Cake is made with just a few ingredients, without coffee, but with lots of strawberries in it! Overloaded with this summer fruit, this dessert offers a balance of sourness and sweetness that is perfect for your parties this summer.
We recommend making it with the freshest strawberries, especially when in season. It is creamy and delicious, yet tangy because of the mascarpone and lemon juice to balance all that sweetness.
This recipe also has no liquor, so you can feel free to serve it to the kids. Everyone always loves this easy dessert when I bring it to a picnic or party. Also, it is very colorful, and you can make it in advance and simply refrigerate.
What is Tiramisu?
It is an Italian dessert made with several layers of cream and ladyfingers. Traditionally, it has coffee, wine, and rum in it. But this easy recipe is a more wholesome version popular for kids and grownups alike than the original recipe.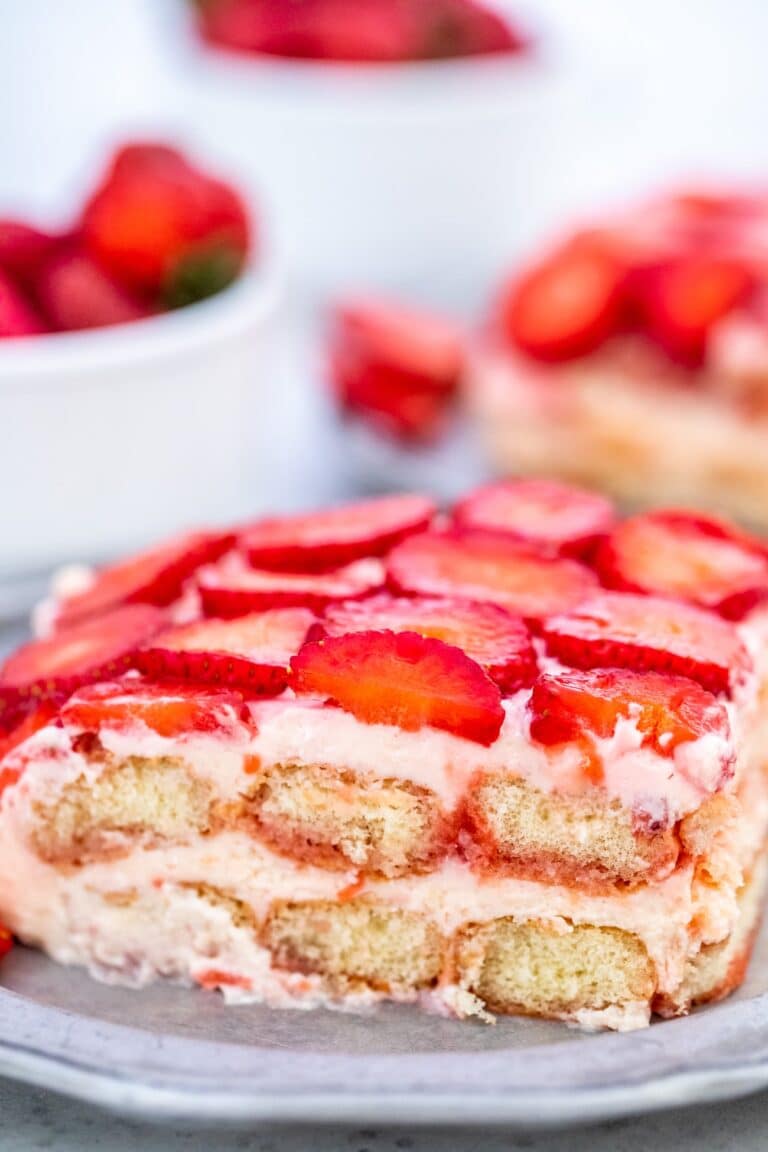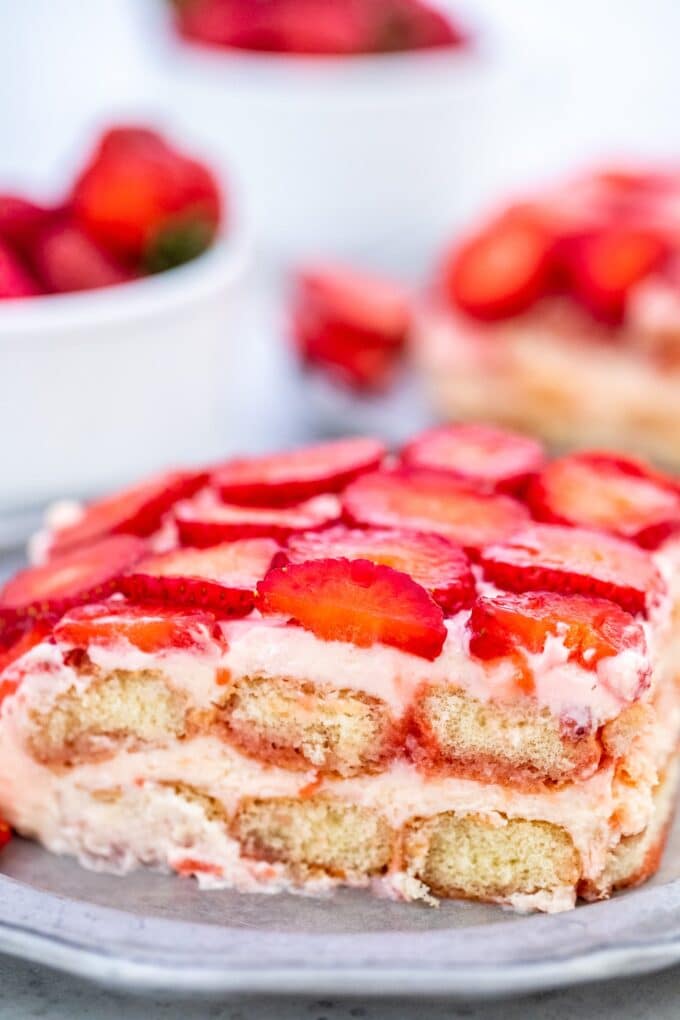 How do you make Strawberry Sauce?
This is where you will dip the ladyfingers before layering. To prepare, simply blend in a food processor the following ingredients: strawberries, sugar, and lemon juice.
How do you make mascarpone cream without eggs?
If you cannot find this Italian commodity in stores near you, making it at home is a great alternative. All you need is heavy cream and combine it with lemon juice. For every cup of heavy cream, use a tablespoon of lemon juice.
In a saucepan, let the cream simmer, then, whisk the lemon juice until thickens. This will take roughly 13 to 15 minutes. Once thick, transfer it to an ice bath to cool.
Next, in a bowl, put in a lined sieve or cheesecloth, and pour the cooked cream. Cover it and refrigerate for 24 hours. What comes out is whey that is filtered out and what remains on the cheesecloth is your mascarpone cheese.
Use an airtight container to store it in the refrigerator for up to 5 days.
How do you make Strawberry Tiramisu?
Make the sauce: Simply whisk together strawberry bits, sugar, and lemon juice.
Prepare the mascarpone cream: For the creamy layer, mix together egg yolks, sugar, and mascarpone cheese using an electric mixer. Then, fold in the white chocolate and strawberry bits. Add the whipped egg whites and whipped cream.
Dip the ladyfingers: Coat each ladyfinger by dipping it in the sauce.
Layer: In a pan, assemble layers of alternating ladyfingers and mascarpone cream.
Refrigerate: It is very crucial to chill it for at least five hours.
Put the toppings: Once chilled, top with a layer of strawberry slices and you can also add some shaved white chocolate.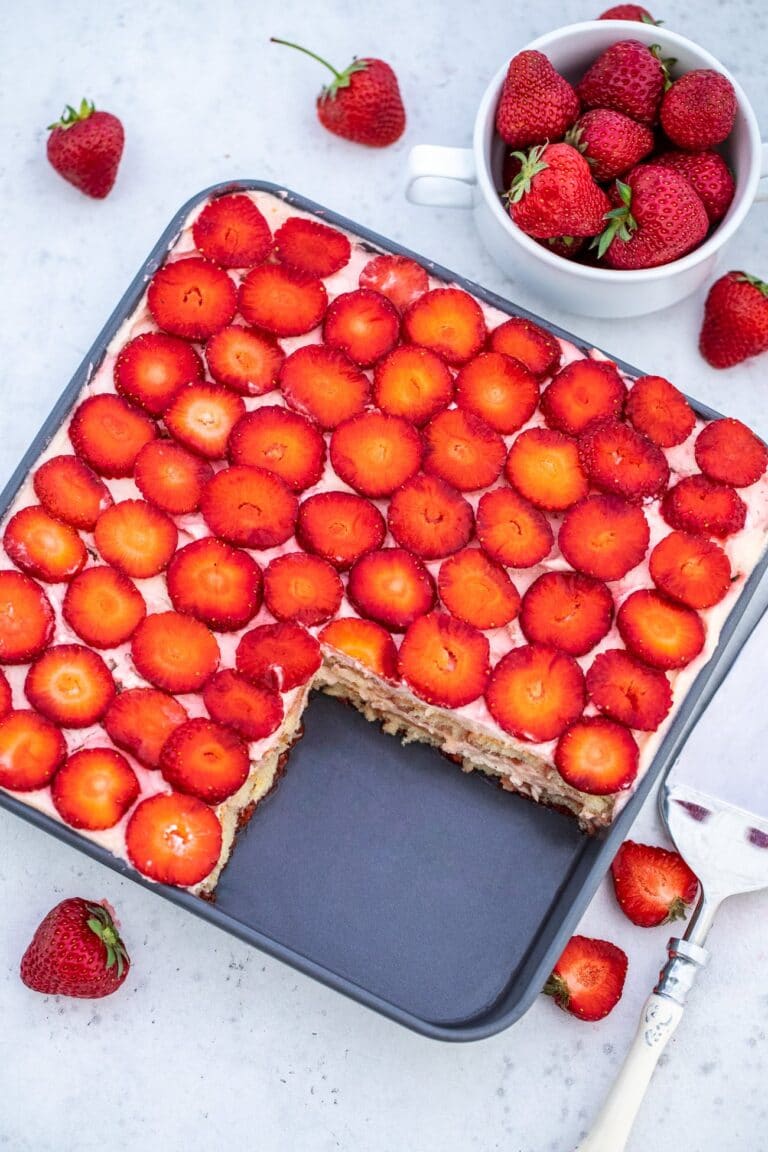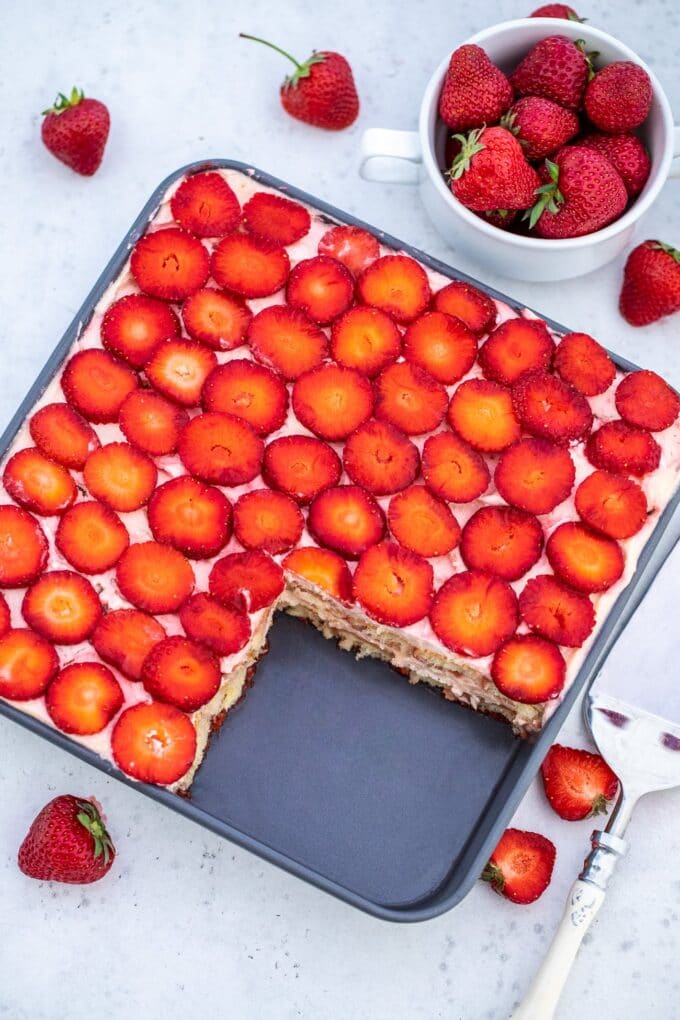 How do you fix a runny tiramisu?
One way to fix it is to refrigerate the cake. If you have leftovers, refrigerate it for up to two days. However, this does not guarantee that it will not be runny.
In addition, if you have assembled it and it turns out runny, blot it with some paper towels to remove the excess water. Also, keep it chilled.
Alternatively, if you have not assembled it, drain off the excess water. Then, chill the cream prior to using it when layering. You can also add unflavored gelatin.
Can you make Strawberry Tiramisu in advance?
Yes! This is the perfect dessert to make in advance. Simply, place a plastic wrap directly on the surface and cover it tightly. Then, store the cake in the refrigerator for up to 4 days. It will taste just as delicious as the first day!
Can you freeze it?
Transfer to an airtight container or freezer dish. Then, freeze for up to 3 months. Defrost in the refrigerator overnight prior to serving.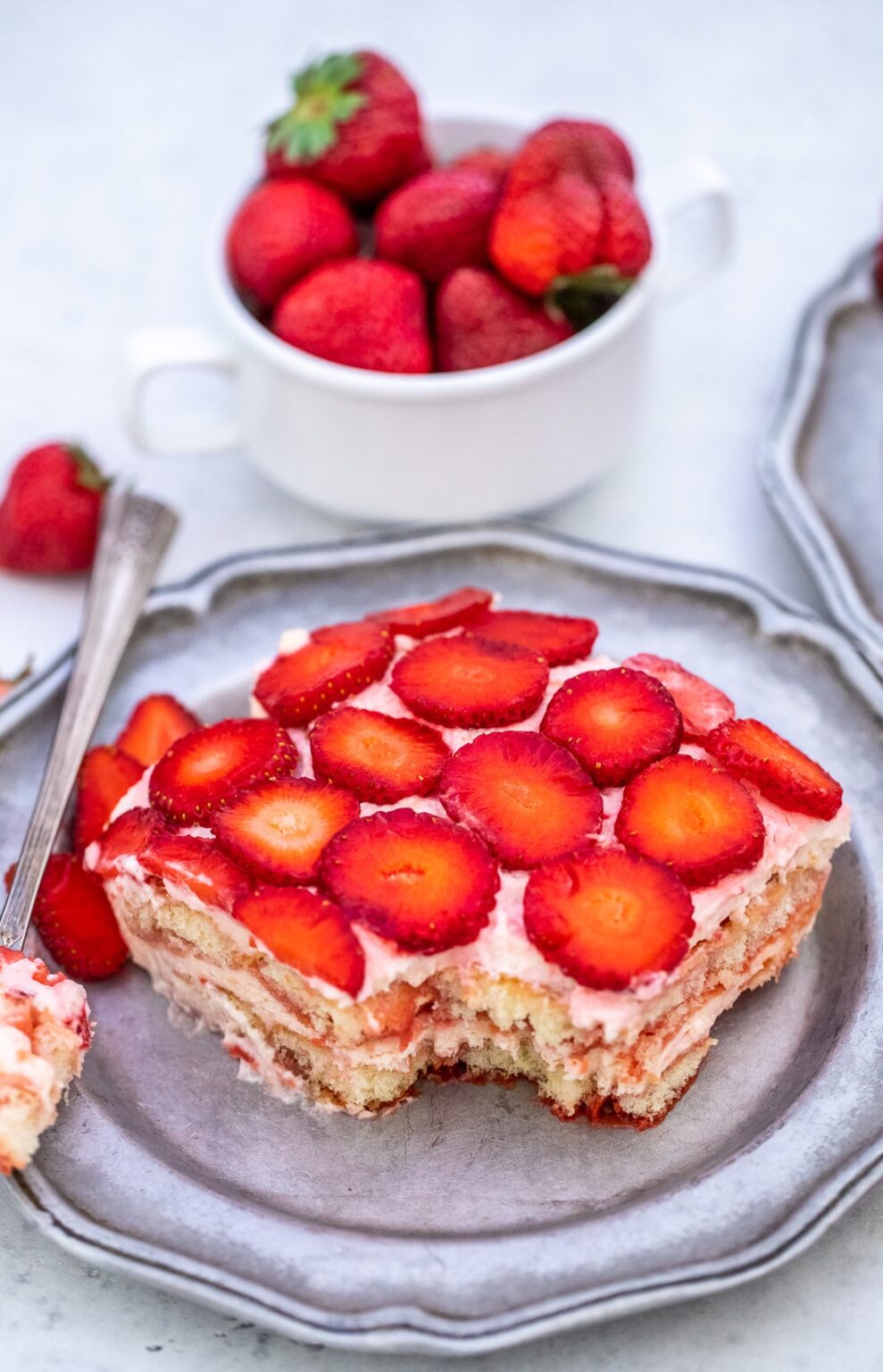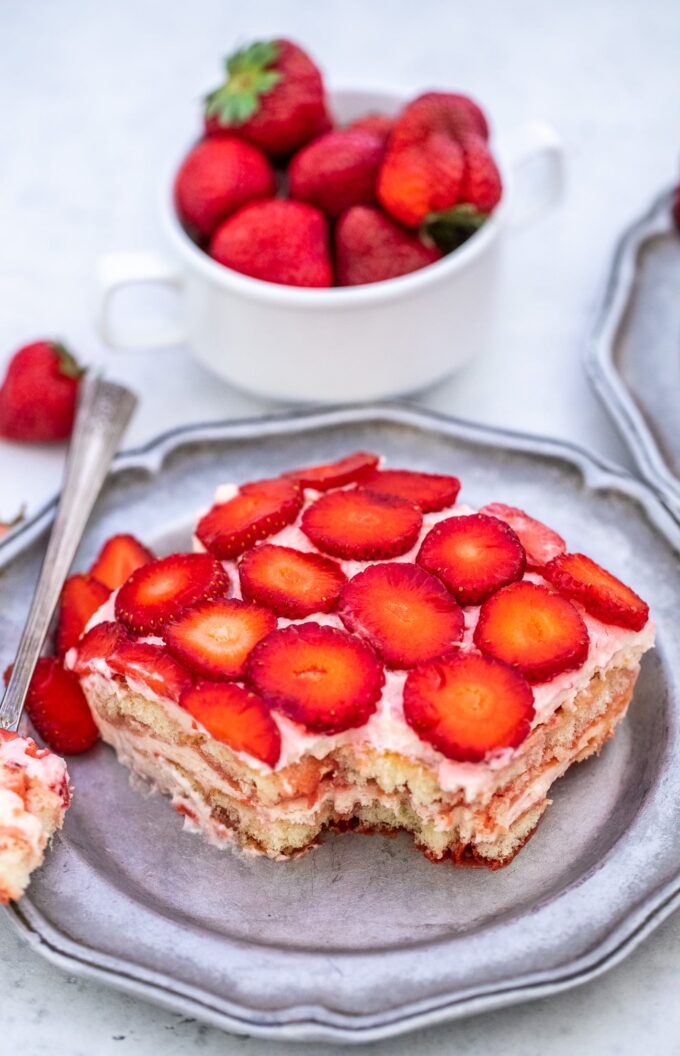 Recipe Tips
If you have leftover mascarpone, you could use it as a cream substitute for pasta dishes.
Also, when letting the tiramisu rest in the refrigerator, do not exceed the 8-hour mark to prevent it from being runny.
The whole thing will be runny if you soak the ladyfingers in the sauce. Instead, just coat the outside such that the inside is still firm. We recommend using hard ladyfingers instead of soft ones. The soft ones will get mushy after a day in the fridge. Therefore, look for good quality hard Italian ladyfingers, they are called Savoiardi.
Mascarpone cheese is an Italian cream cheese that is different than American cream cheese. Also, it has a different texture and consistency. Therefore, we strongly recommend sticking with mascarpone and not substituting it.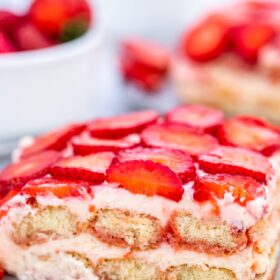 Strawberry Tiramisu
Strawberry Tiramisu is a refreshing no-bake summer dessert made with fresh strawberries. This classic Italian dessert is easy to prepare and super delicious!
Save
Share
Print
Pin
Rate
Ingredients
Strawberry Sauce:
3

cups

strawberries

1/2

cup

sugar

1

lemon

(juiced)
Strawberry Cream:
1

lb.

mascarpone cheese

(room temperature)

4

ounces

cream cheese

(room temperature)

1

cup

sugar

1

3.5 oz package

strawberry pudding mix

1

teaspoon

vanilla extract

8

ounces

whipped topping
Topping:
1

pint

strawberries

(sliced)
Instructions
Strawberry Sauce:
Wash the strawberries and pat them dry, only after the core and slice them.

Add sliced strawberries to a medium bowl, sprinkle with sugar and drizzle with let juice. Toss and let sit for 30 minutes.

Add the strawberry mixture to a blender or food processor and blend until smooth. Transfer the strawberry sauce to a shallow bowl and set aside.
Strawberry Cream:
Add mascarpone cheese, cream cheese and sugar to a large mixing bowl. Using a hand mixer, whisk on medium speed until combined. Scrape the sides and bottom of the bowl.

Add dry pudding mix and vanilla extract. Whisk until fully combined and smooth.

Add whipped topping and whisk to combine.
Assemble:
Dip 14 Savoiardi cookies, one by one into the strawberry sauce. You can let them stand in the sauce for 3-5 seconds. After which arrange the cookies on the bottom of an 8x8 inches baking pan.

Top with a hefty amount of Strawberry Cream, about half of the cream.

Dip the remaining 14 Savoiardi cookies into the sauce, sinking them so they absorb enough sauce and arrange on top of the cream layer.

Top with the remaining cream layer.

Refrigerate for at least 6-8 hours or until ready to serve.

When ready to serve, slice fresh strawberries and add on top of the cake.
Nutrition
Calories:
879
kcal
|
Carbohydrates:
125
g
|
Protein:
14
g
|
Fat:
47
g
|
Saturated Fat:
28
g
|
Cholesterol:
200
mg
|
Sodium:
370
mg
|
Potassium:
398
mg
|
Fiber:
4
g
|
Sugar:
84
g
|
Vitamin A:
1495
IU
|
Vitamin C:
98.3
mg
|
Calcium:
214
mg
|
Iron:
2.6
mg
More recipes you might love