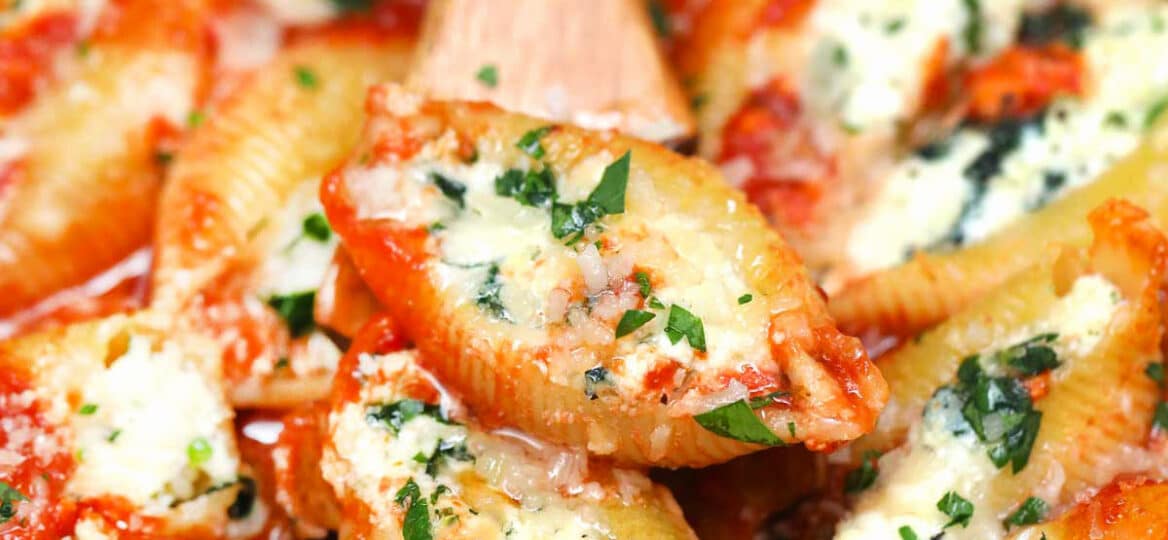 Spinach Ricotta Stuffed Shells [Video]
Ricotta Stuffed Shells combine two of my favorites: cheese and pasta! This easy homemade casserole is made with a combination of three kinds of cheese, jumbo shell pasta, spinach, and marinara sauce. It is a festive, flavorful, and classic Italian-inspired dish that is truly restaurant-worthy!
Pasta dishes are my family's favorite meals! They are constant on our menu because they are hearty and easy to prepare. And I love having them alongside Baked Chicken Thighs, Skillet Pork Chops, and Creamy Chicken Francese!
As a kid, I always enjoyed spinach, cheese, and pasta. Spinach is actually one of my favorite leafy greens. Apart from being healthy, it is the perfect vegetable to incorporate into pretty much any dish. And this Spinach Ricotta Stuffed Shells combines all of them together into a single casserole dish.
You are going to love this recipe! The green color of the vegetables and the red color of the marinara sauce are so appetizing. It is truly hearty and one of the best comfort food that is ready in about 40 minutes. Every bite is flavorful, creamy, and very cheesy!
I like making them into individual portions, so it is a nice dish to have when you are serving a big group. Or, you can even put it in your lunchbox, and it will fit perfectly.
Even kids love this juicy and cheesy treat. Not to mention, this is even a nice way to introduce vegetables in their diet. All in all, this is a super easy pasta dish with minimal preparation time.
Recipe Ingredients:
Pasta – I always use jumbo pasta shells because they hold together well, and you can use plenty of cheese filling. You can find jumbo pasta shells at your local grocery store usually in the pasta department.
Olive oil
Garlic – Nothing beats freshly minced garlic when it comes to flavors and aromas. I use about 4 garlic cloves here. However, if you are not a big fan, feel free to use less garlic.
Fresh spinach
Cheese – To make it extra cheese and creamy, I love to combine 3 types of cheese. Ricotta cheese, mozzarella cheese, and parmesan cheese have always been my favorite choice.
Seasoning – Onion powder, Italian seasoning, dried parsley, dried basil, salt, and black pepper.
Tomato sauce – You can use easily use store-bought tomato sauce. However, for a true and authentic Italian experience, try making your own, homemade marinara sauce! Very yummy 🙂
Eggs
Fresh basil – To garnish the dish.
How to make Ricotta Stuffed Shells?
Prepare for baking: First, preheat the oven to 375 degrees Fahrenheit.
Cook the pasta: Follow the directions in the package, and boil the pasta in a large pot over medium-high heat. Ensure not to overcook it. For this recipe, you want to cook the pasta al dente because it will continue to cook in the oven as well.
Cook the spinach: Next, in a large saucepan, sauté the garlic in oil. Then, stir in the spinach. Set aside.
Prepare the cheese mixture: In a large bowl, combine the spinach, cheeses, and the rest of the ingredients.
Stuff: Then, pour a cup of pasta sauce into a casserole dish. Fill each pasta with the mixture.
Bake: Pour in the remaining sauce over, and then cover with aluminum foil. Bake for 25 minutes then remove the foil. Continue baking for another 10 to 15 minutes.
Serve: Garnish with parmesan and serve warm.
Recipe Variations and substitution:
Cheese: Although I like to use the three-cheese described above, feel free to use your own favorites. Sharp cheddar, cottage cheese, feta cheese, gouda, Colby jack are all great alternatives.
Ground beef: From time to time, I love incorporating meats into this Italian dish. Add some ground beef to it, and make Beef and Shells.
Chicken: First, roast some chicken breasts. Then, cut the breasts into smaller-sized pieces, and add to the casserole dish. Cook everything together for a protein-rich meal.
Sausage and bacon: Adding Italian sausage, or bacon is another great alternatives.
Veggies: Want more veggies? Then, include cooked mushrooms, black olives, or red pepper!
Fresh herbs: Instead of dried herbs, feel free to use fresh basil, fresh parsley, etc.
Spicy: To add some spiciness to it, add some freshly chopped jalapeno pepper, or red pepper flakes.
What are stuffed shells?
A type of pasta that is similar to Italian Manicotti or Cannelloni. Simply put, they are shaped into shell form. This way, it is easy to stuff them with various cheeses filling when baked. Also, pasta shells are perfect pockets for easy stuffing.
How to keep pasta shells from sticking together?
Firstly, it is very important to cook them al dente because they will continue to cook in the oven. Secondly, right after boiling the pasta, rinse it in cold water to stop the cooking process. This will keep it from sticking together.
What is Al dente?
Al dente in Latin means cooked so as to be still firm when bitten. In other words, this means that pasta is not overcooked.
What to serve with this dish?
Can you make this recipe in the Instant Pot?
Absolutely! I love making homemade Instant Pot dishes because they are super quick and easy to prepare. And this recipe is no exception!
Check out my Instant Pot Stuffed Shells recipe here.
Can you make spinach ricotta stuffed shells ahead?
Yes! This dish can be easily prepared ahead and refrigerated.
First, cook the jumbo shells and stuff them with a creamy ricotta mixture.
Then, place them into a single layer at the bottom of a baking dish, and tightly cover them with aluminum foil. Or, transfer them into a large airtight container. Refrigerate for one day.
When ready to serve the next day, simply add the marinara sauce on top, and sprinkle with shredded mozzarella cheese and shredded parmesan cheese.
Bake for 25-30 minutes, and enjoy warm.
Can you freeze it after baking?
You can freeze it baked with the sauce already inside in a large freezer-proof dish. Freeze it up for 3 months.
How do you reheat it?
Thaw it first if it came from the freezer. Then, cover with foil and bake at 375 degrees Fahrenheit, just like how you would make it the first time.
Remove the foil after 25 minutes to broil the surface until bubbly for another 10 to 15 minutes.
More delicious pasta recipes:
Recipe Tips:
Choose a high-quality ricotta cheese that will have less moisture than those with gum in the ingredients. This is to ensure that the outcome will not be watery.
In addition, make sure that the spinach is also dry. A salad spinner can help. And if there is still water, pat them dry with a towel.
Remember – Do NOT overcook the shells as they will continue to cook upon baking. Aim for just al dente.
Also, you can use a piping bag to make it easier for you to fill the shells in.
This recipe makes about 16-20 stuffed shells. However, I recommend filling a few more extra shells just in case some of them break apart.
You can also use frozen spinach. Just microwave it prior to baking, and remove excess liquid.
Feel free to bake this dish in a regular 9 by 13 baking dish, or glass casserole dish.