Spinach Ricotta Stuffed Shells
Ricotta Stuffed Shells combine two of my favorites: cheese and pasta! Festive and flavorful, this classic Italian-inspired dish is truly restaurant-worthy!
Pasta dishes are a constant in our menu at home because they are hearty and easy to prepare. And I love having them alongside Baked Chicken Thighs, Skillet Pork Chops, and Creamy Chicken Francese!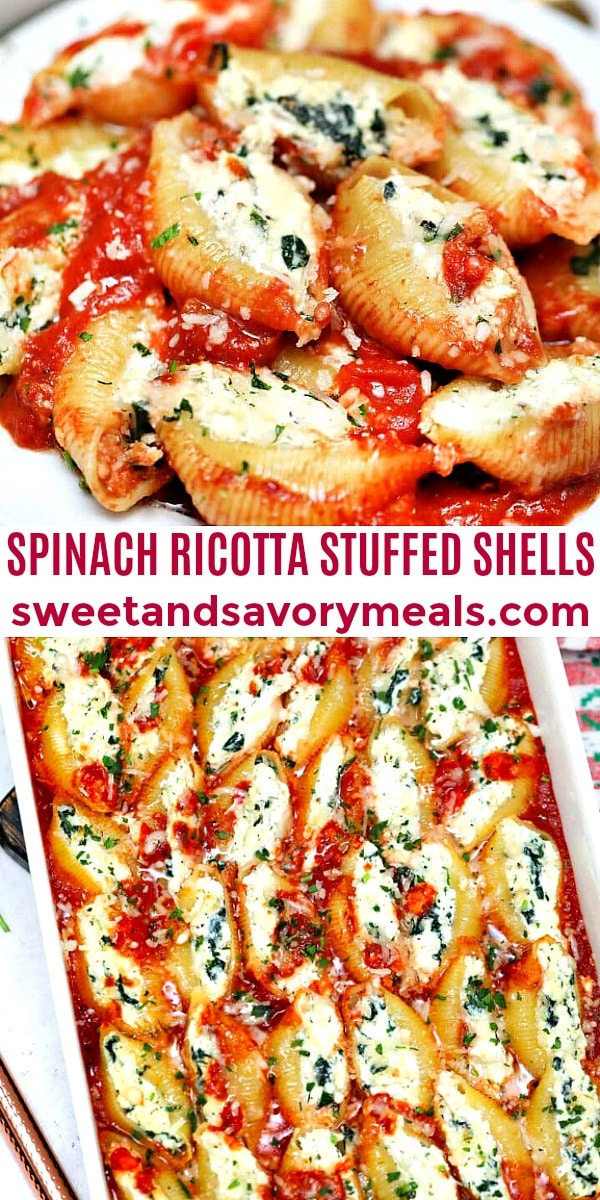 Spinach Ricotta Stuffed Shells
Ricotta Stuffed Shells are made into individual portions, so it is a nice dish to have when you are serving a big group. Or, you can even put it in your lunchbox, and it will fit perfectly.
And it looks good! The green color of the vegetables and the red color of the marinara sauce are so appetizing. At first glance, the colors will already know that it is an Italian dish. And it is!
And the taste is heavenly! Even kids love this juicy and cheesy treat. Not to mention, this is even a nice way to introduce vegetables in their diet.
It is easy to prepare although it looks complicated! Let this recipe guide you!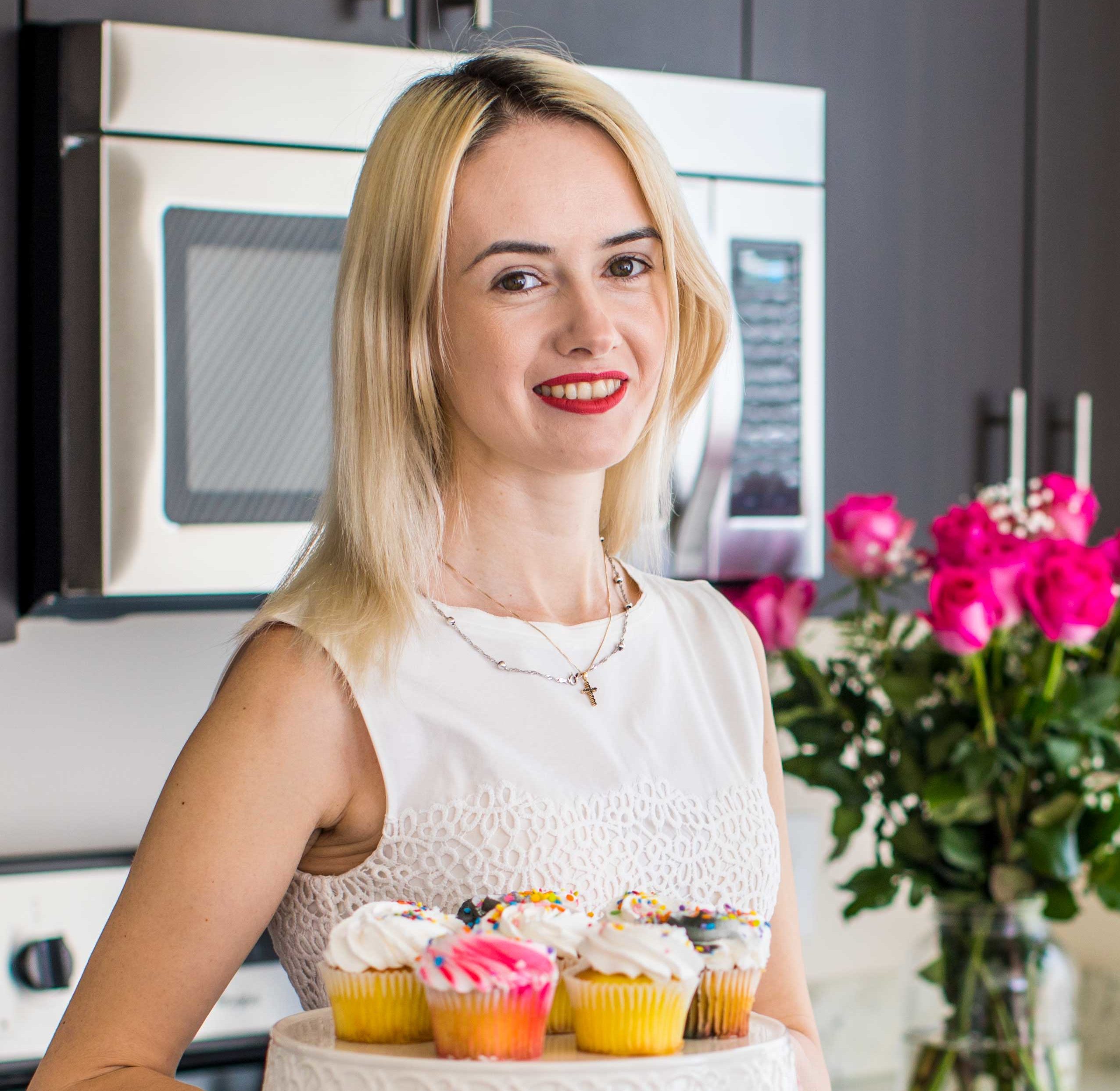 Follow us on Pinterest for more delicious recipes!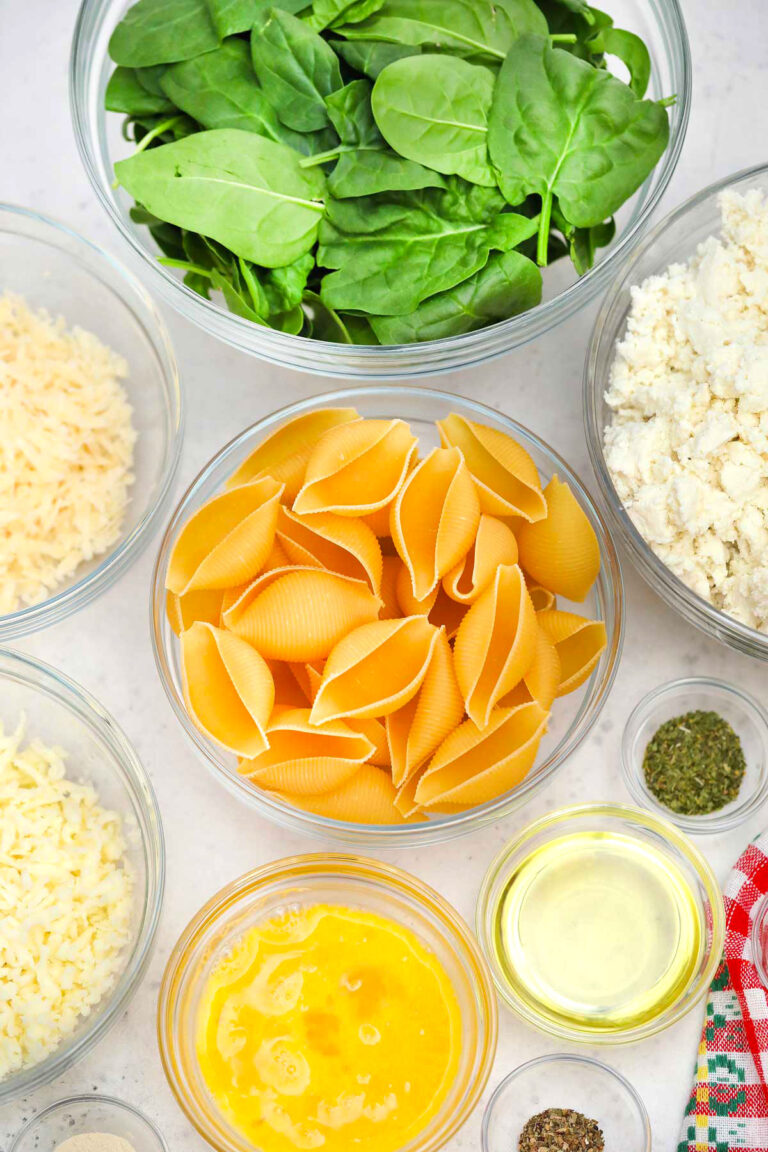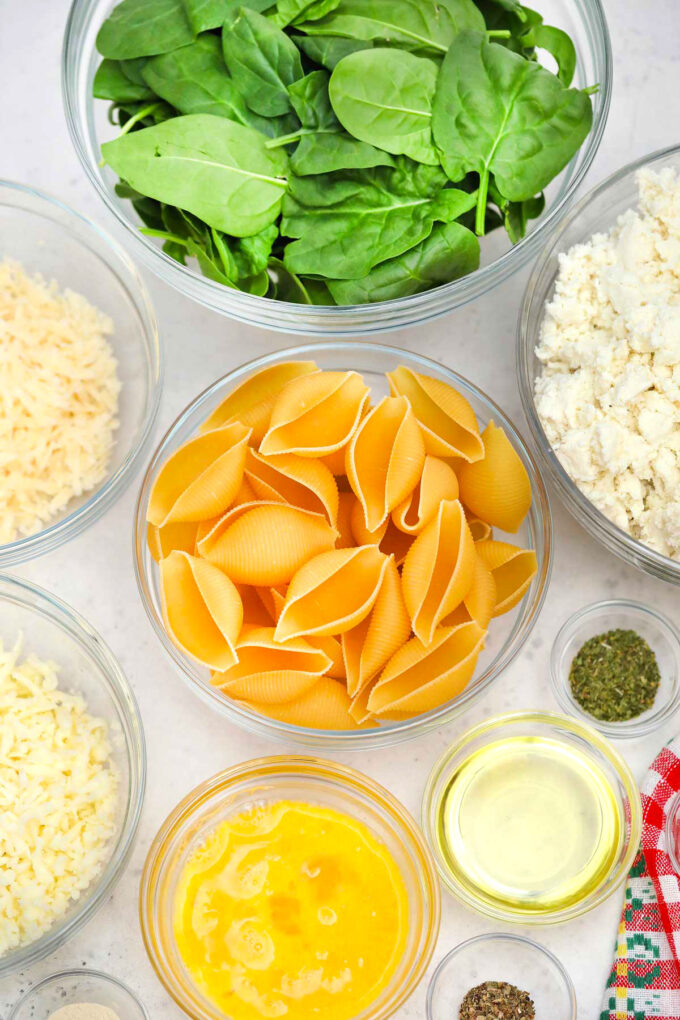 How to make Ricotta Stuffed Shells
Prepare for baking: Set the oven at 375 degrees Fahrenheit to preheat.
Cook the pasta: Follow the directions in the package.
Cook the spinach: In a skillet, sauté the garlic in oil. Then, stir in the spinach. Set aside.
Prepare the cheese mixture: In a bowl, combine the spinach, cheeses, and the rest of the ingredients.
Stuff: Pour a cup of sauce into a baking dish. Fill each pasta with the mixture.
Bake: Pour in the remaining sauce then cover with aluminum foil. Bake for 25 minutes then remove the foil. Continue baking for another 10 to 15 minutes.
Serve: Garnish with parmesan and serve warm.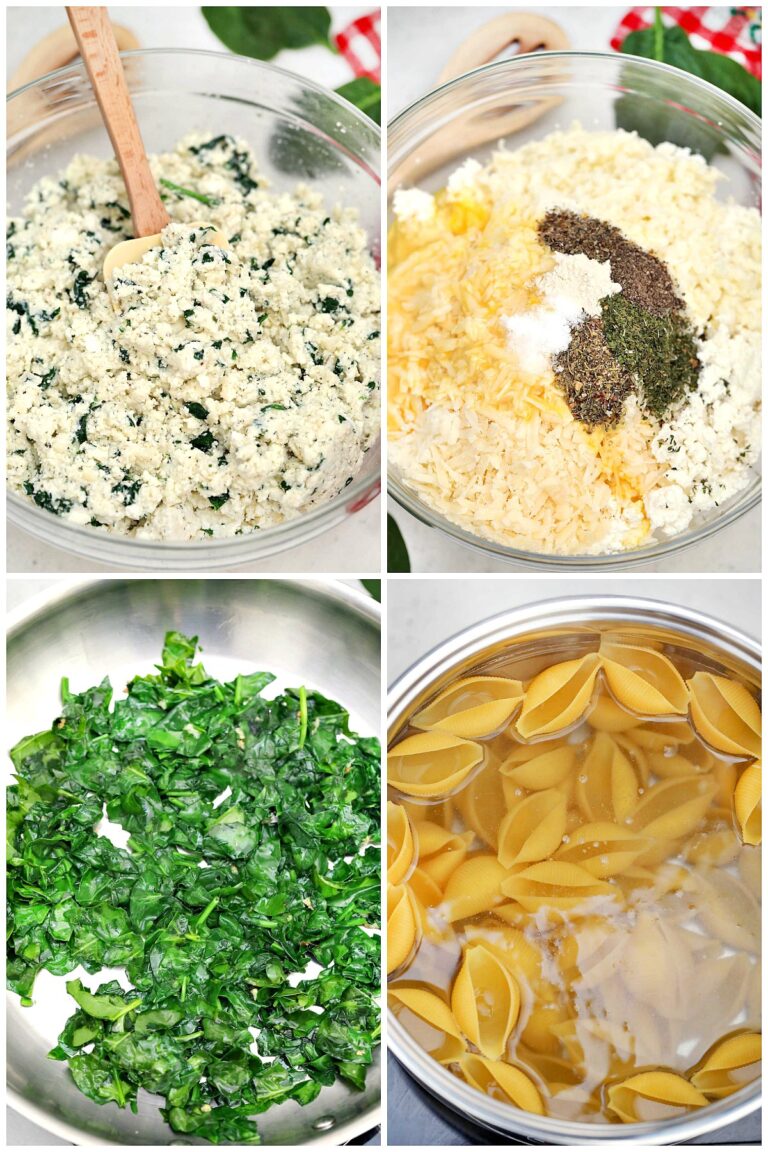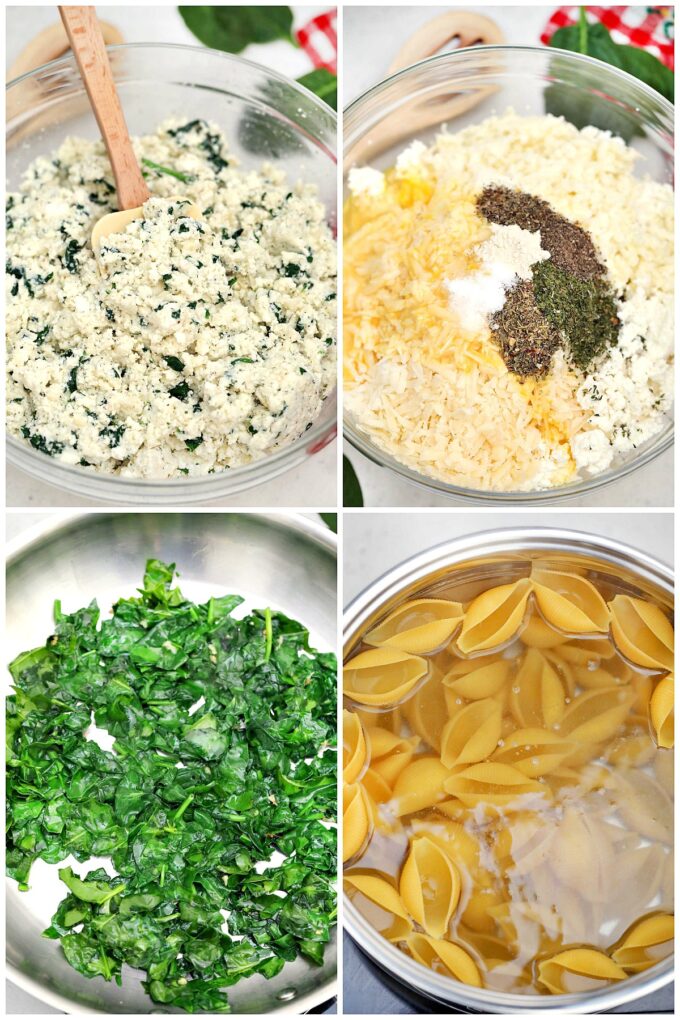 What kind of filling can you add?
You can put in meat to make it heartier. Get inspired by other pasta dishes like the following:
You can also include cooked mushrooms or red pepper! Other cheeses like feta or cottage cheese will do, too!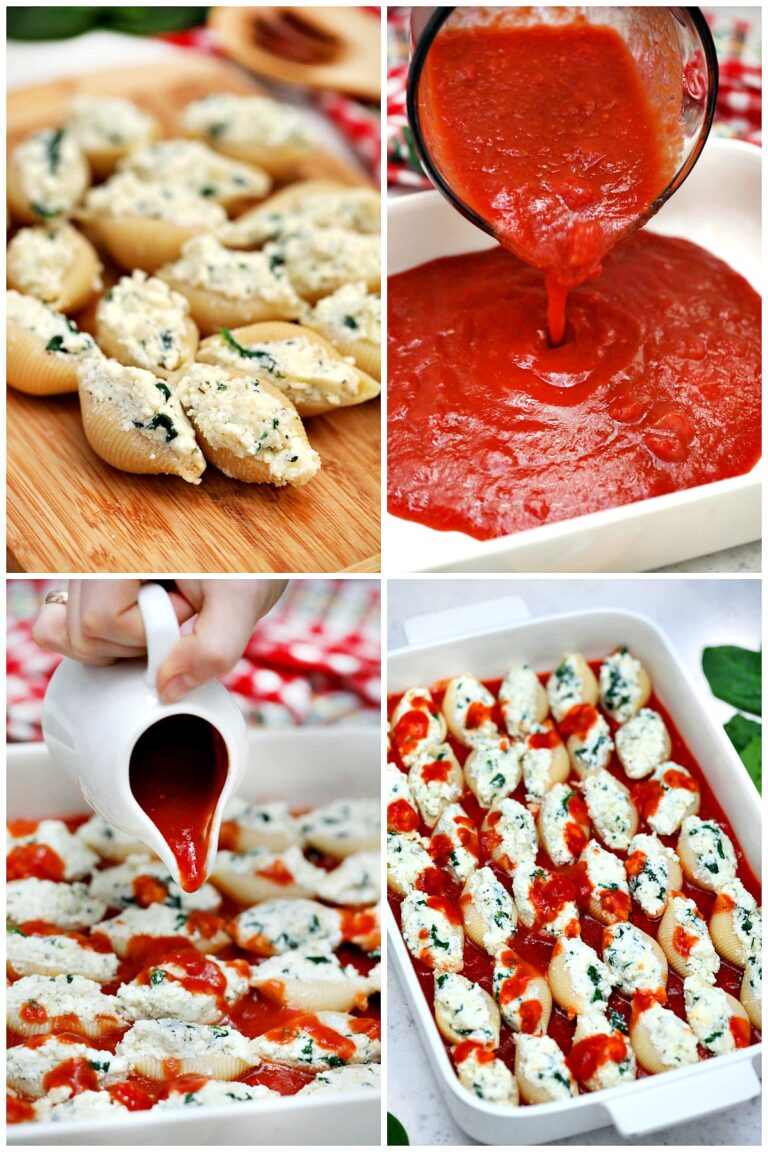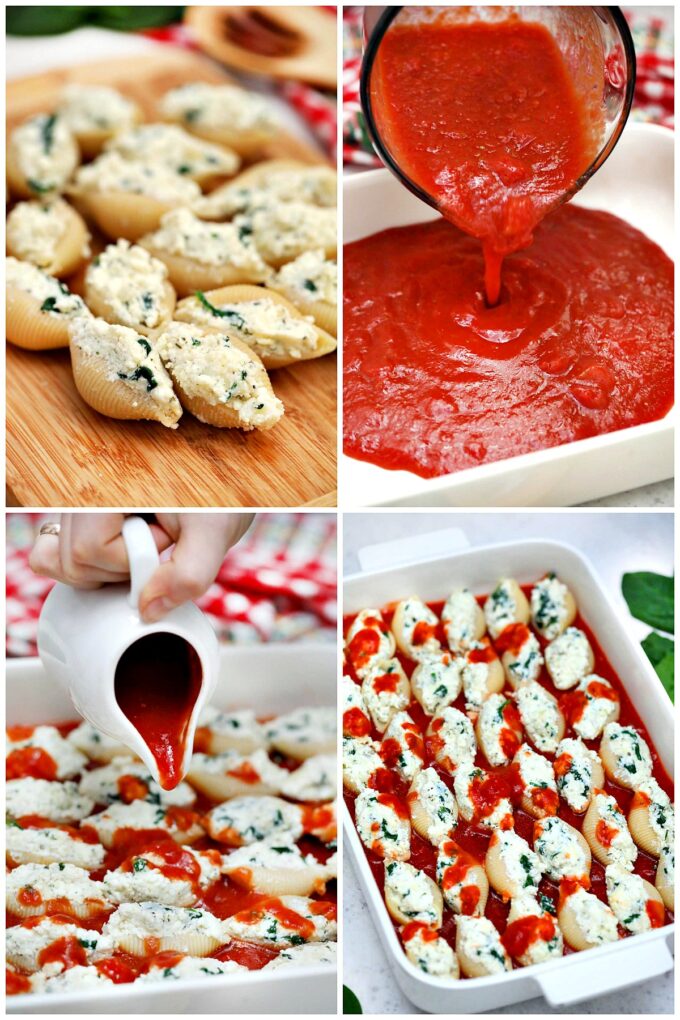 What to serve with stuffed shells?
How long can you keep stuffed shells with cheese in the refrigerator?
Keep them for 3 to 5 days. To reheat, simply bake them again at the same temperature as you did the first time.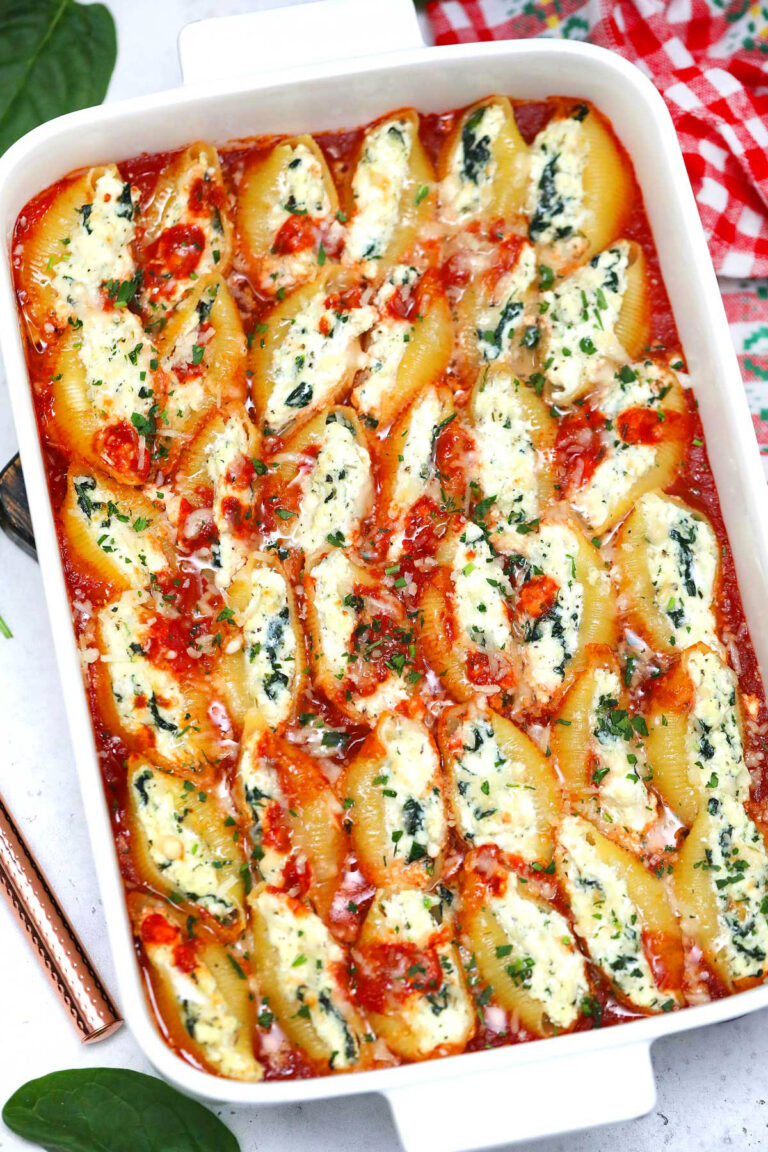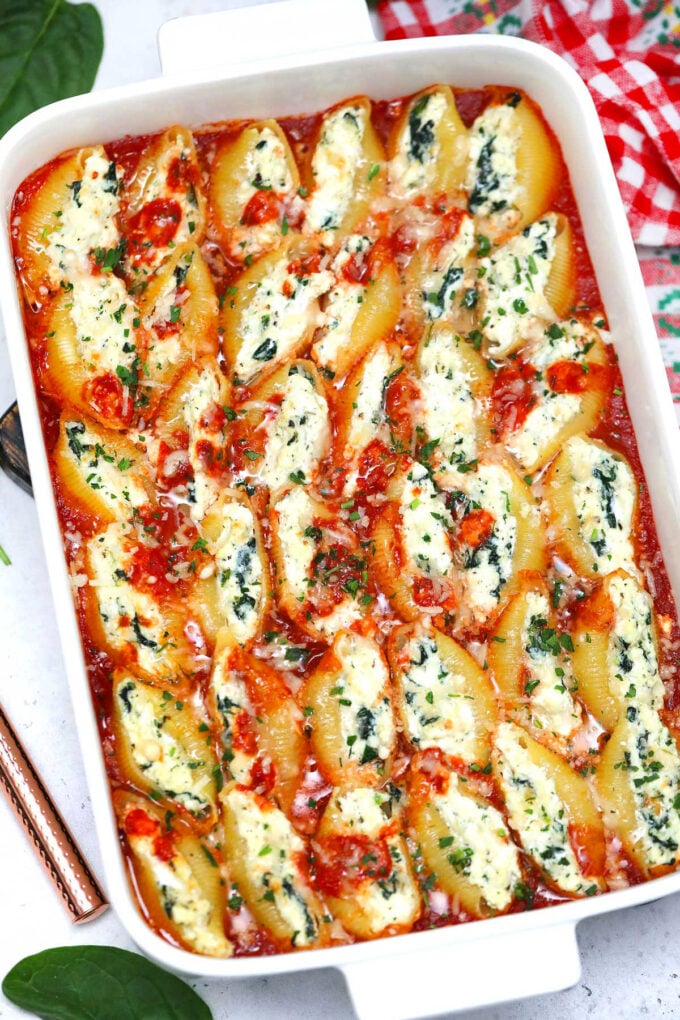 Can you freeze Ricotta Stuffed Shells before baking?
Yes! As a make-ahead dish, you can freeze the stuffed shells without the sauce for up to a week. Then, right before baking, add the sauce.
Can you freeze Ricotta Stuffed Shells after baking?
You can freeze this dish for up to 2 months. This is the preferred method, one with the sauce already, instead of storing dry pasta.
How do you reheat Stuffed Shells?
Thaw it first if it came from the freezer. Then, cover with foil and bake at 375 degrees Fahrenheit, just like how you would make it the first time.
Remove the foil after 25 minutes to broil the surface until bubbly for another 10 to 15 minutes.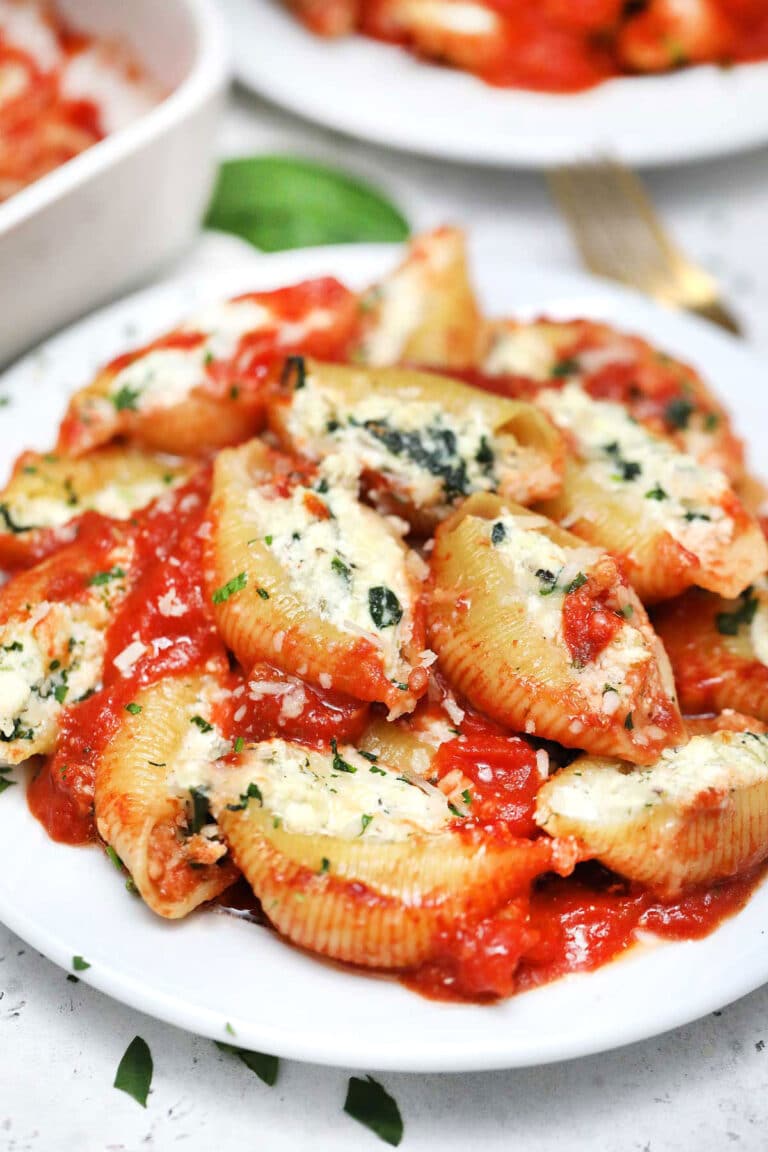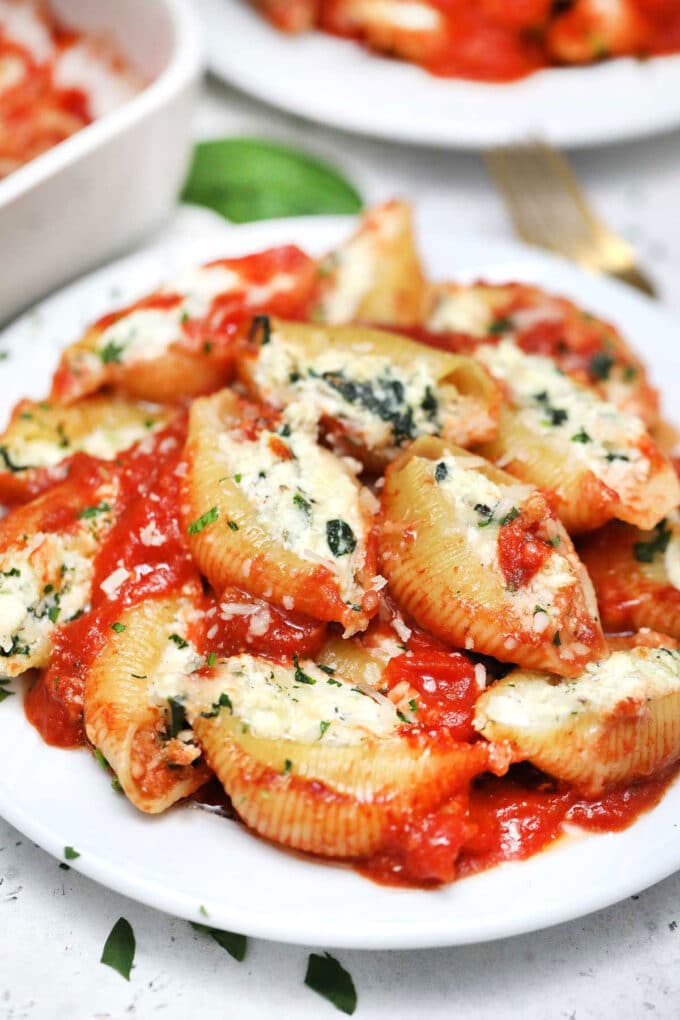 More delicious pasta dishes: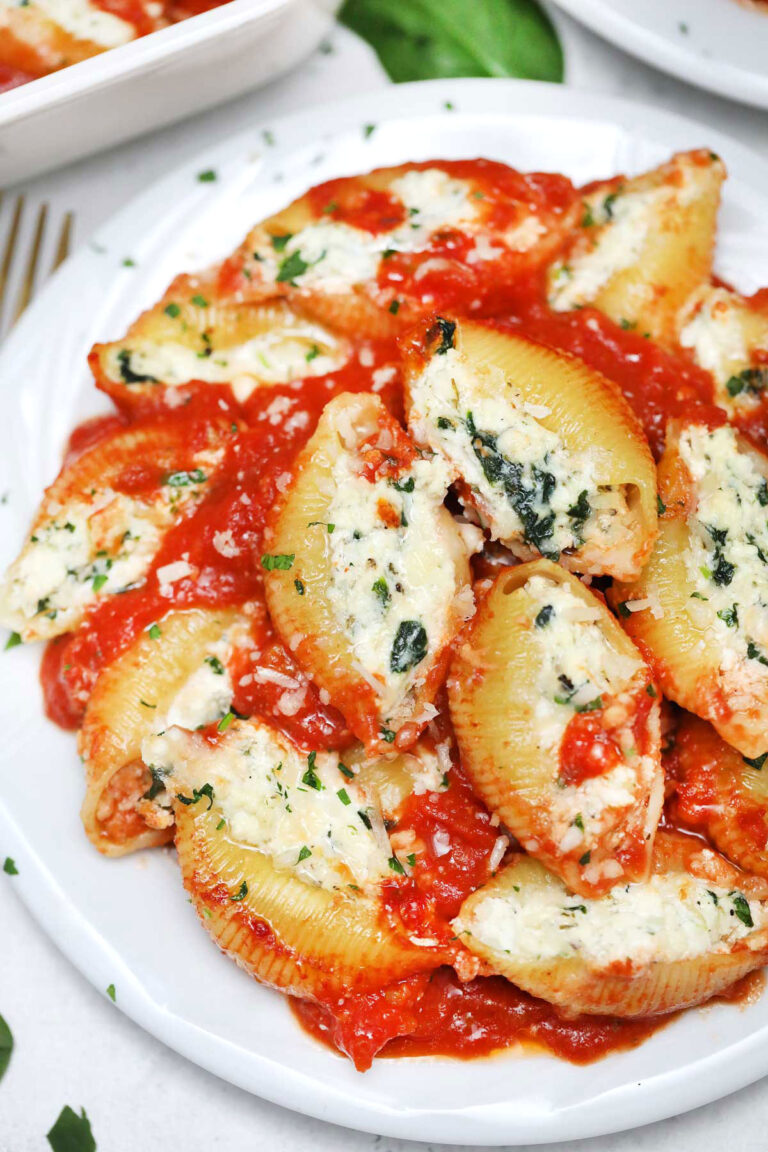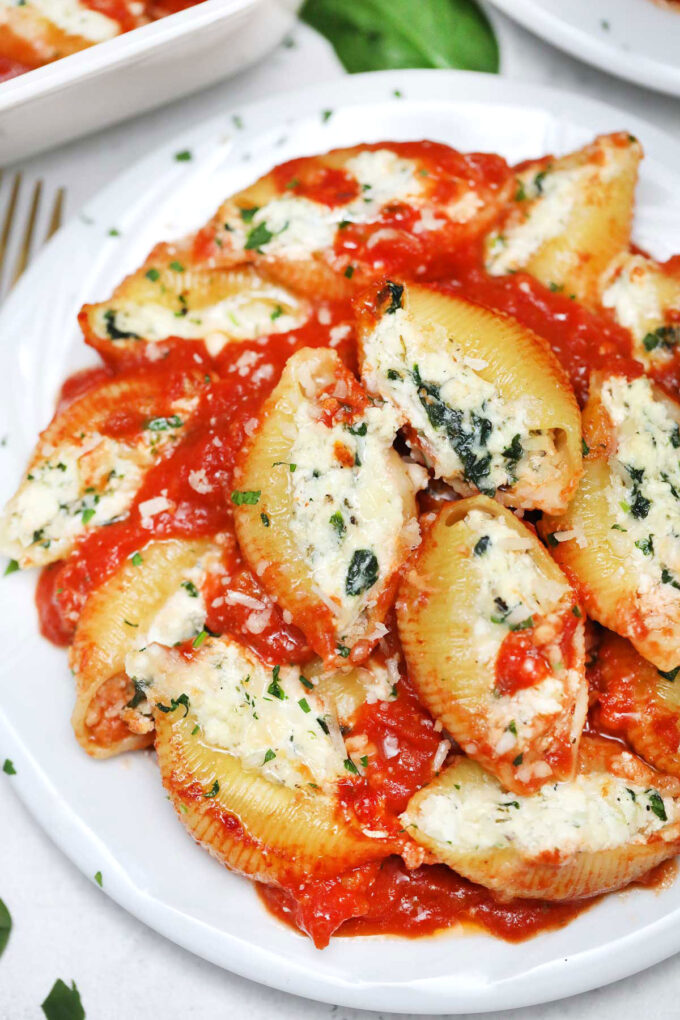 Recipe Tips:
Choose a high-quality ricotta cheese that will have less moisture than those with gum in the ingredients. This is to ensure that the outcome will not be watery.
Make sure that the spinach is also dry. A salad spinner can help. And if there is still water, pat them dry with a towel.
Do not overcook the shells as they will continue to cook upon baking. Aim for just al dente.
Use a piping bag to make it easier for you to fill the shells in.
Save Recipe
Author: Catalina Castravet
Serves: 6 servings
Prep time:

30

minutes
Cook time:

40

minutes
Total time:

1

hr

10

mins
Ingredients
16-20 jumbo pasta shells
2 tablespoons olive oil
4 cloves garlic (minced)
4 cups packed fresh spinach leaves (roughly chopped)
32 oz ricotta cheese
1 cup mozzarella cheese (shredded)
1 cup grated Parmesan cheese (plus more for serving)
2 large eggs (beaten)
1 teaspoon onion powder
1 teaspoon dried Italian herbs
1/2 teaspoon dried parsley
1/2 teaspoon dried basil
1 teaspoon kosher salt
1/2 teaspoon freshly ground black pepper
3 cups marinara sauce
Garnish:
Fresh basil and parmesan cheese
Instructions
Preheat the oven to 375 degrees F.
Place a large saucepan with water over high heat and cook the pasta al dente, according to package directions. Drain and set aside.
In a large skillet over medium-high heat, add the oil and when it starts to shimmer, add the garlic and cook until it begins to brown, about a minute.
Add the chopped spinach, stir and cook until it begins to wilt, about 3 to 4 minutes. Remove from the heat and let cool.
In a mixing bowl, stir together the cooked spinach, ricotta, mozzarella, Parmesan cheese, egg, onion powder, dried Italian herbs, dried parsley, dried basil, salt, and pepper until thoroughly combined.
Pour 1 cup of the marinara sauce into the bottom of a 9x13 baking dish.
Stuff each pasta shell with a hefty amount of the spinach and cheese mixture, and arrange in the baking dish.
Cover with the remaining marina sauce and cover with aluminum foil, bake for 25 minutes.
Remove the foil and continue baking until the top begins to brown, another 10-15 minutes.
Serve warm with grated Parmesan cheese.
Calories: 545 Carbohydrates: 30 Protein: 36 Fat: 32 Saturated Fat: 17 Cholesterol: 150 Sodium: 1590 Potassium: 784 Fiber: 4 Sugar: 7 Vitamin A: 3393 Vitamin C: 14 Calcium: 734 Iron: 3
Save Recipe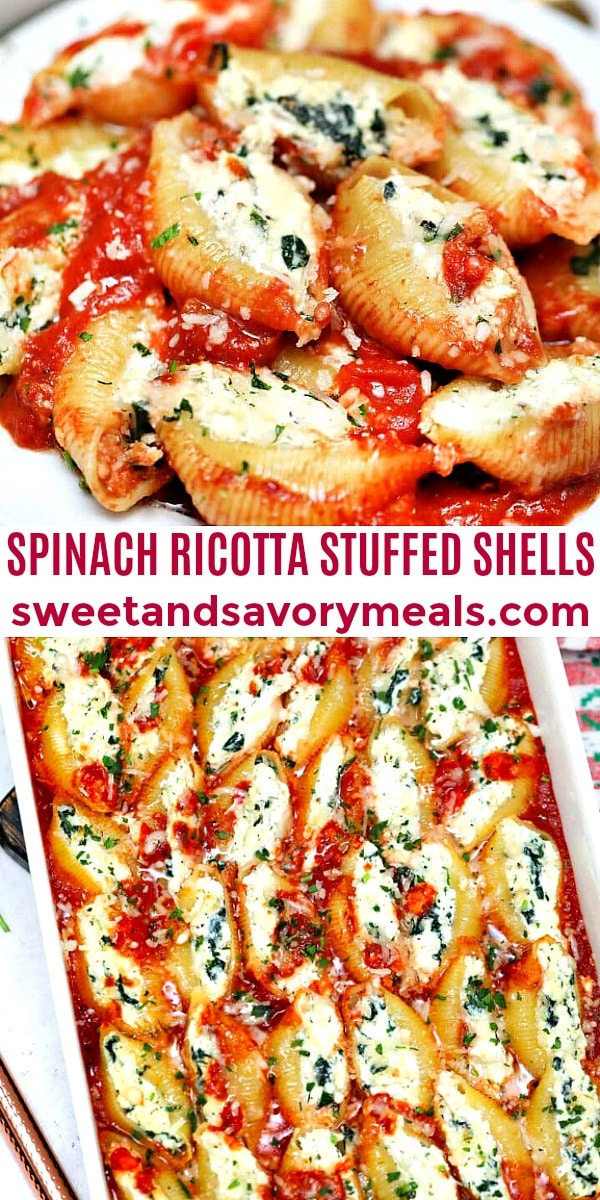 More recipes you might love