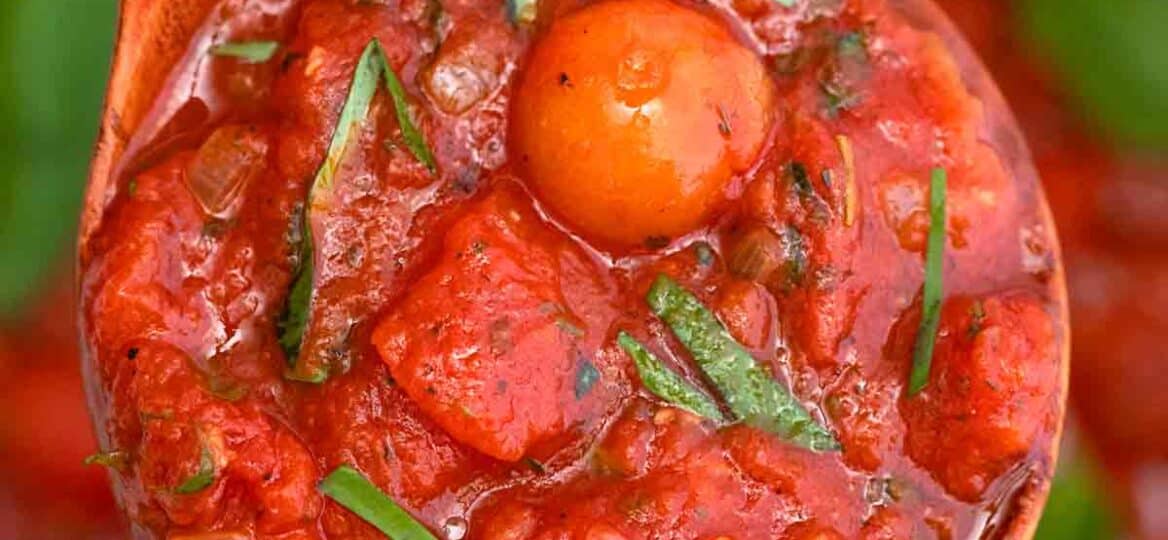 Homemade Marinara Sauce Recipe [Video]
Homemade Marinara Sauce boasts fresh tomato flavors seasoned with herbs and aromatics. So easy, you can say goodbye to store-bought!
It's so easy to whip up an Italian-inspired meal when you've got the basics on hand. Aside from this marinara sauce, try making your own Italian Seasoning and Homemade Italian Dressing from scratch. Use them to cook amazing dishes like my One-Pan Italian Chicken and Rice!
Easy Marinara Sauce
Homemade Marinara Sauce is one of my essential dishes that goes on everything. It is the classic recipe that offers rich and lively tomato flavors. Seriously, every home cook should have this in their repertoire.
It takes less than 30 minutes to make, but you still get those warm and wonderful authentic Italian flavors. Because it keeps so well, I like making a double batch and freezing it in small portions. Perfect for busy weeknights!
Aside from that, this is also a lovely base sauce. Add whatever suits your taste – some wine, a bit of cheese, or more heat – let your taste buds guide you. Also, try making this once and I guarantee you'll never use jarred or canned marinara again!
What's the difference between Marinara and tomato sauce?
Marinara is a simple sauce made with fresh tomatoes, garlic, onion, and seasoning. Also, the consistency is fairly loose, and you can serve it smooth or chunky.
On the other hand, tomato sauce is much more complicated. You usually start with pureed tomatoes. It needs more ingredients aside from the seasonings, such as celery, carrots, and bay leaf. Then, you simmer everything until the sauce is thickened and reduced which can easily take an hour or longer.
Marinara Sauce Ingredients:
Most of these ingredients are pantry staples. However, I strongly recommend using the highest-quality ingredients possible. For instance, try using whole San Marzano or plum tomatoes and real olive oil. You can definitely taste the difference.
For this recipe, you will need tomatoes (whole and crushed) plus tomato paste. Other ingredients are:
Aromatics: Yellow onion and garlic
Herbs: Dried oregano, parsley, basil, and Italian herbs
Seasonings: Sea salt, sugar, and black pepper
Garnish: fresh basil
Oil: Extra virgin olive oil
How to make Homemade Marinara Sauce?
Saute chopped onion in olive oil until soft.
Add garlic and cook until fragrant.
Next, add the rest of the ingredients and let the sauce boil.
Simmer for 15-30 minutes partially covered.
Garnish with fresh basil.
Serve it with pasta or use it to make lasagna.
Possible Recipe Variations:
Here comes the fun part – add your own twist to this recipe! Try these ideas:
Use fire-roasted tomatoes for a deeper flavor.
Add red wine such as Pinot Noir, Chiraz, Cabernet Sauvignon, and Merlot.
Also, feel free to add some honey to taste if you prefer a sweeter sauce.
Infuse with meaty flavors by adding some ground sausage, beef, pork, or chicken; bacon works well too!
Beef it up with some mushrooms.
Make it spicy with red pepper flakes.
Stir in some heavy cream for a creamy, rose version.
Stir in some parmesan for cheesiness.
Ways to use Marinara Sauce:
This homemade sauce goes perfectly with pasta, such as in my Spinach Ricotta Stuffed Shells and Easy Lasagna. Try it on Baked Chicken Parmesan, Pizza Sloppy Joes, and Italian Meatball Soup. It's also great for dipping.
Or if you're like me, just mix the sauce with some al dente spaghetti and call it a day. It's that good!
More delicious sauces:
Looking for more authentic and flavorful recipes, here are some of our favorites:
How to store Marinara Sauce?
Let it cool completely. Then, transfer it to an airtight food container or jar, and refrigerate for up to 1 week. You can also freeze it for up to three months.
Recipe Tips:
For the best and deepest flavors, use San Marzano tomatoes. They are harder to find and a bit more expensive, but well worth it.
If you prefer a smoother consistency, puree the sauce after cooking.
Add a tablespoon or two of butter for a more indulgent sauce.
Also, you can add one or two tablespoons of sugar if you prefer a sweeter, not acidic taste.