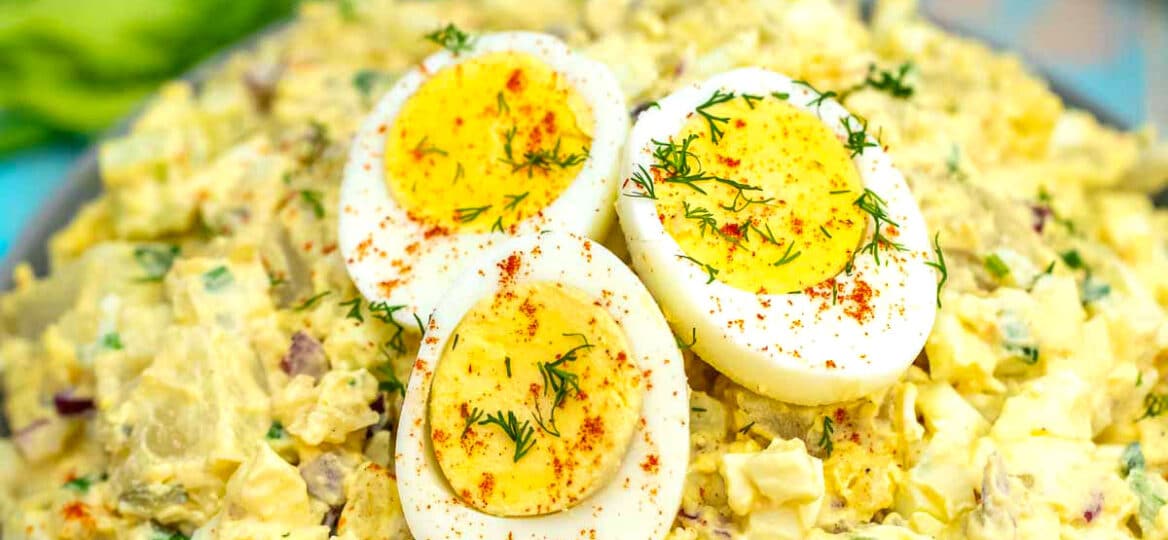 Deviled Egg Potato Salad [Video]
Deviled Egg Potato Salad combines two classic favorites into one rich and tasty side dish that is perfect for Easter, summer potlucks and all-year-round celebrations!
If you love weekend barbecues, then, this dish is a nice accompaniment to your favorite Grilled Chicken Souvlaki, Grilled Steak, and BBQ Pork Chops. It is a nice side dish at any meal of the day, too!
Egg Potato Salad Recipe
Deviled Egg Potato Salad is the combination of a classic Potato Salad spiced up with the flavors of Deviled Eggs! I like that it is hearty and simple, with layers of rich flavors.
We love the potato in all its forms because it is hearty. And, adding the deviled eggs add another reason to like it in this dish. The mustard and relish add more dimension to the delicious mixture. And, the longer that you allow the flavors to meld, the richer the flavors become. I like that it is creamy which pairs well with any grilled meat or fried dish. The small chunks of hard-boiled eggs and the crunchy celery complement the creaminess well, too.
It is a meal on its own as it has carbohydrates, fiber, and protein. And as in any salad, this one is so easy and convenient to make.
What are Deviled Eggs?
These are hard-boiled eggs that had been cut in half and the yolk mashed and mixed with other stuff before putting back into the halves. The main ingredients for the yolk paste are mayonnaise and mustard.
I have a recipe for this, you may want to check that out. There are many variations of this recipe that you can also apply in this potato salad version.
How to Make Deviled Eggs Potato Salad?
Boil the eggs
Boil them in water over medium-high heat then, once the water boils, set the pot aside. Still with the lid on, allow the eggs to stand in the hot water for about 15 minutes. Then, put them in cold water. Remove the shell, then, set aside.
Boil the spuds
Place the cubes in water and allow them to boil until tender. This will take about 15 to 20 minutes. Then, rinse the cubes in cold water and set aside.
Prepare the dressing
Cut the eggs in half and remove the yolk. Place the yolk in a bowl, mash, then, add the rest of the ingredients except for the vegetables. Chop the whites.
Combine
Once you finish making the dressing, fold in the rest of the ingredients.
Serve
Garnish with some paprika on top, chill in the fridge, then, serve.
What kind of potatoes should I use for potato salad?
I use russets for this recipe, but you are free to use any kind. Waxy ones like Yukon Gold hold their shape well even after cooking, so they are a great option, too. You may also opt to choose the organic kinds of potatoes so that you will no longer have to peel off the skin. Just scrub them clean.
Remember that the skin is full of nutrients. So, if you do not peel them, you get more out of your spuds. But, of course, you can always peel them if you want.
What to Serve with Deviled Eggs Potato Salad?
Can you make it ahead?
Yes! You can make it a day in advance and just keep it in the fridge until it is time to serve it. You can keep it for up to 3 or 5 days.
Deviled egg potato salad recipe tips
Add crispy bacon for extra flavor and texture.
Do not freeze it. Spuds become mushy as they thaw, and mayonnaise tends to separate.
Another way to make this is to simply chop the hard-boiled eggs without taking out the yolks. Then, simply make the dressing out of the other ingredients. Then, mix everything.