Pressure Cooker Pulled Pork – Instant Pot
Juicy and flavorful this Pressure Cooker Pulled Pork is made quickly and easy in the Instant Pot. Flavored with beer and sweet barbecue sauce.
This post contains affiliate links at NO extra cost to you, I just like sharing the things I love and work for me.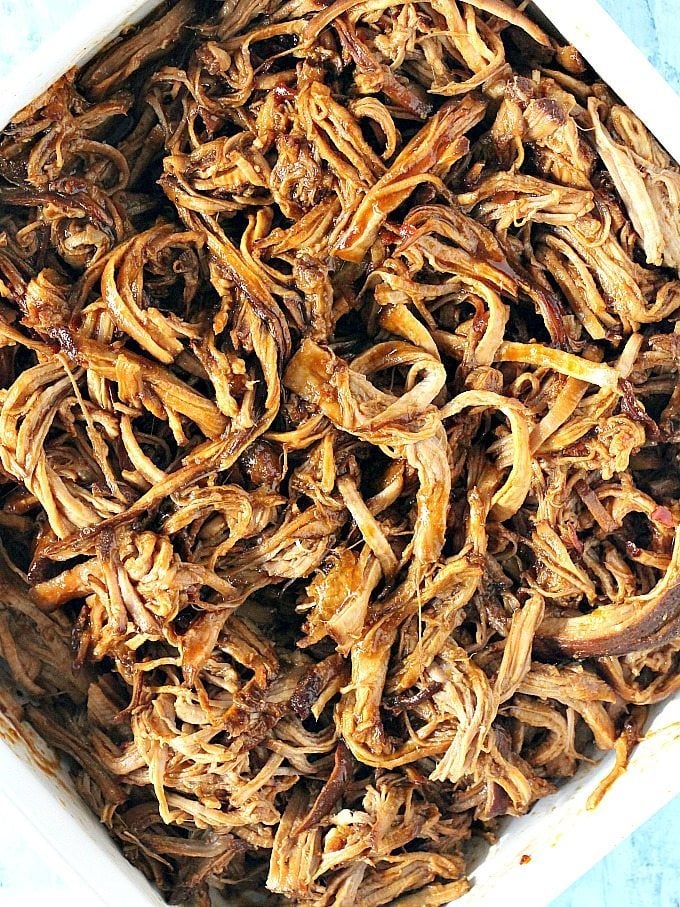 Pressure Cooker Pulled Pork is one of the most frequent dishes I make in my Instant Pot. First, it's super easy to make, full of flavor and it can be served in so many ways. Sometimes, I serve it the classic way, by making Pulled Pork Sandwiches with a side of corn on the cob and coleslaw. Most of the time we serve it over rice with a side of vegetables. One of the reasons why I like Pulled Pork so much is that it creates juicy leftovers and can be served in many ways, so you can make many meals after you cook the meat.

Tips and Tricks to make the best Pressure Cooker Pulled Pork:
I keep saying this all the time, but its very important to start with good quality meat, preferably organic and grass fed boneless pork shoulder, I also used pork lion many times, its not as fatty, but if you are looking for a leaner version it works great
Browning the pork is key, it will add extra flavor to it
Use your favorite barbecue sauce, as that is the shining flavor of the dish
I love to add a little molasses to the pork, it adds a nice, subtle caramely flavor
I don't like using water when I cook the pork, I usually add beer and here again you can use your favorite, I usually go for a hoppy beer like Yuengling's and you can use whatever beer you like, and you will see, it tastes amazing
Always save some pressure cooker juices, and store the pulled pork in an airtight container in the fridge, I always top it with some pressure cooker juices to keep it moist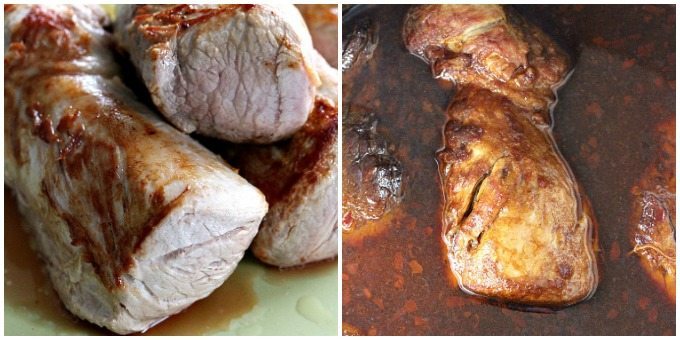 This Pressure Cooker Pulled Pork is juicy and flavorful and if you want to add some heat just add some chili powder when you cook it, or some Sriracha sauce at the end. With this easy recipe you will have tender pulled pork in less then two hours! Definitely give it a try and play along with how you serve it!
If you are looking for more recipes made in the Instant Pot, here are a few more, and I even included a drink and a dessert: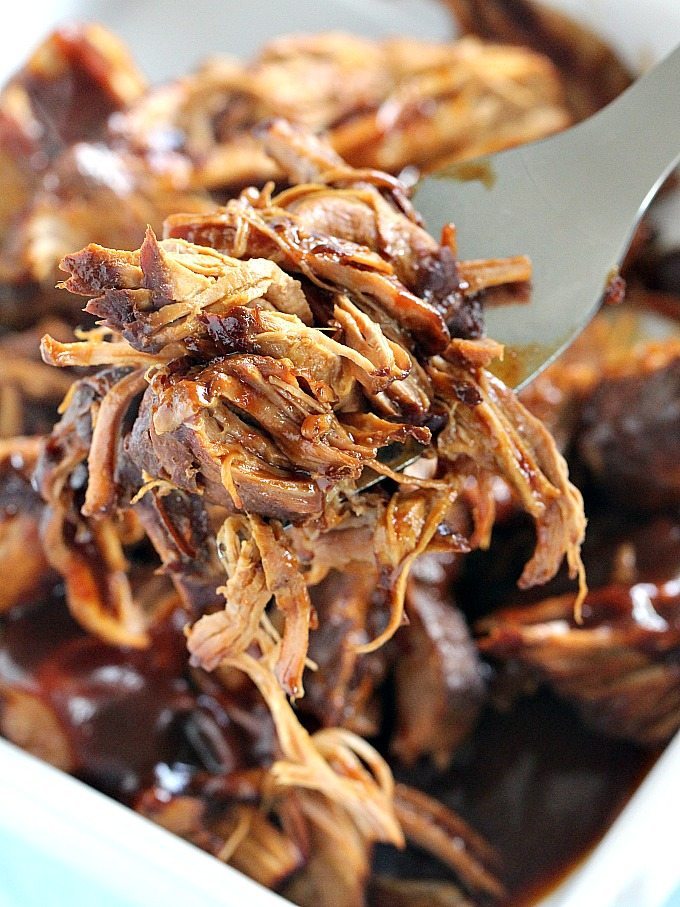 Tools/Ingredients I used to make this Pressure Cooker Pulled Pork Recipe:
Instant Pot – I love mine, its truly a life saver, and it has so many functions you can sauté the meat and veggies directly into it, so no need to dirty another pot or skillet. Also, it has a slow cooker function, and also a steam function that I use a lot!
Molasses – great not only in sweet recipes, a little goes a long way and it adds such a nice flavor to many savory dishes
BBQ Sauce – oh my, I buy it in bulk, I use it in many recipes, for wings, for pulled pork and chicken and also just as a dipping sauce
Pressure Cooker Pulled Pork
Juicy and flavorful this Pressure Cooker Pulled Pork is made quickly and easy in the Instant Pot. Flavored with beer and sweet barbecue sauce.
Author:
Katalina Kastravet
Ingredients
2 tablespoons canola oil
3-4 lbs. boneless pork shoulder, cut into 3-4 pieces
2 cups barbecue sauce
1½ cups beer of choice or water
2 tablespoons molasses
Instructions
From the menu of your pressure cooker select browning or sauté and add oil to the cooking pot. When the oil is hot, add two pieces of the pork and brown them on each side for 3 minutes, until golden brown. Remove to a platter, and repeat with the remaining pork.
Add 1 cup barbecue sauce , 1 cup of beer and the molasses to the cooking pot. Stir well to combine. Add the browned pork to the pot and close it.
Select High Pressure or if using and Intsant Pot, select Meat and increase the time to 90 minutes. When the pork is done cooking and you hear the beep sound, turn off the pressure cooker and use a natural pressure release to release pressure. The natural pressure release will take about 15-20 minutes to finish.
Carefully remove the lid, gently remove the pork from the pressure cooker, add it to a large, dip dish and shred it using two forks.
Strain the cooking liquid, and reserve 1 cup.
Add the shredded pork back to the cooking pot, add the remaining 1 cup of barbecue sauce and ½ cup of the cooking liquid. Stir to combine and bring to a simmer, stirring frequently. If needed add the remaining ½ cup of cooking liquid.
Serve as desired.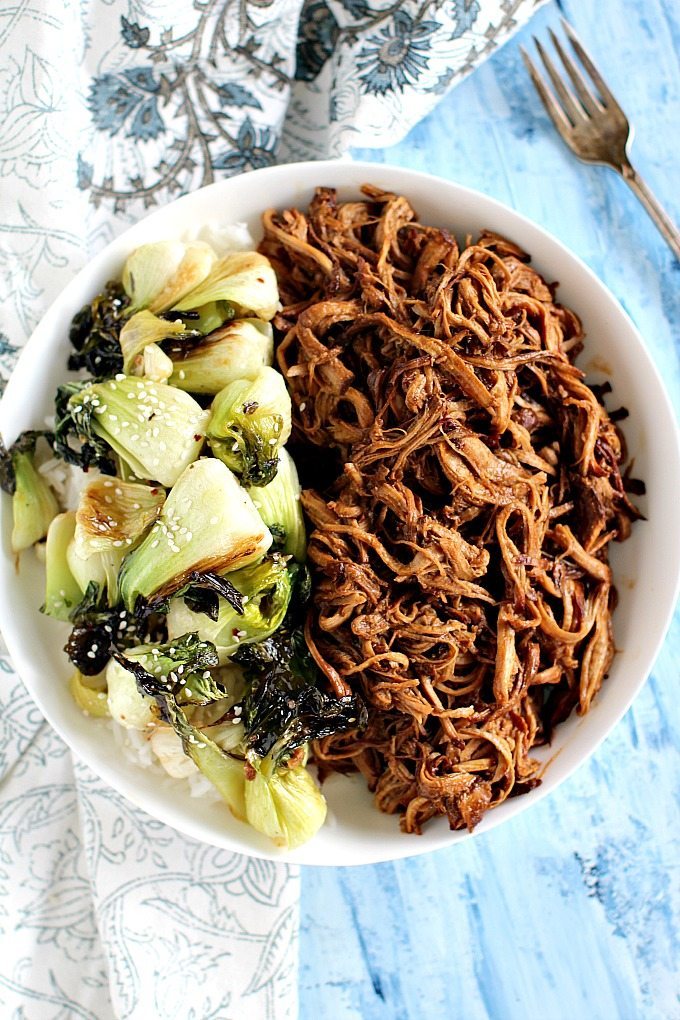 We like to serve the Pulled Pork over rice with some garlic baby bok choy for which I will share the recipe tomorrow!