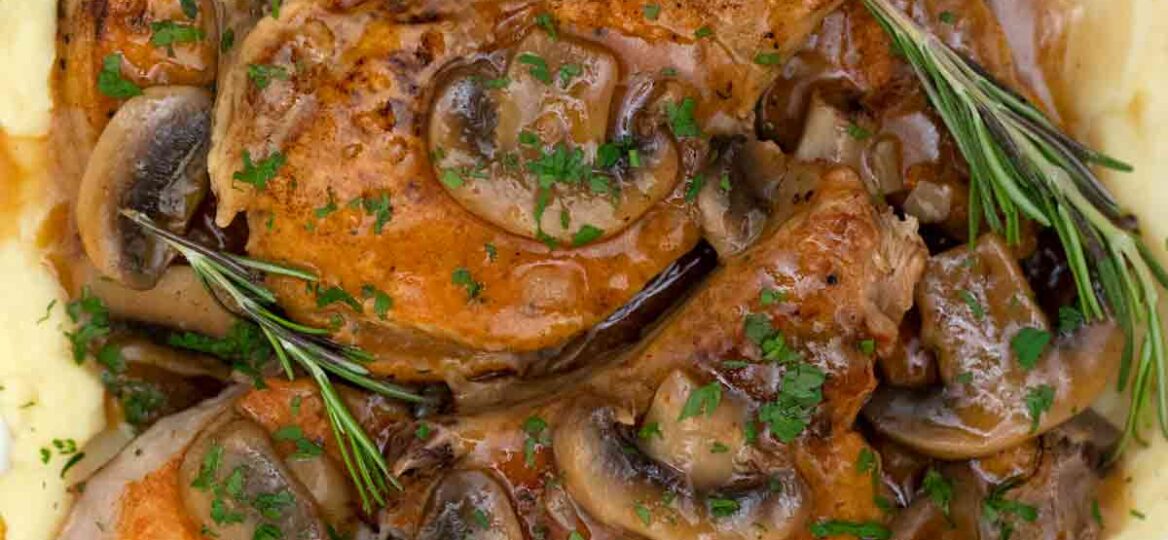 Instant Pot Pork Chops Recipe [Video]
Instant Pot Pork Chops are moist, fall-off-the-bone tender, and pressure cooked with a garlic spice rub and a rich mushroom gravy. Crazy delicious and even the pickiest diners love it!
Want to use your crockpot instead? You'll love these hands-off recipes! My Ultimate Slow Cooker Beef Stew, Slow Cooker Swiss Steak, and Slow Cooker Brown Sugar Ham take zero effort and will fill your home with amazing smells, ready just in time for dinner.
Best Instant Pot Pork Chops
Instant Pot Pork Chops are tasty, comforting, and on the table in less than an hour. Anything with gravy is a hit in my book, and this recipe is proof of that. For the best flavor, I recommend cooking them with bone on.
I like how I don't have to plan ahead when it comes to this recipe. Forgot to thaw your meat? That's fine, let the pressure cooker take care of it! But generally, I make sure to sear the meat golden brown because those brown bits add tons of flavor to the gravy.
This dish is on frequent rotation in my house, and quite simply one of the best pork recipes I make. The meat is super flavorful, juicy, and loved by everyone.
How to make Pork Chops in the Instant Pot?
Once you have the ingredients ready, the rest is pretty simple:
Season the meat: Massage the rub mixture in your meat and season well.
Brown the chops: This step is optional but I highly recommend it. It locks in the flavors and gives the chops that nice brown color. Brown the meat in the pressure cooker using the Sauté mode. Then, deglaze the pot completely with white wine.
Make the gravy: Pour in the broth. Then, add your onion, mushrooms, and meat. Pour the mushroom soup on top.
Cook: Pressure cook on High for 15 minutes. Then, naturally, release the pressure for 10 minutes, and manually release the remaining pressure. Remove meat and set aside.
Make the slurry: In a small bowl, mix cornstarch and broth to create the slurry. Bring the gravy to a boil using the Sauté mode. Pour the slurry a little at a time until you achieve your desired gravy consistency.
Serve: Enjoy this dish warm over mashed potatoes or your preferred side.
How long to cook pork chops in instant pot?
It depends on the cut. Here's a general guide:
8 minutes for boneless cuts
10 minutes for bone-in
13 minutes for frozen chops
Also, add the time it takes for the pressure to build and release. For my recipe, I add 15 minutes for the pressure to build, then 10 minutes more for Natural Release.
Can you overcook pork in a pressure cooker?
YES. I cannot emphasize that enough. And once you've overcooked your meat in the IP, there's no going back. You're left with tasteless, dry fibers that are almost impossible to salvage.
However, preventing this is very simple— follow the recipe exactly. Down to the last second. If the recipe says to pressure cook for 7 minutes, don't go a minute over. Recipes are designed to achieve very specific results.
So, no matter how ridiculously short the IP cook time looks like, follow it. If the meat is not cooked to your preference, you can always cook it more. But remember, you can never cook meatless.
What's the best pork chop to use?
For this recipe, I recommend using bone-in cuts with a minimum of ¾ inch to one inch thick or more. Lean, think cuts easily get overcooked.
Thick, bone-in cuts easily withstand the pressure inside the IP without breaking down. Buy well-marbled meat for maximum moisture. The bone protects the surrounding meat from losing its juices. Also, it adds a ton of flavor. In addition, it is hard to overcook thick chops as long as you follow the recipe instructions.
What to serve with Pork Chops?
Pork chops in gravy and Perfectly Creamy Mashed Potatoes are a match made in heaven! The gravy goes so well with Mashed Sweet Potatoes, too. I also like serving this dish with a side of fluffy white rice, broccoli, over plain spaghetti, or egg noodles!
What is the Safe Cooking Temperature for Pork Chops?
In 2011, the USDA lowered the internal temperature of pork down to 145F from 165F with 3-minute rest time. So, don't worry if your chop has a hint of pink inside— just check the internal temperature with a thermometer to make sure it's fully cooked.
How to store pork chops?
Cool it completely. Then, store leftovers in airtight containers, and keep in the fridge for three days. You can also freeze them. Just use a freezer-safe dish, and freeze for up to three months.
More easy Instant Pot recipes:
Pork Chops in Instant Pot Recipe Tips:
Try pre-brining the pork for extra moisture.
Also, you can use red wine instead of white wine.
Add some parmesan cheese to the gravy for a creamier sauce.
The finish the gravy with some butter to add richness.
Use a combination of white and brown mushrooms for a meatier flavor.
For a spicier taste, feel free to add more cayenne or red pepper flakes.
You can throw in some spinach at the end for a healthier version.
Pour in a bit of sour cream to add a delicious tang to the gravy. You can also add a ranch seasoning mix.
Also, it is important to follow the Pressure Cooker cook times EXACTLY.
In a hurry? Cook the meat directly from frozen. No need to sauté; just add 5 minutes to the cooking time.