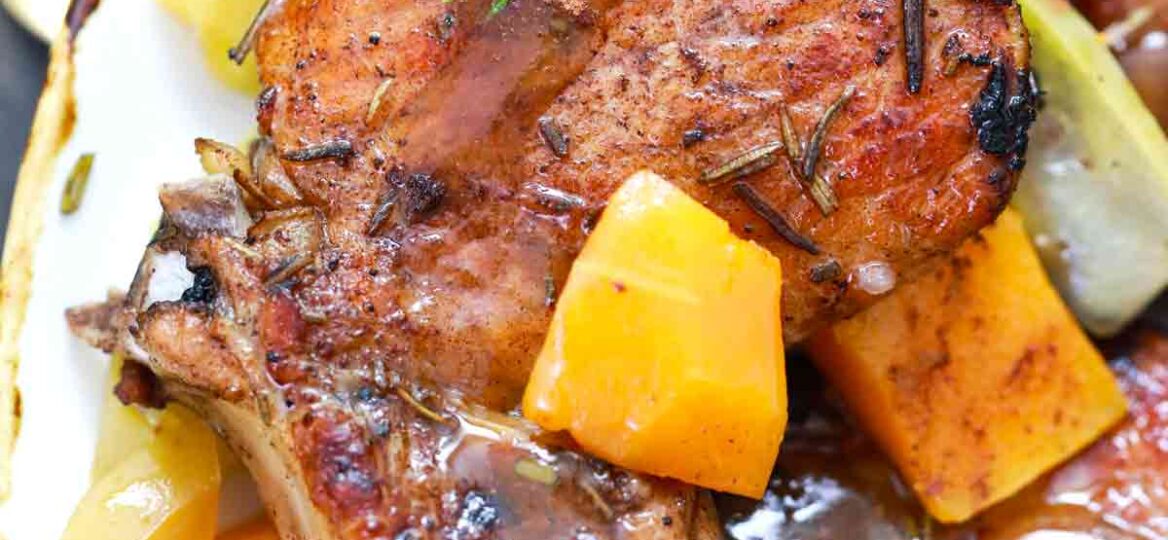 Instant Pot Cinnamon Apple Pork Chops Recipe [Video]
Instant Pot Cinnamon Apple Pork Chops are juicy and tender, cooked with apple chunks and butternut squash. Caramelized to perfection, in a sauce made with applesauce and warm spices. These are bursting with flavors, they are easy to make and they make the most delicious main dish along with these mashed potatoes.
Instant pot recipes are our specialty, you will find many tried and true, like these Instant Pot Apple Cider Pork Chops and Apple Cider Pork Chops recipes that you can make for dinner. If your instant pot is on the fritz or you loaned it to your friend, you can make these tasty chops on the stove with this awesome Apple Cinnamon Pork Chops recipe.
Instant Pot Cinnamon Apple Pork Chops
Since autumn is right around the corner, this is a great recipe and the perfect way to put you and your family in the mood. The smell of cooked apples and cinnamon with the savory pork scent is mouthwatering. In fact, this may become one of your family's favorite instant pot recipes yet!
You really do not need many ingredients and it will not take much time to get this delicious meal going so there is no excuse not to make it. And with your pressure cooker, it will not take long to cook either.
All you need besides the meat and apples is oil, squash, cinnamon, applesauce, and broth for the chops. Then a few seasonings for the rub and just brown sugar and cinnamon for the sauce.
The meal is full of warm spices, also the apples and the butternut squash are tender, but not mushy. Actually, we found the best way to cook them, instead of pressure cooking them with the meat, we pressure cook them at the end for just 1 minute.
This extra step is totally worth it, and the fruits and veggies become perfectly cooked, not pureed under pressure.
Ingredients needed:
When you need the exact directions and ingredients list, scroll down to our handy recipe card. But here are the basic ingredients for this entrée:
Meat:
Pork chops: For the best results, use bone-in chops that are at least one inch thick.
Oil: Olive oil is best, but you can use canola or vegetable oil.
Squash: Butternut squash cut into one-inch cubes.
Apples: We used Granny Smith apples, sliced.
Cinnamon: A cinnamon stick is best, but you can use ground cinnamon.
Rosemary: Minced sprigs.

Applesauce: Unsweetened or make your own.

Chicken broth: Store-bought or homemade.
Rub ingredients:
Rosemary: Dried.

Brown sugar: Light or dark.
Mustard: We used ground mustard seed.
Cinnamon: Ground cinnamon besides the stick.
Nutmeg: Dried.
Allspice: Store-bought or make your own.
Sauce ingredients:
Cornstarch: As a thickening agent.
Brown sugar: Light or dark.
Cinnamon: Fresh or ground.
How to make Instant pot cinnamon apple pork chops from scratch?
Make the rub: First, mix all the ingredients for the rub and then generously rub it on both sides of the meat.

Sauté: Then, turn the instant pot to sauté on medium heat, and once it reads hot add the oil and meat. Brown for two-and-a-half minutes on each side before putting them to the side on a plate.

Add: Next, add the broth, applesauce, rosemary, and cinnamon stick and mix well.

Replace: After, put the trivet into your instant pot and put the chops back in. Salt and pepper to taste.
Cook: Then, cover and cook on high pressure for 10 minutes, and then use the natural release pressure for 10 minutes.

Release: Afterward, Use the quick release to release any remaining pressure. Open the lid and remove the pork chops. Cover with foil and let them rest.
Fruit and veggie: Next, add the squash and sliced apples to the pot and pressure cook for one minute followed by a quick release. Remove them with a slotted spoon and put them on a plate.

Set: Turn the instant pot to sauté again and mix the sauce ingredients with the liquid in the pot. Continue to boil until it is thick, which takes about two or three minutes.

Serve: Season the pork chops and apples, pour the sauce on the pork chops, and serve with garnishments.
Recipe variations:
Use other meat: Alternatively, use chicken or veal for a different taste.

Add pumpkin: In addition, you can add some pumpkin spice to the rub or the sauce to make it perfect for Thanksgiving.

Other veggies: Or toss in some other veggies and seasonings when you add the apples. Use some that you like such as potatoes, carrots, celery, onions, garlic, or thyme.

Lemon or lime: Spritz a little fresh lemon or lime juice into the sauce just before serving.

Apple cider: Also good, pour some apple cider or apple juice in the sauce.
How to serve this dish?
The best way to serve these chops is to warm with the sauce coating the top. Add a dusting of cinnamon and some rosemary for garnish. Or try one of these ideas:
How to store leftovers:
Store: You can store these in the fridge in an airtight container for three days.
Freeze: Also, you can freeze the leftovers for later. First, add them to a freezer-safe airtight container or freezer bag, with a bit of the juice. After that, freeze for up to three months.
Thaw: Finally, when ready to serve make sure to plan in advance and thaw in the fridge overnight before reheating.
Reheat: Either reheat them in a skillet over medium heat or in the microwave.
Frequently asked questions
Why are my instant pot pork chops though?
Nobody likes tough chops and with the instant pot, they are supposed to come out as tender juicy meat. So, why did yours turn out tough? There are several reasons that your pork chops in the instant pot may come out tough.
Unlike what most people think, pork should be slightly pink in the middle when done. Not bloody, just pink. The temp should be 145 degrees F. This is because your meat will continue to cook after you remove them.
You also need to pick the right cut of pork. Don't get boneless. You want the pork loin porterhouse or rib chop. And they should also be at least one inch thick. Otherwise, they will dry out.
Also, make sure you freeze them right. First, dry them, and then vacuum seal if you can. And thaw them in the fridge overnight rather than using the microwave.
Why do you soak pork chops in milk?
Milk-marinated pork chops are super easy and tender. This recipe came from the gypsies who knew that the enzyme in the milk breaks down the protein, which softens the fibers to make the meat more tender. Use regular milk, buttermilk, or yogurt and marinate them for at least two hours but preferably overnight.
How do you tenderize pork chops?
One thing to note is that anything acidic is a great tenderizer for meat. So, lemon juice, apple cider vinegar, pineapple juice, and papaya are all fantastic marinades. Soak for at least two hours or overnight. Beer is also a fantastic choice and gives your chops a delicious flavor.
More Fall Recipes:
Recipe tips:
You can also use frozen meat but add about two or three minutes to the cooking time.

Another idea is to coat with your favorite breading before cooking.

In addition, use leftovers to make pulled pork sandwiches.

Or add the leftover pork to chili, stew, or soup.