Slow Cooker Mashed Potatoes [Video]
Slow cooker mashed potatoes are rich, creamy, and super tasty. It is a no-fuss side dish and the perfect comfort food to prepare for special occasions.
If you want to prepare other dishes using a slow cooker, check out our recipes for Kalua Pork, Pineapple Ham, and Apple Pudding Cake.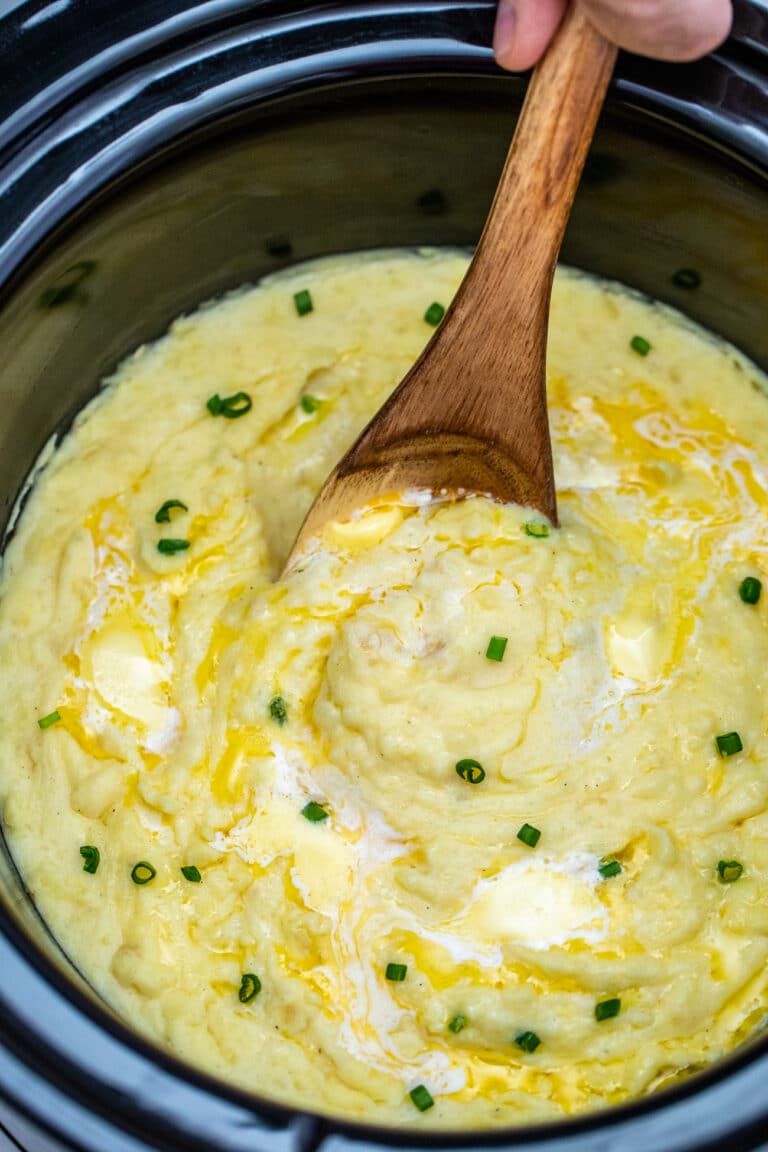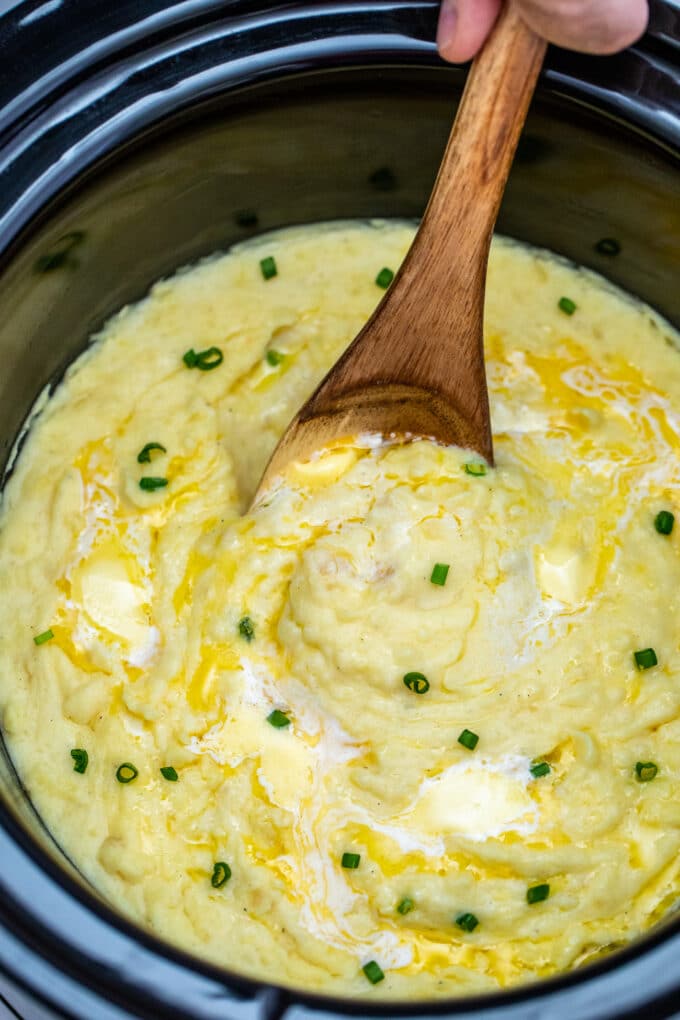 Easy Crockpot Mashed Potatoes Recipe
Slow Cooker Mashed Potatoes are one of my favorite side dishes. While growing up, I would always ask my Mom to include this in our weekend dinner. Eventually, I learned to prepare the dish on my own.
What I like about using a slow cooker for food preparation is that you can actually multi-task. All you have to do is to peel the spuds, chop them into equal sizes, and rinse with water. After placing them in the crockpot along with other ingredients, your work is halfway done.
While waiting for the spuds to become tender, you can concentrate on preparing the main meal. Definitely a great way to save time in the kitchen!
To make mashed potatoes extra creamy, add a generous amount of butter, milk, and cream. Use an electric mixer for mashing to make the dish smooth and lump-free. Easy, right?
Can you make mashed potatoes in the crockpot?
Yes. When you need to prepare a lot of dishes at once, it is best to cook the potatoes in the crockpot.
This means that you don't have to watch over boiling potatoes. Just leave them in the crockpot and start preparing for other meals.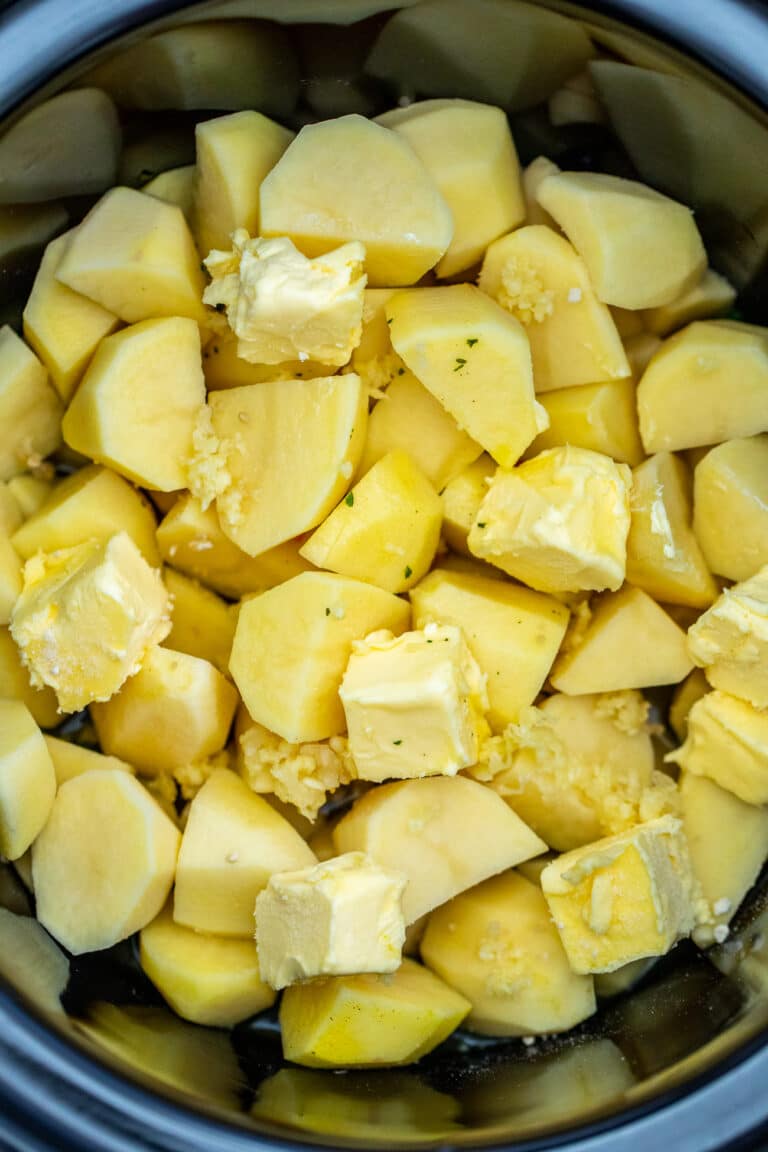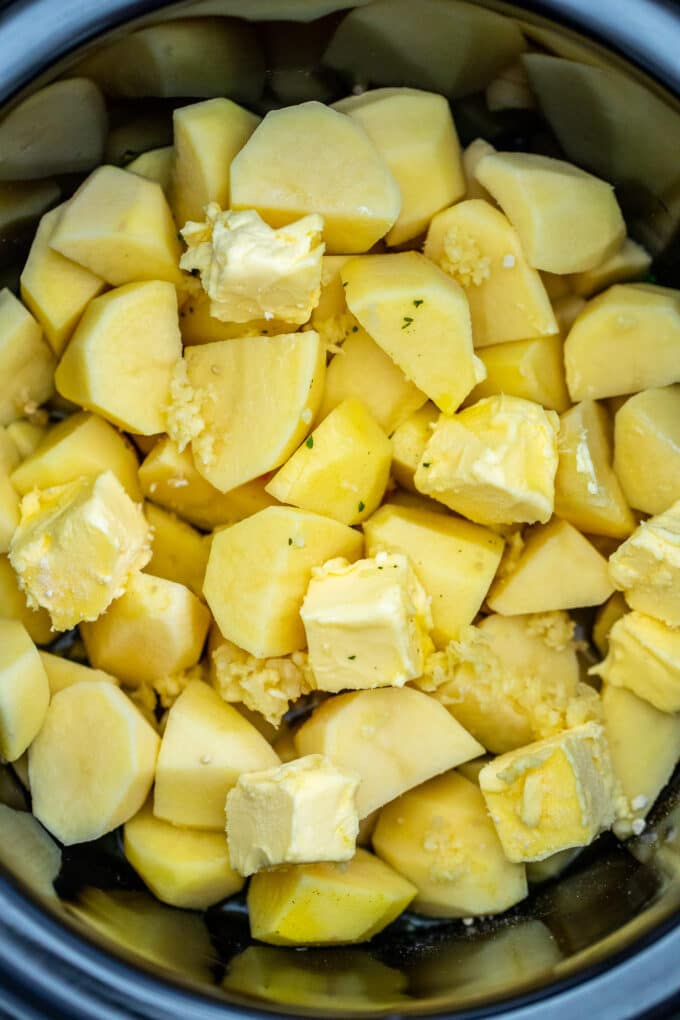 How do you make mashed potatoes in the slow cooker?
Follow the easy steps below. Also, feel free to watch the short recipe video tutorial attached.
First, put peeled potato chunks and chicken broth in the slow cooker. Place butter cubes, garlic, and onion powder on top before closing the lid cover.
Next, cook at a high or low temperature depending on your preference. Check if the potatoes are already soft.
Whip the potatoes using a masher, ricer, or electric hand mixer. Put the rest of the ingredients while stirring and adjusting the flavor to taste.
Serve warm and enjoy.
You can prepare this recipe for at most 2 days in advance. Properly store the cooled dish in the right airtight container before putting in the refrigerator.
How long do you cook mashed potatoes in the slow cooker?
You can set the temperature to high if you want the dish to cook for 3-4 hours.
On the other hand, setting the pot to low temperature means that you have to wait longer. The potatoes will cook for 6-7 hours.
Recipe Variations:
Instead of using white potatoes, replace them with sweet potatoes.
Mix in bacon, cheese, and broccoli for added flavor.
Use yogurt instead of cream for a lighter version.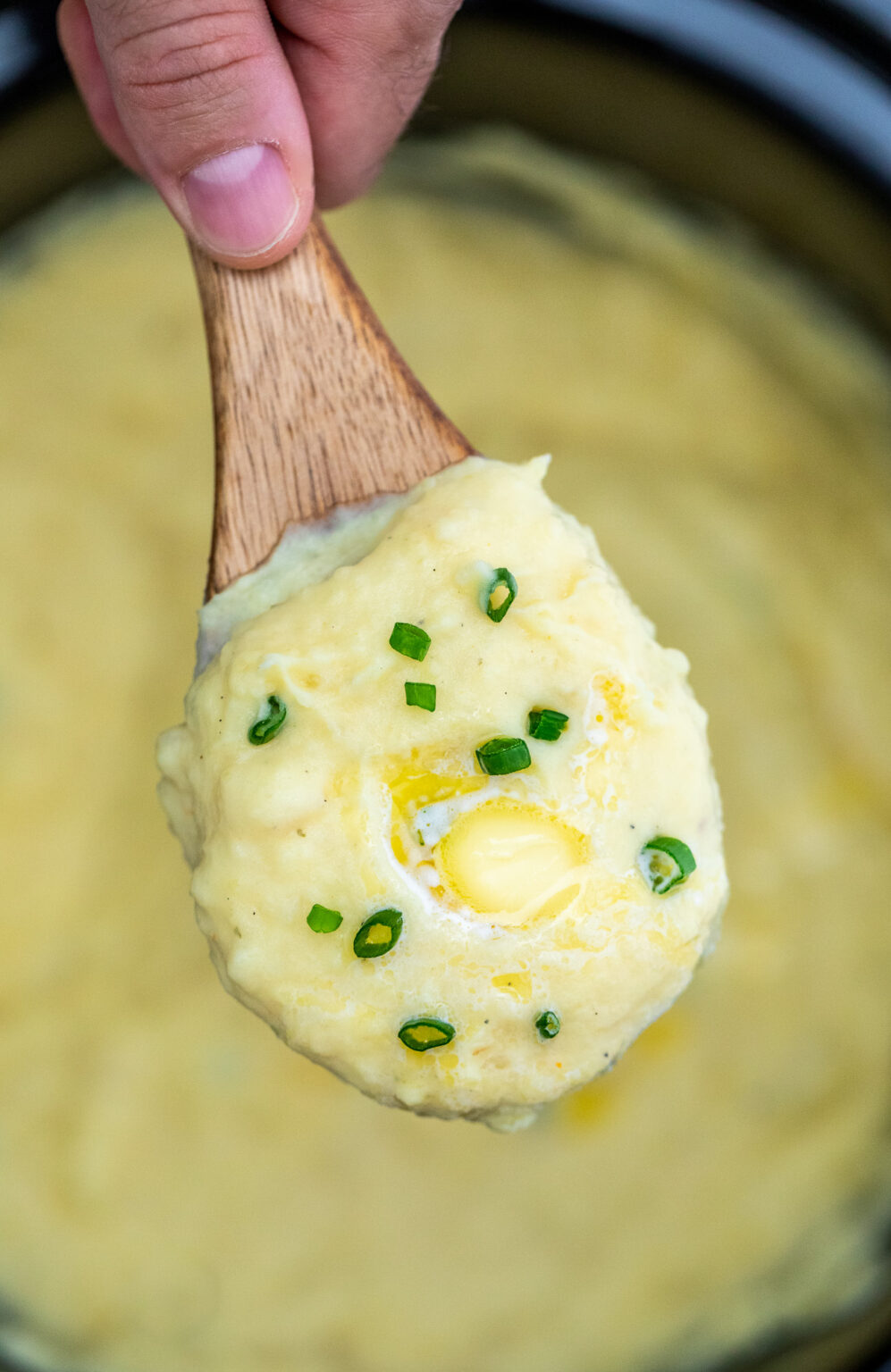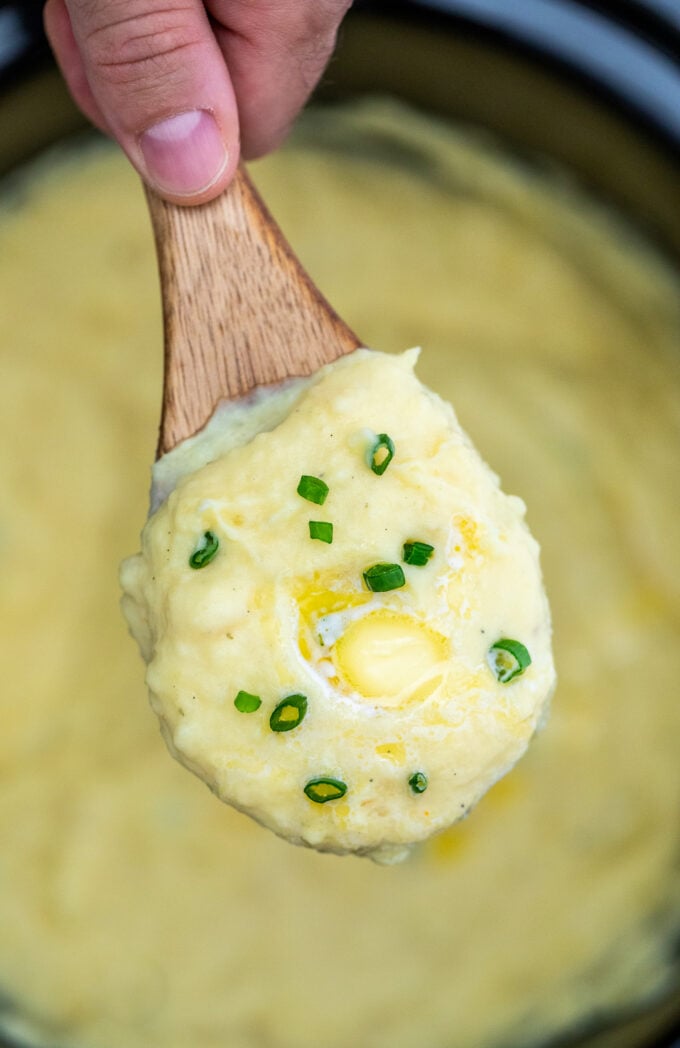 How do you make fluffy and creamy crockpot mashed potatoes?
There are different types of potatoes. In order to achieve your preferred cream consistency, start with using the right variety.
If you want the dish to be creamy, use starchy potatoes. The best options in the market are Yukon Golds. You also need to add cream cheese and sour cream to increase the richness and creaminess.
The trick is to remove excess starch from the potatoes. Make sure to rinse the chopped spuds well before putting them in the pot.
When mashing, be careful not to overwhip the spuds. Potatoes become gluey if they are whipped and beaten too much. You may use the Russet variety if you want very fluffy mashed potatoes.
Storage Tips:
There are two ways to freeze this recipe:
The easiest way is to place everything in freezer plastic bags. Make sure that there is no air inside the container.
Another option is to separate the mashed potatoes into small portions so that you will not have to reheat everything at once.
To do the second option, put mashed potato scoops on top of a parchment paper baking sheet and place them in the freezer overnight. The next day, transfer them to regular freezer bags. Now, the dish will last for another 6-8 weeks.
Make sure to defrost the potatoes for one day before serving them. Add softened butter and stir the dish while heating.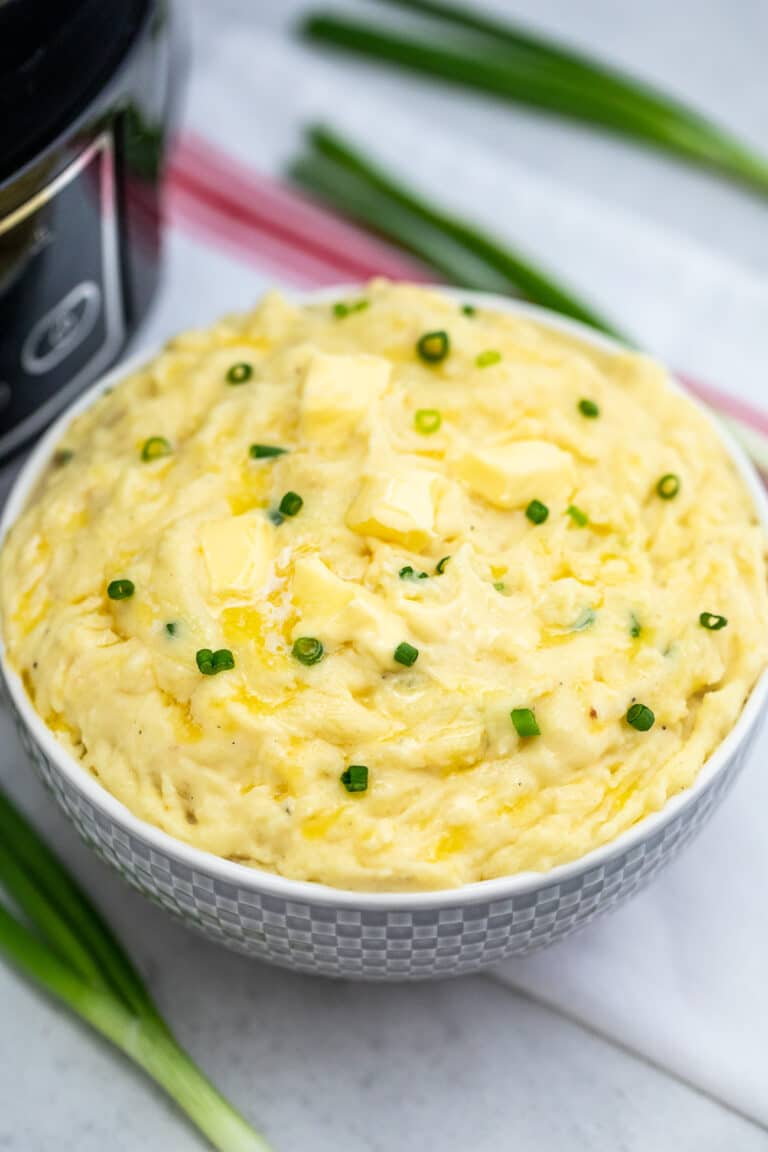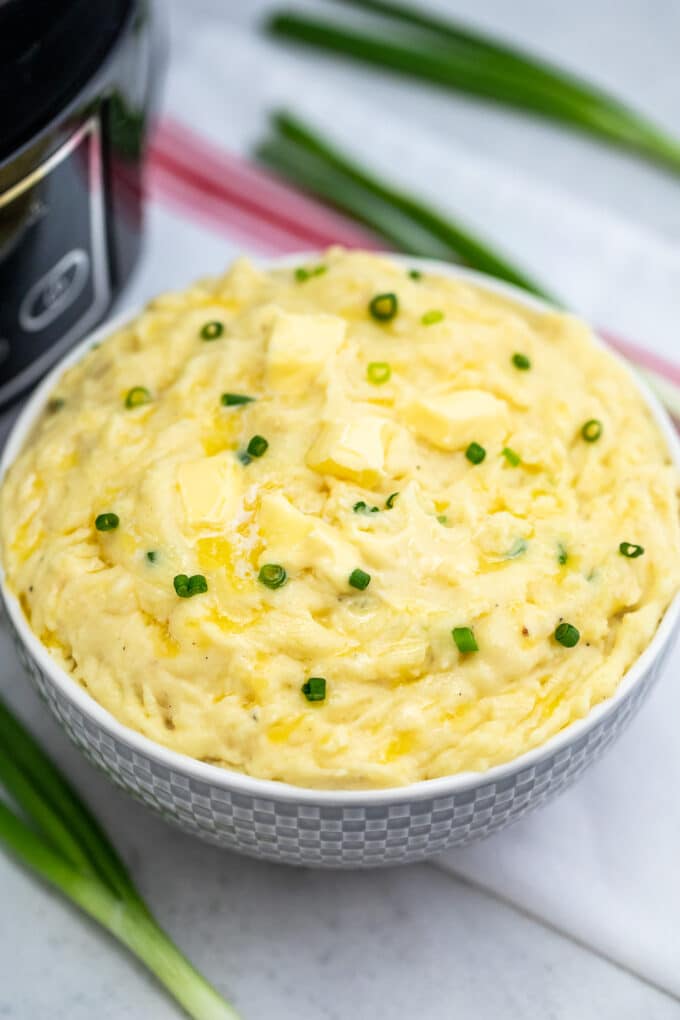 More delicious side dishes:
Crockpot Green Beans Casserole
Recipe tips:
There is no need to completely drain the leftover water in the crockpot as long as it is not too much.
If you want to lessen the cooking time a bit, cut the potatoes into smaller chunks.
Chicken broth adds so much flavor to the dish, but it is also okay to use vegetable broth for cooking.
Never use a blender or food processor to mash the potatoes.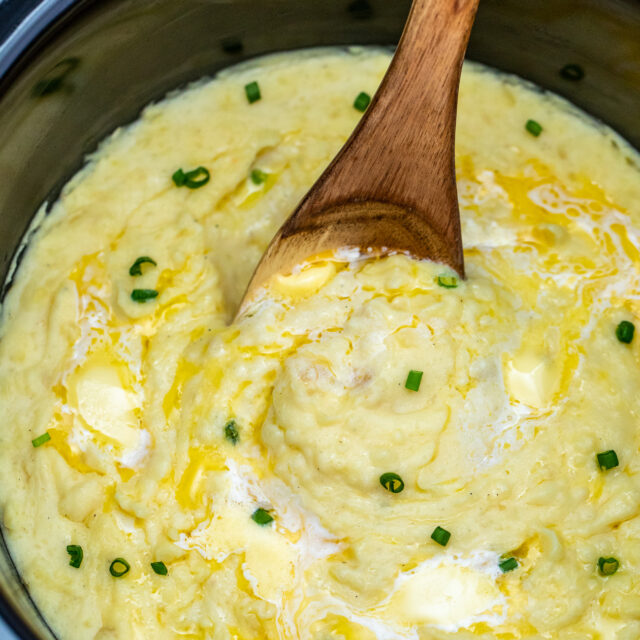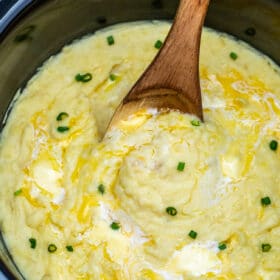 Slow Cooker Mashed Potatoes
Slow cooker mashed potatoes are rich, creamy, and super tasty. It is a no-fuss side dish and the perfect comfort food to prepare for special occasions.
Save
Share
Print
Pin
Rate
Ingredients
3

pounds

Yukon Gold

(or Red Potatoes - peeled and chopped into 1-inch pieces)

1

cup

chicken broth

(or veggie broth)

1/3

cup

butter

(cut into small pieces)

4

cloves

garlic

(minced)

1

teaspoon

onion powder

1/2

cup

sour cream

1/2

teaspoon

salt

1/4

teaspoon

black pepper

1/2

cup

cream

(warmed - more if needed)
Instructions
Add potatoes and broth to the bowl of a slow cooker, and top with the butter cubes, onion powder, and minced garlic.

Cover and cook on high for 3-4 hours, or until the potatoes are cooked and soft.

Use a potato masher or an electric mixer to mash the potatoes to your desired consistency.

Stir in the sour cream, salt, and black pepper, taste and adjust. Add the desired amount of warm cream and stir, until the potatoes are as creamy as you want.

Stir in any other add-ins if using.

Serve warm garnished with green onions and extra butter.
Nutrition
Calories:
326
kcal
|
Carbohydrates:
30
g
|
Protein:
7
g
|
Fat:
20
g
|
Saturated Fat:
8
g
|
Cholesterol:
33
mg
|
Sodium:
500
mg
|
Potassium:
1023
mg
|
Fiber:
5
g
|
Sugar:
0
g
|
Vitamin A:
805
IU
|
Vitamin C:
28.8
mg
|
Calcium:
114
mg
|
Iron:
7.4
mg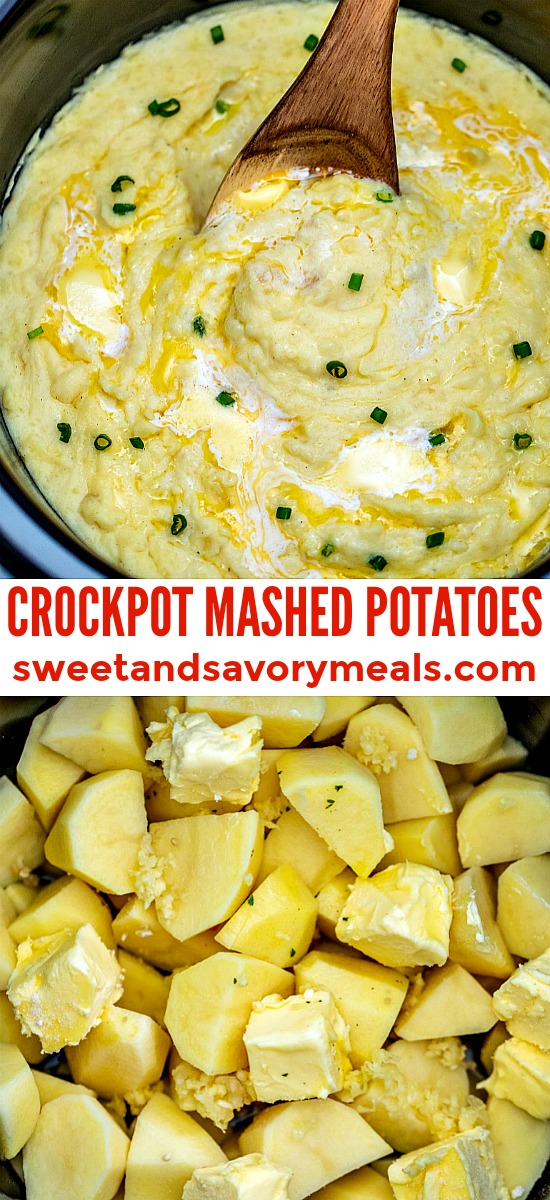 More recipes you might love