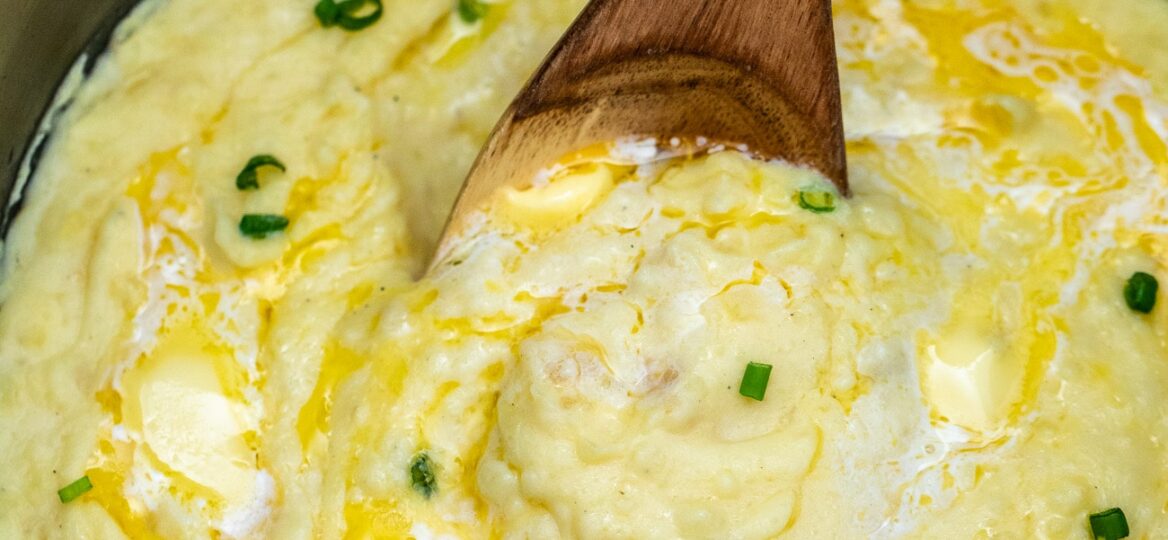 Slow Cooker Mashed Potatoes [+Video]
Slow cooker mashed potatoes are rich, creamy, and super tasty. It is an easy side dish that requires no boiling, and it is always a crowd favorite. This is the perfect comfort food to prepare for special occasions or for Thanksgiving dinner!
If you are looking for more delicious slow cooker recipes, to enjoy during the holiday season then try this Pineapple Ham, Crockpot Green Bean Casserole, and Slow Cooker Corned Beef with Cabbage.
Easy Crock Pot Mashed Potatoes
Slow Cooker Mashed Potatoes are one of my favorite side dishes, especially during the holiday season. While growing up, I would always ask my mom to include this in our weekend dinner. Eventually, I learned to prepare this hearty meal on my own.
What I like about using a slow cooker for food preparation is that you can actually multi-task. All you have to do is to peel the spuds, chop them into equal sizes, and rinse with water. After placing them in the crockpot along with other ingredients, your work is halfway done.
While waiting for the spuds to become tender, you can concentrate on preparing the main meal. Definitely a great way to save time in the kitchen!
To make the mashed potatoes extra creamy and fluffy, add a generous amount of butter, milk, and cream. Also, use an electric mixer or immersion blender for mashing them to get that smooth texture and lump-free. Easy, right?!
The result is smooth and flavorful potatoes which are the perfect side to any turkey dinner. They can easily be prepped ahead of time and kept warm in the crock pot until serving!
Main ingredients:
Potatoes: For this recipe, I usually go with starchy spuds. Yukon gold potatoes, russet potatoes are my favorite choice. However, use any kind of potatoes you have on hand or like. white or red potatoes will work as well.
Broth: I love using homemade chicken stock because the aromas are amazing! However, if you are not in the mood of making it, simply use a store-bought version.
Unsalted butter: For a rich and creamy texture!
Seasoning: Such as onion powder, salt, and black pepper.
Garlic
Heavy cream or whole milk
Sour cream
How to make the best Slow Cooker Mashed Potatoes?
Follow the easy steps below. Also, feel free to watch the short recipe video tutorial attached for quick step-by-step instructions.
First, peel and cut the spuds into chunks and add them along with chicken broth to the slow cooker. Then, place butter cubes, garlic, and onion powder on top before.
Next, cover and cook at a high or low temperature depending on your preference. Check if the spuds are already soft.
Whip them using a potato masher, or an electric hand mixer.
Lastly, add the rest of the ingredients while stirring and adjusting the flavor to taste.
Serve warm in a large bowl!
Recipe Variations:
Sweet potatoes: Instead of using regular type, replace them with sweet potatoes.
Bacon: For more flavor, feel free to add some bacon bits to it.
Chives: Another great addition would be some chopped chives.
Cheese: Adding some shredded cheddar cheese or mozzarella cheese will make it even creamier.
Dairy: Swap the heavy cream with yogurt, or plain Greek yogurt instead.
Stove top: Alternatively, you can make them on the stovetop.
Instant Pot: If you have an electric pressure cooker, then feel free to utilize it and make these Instant Pot Mashed Potatoes. An alternative and a quick way to cook this side dish. Just perfect for a busy day!
Dairy-free: Omit the sour cream and cream, and simply used vegetable stock instead. In addition, use vegan butter instead of regular butter.
How long do you cook potatoes in the slow cooker?
On high settings, it will take about 3-4 hours to fully cook them.
On the other hand, setting the pot to a low temperature means that you have to wait longer. The potatoes will cook for 6-7 hours.
Also, you could set them in the morning prior to going to work, and have them ready by the time you return home! It is very convenient!
Tips to make fluffy and creamy mashed potatoes:
There are different types of potatoes. In order to achieve your preferred cream consistency, start with using the right variety.
Also, if you want the dish to be creamy, use starchy spuds. The best option would be Yukon Golds.
You also need to add cream cheese and sour cream to increase the richness and creaminess.
The trick is to remove excess starch from the potatoes. Therefore, make sure to rinse the chopped spuds well before putting them in the pot.
When mashing, be careful not to overwhip the spuds. They become gluey if they are whipped and beaten too much.
You may use the Russet variety if you want very fluffy mashed potatoes.
Lighter mashed potatoes option
This potato recipe calls for cream and butter because it is meant to make this dish rich and extra creamy. Also, I like that it has a perfect texture, with a creamy and buttery flavor. It is the perfect side dish for a Thanksgiving meal or Christmas dinner.
But, if you are looking for a lighter version and healthy eating, then simply skip the butter and cream. In addition, feel free to use a bit of reduced-fat milk.
What to serve with this side dish?
Refrigerate: First, let leftover cool down at room temperature. Then, transfer to an airtight container and refrigerate it for up to 4 days.
To freeze: There are two ways to freeze this side dish:
The easiest way is to place everything in freezer plastic bags. Make sure that there is no air inside the container.
Another option is to separate the mashed potatoes into small portions so that you will not have to reheat everything at once.
To do the second option, put mashed potato scoops on top of a parchment paper baking sheet and place them in the freezer overnight. The next day, transfer them to regular freezer bags. Now, the dish will last for another 6-8 weeks.
Reheat: Make sure to defrost the potatoes for one day before serving them. Add softened butter and stir the dish while heating.
More delicious side dishes:
Recipe tips:
There is no need to completely drain the leftover water in the crockpot as long as it is not too much.
Also, if you want to lessen the cooking time a bit, cut them into smaller chunks.
Chicken broth adds so much flavor to the dish, but it is also okay to use vegetable broth for cooking.
I do not recommend using a blender or food processor to mash the potatoes.
You can prepare this recipe for at most 2 days in advance. Properly store the cooled dish in the right airtight container before putting it in the refrigerator.
Slow Cooker Mashed Potatoes
Ingredients
3

pounds

Yukon Gold

or Red Potatoes - peeled and chopped into 1-inch pieces

1

cup

chicken broth

or veggie broth

1/3

cup

butter

cut into small pieces

4

cloves

garlic

minced

1

teaspoon

onion powder

1/2

cup

sour cream

1/2

teaspoon

salt

1/4

teaspoon

black pepper

1/2

cup

cream

warmed - more if needed
Instructions
Add potatoes and broth to the bowl of a slow cooker, and top with the butter cubes, onion powder, and minced garlic.

Cover and cook on high for 3-4 hours, or until the potatoes are cooked and soft.

Use a potato masher or an electric mixer to mash the potatoes to your desired consistency.

Stir in the sour cream, salt, and black pepper, taste, and adjust. Add the desired amount of warm cream and stir, until the potatoes are as creamy as you want.

Stir in any other add-ins if using.

Serve warm garnished with green onions and extra butter.