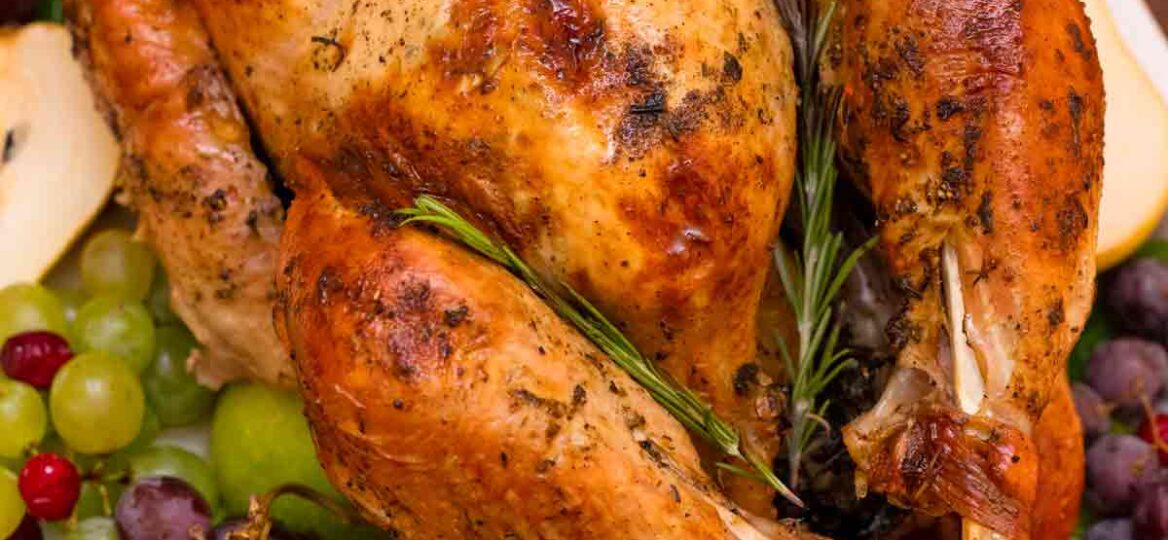 Herb Roasted Turkey Recipe [Video]
Herb Roasted Turkey is coated with a herb butter rub to keep the meat succulent and juicy on the inside and crispy on the outside, with a perfectly golden-brown skin. Easy enough for beginners and sure to wow everyone at your Thanksgiving table!
While your bird is roasting, why not get the rest of the meal going? These Instant Pot Mashed Sweet Potatoes, Crockpot Stuffing, and Instant Pot Pumpkin Cheesecake are easy and hand-off recipes to make. Focus on other holiday tasks while your Instant Pot and Crockpot take care of the menu!
The Best Thanksgiving Herb Roasted Turkey
Herb Roasted Turkey will give you everything you've been dreaming of in a roasted bird. Every inch is slathered with herbed butter to keep the meat succulent and juicy while infusing it with so many amazing flavors.
That skin gets ridiculously golden and crispy. Everyone will want some on their plate, so plan your carving strategy ahead! Also, if you've never cooked a whole bird before, it can be intimidating.
Well, trust me when I say that this is one of the easiest recipes you'll ever make. As long as you plan ahead, you'll end up with perfection every time. Once you're confident with your roasting skills, try other flavor combinations, and take it to the next level!
How to prepare a turkey?
First, remove the neck. Next, take some kitchen twine and tie the legs of the bird together after stuffing the cavity. To prevent the wings from drying with the rest of the meat cooks, we're folding them under the body. Finally, throw out the bag of giblets.
This trussing technique is also applicable for other fowl like chicken.
How to thaw a frozen turkey?
It depends on the weight of the bird. In general, allocate a day for every four pounds. For an 8-pounder for example, plan to thaw it two days ahead. To safely thaw from frozen, just leave it in the fridge.
Herb Roasted Turkey Ingredients:
How to make Herb Roasted turkey?
Truss the bird. First, chop away the neck if it is not already removed. Then, season generously inside before filling up with stuffing. Tie up the legs and tuck the wings.
Coat with butter. Blend butter, fresh herbs, and garlic. Rub under the skin and all over it.
Roast. Let the oven reach 450F, then bake the bird for 45 minutes. Reduce to 350F. Every 30 minutes, use the broth to baste the meat. A 15-lb turkey usually takes around 3 hours to get done.
Check for doneness. Insert a meat thermometer into the thickest part of the meat. Once it registers 165F, it is cooked through.
Serve. Tent the roasting pan with foil and rest the meat for 25 minutes. Carve, then serve.
Herb Roasted Turkey variations:
How long to cook the turkey?
You'll need to do a bit of math here. For every pound of bird, allow for 15 minutes of roasting time. This calculation assumes that you're roasting from fully-thawed or fresh.
Should I roast turkey covered or uncovered?
Uncovered, because we want that skin to get as crispy as possible. But if you feel that the bird is getting brown too fast, simply cover it with foil.
Then, during the last 10-15 minutes of roasting, uncover it to get that nice crunchiness and the golden-brown skin.
What is the best temperature to cook the turkey?
We're roasting at two temperatures. First, we start at 450F because we need high heat to crisp up the skin. Then, we turn it down to 350F so the bird cooks completely.
What to serve with roasted turkey?
Most side dishes will go well with this roast. Try serving it during the holiday season with these crowd favorite side dishes: Cheesy Baked Green Beans, Scalloped Potatoes, these elegant Fondant Potatoes, or classic mashed potatoes.
Also, a hearty bowl of Roasted Butternut Squash Soup is a delicious starter. Don't forget the cranberry sauce!
More Thanksgiving recipes:
Storing instructions:
Store leftovers in an air-tight container. They will last for up to a week in the fridge, and best up to a month frozen.
Recipe Tips:
Deliciousness to your inbox
Enjoy weekly hand picked recipes and recommendations