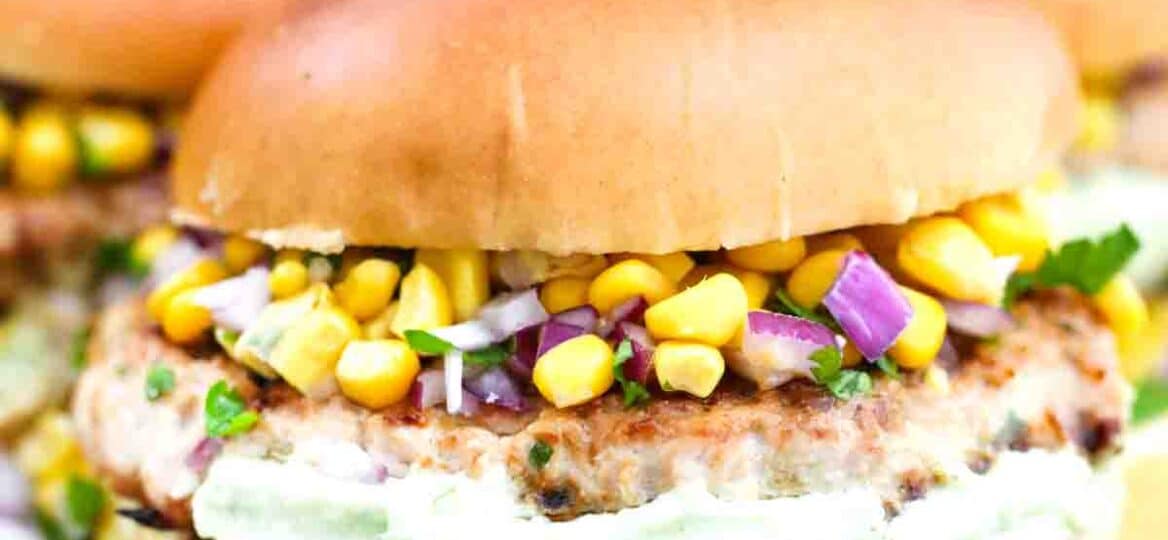 Best Turkey Burgers Recipe 
Turkey Burgers are a healthy but delicious alternative to the traditional beef burger, easy to make, juicy, and great served with salsa and avocado sauce. This is the best turkey burger recipe I have ever used, and it makes the best patties. While some turkey burgers are dry and bland, this delicious turkey burgers recipe will get you 5 stars from everyone who tries them. Be sure to print our recipe and put it in your recipe box for future use.
Although they did not become widely known until the 1970s and 80s, turkey burgers were actually in restaurants in 1938. It was Doctor Robert Baker who first created this delicious invention. He was a professor at Cornell University and was also known for inventing the chicken nugget, turkey and chicken hot dogs, and his own Cornell Barbecue Sauce.
For these juicy turkey burgers, all you need are a handful of ingredients including ground turkey, seasonings, honey, Worcestershire sauce, hamburger buns, corn salsa, and our homemade avocado cream sauce. You can change the ingredients to suit your own tastes such as leaving out the peppers if you are not a spicy food fan or even using a different sauce.
Ingredients needed:
If you love turkey burgers, you have to try this turkey burger recipe. Just gather the ingredients listed below and go to the recipe card at the bottom of the page for the instructions and measurements.
Ground turkey
Honey
Jalapeno: Seeded and minced.
Finely chopped onion
Worcestershire sauce
Chopped fresh parsley
Cumin
Oregano
Smoked paprika
Kosher salt
Olive oil: For cooking.

Toasted hamburger buns: For serving.
Corn salsa: For serving.
For the avocado cream:
Large avocado
Honey
Greek yogurt

Jalapeno: Seeded and chopped.
Fresh lime juice
Cilantro
Salt: To taste.
How to make turkey burgers from scratch?
Make the meat mixture: First, mix all the burger ingredients in a large bowl.

Form your turkey burgers: Then, rub olive oil on your hands and make three or four turkey burger patties from the ground turkey mixture.

Cooking turkey burgers: Next, heat a skillet over medium heat and drizzle oil on it. Cook turkey burgers for about five minutes on each side or just until they are golden brown.

Make the cream sauce: While your burger patties cook, add the avocado cream ingredients into a food processor and blend until smooth. Scrape down the sides as needed. Add salt to taste.

Serve your burgers: Finally, spread a dollop of cream on each bun, place the turkey burger on top, then add corn salsa and cilantro. Serve immediately.
Recipe variations:
A different oil: You can use vegetable oil, canola oil, or any kind of oil you like to cook with.
Any buns: To make your turkey burger healthier, use lean ground turkey and whole wheat hamburger buns instead of regular ones.
Chicken burgers: Try using ground chicken instead of turkey meat for a different flavor.

Dark meat: If you want your burger patties even juicier, use the dark meat from ground turkey thighs instead of ground turkey breast meat.

Italian seasoning: A tablespoon of Italian seasoning can add a rich flavor to these burgers.

Soy sauce: Add a teaspoon of soy sauce to your meat mixture for a salty-sweet accent.
Maple syrup: Instead of honey, feel free to use maple or corn syrup.

Grilled burgers: If you like the flavor of grilling, you can cook these over medium-high heat on a grill for five to seven minutes.
How to serve:
You can serve these any time you want something a little bit healthier than regular hamburgers. They can be used like the classic burger with a bun or without. Try one of these absolutely delicious turkey burger ideas or share some of your own in the comments section.
Add sliced tomatoes, Dijon mustard, and a slice of Swiss cheese for a turkey and Swiss burger.

All burgers go well with fries. Try our crispy and delicious potato wedges recipe.
A healthier choice for fries would be to make them from sweet potatoes or zucchini.

If you are more of a chip eater, this recipe for air fryer potato chips is awesome.

This is a great recipe for meal prep. Make a double batch and wrap them individually in plastic wrap before putting them in containers. They will stay good in the freezer for several months.

Top your burger with barbecue sauce if you like. You can use store-bought or use our best-ever homemade barbecue sauce recipe.

Of course, you can also just use ketchup, mustard, or mayo.
Frequently asked questions
Are turkey burgers healthier than beef burgers?
Yes, if you use 93% lean ground turkey, you are going to cut about 40% of the fat that you would get with a normal ground beef burger. However, you should note that this can mean dryer burgers, so you have to be sure not to cook them too long. Turkey also has more unsaturated fat, which is good for you.
Is it okay for the cooked burger to be a little pink?
Not according to the USDA. The recommendation is that the internal temperature of your ground turkey burgers is 165 degrees F. Use a meat thermometer to check it. However, if you are planning to let them rest for a few minutes under foil before serving, take them off the pan at 163 degrees F. The temperature will go up as it sits.
Why are my turkey burgers dry?
Ground poultry of any kind can be dry compared to beef burger patties because they do not have as much fat. For extra juicy turkey burgers, add a teaspoon of olive oil to your meat mixture. Another idea is to spritz the burgers with water a few times when you are cooking them. Just do not overdo it or they will fall apart.
What is the best onion for this recipe?
Although I chose to use yellow onion, you can use red onion for a milder flavor. Yellow onions are the most commonly used and have a spicy and strong flavor. White onions are even sharper than yellow and have a crisp and clean flavor with a kick. For a sweeter burger, use sweet onions. Vidalia onions are the most common and taste great raw or cooked.
Should I use bread crumbs?
Because ground turkey is not as fatty as ground beef, I typically do not use bread crumbs with it. But if you do, make sure they are ground up finely and do not use too much. Otherwise, you end up with a dry burger that falls apart.
What are the nutrition facts in this recipe?
The calories of each burger are 315 with 10 grams of fat, 1 gram saturated fat, and 23 carbohydrates. They also have 99 grams cholesterol, 3 grams sugar, and 350 mg sodium. But on a good note, you also get 30 grams protein, 7 grams unsaturated fat, 500 mg potassium, 3 grams fiber, 160 units of vitamin A, 3 mg vitamin C, 70 mg calcium, and 4 mg iron.
How to store leftovers:
Store: You can store your leftover turkey burgers in the fridge for three days in an airtight container.
Freeze: To freeze turkey burgers, wrap them in plastic wrap and put them in an airtight container or freezer bag. They will last about 90 days in the freezer.
Thaw: You should put your frozen burgers in the fridge overnight before serving to let them thaw slowly.
Reheat: You can reheat leftovers for 45 to 60 minutes in the microwave or wrap them in foil and bake them at 350 degrees F for about 10 minutes.
More turkey recipes you should try:
Cooking tips:
Rubbing oil on your hands before making turkey burgers reduces stickiness and keeps your turkey patties intact.

A cast iron skillet works great for cooking these turkey burgers. But any frying pan will do.
Feel free to use garlic powder instead of minced garlic and onion powder instead of chopped onion.

Do not forget to add salt and pepper to taste for an extra-tasty burger.

If you are not a fan of spicy foods, leave out the jalapenos.

Leave a slight indention on the top of each turkey patty. This will prevent the puffy middles and give you nice, flat patties you can add toppings to.

The internal temperature of your patties should be 165 degrees F with a meat thermometer.

To keep your cooked burger patties warm while you cook, place them on a parchment-lined baking sheet and put them in the oven set at 200 degrees F. If you do not have parchment paper, spray the sheet lightly with oil.
Are you looking for other ground turkey recipes? Check out our food blog for all sorts of ideas.
Best Turkey Burgers
Ingredients
Turkey burgers:
1

lb

ground turkey

1/2

small yellow onion

very finely chopped

1

jalapeño

seeded and finely minced

2

tablespoons

honey

or maple syrup

2

tablespoons

fresh parsley

chopped

1

tablespoon

Worcestershire sauce

1

teaspoon

smoked paprika

1/2

teaspoon

dried oregano

1/2

teaspoon

cumin

1/2

teaspoon

salt

or to taste

Oil for cooking
Corn salsa:
1

can yellow corn

drained - or fresh grilled corn

1

jalapeno

de-veined and de-seeded, and very finely chopped

1/2

small red onion

very finely diced

1/4

cup

fresh cilantro

chopped

1

lime

juiced

1

teaspoon

lemon juice

Kosher salt

to taste
Creamy avocado sauce:
1

large ripe avocado

1/2

cup

fresh cilantro

1

jalapeno

deseeded and chopped

1/2

cup

Greek yogurt

3

tablespoons

lime juice

2

tablespoons

honey

or maple syrup

Kosher salt

to taste
For serving:
4

toasted brioche hamburger buns
Instructions
Turkey burgers:
In a large bowl, combine the burger ingredients. Using clean hands, mix the mixture and form it into 3 or 4 patties.

Heat a nonstick skillet over medium heat, also you can use a grill cast iron pan. Add a drizzle of oil and cook the patties for 5 minutes on each side, or until no longer pink in the center.

Also, you can cook them on the grill.
Corn salsa:
Mix all the ingredients in a bowl, cover, and refrigerate until ready to use.
Creamy avocado sauce:
Add all ingredients to a high-speed blender or food processor. Blend until smooth, scraping the sides a few times. Taste for salt and season as needed. Transfer to a container, cover, and refrigerate until ready to use.

To serve, spread a creamy avocado sauce on each bottom bun, and top with a turkey pattie, corn salsa, and the top bun.
Deliciousness to your inbox
Enjoy weekly hand picked recipes and recommendations