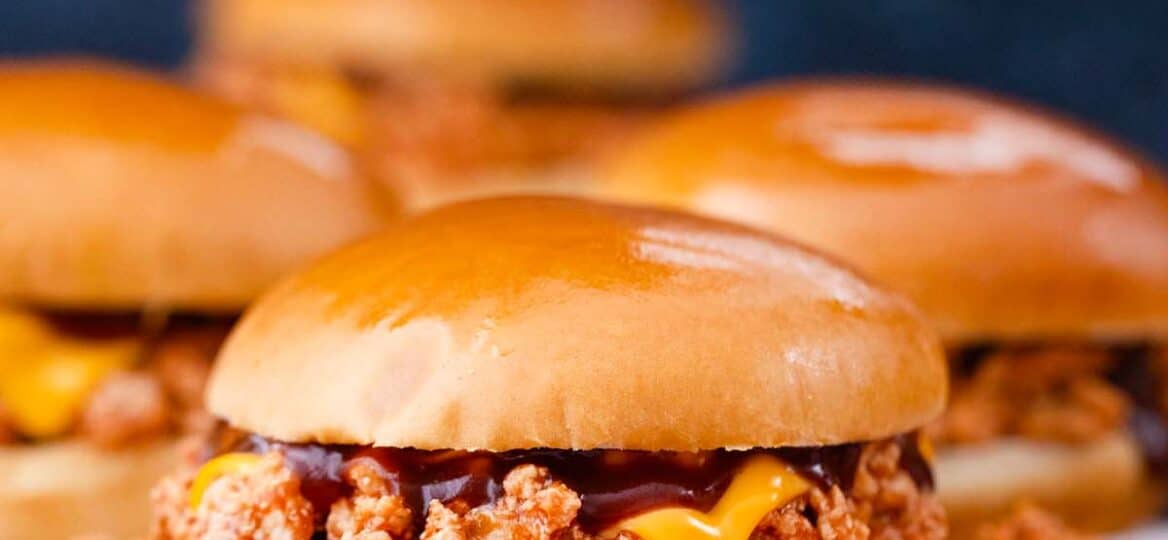 BBQ Turkey Sloppy Joes – ONE PAN!
BBQ Turkey Sloppy Joes take a traditional childhood comfort food and turn it into a sandwich with so much flavor and juiciness that you will not believe it has less fat and calories. In fact, these are the best sloppy joes I have ever made according to my family. It is one of my go-to recipes that I can whip up anytime with just a few common ingredients I may already have in the kitchen.
Did you know that sloppy joes made with ground turkey instead of ground beef are actually called sloppy janes in some areas? They may also be referred to as the Slushburger in the Midwest, Taven in Iowa, and Dynamite in Rhode Island. Also, there is a bar called Sloppy Joe's in Key West Florida that serves Sloppy Joe's.
You will love how just switching the meat from beef to turkey makes this dish so delicious. All you need are some basic ingredients to make this BBQ turkey sloppy joe recipe including ground turkey, green pepper, onion, brown sugar BBQ sauce, tomato sauce, Worcestershire sauce, and some seasonings. The brown sugar gives it a sweet flavor while the chili powder gives it a bit of a kick.
Ingredients needed:
These are the basic ingredients for making sloppy joes with ground turkey instead of ground beef. Once you gather everything on the list, find the handy recipe card at the bottom of the page for the instructions and measurements.
Ground turkey
Green pepper: Finely chopped.
Small onion: Finely chopped.
Brown sugar
Brown sugar BBQ sauce
Tomato sauce
Worcestershire sauce
Chili powder
Garlic powder
Onion powder
Olive oil
Kosher salt
How to make BBQ turkey sloppy joes from scratch?
Cook in a large skillet: First, add ground turkey, green bell pepper, onion, olive oil, and salt in a large pan over medium-high heat. Crumble and cook until the ground meat is lightly browned and the inside is no longer pink. Drain well.

Reduce heat and add the barbecue sauce: Now, combine BBQ sauce, tomato sauce, and seasonings and add it all to the pan. Turn down to medium heat and let it simmer for 10 minutes, stirring occasionally.

Serve on a bun: Last, halve buns and serve with or without cheese.
How to make baked BBQ turkey sloppy joes from scratch?
Preheat oven and prep pan: To begin, preheat oven to 375 degrees F and place parchment paper on a baking sheet or pan.
Brown the meat: Then, add turkey, onion, green pepper, salt, and oil to a large oven-safe skillet and cook until lightly browned.

Add the sloppy joe mixture: After, add tomato sauce, BBQ sauce, and seasonings and stir well. Then, put the skillet in the hot oven and let it bake for 10 to 15 minutes or until the juice has been absorbed.

Serve hot: Finally, serve hot on whatever buns or bread you like.
Recipe variations:
Another oil: You can use any kind of cooking oil you like such as vegetable, canola, or avocado oil.

Other meat: Feel free to use ground chicken or pork instead of turkey for a different flavor.

Toasted buns: For garlic toasted buns, preheat oven to 425 and combine mayonnaise, and butter in a small bowl. Add garlic and stir well. Brush it onto the inside of the rolls and bake them, insides down, for five minutes.

Spicy sloppy joes: Add a nice kick of spiciness to your BBQ turkey sloppy joes with a pinch of red pepper flakes.

Add vinegar: For an extra bit of flavor, pour in a tablespoon of apple cider vinegar. You could also use white wine vinegar if you like that better.
More veggies: You can also add more veggies like red bell pepper, chopped green onions, and minced celery.

Other sauce: Use your own favorite BBQ sauce and leave out the brown sugar if it is too sweet for you.
How to serve:
Serve sloppy joes for a hectic weeknight dinner or any night you want a fast and delicious meal that the whole family will love. And with turkey instead of beef, you get less fat and calories! Try one of these great serving ideas or share some of your own in the comments section at the bottom of the page.
For a richer flavor, sprinkle some parmesan or romano cheese on top of your filling before adding the top bun.

Use leftovers to add to your favorite casserole. Or you can add it to our recipe for loaded cheeseburger casserole.
You could also use shredded cheese of any kind like cheddar, mozzarella, or Colby jack.

This is one of those great recipes that go well with anything from chips to potatoes. Try our easy and yummy recipe for chunky mashed potatoes.
Instead of on a bun, you can serve sloppy joes in a bowl with rice or pasta. My family loves it with macaroni noodles!
Another way to serve sloppy joes is with sweet potatoes. We have an awesome recipe for roasted sweet potatoes your whole family will love.

Crumble some french-fried onions or potato chips on top of the meat before adding the top bun for extra crunch and flavor.
Frequently asked questions
What are the best buns for these sloppy joes?
Potato buns are delicious and really bring out the flavor of the sloppy joes. BBQ turkey sloppy joes also taste amazing on wheat hamburger buns or regular white buns. For a sweeter barbecue turkey sloppy joe sandwich, try serving it on Hawaiian sweet rolls. The kids will love this!
How many people does two pounds of sloppy joes feed?
Each pound of this sloppy joe mixture feeds six to eight people, depending on the size of the sandwich. That is if you use three ounces of ground turkey per person. So, two pounds would feed 12 to 16 people, depending on the size of the sandwiches you make. For example, if you serve several side dishes, you can use less meat per sandwich.
What cheese is best for these sloppy joes?
The most traditional cheese for sloppy joes is American. Most people just slap a slice of American cheese on a toasted bun and add the sloppy joe mixture. However, you can use any kind of cheese you like. Some great ideas include swiss, provolone, mozzarella, cheddar, and gouda. You could also use dry cheeses like parmesan or romano.
Why are my sloppy joes runny?
If your meat mixture is too runny, it may be that you did not drain the grease well enough. Or maybe you added more sauce than you needed. To fix it, you can add a tablespoon of flour or cornstarch dissolved in 3 tablespoons of water and let it cook for another 20 to 30 minutes. You can also try adding more vegetables or other chunky ingredients.
What are the nutrition facts in this recipe?
Each serving of BBQ turkey sloppy joes has 151 calories, 18 grams of fat, 1 gram of saturated fat, 1 gram of trans fat, 900 mg of sodium, 15 carbs, 41 mg of cholesterol, and 10 grams of sugar. But you will also get 1 mg of iron, 22 mg of calcium, 360 units of vitamin A, 21 mg of vitamin C, 1 gram of fiber, 475 mg of potassium, 20 grams of protein, and 2 grams of unsaturated fats.
More recipes with turkey to try:
How to store leftovers:
Store: To store leftovers, keep the sloppy joe mixture separate and you can keep it refrigerated in an airtight container for three or four days.

Freeze: To freeze, spoon the mixture into a freezer bag and it will stay fresh for up to three months.

Thaw: The night before serving, thaw your frozen sloppy joe sauce in the fridge.

Reheat: To reheat, cook in the microwave for one minute or on the stove in a frying pan until it is heated through.
Recipe tips:
This recipe makes about six large or eight medium-sized sandwiches.

Lean ground turkey works best for this but turkey is naturally lean so you can use anything your grocery store has.

Although we tested this with brown sugar BBQ sauce, you can use your favorite.

We use kosher salt for this recipe, which is larger than regular table salt so adjust your amount of salt to taste.
The calories and fat include one serving of sloppy joes but do not include the bun or any additions.

Yellow, red, or white onion will all work in this recipe.

Check out our food blog for other favorite recipes. We add new free recipes daily.

These sloppy joes are dairy-free the way we make them, but the barbecue sauce may be made in a place that processes eggs, tree nuts, and other possible allergens.

Set your phone or tablet to cook mode. Prevent your screen from going dark while you are cooking.
BBQ Turkey Sloppy Joes
Ingredients
1

tablespoon

canola oil

1

lb

ground turkey

1

small onion

finely chopped

1

green bell pepper

finely chopped

1

teaspoon

kosher salt

or to taste

1/4

teaspoon

ground black pepper

1

can

8 oz tomato sauce

1/2

cup

BBQ sauce

1

teaspoons

brown sugar

optional

1

teaspoon

onion powder

1

teaspoon

garlic powder

1/4

teaspoon

chili powder

or smoked paprika

1

tablespoon

Worcestershire sauce
Slurry: - Optional
1

tablespoon

cornstarch

3

tablespoons

water
For serving:
6

brioche buns

6

tablespoons

BBQ sauce

6

slices

cheddar cheese
Instructions
First, place a large skillet, over medium-high heat, and add the oil. Once the oil is hot add the ground turkey, onion, green pepper, black pepper, and salt. Cook and break the meat with a wooden spoon until cooked through and no longer pink. Drain grease.

Next, stir in tomato sauce, BBQ sauce, and the remaining ingredients. Reduce heat to medium and let the mixture simmer for about 10 minutes.

If the mixture is too watery, mix 3 tablespoons of water with 1 tablespoon of cornstarch until fully dissolved, and add the slurry to the meat mixture. Cook stirring for a few mins until thickened.

Serve the meat mixture on hamburger buns topped with cheddar cheese and extra BBQ sauce.
Deliciousness to your inbox
Enjoy weekly hand picked recipes and recommendations