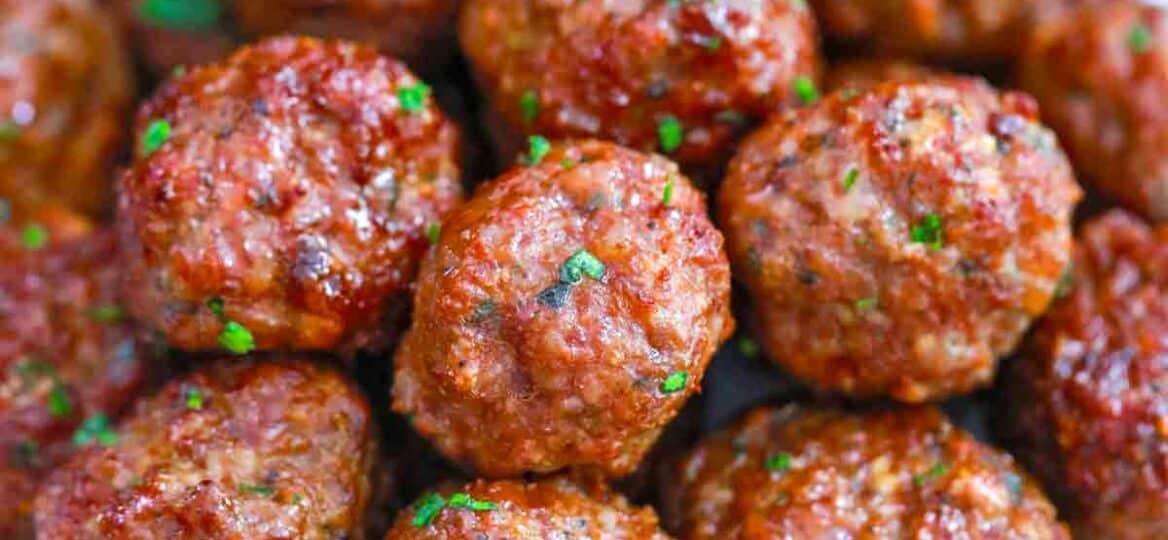 Juicy Air Fryer Turkey Meatballs
Air Fryer Turkey Meatballs are made with delicious spices for a fantastic quick dinner with less fat and just as much flavor as traditional meatballs. They are crispy on the outside, and perfectly juicy and tender on the inside.
Another of our air fryer recipes you may like is this Juicy Air Fryer Meatballs with ground sausage and beef. Or, if you do not have a fryer, try our recipe for baked Turkey Meatballs or Easy Homemade Meatballs made with ground hamburger, pork, and beef broth.
If this is your first time making these easy air fryer turkey meatballs, don't be intimidated. It is an easy recipe and just uses some ground meat and a few spices blended with eggs and panko bread crumbs.
If it is your first time air frying, you will be surprised at how easy it is and you will want to use it for all your meals. We like making these as they are so versatile. You can serve them as an appetizer with some marinara sauce on the side.
In addition, you can add them to salads, or make a sub. Also, they are extra flavorful from the garlic, smoked paprika, oregano, and you can add them to some marinara sauce, and serve them with spaghetti. It is also a great weight watchers meal with low carbs and tons of protein.
Ingredients needed:
For the step-by-step instructions, head down to the bottom of the page to our recipe card. But here are the main ingredients you will need for this simple recipe of homemade meatballs:
Lean ground turkey: Store-bought or homemade.

Breadcrumbs: We used panko breadcrumbs, but you can use any.

Minced garlic cloves: You could also use garlic powder.

Large egg: Room temperature.

Spices: We used oregano, parsley, basil, smoked paprika, red pepper flakes, salt, and pepper.
How do you make air fryer turkey meatballs?
Prepare: First, preheat your fryer to 400 degrees F while you do the meal prep.
Combine: Meanwhile, in a large bowl, combine all of the ingredients and then the ground turkey. Only mix until combined.

Roll: Then, roll into balls of the same size and place them on a baking sheet covered with cooking spray or parchment paper.

Cook: Next, place the balls in a single layer in the air fryer basket and cook for four minutes. Then turn and cook for another four minutes until they are golden brown. They should be 165 degrees F when they are done.
Serve: Let them rest for five minutes before serving your cooked meatballs with marinara sauce or your favorite pasta sauce.
Recipe variations:
Italian flavor: Add a teaspoon of parmesan cheese to your meat for a more Italian flavor.

More seasoning: Similarly, you could just add Italian seasoning.

Use another meat: Alternatively, try using ground chicken or pork instead of turkey.

Add cheese: Feel free to add some kind of cheese like mozzarella, cheddar, or Monterey Jack.
Greek it up: Go Greek by adding dill, rosemary, and thyme to your meat.

More flavor: Add a teaspoon of Worcestershire sauce and a dash of onion powder for even more flavor.
How to serve:
Serve these healthy turkey meatballs with sauce or alone as an appetizer or side dish. Or try one of these serving suggestions:
Mix with tomato sauce or whatever your favorite sauce is.

Serve these with zucchini noodles for a nice low carb meal.

Another great way to enjoy these is as a meatball sub with our delicious spaghetti sauce and parmesan cheese on a fresh bun.

In fact, you can use these in any dish instead of traditional meatballs.
Put these in a slow cooker with our tangy homemade barbecue sauce and serve at your next holiday party.
Frequently Asked Questions
Why are my turkey meatballs rubbery?
Your meatballs will get rubbery if you have worked them too much or made them too compacted. You have to be gentle and remember, the longer you work them, the more solid they will be.
The best way to do this is to mix all of the other ingredients before adding them to the meat. It also helps if you rub olive oil on your hands first.
How do you get your meatballs to stay together?
On the other end of the spectrum, meatballs that fall apart may not have been worked enough. A great way to fix this is to massage the meat and the heat from your hands will release the protein that helps it stick together.
Of course, you may need to add a binder like an egg or roll them in flour before cooking.
Do I need to preheat my air fryer?
The best thing to do when you use a fryer is to preheat it. If your fryer does not have a preheat button, that's okay.
Just set it to the temperature you are going to cook at for five or 10 minutes before you cook. The larger the fryer, the longer you should preheat it.
How to store leftovers:
Store: If you have any leftover air fryer meatballs, put them in an airtight container and store them in your refrigerator for up to five days.
Freeze: For those that make it past five days, put them in a freezer bag and they will stay good in the freezer for about one month.

Thaw: Thaw the frozen meatballs overnight before serving.

Reheat: Reheat in the microwave for about two or three minutes.
More appetizer recipes:
Cooking tips:
Remember, do not overwork your meat or the meatballs will be too dense and rubbery.
Also, preferably mix all of the other ingredients together before adding them to the turkey.

For best results, make each of the balls the same size.

Using a small ice cream scoop to make the meatballs instead of your hands will help make them the same size.
Whisk your egg before adding it to the meat.

Do not just guesstimate when these are done. Use a meat thermometer and make sure it reads 165 degrees Fahrenheit.
Cooking time may vary depending on the size of the meatballs and the fryer.
Air Fryer Turkey Meatballs
Ingredients
1

lb

ground turkey

1/2

cup

Breadcrumbs

plain, seasoned, gluten-free, or whole wheat

1/2

teaspoon

dried oregano

1

teaspoon

dried basil

3

cloves

garlic

minced

1/2

teaspoon

smoked paprika

1/8

teaspoon

red pepper flakes

1/2

teaspoon

salt

or to taste

1/4

teaspoon

ground black pepper

1

egg

beaten

2

tablespoons

fresh parsley

finely chopped
Instructions
Add all the ingredients to a medium-sized bowl. Mix until well combined.

Roll the mixture into 15-18 equal-sized meatballs (depending on how big or small you make them), and place them on a baking sheet lined with parchment paper.

Preheat the air fryer to 400 degrees F for 5 minutes.

Add the meatballs to the air fryer. basket in a single layer, without touching each other. You may need to cook them in batches.

Air fry for 4 minutes, turn over, and cook for another 4 minutes, or until the meatballs reach an internal temperature of 165 degrees F and are crispy.

Serve with marinara sauce.
Deliciousness to your inbox
Enjoy weekly hand picked recipes and recommendations