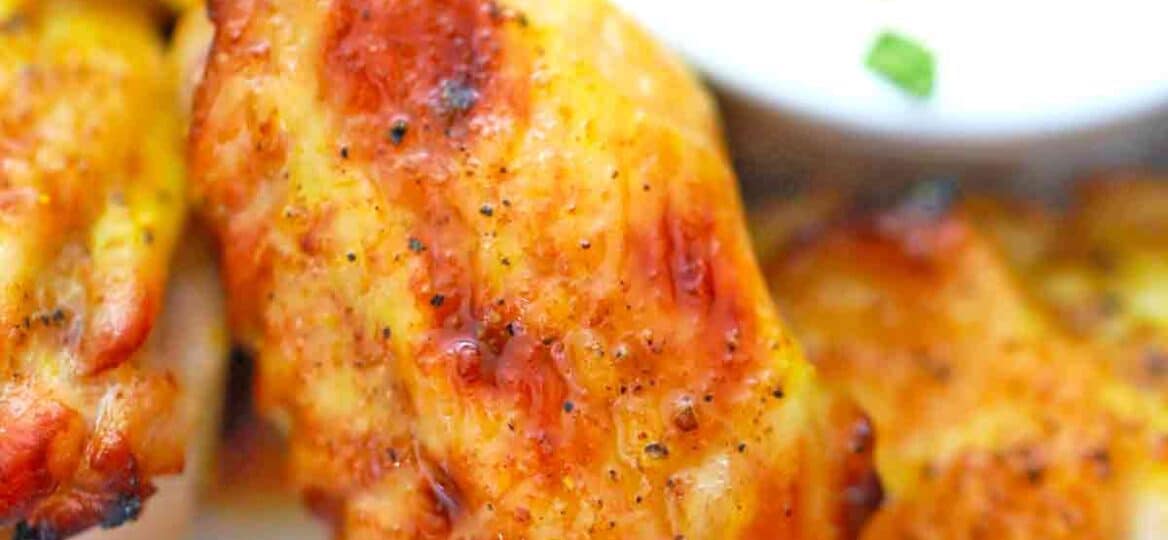 Lemon Pepper Wings make a delicious snack for game day, they are coated in a lemon honey mixture and baked to crispy perfection. You can even serve them for the main course as well. This recipe is going to become one of your family's favorite meals.
For another chicken dish, try our savory Air Fryer Lemon Chicken. Want something faster and easier with a more citrusy taste? This Instant Pot Honey Lemon Chicken with orange and pineapple juice is delectable. Or have these tasty Baked Chicken Legs with smoked paprika, honey, and lemon juice.
My family loves these party wings because of their citrusy flavor and that kick of black pepper. But we could not just have them on game day!
I serve them for snacks all year long and sometimes for the main dish with mashed potatoes or French fries. They make such a great appetizer, just make a large tray and serve them with your favorite dipping sauces.
Also, you can add some crunchy veggies on the platter, like celery sticks, carrots, broccoli florets, and zucchini fries. The zesty and buttery flavor has a bit of zing to make every crunchy bite amazing.
This is a recipe that everyone will love, just make sure to bake it until niceloy golden and crispy.
Follow us on Pinterest for more delicious recipes!
Ingredients needed:
Scroll down to the bottom of the page for the exact measurements on our recipe card. But here is a list of the simple ingredients you will need:
Chicken wings: Fresh whole chicken wings with the wing tip cut off each one.
Canola oil: Or you can use vegetable or olive oil.

Butter: Melted and unsalted is best.

Black pepper: Ground fresh black pepper.

Lemon zest: Make your own homemade zest with lemon peel.
Lemon juice: You can also make your own fresh lemon juice.
Honey: Maple syrup works well too.
How do you make baked lemon pepper wings?
Preheat: Before you start, preheat your oven to 400 degrees F.
Prepare: Next, prepare your wire rack by putting it on a baking sheet.

Combine: Then, in a large bowl, combine the honey, melted butter, zest, juice, and oil.

Toss: After, toss the chicken wings in the lemon pepper butter sauce until they are coated well.

Bake: Finally, place them onto the baking rack in a single layer and bake them for 50 to 60 minutes until they are golden brown and crispy.
Cover: Lastly, slather lots of the butter mixture onto the wings. Keep stirring to make sure the seasoning stays mixed as you brush it onto each wing.
Recipe variations:
Add onion: Sprinkle some onion powder on the wings for an even more intense flavor.
Baking powder: Add a teaspoon of baking powder to the salt and these will be extra crispy.
Spicy: You could give them an extra spicy kick by adding red pepper flakes or cayenne.

Sweet: Make these even sweeter by tossing a tablespoon of granulated sugar into the sauce.
Dry rub: Add a dry rub of ranch seasoning before tossing in the lemon pepper sauce to give them an extra tangy flavor.
How to serve:
These homemade lemon pepper wings are an awesome party food served with chips, guacamole, and salsa. You could also try one of these ideas:
Frequently Asked Questions
What is lemon pepper sauce made of?
Although there are different recipes for lemon pepper sauce, the typical ingredients include butter, olive oil, black pepper, lemon zest, lemon juice, and honey or maple syrup.
Some people add smoked paprika, and others add sugar, while other people use garlic powder too.
Are lemon pepper wings keto?
A keto diet is one that requires a low carb (less than 50g per day), high protein, and fat meal plan. Although you can have carbs, you have to keep them relatively low.
These wings will be fine for your keto diet if you use sugar-free honey or maple syrup and juice.
What can I use instead of lemon pepper seasoning?
If you have black pepper, lemon juice, and salt, that is all you need to make it. If you do not have those ingredients and do not want to go to the store, maybe you have some lemon thyme.
This can be used but double the amount the recipe calls for.
How to store leftovers:
Store: After these crispy wings cool to room temperature, you can save any leftovers in an airtight container in your refrigerator for up to four days.
Freeze: If you cannot finish them in a few days, go ahead and pack them up in a freezer bag and put them in the freezer. They will stay fresh for up to 90 days.
Thaw: Thaw these out in the fridge overnight.
Reheat: Bake thawed wings just as the original recipe calls for. Just make sure the internal temperature on a meat thermometer reads 165 degrees F.
More game day recipes:
Cooking tips:
Make sure the wings are dry before using them so the skin will crisp up properly. Use paper towels to pat them dry.
If they still do not get crispy enough put them in the broiler for a few minutes.
Be sure to add enough salt to enhance the other flavors.

To save some time, use prepared seasoning and just omit the pepper, lemon zest, and juice.
To make these even faster, try air fryer lemon pepper wings. Just prepare them the same way and then place them in a single layer in the air fryer basket. Cook at 425 degrees F for 20 minutes. Give it a good shake halfway through. Then you have air fryer chicken wings.
Lemon Pepper Wings
Ingredients
4

lb

chicken wings

1/4

cup

canola oil

1/4

cup

butter

melted

1/2

tablespoon

ground black pepper

2

tablespoons

lemon zest

1

tablespoon

lemon juice

2

tablespoons

honey or maple syrup
Instructions
Preheat oven to 400 degrees F.

In a large bowl mix all the ingredients.

Toss chicken wings in the mixture. Arrange the wings on a wire rack set on a baking sheet, making sure they don't touch each other.

Bake for 50-60 minutes or until golden brown and crispy.

Remove wings from the oven.

Place on a platter and serve immediately.