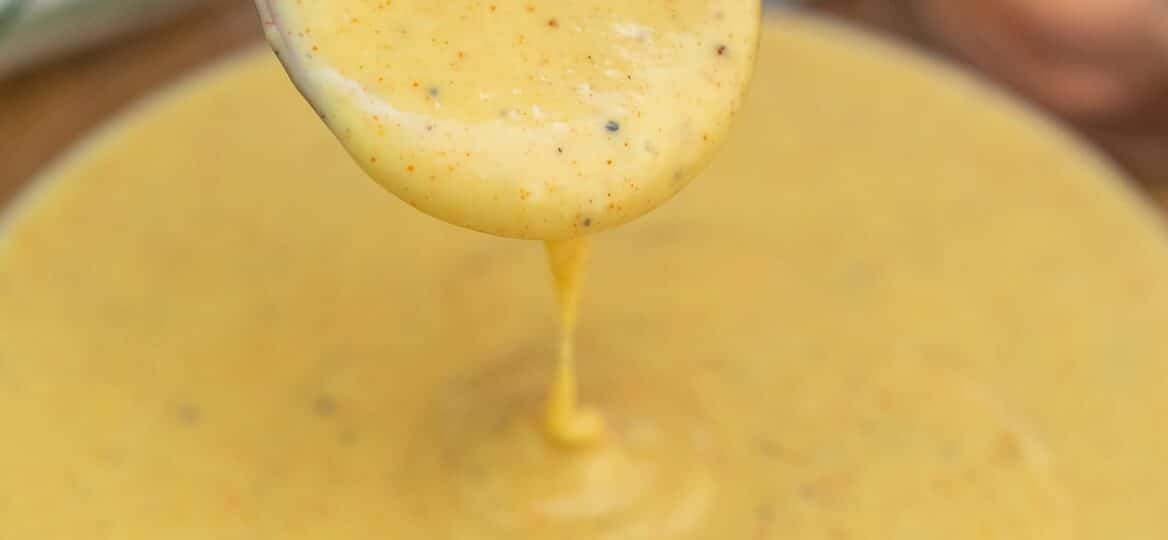 Honey Mustard Sauce [Video]
Honey Mustard Sauce is creamy and sweet with a bit of zing! It is perfect as a dip for your favorite finger food or as a dressing for salads! Watch the short video tutorial attached and see how easy and delicious this recipe is!
Make this restaurant favorite at home with this easy recipe! It is perfect with Brown Sugar Bacon-wrapped Chicken Drumsticks, Oven Baked Fish Sticks, or Chicken Tenders! All these other recipes are quite easy to make, too.
Honey Mustard Sauce Recipe
Honey Mustard Sauce is a classic. Both honey and mustard have long been used in the culinary world as separate ingredients. But together, they taste even better!
Honestly, when I was growing up, I was not a fan of mustard. It is quite overpowering for my taste. So, when I discovered this sauce, I fell in love!
The honey balances out the strong taste of the mustard nicely which is probably the reason why this was invented in the first place. These two main ingredients are simply made for each other!
I could have visited restaurants that have this sauce in their menu more frequently than I would like to just so I could have a taste of this dip along with my chicken nugget.
And that is why knowing this recipe is just so practical! I can have it anytime I want, and it is that easy to prepare at home. The recipe uses only a few basic ingredients that I always have in my pantry anyway.
So, if you plan on hosting a movie night, I recommend adding this to your menu to dip your favorite French fries in or to use in sandwiches or wraps.
How to make Honey Mustard Sauce?
Making this dip is simple. All you need to do is gather the ingredients and combine them in a bowl.
Stir everything together until smooth and fully incorporated. That's it! You can immediately use it or refrigerate it for later use.
What is the best honey to use?
To have the best experience, use high-quality organic ones. But since some processed honey available in the market could contain added sugar or sweeteners, it is always better to go with organic ones.
The raw kind is the healthiest with it being less processed and so, a lot of its natural components are preserved. Processing it can remove some of the healthy pollen and antioxidants. But since it is expensive, you can go use that in other dishes. For this dip, you can simply use organic.
What to serve with Honey Mustard Sauce?
The following are some dishes that I enjoy eating with this dip. Go ahead and try them for yourself!
pretzels
raw vegetables like carrots and zucchinis
French fries
sandwiches and wraps
green salad
potato salad
sausages and corn dogs
Can you freeze Honey Mustard Sauce?
Keep it refrigerated in an airtight container and consume it within 4 or 5 days. Since you cannot store it for a very long time, it is better to control the portions.
It is easy to prepare anyway. Whenever you need it, simply whip another batch.
How to thicken Honey Mustard Sauce?
There are some great ways to thicken almost every sauce. You can use flour or cornstarch, however, I would advise you to leave the honey mustard sauce more light, especially if you want to add it, for example, to a salad.
Other delicious sauces:
Recipe Tips
If you want to make it as a salad dressing, you may want to thin it out by adding more vinegar or oil. Or, you can also replace the mayonnaise with yogurt.
You can leave out the yellow mustard and replace it entirely with Dijon if you prefer its flavor.
Add a dash of hot sauce to make it hotter. At the same time, you can leave out the paprika. In short, you can simply adjust the spices according to your preference.