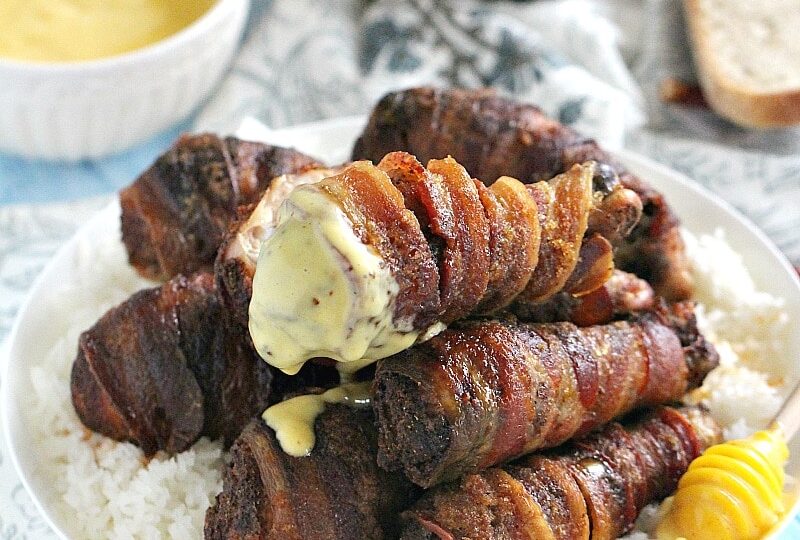 Brown Sugar Bacon Wrapped Chicken Drumsticks
Spicy Brown Sugar Bacon Wrapped Chicken Drumsticks are sweet and spicy and full of flavor, crunchy on the outside and juicy on the inside.
This is the perfect party food. You can quickly make it in advance and enjoy it for potlucks, game days, or birthday parties. You can combine them with Ranch Cheese Balls, Crack Turkey Pinwheels, and Crispy Oven Baked Chicken Tenders.
Brown Sugar Bacon Wrapped Chicken Drumsticks
Spicy Brown Sugar Bacon Wrapped Chicken Drumsticks will blow your mind and taste buds! These little guys are a keeper, once you try this recipe, you will go back to it over and over again. These drumsticks combine everything that is good in this world! A dash of spiciness that is met with a caramelized taste of brown sugar on top of crispy, perfectly cooked bacon. WOW!
Now, this is such an easy amazing and budget-friendly dinner. Truly, juts a few ingredients will make you fell in love with this amazing recipe. Similarly, you can also use the same recipe on chicken tights or even chicken breasts.
I have tried both with great success. I can tell you one thing, these Bacon Drumsticks are pure perfection! Spicy, sweet, crispy and BACON should I say more, bacon and brown sugar were meant to be paired, they taste divine when combined!
Spicy Brown Sugar Bacon Wrapped Chicken Drumsticks Recipe Tips:
Use room temperature bacon. This is an important one because when you try to roll cold bacon, it just doesn't mold that well as the fat is all cold.
Also, don't save calories on bacon. I recommend using two slices per drumstick to cover it entirely.
Similarly, don't skip the spices. Having the extra spices will add a ton more flavor. However, if you don't want them too spicy, just add less chili powder.
If you want the drumsticks extra crispy, turn on the broiler for 3 minutes at the end of baking.
Can you store them?
Absolutely! You can make them in advance and easily store them in the fridge. Also, if you end up with leftovers, then simply store them in an airtight container. Then, store in the fridge for up to 3 days. Reheat prior to serving.
Looking for more Chicken Recipes? Check these out:
Now, get some Honey Mustard and dip those delicious drumsticks into it! It is an addicting combo!
Pin This Brown Sugar Bacon Wrapped Chicken Drumsticks Recipe to your Favorite Board
Tools/Ingredients I used to make this recipe:
Deliciousness to your inbox
Enjoy weekly hand picked recipes and recommendations