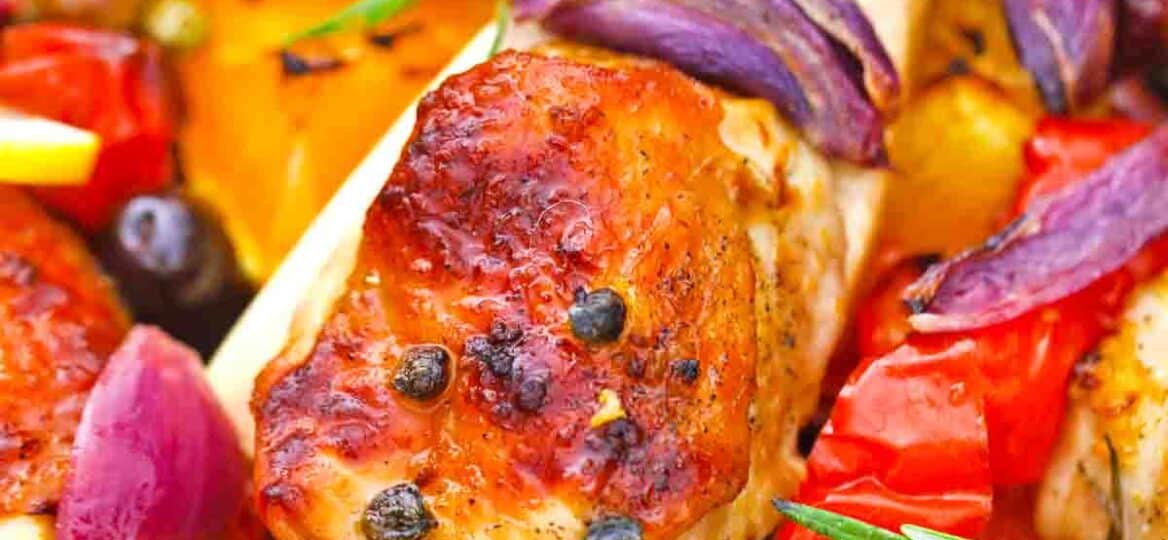 One Pan Mediterranean Chicken
One Pan Mediterranean Chicken is packed with a variety of flavors like tangy capers and olives, red onion, and fresh honey citrus sauce. It is easy to make, and you only have one pan to wash when you are finished, perfect for any night of the week. And you can alter it to fit your family's preferences and needs.
Because of its name, this dish is obviously Mediterranean. But you will also see it listed and mentioned as Greek chicken. So, are Greek and Mediterranean food the same thing? According to food experts, Greek food is Mediterranean food but not all Mediterranean food is Greek. That is because the term Mediterranean covers so many different recipes and foods from olives to nuts.
For this yummy one-pan Mediterranean chicken recipe, all you need are a few ingredients including chicken thighs, bell pepper, olives, onion, tomatoes, lemon, orange, capers, and seasonings. The sauce has various fresh flavors like honey, citrus, and garlic. You can remove or add anything to make it your own with this versatile recipe too.
Follow us on Pinterest for more delicious recipes!
Ingredients needed:
For this easy one-pan Mediterranean chicken recipe, you need the ingredients listed here. After you have what you need, scroll down to our recipe card to find out the exact measurements and instructions.
Chicken thighs: Skin on and bone in.
Red bell pepper: Seeded and chopped into chunks.
Large red onion: Cut into 8 wedges.
Pitted kalamata olives
Firm grape tomatoes: Whole tomatoes.
Lemon: Cut in half.
Orange: Cut into chunks.
Capers
Fresh rosemary springs
Kosher salt
Black pepper
Sauce ingredients:
Large lemon
Large orange
Minced garlic cloves
Honey
Extra virgin olive oil
Garlic powder
Onion powder
Kosher salt
Garnishes:
Green olives
Red olives
Fresh rosemary sticks
How to make one pan Mediterranean chicken from scratch?
Preheat oven: First, turn the heat on your oven to 350 degrees F.
Prep the fruits and veggies: While you wait, wash and dry the fruits and vegetables. Chop and slice as directed and set aside.

Get some zest: Then, zest the orange and lemon, cut them in half, and squeeze out the juice. Add the zest and fresh juice to a medium bowl.
Mix in the rest: Next, add olive oil, honey, onion powder, and garlic powder to the bowl and stir or whisk to mix it all together. Add salt and pepper to taste.
Oil the pan: Now, drizzle oil on a large sheet pan and set it aside.

Rinse and season chicken: Optionally, you could rinse the chicken thighs and let them sit for 10 minutes to release excess blood. Then, put the chicken on a paper towel and place another on top to pat it dry. Season with salt and pepper.

Dip the chicken: After, dip each chicken thigh into the lemon honey sauce and shake off the excess. Place chicken on the prepared sheet pan as you go until you have done all the pieces.

Add the rest: Then, place the fruit and veggies onto the pan and top with the capers and olives. Use a spoon to drizzle the leftover sauce on the chicken and top with fresh rosemary.

Cook chicken and veggies: Immediately, cover the pan with aluminum foil and bake for 30 minutes. Remove the foil and cook for another 40 minutes until the chicken is golden brown and cooked through, rotating the pan after 20 minutes.
Drain excess juice: Afterward, remove the hot pan carefully from the oven. Dispose of the rosemary sprigs and drain about half of the juice from the pan.
Garnish and serve: Finally, garnish with fresh rosemary and olives and serve with pasta or rice and a salad.
Recipe variations:
Another oil: Feel free to use other oils such as avocado oil or whichever you like cooking with.
Orange and lemon juice: If you do not have fresh fruit, you can use prepared juice and zest from the store. However, fresh lemon juice makes a big difference in the flavor.
Other chicken: Alternatively, you can use chicken breasts instead of thighs but it is best to get skin-on and bone-in so it does not dry out.

More fresh herbs and spices: Feel free to add your own favorite herbs and spices like fresh basil, dried oregano, thyme, or smoked paprika.
Add chicken broth: Also, you could add more flavor by using 1/4 cup of chicken broth to your sauce.

Spice it up: Make this dish spicy by sprinkling in a pinch of red pepper flakes.

Add more veggies: Want more? You can add potatoes and your other favorite veggies like onions, mushrooms, asparagus, broccoli, carrots, and pepperoncini.

No chicken: If you are not in the mood for chicken, you can use turkey, pork, or beef.
How to serve:
This absolutely delicious and healthy meal has all the flavors you love in a chicken and veggie dinner. The whole family will love this. In fact, it is even perfect for a dinner party with friends. Here are some great serving ideas we came up with. Share some of your ideas with us in the comments section.
Toss on some shredded mozzarella or cheddar cheese a few minutes before it is finished cooking for some ooey gooey cheesy chicken and veggies.

This simple one-pan Mediterranean chicken meal goes great with any kind of rice. Try our recipe for moist and delicious instant pot coconut rice.

Sprinkle some romano or parmesan cheese on top before serving for a rich and salty flavor.

You can also serve Mediterranean chicken on a bed of pasta. We have some great pasta recipes like these light and airy soba noodles.

Another type of cheese that would meld perfectly with this Mediterranean dish is feta. Just crumble it on top before serving.

Use leftovers to make a new meal like a hearty soup or stew. Try adding them to this easy homemade chicken noodle soup recipe.

For some extra crunch, sprinkle on some slivered almonds or chopped nuts before serving.
Frequently asked questions
How do I tell if my chicken is cooked all the way?
The best and easiest way to make sure your chicken is cooked all the way is to use a meat thermometer. The temperature should be 160 degrees F at the thickest point. If you do not have a thermometer (buy one, they come in handy), slice it open slightly at the bone. If the meat is still pink or you see blood, cook it for a few more minutes and check again.
Can I use a different kind of olive?
There are many different types of olives. In fact, there are 140 varieties out there! We chose black and green olives for their commonality and flavors, but you can use whatever kind you like or what you happen to have on hand. If all you have is a can of black sliced olives, those will work fine. The most common olives are kalamata, manzanilla, castelvetrano, nicoise, and picual.
What can I substitute for olives?
You can use a variety of different substitutions you can try. For example, just add more capers. They have that tangy flavor and are often used as a substitute for olives. But since they are already in the recipe, just add more. Or you can try caper berries, artichoke hearts, anchovies, or pickled tomatoes or peppers. Another choice would be dried gherkins or cornichons.
Why is my chicken dry?
First of all, it is best to use bone-in and skin-on chicken thighs because they are the juiciest. Boneless skinless chicken breasts are known to be dry when cooked this way. It could also be that you cooked your chicken too long. If you are using smaller than usual pieces, check the temperature 10 minutes before the recommended cooking time. Take it out when it reaches 160 degrees F.
What are the nutrition facts in this recipe?
Each serving of our Mediterranean chicken meal has 432 calories, 30 grams of fat, and 6 grams of saturated fat as well as 110 mg of cholesterol, 21 carbs, 437 mg of sodium, and 14 grams of sugar. On the good side, you get 1.4 mg of iron, 52 mg of calcium, 55.6 mg of vitamin C, 850 units of vitamin A, 3 grams of fiber, 468 mg of potassium, and 20 grams of protein.
More one-pan recipes to try:
How to store leftovers:
Store: In the fridge, you can store your leftover one-pan Mediterranean chicken in an airtight container for up to four days.
Freeze: The easiest way to freeze your leftovers is to put them in a freezer bag. They will stay fresh in the freezer for several months.

Thaw: Remember to thaw your frozen leftovers in the fridge overnight before serving.
Reheat: Heat in a pan on medium-high heat for about two minutes, stirring often. Or put it in a small bowl and microwave for 30 to 90 seconds. Add more sauce to keep it from getting dry.
Cooking tips:
You could also use a large oven-safe skillet instead of a sheet pan.

If you cannot find firm cherry or grape tomatoes, try using sun-dried tomatoes. You just do not want to use regular slicing tomatoes because they add too much juice. And sun-dried tomatoes add so much flavor to your meal.

Instead of minced or chopped garlic, just double the amount of garlic powder called for.

Be sure your chicken thighs are done all the way! Stick a meat thermometer in the middle of the thickest part of your chicken and it should read 160 degrees F when finished. Make sure you check each piece.

If you do not have a lemon, you can also use lime instead.

Capers are special. You either love them or hate them. If you do not want them in this dish, you can just leave them out.

Shorten prep time by using pre-chopped vegetables.

Rinsing your chicken thighs is optional. I prefer to get the most blood out of them for a milder flavor.

All my friends love this easy one-pan dinner. For more one-pan recipes, check out our food blog. We add new ideas every day.
One Pan Mediterranean Chicken
Ingredients
8-10

chicken thighs

bone-in, skin-on

1

large red onion

cut into 8 wedges

1

red bell pepper

seeded and cut into chunks

1

cup

firm grape tomatoes

whole

1

cup

pitted kalamata olives

3

tablespoons

capers

3

fresh rosemary springs

1

orange

cut into chunks

1

lemon

halved

salt and pepper
Sauce:
1

large orange

1

large lemon

1/3

cup

olive oil

1/4

cup

honey

1

tablespoon

onion powder

1

tablespoon

garlic powder

8

garlic cloves

minced

salt
Garnish:
Green and Red Olives

3

fresh rosemary sticks
Instructions
Sauce:
Prepare a medium bowl. Wash and dry the fruits and veggies. Slice, and chop as needed. Set aside.

Zest the orange, cut it in half, and squeeze the juice. Add the zest and fresh juice to the bowl.

Zest the lemon, cut it in half, and squeeze the juice. Add the zest and fresh juice to the bowl.

Add the olive oil, garlic powder, onion powder, and honey to the bowl with the juice and the zest. Whisk to combine. Add salt to taste.
Chicken and Veggies:
Prepare a 17x12-inch sheet pan by slightly drizzling it with olive oil. Set aside.

I also prefer to wash the chicken, add it to a large bowl with cold water and let it sit for 10 minutes so it releases any extra blood. Transfer the chicken to a surface covered with paper towels, top with paper towels, and pat dry.

Season the chicken on each side with salt and pepper.

Take each chicken thigh and dip it entirely into the prepared honey citrus sauce, shake excess, and place it onto the prepared sheet pan. Repeat with the remaining chicken thighs.

Arrange all the cut veggies and fruits into the pan: the onion, the red bell pepper, grape tomatoes, fresh lemon, and orange. Top with kalamata olives and the capers.

With a spoon, take any leftover honey citrus sauce and spoon it evenly over the chicken tights. Top with fresh rosemary.

Cover the pan with foil and cook for 20 minutes.

Remove the foil from the sheet pan, return to the oven, and cook further for 30 minutes until the chicken is golden brown and cooked through. Rotate the pan after 15 minutes.

Remove from oven, discard the rosemary springs. Drain some of the juice from the pan, I drain about 50% of it.

Garnish with green and red olives and fresh rosemary.

Serve immediately with rice, pasta, or any starchy choice. The dish can be served by itself with a feta salad on the side.

Leftovers can be stored in an airtight container in the fridge for 2-3 days.