One Pan Mediterranean Chicken
One Pan Mediterranean Chicken with olives, capers, red onion, red pepper and grape tomatoes in a fresh lemon orange honey sauce. A hearty, easy meal!
We love making easy and delicious chicken meals for the family to enjoy. Among our most popular chicken dishes are Instant Pot Orange Chicken, Slow Cooker Garlic Sesame Chicken and One Pan Garlic Chicken and Rice.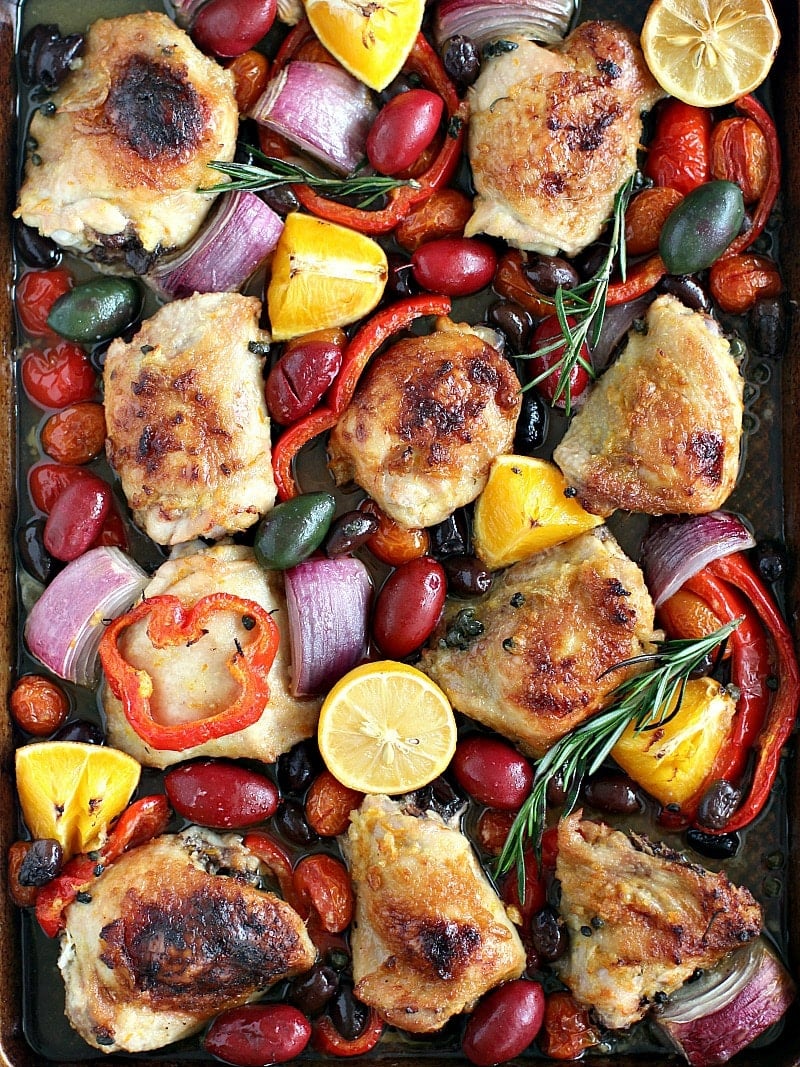 Mediterranean Chicken
One Pan Mediterranean Chicken will become your go-to meal for quick and easy weeknights dinners, or for those nights when you have to entertain. This easy dish will impress your guests while requiring from you minimal work.
The One Sheet Pan Mediterranean Chicken is full of fresh flavors, a colorful, hearty and tasty meal! The Lemon Orange Honey Sauce made with fresh lemon and orange zest makes all the flavors shine! The chicken is juicy and tender, while the veggies are roasted to perfection.
Mediterranean Chicken Recipe Tips:
Start with organic chicken thighs, using high-quality meat, is always the best.
Mediterranean dishes are all about using high-quality fresh produce, so make sure your veggies are as fresh as possible.
Use fresh herbs, I used rosemary, you can also garnish the dish with fresh basil leaves.
Don't skip the capers, while not everyone will have some in the kitchen, these little guys add a ton of flavor.
Use a mix of olives as they will add even more color and flavor to this dish. I used pitted kalamata olives for the bake and topped the dish with green and red olives.
In the sauce, it's key to use fresh lemon and orange juice and also don't skip the zest. The bright and fresh aromas of the zest will make this dish shine.
Liquid honey also works best in the sauce recipe.
The recipe is highly customizable, for example, if you don't like red onion, replace it with more red bell pepper or grape tomatoes, you get the idea.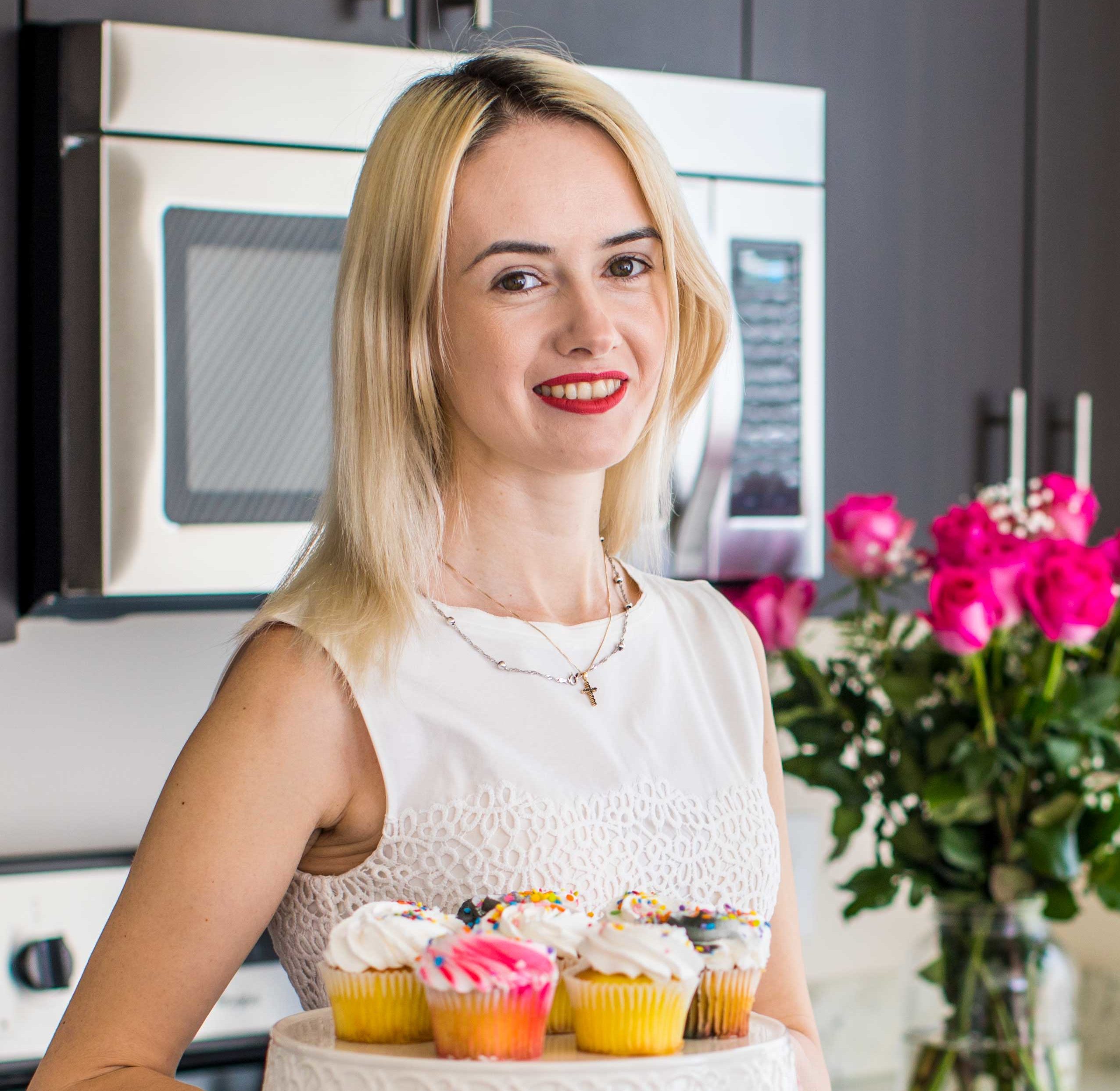 Follow us on Pinterest for more delicious recipes!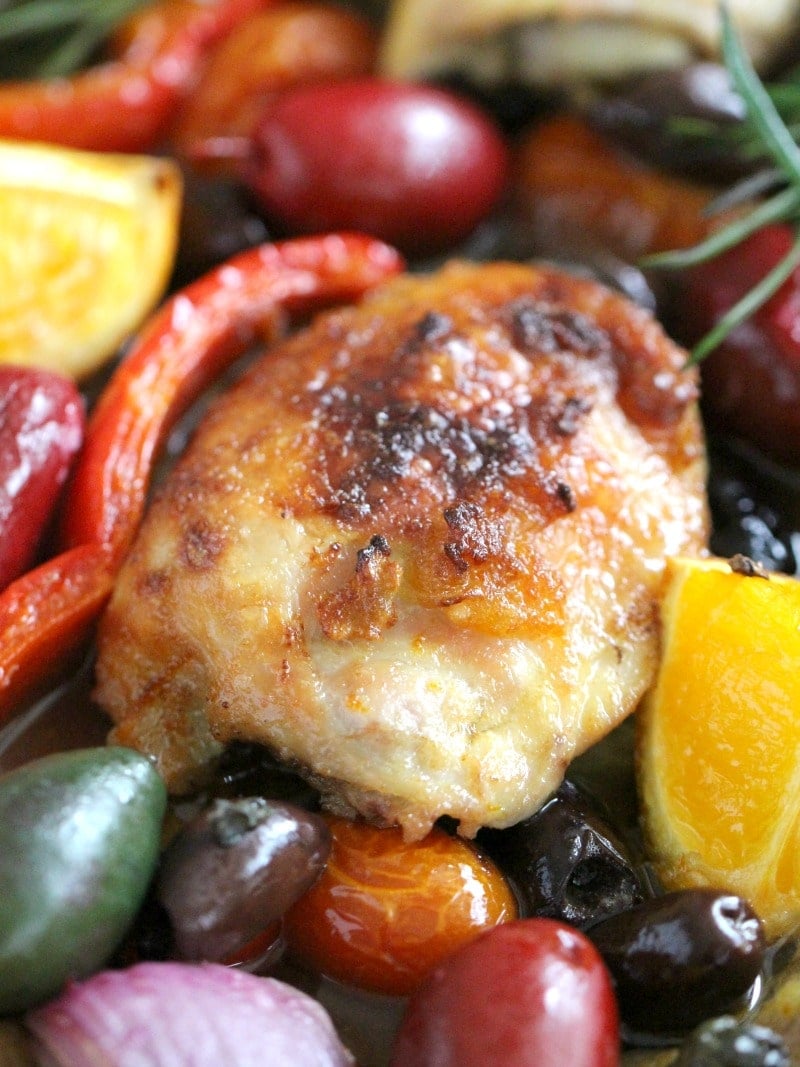 Can I make this meal using Boneless Chicken Breast?
Yes, you can, this is such an easy recipe, that you can also adjust based on your preference. You can use chicken breast or other chicken parts, it will work just as fine. It will taste delicious and it will make up for a very easy and quick dinner.
Looking for more Chicken Recipes? Check these out:
What wines pair well with Mediterranean Chicken?
A nice, fruity red wine such as Zinfandel or Syrah will pair nicely with the flavors in this chicken dish.
If you're looking for a white option, Riesling or Pinot Grigio are always great matches for sweet and savory, somewhat spicy dishes.
Tools/ingredients that I used to make the One Sheet Pan Mediterranean Chicken Recipe:
Save Recipe
One Pan Mediterranean Chicken
Author: Catalina Castravet
Serves: 8 servings
Prep time:

20

minutes
Cook time:

1

hour
Total time:

1

hr

20

mins
Ingredients
8-10 chicken thighs (bone-in, skin-on)
1 large red onion (cut into 8 wedges)
1 red bell pepper (seeded and cut into chunks)
1 cup firm grape tomatoes (whole)
1 cup pitted kalamata olives
3 tablespoons capers
3 fresh rosemary springs
1 orange (cut into chunks)
1 lemon (halved)
salt and pepper
Sauce:
1 large orange
1 large lemon
1/3 cup olive oil
1/4 cup honey
1 tablespoon onion powder
1 tablespoon garlic powder
8-10 garlic cloves (minced)
salt
Garnish:
Green and Red Olives
3 fresh rosemary sticks
Instructions
Preheat oven to 350F.
Sauce:
Prepare a medium bowl.
Wash and dry the fruits and veggies. Slice, chop as needed. Set aside.
Zest the orange, cut into half and squeeze the juice. Add the zest and fresh juice to the bowl.
Zest the lemon, cut into half and squeeze the juice. Add the zest and fresh juice to the bowl.
Add the olive oil, garlic powder, onion powder and honey to the bowl with the juice and the zest. Whisk to combine. Add salt to taste.
Chicken and Veggies:
Prepare a 17x12inch sheet pan by slightly drizzling it with olive oil. Set aside.
I also prefer to wash the chicken, add it to a large bowl with cold water and let it sit for 10 minutes so it releases any extra blood. Transfer the chicken to a surface covered with paper towels, top with paper towels and pat dry.
Season the chicken on each side with salt and pepper.
Take each chicken thighs and dip it entirely into the prepared honey citrus sauce, shake excess and place onto the prepared sheet pan. Repeat with the remaining chicken thighs.
Arrange all the cut veggies and fruits into the pan: the onion, the red bell pepper, grape tomatoes, fresh lemon and orange. Top with kalamata olives and the capers.
With a spoon, take any leftover honey citrus sauce and spoon it evenly over the chicken tights. Top with fresh rosemary.
Cover the pan with foil and cook for 30 minutes.
Remove the foil from the sheet pan, return to the oven and cook further for 40 minutes until the chicken is golden brown and cooked through. Rotate the pat after 20 minutes.
Remove from oven, discard the rosemary springs.
Drain some of the juice from the pan, I drain about 50% of it.
Garnish with green and red olives and fresh rosemary.
Serve immediately with rice, pasta or any starchy choice. The dish can be served by itself with a feta salad on the side.
Leftovers can be stored in an airtight container in the fridge for 2-3 days.
0 Calories: 432 Carbohydrates: 21 Protein: 20 Fat: 30 Saturated Fat: 6 Cholesterol: 110 Sodium: 437 Potassium: 468 Fiber: 3 Sugar: 14 Vitamin A: 850 Vitamin C: 55.6 Calcium: 52 Iron: 1.4
Save Recipe
More recipes you might love