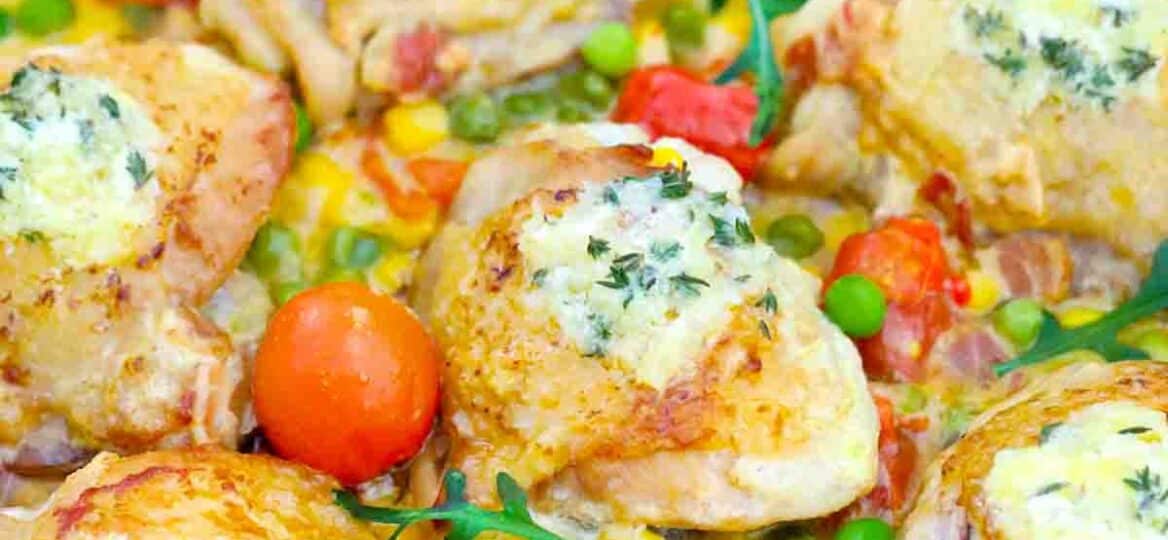 One Pan Creamy Corn Chicken Recipe
Creamy Corn Chicken is a unique and delicious dinner made from fresh chicken thighs in a sweet corn sauce, with crispy bacon, and sweet peas. This easy chicken and corn dish is perfect for a family get-together or you can make it for yourself to store in meal prep containers. You can easily freeze this for up to three months.
If the combination of corn and chicken makes you hungry, this Mexican Street Corn Chicken Tacos recipe will have you drooling! You just need seasoned chicken, corn, cream, and some cotija cheese with lime juice and cilantro. Or maybe creamy corn is what you really love. Try our recipe for Creamy Corn Soup made with sweet corn, baby red potatoes, fresh green onions, bacon, and seasonings. You can make it and have it on the table in less than an hour.
Creamed corn has been around for longer than you may think. It also goes by cream-style sweet corn or creamy corn. But whatever you want to call it, you will probably not be surprised to know that it was the Native Americans who started this yummy trend hundreds of years ago. And it is still popular today as a side dish or soup.
You will not need too many ingredients to make this delicious creamy corn chicken recipe. Besides the chicken, corn, and seasonings, just get some onions, bacon, grape tomatoes, broad beans, cream, and baby rocket leaves. Then melt the homemade herb butter on top before serving for a mouthful of scrumptious flavor.
What about dessert? With our 5-minute chocolate Oreo pudding, you can never go wrong. Using our homemade recipes for vanilla and chocolate pudding and two layers of crushed Oreos, you will want to make this every day! For a healthier dessert that still tastes delicious, make these instant pot baked apples.
Follow us on Pinterest for more delicious recipes!
Ingredients needed:
To make this great recipe, gather the ingredients listed here. Then, scroll down to our recipe card for complete instructions and exact measurements.
Chicken thigh cutlets
Short-cut bacon rashers: Chopped coarsely.
Yellow onion: Finely chopped.
Fresh corn
Frozen sweet peas
Chicken stock
Heavy cream
Grape tomatoes or cherry tomatoes
Chopped butter: At room temperature.
Garlic cloves: Crushed.
Chopped fresh thyme leaves
Olive oil
Baby rocket leaves: For serving.
How to make creamy corn chicken from scratch?
Make herb butter: First, add garlic, butter, and thyme and mash in a small bowl until it is thoroughly combined.
Roll it and chill: Next, put the mashed herbed butter on a piece of parchment or baking paper and roll it into a log shape. Then, place it in the fridge until needed.
Brown the chicken: Now, heat the olive oil in a large skillet over medium-high heat. Once the oil is hot, place half the chicken thighs, skin-side down, in the pan and cook for about five minutes until it is golden brown. Turn and cook for another minute before transferring to a serving plate. Repeat with the remaining chicken thighs.
Fry the bacon: Using the same skillet, fry the bacon for three minutes, stirring constantly until it is golden brown. Add it to the plate with the chicken thighs.
Make the creamy corn sauce: After, turn the stove to medium heat and drain all but two tablespoons of bacon grease from the pan. Add grape tomatoes and onion, stirring occasionally until it is soft. This should take about five minutes. Then, add corn, stock, and heavy cream. Stir well.
Combine and reduce heat: Last, add chicken, skin side up, along with the bacon. Stir and bring it to a simmer and reduce to medium-low heat. Cook for 30 minutes until the chicken is 160 degrees F, adding the sweet peas in the last 10 minutes.
Cut up the butter log: While the chicken cooks, slice the herb butter log into small squares.
Melt butter and serve: Finally, remove the skillet from the stove and put the herb butter on top to melt. Serve immediately with the rocket leaves. Be sure to season chicken with kosher salt and pepper.
Recipe variations:
Use chicken breast: You could use boneless skinless chicken breasts instead of chicken thighs for this creamed corn chicken recipe.
Frozen corn: If you do not have fresh corn, you can use canned or frozen corn kernels.
Spice it up: Feel free to add all the spices you like such as smoked paprika, oregano, dill, rosemary, and parsley.
Heat it up: If you are a fan of spicy food, add 1/2 teaspoon of red pepper flakes.
More veggies: You do not have to stop with corn. Add your favorite veggies like broccoli, beans, zucchini, or bell peppers.
Add citrus: A teaspoon of lemon or lime zest would perk this right up.
How to serve:
You can have this comfort food any time of the year but it is especially good during the winter. You will love serving this deliciously seasoned chicken and creamy sauce to the family and they will be asking for seconds so you may want to make extra. Here are some great serving ideas to try or you can share some of your own ideas with us in the comments section at the bottom of the page.
You can serve this as a main course with sides or it can be a great meal on its own.
Serve this great dish on a bed of rice. Try our easy and yummy recipe for coconut rice.
Add romano or parmesan cheese on top for a richer flavor.
Turn leftovers into creamy chicken and corn chowder.
Creamy corn chicken goes perfectly with any side dish from veggies to potatoes.
Another way to top this dish is with some honey mustard sauce.
Add some shredded cheese on top and let it melt for extra cheesy goodness.
Frequently asked questions
What are rocket leaves?
Rocket is also known as rucola, roquette, or arugula and is a peppery and ripe fresh green that looks like your typical yard weeds. But it is very healthy and adds a distinctly wonderful flavor to any meal. The Mediterranean veggie is also an herb like dandelion or mustard leaves.
Why is my sauce runny?
You may have not removed enough grease, or it could be that you just need to add some thickener. You can add cornstarch or flour. Make sure the flour mixture is completely mixed so you will not get any of that raw flour taste. Just keep whisking and cooking until the flour is all absorbed.
How long does it take to cook chicken thighs?
In this awesome recipe, you will first sear the chicken and let it cook for a few minutes. Then, it will finish cooking at the end. The cooking time will vary depending on the thickness of your chicken thighs. However, the average-size thigh should cook for about 10 minutes on one side and then another seven to nine minutes on the other.
What are the nutrition facts in this recipe?
In each serving, you will get 550 calories, 40 grams fat, and 18 grams saturated fat. It also has 10 grams cholesterol, 21 grams carbohydrates, 4 grams sugar, and 600 mg sodium. On the good side, you will also get 30 grams protein, 3 grams fiber, 60 grams calcium, 498 mg potassium, 2 mg iron, and 344 units vitamin A.
How to store leftovers:
Store: Leftover creamy corn chicken can be stored in the fridge for three or four days in an airtight container.
Freeze: If you cannot finish your leftovers within a few days, it is best to freeze them. Simply, put them in a freezer bag or another freezer-safe container and they will stay fresh in the freezer for up to three months.
Thaw: Be sure to thaw out your frozen leftovers in the refrigerator overnight before serving them for the best results.
Reheat: The fastest way to reheat your leftover creamed corn chicken thighs is to microwave them for about 60 to 90 seconds.
More easy recipes to try:
Cooking tips:
Shorten prep time by using canned corn or frozen corn kernels to make the corn mixture. Make it even easier by using cream-style corn.
If you do not have any fresh garlic, you can use garlic powder.
You could also substitute the heavy cream for whole milk if that is all you have.
Alternatively, use full-fat coconut milk if you have a dairy allergy.
Put the bacon on a paper towel-lined plate as you remove it to soak up the extra bacon grease.
To make sure your chicken is fully cooked, it should be no longer pink in the middle, and it will be 160 degrees F on a meat thermometer.
It is a good idea to print ingredients and directions so you can have them handy while you cook.
Creamy Corn Chicken
Ingredients
1/3

cup

unsalted butter

diced - at room temperature

4

garlic cloves

minced

2

teaspoons

fresh thyme leaves

chopped

2

teaspoons

fresh basil

chopped - optional

1

tablespoon

extra virgin olive oil

6

chicken thighs

skin-on bone-in

6

bacon slices

coarsely chopped

1

medium onion

finely chopped

2

cups

cherry tomatoes

1

cup

sweet corn

can be canned and drained, or from 4 fresh corncobs

1 1/4

cups

cooking cream

1

cup

chicken stock

or chicken broth

1

cup

sweet peas

thawed

Baby rocket leaves

to serve
Instructions
Make the herbed butter:
Place the butter, minced garlic, thyme, and basil in a small bowl, and use a fork to mash the mixture until well combined. Transfer the mixture to a piece of baking paper and shape it into a log, then roll it up tightly in the paper to enclose it. Place in the fridge until ready to use.
Cook the chicken and bacon:
Place a large cast-iron pan over medium-high heat and heat the oil. Add half of the chicken, skin-side down, and cook for 5 minutes or until golden. Turn and cook for 1 more minute. Transfer to a plate. Repeat with the remaining chicken.

Next, add the chopped bacon to the pan and cook, stirring occasionally, for 3-5 minutes or until golden and crispy. Transfer it to the same plate as the chicken.
Make the creamy corn sauce:
Discard all but about 2 tablespoons of the bacon fat from the pan, and reduce the heat to medium. Add the onion. Cook, stirring occasionally, for 5 minutes or until soft. Add in the corn, cherry tomatoes, cream, and chicken stock, and stir until fully combined

Stir in the bacon and return the chicken to the pan, skin-side up. Bring the mixture to a simmer then reduce heat to medium-low. Cook for 20-30 minutes or until the chicken is cooked through and the liquid reduces.

Add the sweet peas in the last 10 minutes of cooking.

Remove the pan from heat. Slice the chilled garlic butter log and place the pieces of butter on top of the chicken to melt. Serve immediately with greens like rocket.