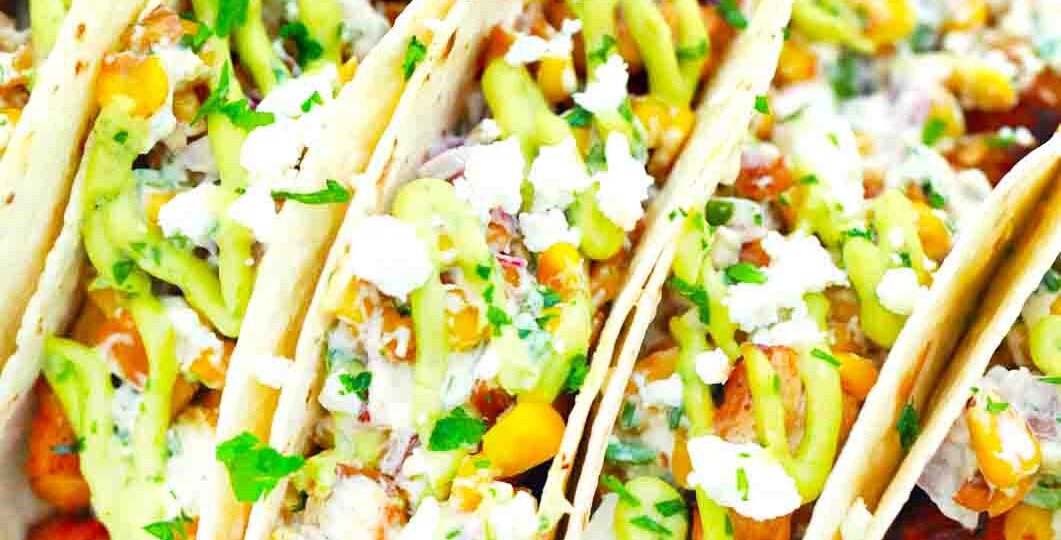 Mexican Street Corn Chicken Tacos Recipe [Video]
Mexican Street Corn Chicken Tacos are spicy and delicious made with juicy chicken strips, Mexican street corn salad, and topped with avocado cream in warmed corn tortillas. This is a great recipe to make when the family is altogether on a busy weeknight or just for yourself when you get a craving for Mexican food.
For a real Mexican meal, add our Mexican Street Corn on the side. These whole corn cobs are covered with melted cotija cheese, sour cream, and lime juice. Mix it up by serving your favorite tacos with these Taco Fries made with frozen french fries, grilled chicken tenders, and taco seasoning.
The authentic tacos you find on Mexican streets are called flautas or tacos dorados. They are similar to regular tacos but are rolled like a taquito. These delicious street tacos are most often made with corn tortillas with carne asada meat, cilantro, and onions.
They are referred to as street tacos because you can find them all over the streets of Mexico. Make this recipe for Cinco de Mayo to enjoy some authentic Mexican flare!
It's Taco Tuesday! Time to make your favorite street tacos! Really, it can be any day of the week when you try this street taco recipe. Although our recipe is for chicken street tacos, you can make any flavor you like. The amazing recipe used ingredients that you should be able to find at any local grocery store.
Are you looking for more amazing taco recipes? Try our Chicken Tinga tacos with chicken tinga, lime, and cilantro or grilled shrimp tacos made from large grilled prawns and topped with lime crema, fresh pico de Gallo, and avocado.
Also, our Mexico taco breakfast burrito with ground beef, American cheese, and beans is a great way to start or end the day. Or serve your tacos as a side dish to this gooey Taco Lasagna with beans and lots of melted cheese.
Ingredients needed:
Here are the main ingredients for this street tacos recipe. Scroll down to the bottom of the page for our handy recipe card with the complete recipe instructions and exact measurements.
Boneless chicken breast: Sliced into strips.
Taco seasoning: Try our easy and delicious homemade taco seasoning recipe.
Olive oil: Avocado oil works great for this too.
Corn salad:
Corn on the cob: Or one cup of canned corn.
Red onion: Diced.
Jalapeno: Minced.
Fresh cilantro: Chopped.
Salt
Mayonnaise
Sour cream: Or you can use Mexican crema.
Cotija cheese: You can also use queso fresco or Monterey jack cheese.

Fresh lime juice
Avocado cream:
Avocados
Sour cream: Or Mexican crema.
Mayonnaise
Hot sauce: Try our tangy hot sauce recipe or use your own favorite.

Fresh lime juice
Fresh cilantro: Lightly packed.
Salt
Cumin
Tacos:
Corn or flour tortillas: We used soft corn tortillas.

Cotija cheese: Crumbled.
How to make Mexican street corn chicken tacos from scratch?
Make the avocado cream sauce: To begin, put all the ingredients for the avocado cream sauce into a food processor and blend until it is smooth and creamy.

Make the corn salad: Then, preheat your grill or grill pan to high and cook for 10 minutes, turning often, until it is charred all over. Remove the corn from the cob and put the charred corn into a large bowl. Add lime juice, salt, sour cream, cotija cheese, mayo, chopped jalapeno, and diced onions. Mix thoroughly.

Cook the chicken: Next, heat the olive oil in a large cast-iron skillet over medium-high heat. After it is simmering hot, add the chicken. Cook chicken for three or four minutes on each side and then sprinkle it with taco seasoning. Mix it up until all the chicken is coated well and continue cooking until the largest piece has an internal temperature of 165 degrees F.

Assemble the tacos: Last, place chicken and corn salad into corn or flour tortillas. Drizzle with avocado cream and top with cilantro and crumbled cotija cheese.

Serve: Finally, serve warm street tacos with your favorite Mexican side dishes.
Recipe variations:
Carne Asada street tacos: For the best carne asada tacos, slice thin strips of flank steak, skirt steak, or any other marinated steak to use instead of chicken. Be sure to discard marinade when you are done with it.
Refried beans: Add a spoonful of refried beans to the bottom of the taco for a savory flavor combination.
Chili powder: If you do not have any taco seasoning, you can use two teaspoons of ground cumin and chili powder instead.

Low sodium soy sauce: Add a sprinkle of low sodium soy sauce or Worcestershire sauce to your chicken filling when cooking. This gives it a sensational taste boost.

Beef tacos: Feel free to use other meat instead of chicken like ground beef, carne asada meat, round steak, or flap steak.
Other meat: You could also try pork strips or fish instead of chicken street tacos.

Al pastor tacos: Use pork, achiote paste, and chopped pineapples to make al pastor street tacos.

Garlic powder: Feel free to add other seasonings like garlic or onion powder.

Double tortillas: If your tortillas seem a bit thin and you like to overstuff them, use two instead of just one.
Sweet street tacos: For sweeter Mexican street tacos, add pineapple juice or mango juice instead of lime juice.
How to serve:
You can serve these Mexican street corn chicken tacos on Taco Tuesday or any day of the week. They are absolutely delicious and so easy to make, you can make them every night. You can also try one of our great serving ideas:
Add shredded lettuce and a handful of shredded cheese on top with a few chopped tomatoes.

A dollop of homemade salsa on top would be perfect.
Sprinkle a bit of soy sauce on each taco before serving.
Another delicious way to make these is with our instant pot Mexican chicken or rotisserie chicken.
These chicken tacos go great with an ice-cold bottle of Mexican beer.

Alternatively, try them with a glass of kiwi margarita.
Don't forget the tortilla chips and salsa verde to dip them in.
Use leftovers to make this Mexican casserole or instant pot Mexican chili.
Frequently asked questions
How do I heat up my tortillas?
One way to make warmed tortillas is to wrap them in aluminum foil and heat them in an oven for 10 minutes at 350 degrees F. Keep them wrapped until you are ready to use them.
You can also heat them in a non-stick pan with a little vegetable oil on the stovetop just for a minute on each side until they are lightly browned.
What are the best tortillas to use for Mexican street tacos?
Both corn and flour tortillas are great for this street taco recipe although the authentic tacos you find in Mexico are made with corn tortillas for that corn flavor. But some people do not like the flavor. The flour tortillas do not have a corn flavor so you can taste all of the delicious ingredients in the tacos.
Why is it called Taco Tuesday?
Although the restaurant Taco John's in Wyoming has held the trademark for Taco Tuesday since 1989, others claim the phrase was used way before that. In fact, it was printed in a 1933 post in the El Paso Herald newspaper as a campaign to sell tacos on Tuesday at the White Star Cafeteria at St. Regis Hotel in El Paso, Texas.
Where did the first tacos originate?
The ancient Mexicans made corn tortillas filled with meat, onions, and cilantro long before the Spanish got there. They did not have all the toppings like tomatoes, sour cream, lettuce, and cheese. As a matter of fact, these are American toppings that you will not often find on a street taco in Mexico today either.
How to store leftovers:
Store: For best results, store tacos without toppings or sauce. Wrap each one individually in plastic wrap and place them in an airtight container in your refrigerator. Eat them within three or four days.
Freeze: If you plan on freezing your leftover tacos, do not add any other ingredients except the cooked chicken. Then, wrap each one in plastic before putting them in a freezer bag. They can stay frozen for a few months that way.
Thaw: Only thaw the number of tacos you plan to eat because refreezing them is not suggested.

Reheat: To reheat, wrap your taco in a wet paper towel and heat it in the microwave for about 30 to 40 seconds.
More taco recipes:
Mexican street corn chicken tacos cooking tips:
Use freshly squeezed lime juice for the most incredible flavor.

Cook steak or hamburger meat to medium rare for the best street tacos you have ever had

Marinate chicken in 1/2 cup orange juice and 1/2 cup lime juice for three hours for an intense flavor.

For authentic tacos, use carne asada meat and pico de Gallo. These carne asada street tacos are as Mexican as you can get.

Be sure to use warmed tortillas or they may tear. The warmed corn tortillas also help the ingredients stay inside as they melt the cheese a bit.

Use a sprinkle of cayenne pepper or red pepper flakes if you do not have jalapenos.
Be sure to print this amazing taco recipe to add to your recipe box.

For other free recipes, check out our website.
Mexican Street Corn Chicken Tacos
Ingredients
Chicken:
1 1/2

lbs

boneless chicken breast

sliced into strips

2

tablespoons

Taco seasoning

homemade or store-bought

1

tablespoon

olive oil
Mexican street corn salad:
2

ears corn

or 1 cup canned corn

1/4

cup

red onion

finely diced

1

small jalapeno

minced

1

tablespoon

fresh cilantro

chopped

2

tablespoons

mayonnaise

2

tablespoons

sour cream

2

tablespoons

cotija cheese

crumbled

1

tablespoon

fresh lime juice

salt

to taste
Avocado Cream:
2

ripe avocados

1/4

cup

sour cream

1/4

cup

mayo

1

teaspoon

hot sauce

2

teaspoons

fresh lime juice

3

tablespoons

fresh cilantro

Salt

to taste

Pinch

of cumin
Tacos:
10

corn

or flour tortillas

1 1/2

cups

Cotija cheese

crumbled
Instructions
Avocado Cream:
Add all ingredients for the avocado cream sauce to a food processor and blender and blend until creamy. Set aside.
Mexican street corn salad:
If using fresh corn, grill it. Preheat the grill or a grill pan to high and over medium-high heat and cook the corn turning often, until charred all over, about 10 minutes.

Add the corn to a bowl, with the rest of the salad ingredients and mix well.
Cook the chicken:
Place a cast iron or skillet over medium heat and add the oil. Add the chicken strips and cook until browned for about. 4 minutes. Sprinkle taco seasoning on top, toss and cook a few more minutes until the internal temperature of the chicken reaches 165 degrees.
Assemble:
Choose taco-sized corn or flour tortilla, add chicken, top with corn salad, and add a drizzle of avocado cream, top with crumbled cotija cheese and fresh chopped cilantro.
Deliciousness to your inbox
Enjoy weekly hand picked recipes and recommendations